NFC South Betting Preview 2023: Futures Picks & Predictions for All Teams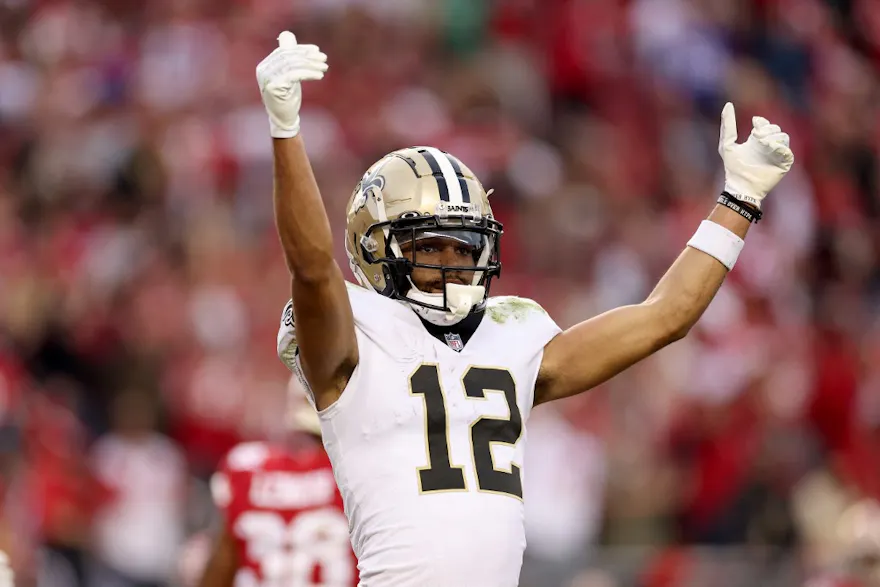 Three of the four teams in the NFC South took major strides this offseason in an attempt to improve on a collective lackluster showing in 2022. The other team lost Tom Brady to retirement (again). Read on for our 2023 NFC South betting preview based on the odds from our best NFL betting sites.
No team in the NFC South finished above .500 last season, with the Tampa Bay Buccaneers struggling to a second straight division crown at 8-9 in what turned out to be Tom Brady's final ride. The Carolina Panthers, New Orleans Saints, and Atlanta Falcons all finished at 7-10.
With Brady retired (seemingly for good), all four teams in the NFC South enter the 2023 campaign with a different starting quarterback than those with which they started last season. Most prominent among that group is No. 1 overall pick in the 2023 NFL Draft, Bryce Young of the Panthers. Will veterans Derek Carr or Baker Mayfield be able to keep Young at bay in his Offensive Rookie of the Year bid or will Falcons sophomore signal-caller Desmond Ridder rise to the top of the division?
None of these four teams are considered major threats by the 2024 Super Bowl odds, but there are still plenty of value picks for fans to target with our NFC South betting preview.
Check out our 2023 NFC South betting preview as part of our 2023 NFL betting guide based on the odds from our best sports betting apps (pick confidence based on a 1-to-5-star scale).
Visit our Google News page and click "Follow" (⭐) for the latest odds, picks and news!
NFC South betting preview 2023
Best Falcons pick: Falcons to win NFC South (+230 via Caesars) ⭐⭐⭐⭐
| Team to win division | DraftKings | FanDuel | BetMGM | Caesars | bet365 |
| --- | --- | --- | --- | --- | --- |
| Saints | +120 | +130 | +130 | +105 ❄️ | +120 |
| Falcons | +215 | +210 | +210 | +230 🔥 | +220 |
| Panthers | +400 | +360 | +350 ❄️ | +400 | +400 |
| Buccaneers | +800 | +750 | +750 | +800 | +700 ❄️ |
In my 2023 Falcons betting preview, I targeted the NFC South straight forecast of the Falcons to finish first and the Saints to finish second with +425 odds from DraftKings. For those looking to play it a little safer and target only the division winner, Caesars becomes the place to go with a market-best odds offering of +230 on the team with the consensus second-best odds to finish first in the NFC South.
Two of our five best sports betting sites have the Falcons' implied probability of winning the NFC South priced at 32.26% with DraftKings at 31.75%. The 30.30% implied probability from Caesars presents a difference of $20 on a winning $100 bet.
With how close this division finished in 2022, it's not appealing to me at all to bet on the favorites for 2023. I'm happy to take the added value with Atlanta and see if Ridder can do enough to lead his well-built supporting cast to the division crown.
Best Saints pick: Derek Carr to lead the NFL in interceptions (+2500 via DraftKings) ⭐⭐⭐
Though I'm giving this pick only three stars on the confidence scale, that's meant to reflect the long-shot status based on the 3.85% implied probability in these odds from DraftKings. FanDuel has this season-long prop priced at +1600 with bet365 offering market-low odds of +1400.
Carr was on pace to lead the NFL in interceptions before being benched by the Las Vegas Raiders due to poor play last season. While he'll face much better weather in the NFC South than he did in the AFC West while playing four of his eight divisional games in domes, he's also less familiar with these opposing defenses and coaching staffs. He's also working with an entirely new receiving corps after spending the first nine seasons of his career with the Raiders.
With optimism high for New Orleans heading into this season, I'm largely fading the Saints with my 2023 betting preview. This is the most profitable way by which to do so.
Best Panthers pick: Panthers to be last winless team (+1700 via DraftKings, FanDuel) ⭐⭐⭐
The Panthers will face their toughest challenges of the season in the first six games of 2023. This challenge is amplified by the integration of new head coach Frank Reich, and players such as Young, not just into the team but also into the NFC South.
Carolina will open the season with two of its six divisional games and will encounter three other teams, the Seattle Seahawks, Detroit Lions, and Miami Dolphins—who are all commonly expected to be playoff contenders—during away games before their bye week.
In Week 8, after the bye, the Panthers will have a favorable chance to secure their first win at home against the Houston Texans. However, the early-season bye could have negative repercussions later on, particularly as four of their last seven games will be played away from home. While I wouldn't necessarily expect the Panthers to be the final winless team in the NFL, I strongly believe they have a promising position in this market and these odds are too high as a result of the hype surrounding the team that chose first overall in the draft.
I offer some more optimistic picks for Carolina fans in my Panthers betting preview.
Best Buccaneers pick: Jamel Dean Over 1.5 interceptions (-155 via DraftKings) ⭐⭐⭐⭐⭐
Dean finished with two interceptions last season. It was his third time in four years since being drafted finishing with that number and it shared the team lead. Dean now stands to capitalize on the anticipated subpar performance of quarterbacks within his division in 2023.
Young joins the ranks. Ridder participated in four games in 2022. Carr threw 14 interceptions in 15 games while with the Raiders before an early shutdown due to poor play.
The Bucs are poised to encounter two other rookie quarterbacks when they face the Texans and Indianapolis Colts. Alongside Kirk Cousins, Justin Fields, Jared Goff, and Josh Allen, Dean will have the opportunity to amass interceptions from the collective 46 thrown last season by this group. Additionally, he will confront Jordan Love, the Green Bay Packers QB, who is stepping into his inaugural season of substantial playing time.
It was hard not to buy the dip on Tampa Bay's season-long props this season as the most underhyped team in the NFC South, but this was my favorite pick in my Buccaneers betting preview.
NFL betting previews
NFL betting odds pages
(21+. Gambling Problem? Call 1-800-GAMBLER)
* Bonuses not applicable in Ontario.
Related pages