Free MLB Picks & Predictions: Best Bets Today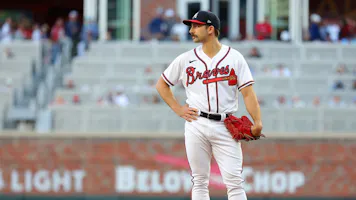 What kinds of MLB picks do we make?
Here at SBR, our baseball experts serve up a comprehensive serving of the best MLB picks of the day, week, or weekend, scouting reports on pitchers, team news, weather, travel, and so on. These are expert baseball picks, opinions, and insights that will be as important as ever for a successful, value-driven run in gambling this term, as variables such as injury, poor form, etc. always have an impact on MLB games.
Plus, the focus is never only just on marquee matchups or popular teams that frequently occupy national airwaves or, even, on those teams that the public likes to side with in general – otherwise known as MLB consensus picks. On the contrary, it's a discerning and non-discriminatory look at the broad spectrum of the field in play with a complete breakdown of each and every game.
Our experts don't shy away from the tough matchups with their MLB picks. Today, there's no easy road to success, as the saying goes. Our experts know this and are committed to doing the hard work and good research required to build a winning strategy.
Free MLB expert picks
Some baseball fans have an innate knack for betting the game, literally crushing it with their bets at the best online sportsbook, sports betting apps, and betting sites. However, if you've ever wondered how they do it, why they're so good with their baseball predictions, then you're in luck.
SBR's stable of expert cappers are on tap, freely dispensing not only their recommended bets but also their knowledge, sharing the inner machinations of their thought process and explaining how they've whittled down relevant information to arrive at their verdict. We also worked out the best sportsbook promos for all bettors. Our experts comprise some of the best minds in the handicapping business and during this truncated year they eagerly served up MLB 2020 predictions for the regular season and the postseason. For more insights on baseball sportsbooks, check out our guide on MLB betting sites.
Often betting previews and tips comes at a premium but here at SBR they don't. Simply put, we serve up free baseball picks from our experts just like that. No catch. No gimmicks. No trials. Just unfettered access to some of the best minds dedicated to today's games MLB. What's more… the best bit… their invaluable recommendations are posted well in advance of games starting, which means that bettors are able (if they so choose) to freely capitalize on their MLB picks.
Free MLB run line picks
Of all the betting types, MLB picks on the run line and are some of the most sought-after from our expert cappers, though in baseball the spread goes by a different name: the run line and it's set to a 1.5-run spread. Betting on the run line allows bettors to find value in matchups that are otherwise lopsided in straight up betting markets due to an edge presented by All-Star caliber pitchers.
Free MLB totals picks
Our MLB score predictions are keenly followed because no sport is as influenced by environmental and conditional intangibles as much as baseball. These factors can greatly impact the outcome of games and bets. Our top-notch handicappers take care of all the hard graft that goes into researching external factors. Be it research on weather forecasts, geographical realities, stadium dimension, and more – for example, Denver's altitude makes Coors Field a right challenge for many pitchers, while Wrigley Field in Chicago can get super windy – they've got it covered for MLB picks.
Free MLB moneyline picks
As with any sport, betting the moneyline is the most straightforward of any betting types. It simply doesn't get more straightforward than placing a wager on a team to win. It's a 50-50 proposition that can go either way. Betting favorites can come at a hefty premium when a side boasts elite pitchers like Justin Verlander, Max Scherzer, and Shohei Ohtani, to name a few. On the flipside, betting an underdog can be most rewarding – but only if the disadvantaged (by the odds) team in question wins.
Free MLB prop picks
Oftentimes, the best value when making your MLB picks will come from the prop markets. These come in many different forms including team props and game props, but our favorites are player props. How many hits, home runs, or total bases will a batter record? How many strikeouts or walks for a pitcher, or how many innings will they complete? There's plenty of value to be found when shopping for lines and MLB odds across a variety of sportsbooks.
Sports Betting Categories
It's common to see the best sports betting apps and best sports betting sites in specific sports, and with its increasing popularity, sportsbooks now offer unique betting options that cater to different sports and leagues:
Regional Promotions & Bonuses
Ready to translate your insights into a bet? Find the best sportsbook promos for each corresponding state below:
Promotions & Bonuses in International Regions
Regional Developments & Updates
Online sports betting can differ between regions. SBR offer the latest insights and scoop on developments and updates specific to your region below.
U.S. States News
Keep informed about the state of online sports betting in US states:
Kentucky Online Sports Betting Launch: Kentucky sports betting launch is underway! Get the scoop on the latest Kentucky sportsbook promos and Kentucky sportsbook apps.
Be sure to check out what offers these sportsbooks are expected to introduce for the KY launch. We have the details for Caesars Kentucky promo codes, bet365 Kentucky promo codes, FanDuel Kentucky promo codes, BetMGM Kentucky promo codes and DraftKings Kentucky promo codes.
International Region News
Legal Sportsbook Reviews and Promo Codes
Want to get in on the action? Check out our guides covering the best sportsbook promos and welcome bonuses from the best sportsbooks and best sports betting sites in the industry: