World Series Odds 2023: Did Quiet Winter Land Dodgers as a Value in Futures Markets?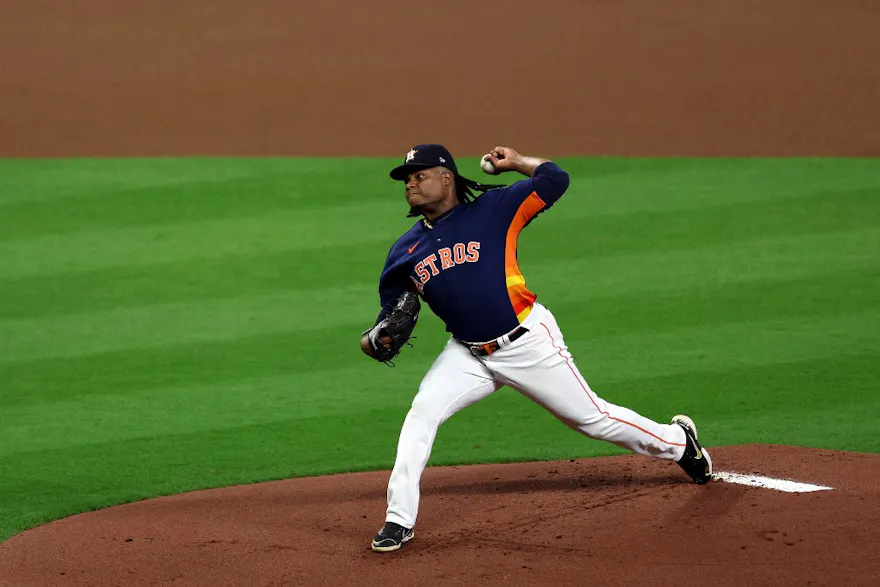 How has an offseason full of major signings and trades influenced sportsbooks in their futures odds for the 2023 MLB season? Read on for our look at the best 2023 World Series odds.
Everyone is chasing Houston after the Astros outlasted the Philadelphia Phillies in last fall's World Series. According to futures across our affiliated books, the Astros are once again slated to be a tough out in October.
Teams like the New York Mets and San Diego Padres responded aggressively this winter after letting their championship dreams slip through their fingers. Although the same fate befell the Los Angeles Dodgers last October, L.A. hasn't been as active in chasing stars. But has a relatively quiet winter for the Dodgers made them an even better value on futures boards?
Here is our look at the best 2023 World Series odds, along with a take at some potential picks to win it all.
Check out our MLB best bets.
World Series Odds 2023
| | | | | | |
| --- | --- | --- | --- | --- | --- |
| Name | DraftKings | FanDuel | BetMGM | Caesars | PointsBet |
| Astros | +600 | +600 | +650 🔥 | +500 ❄️ | +650 🔥 |
| Mets | +700 ❄️ | +750 | +750 | +800 🔥 | +800 🔥 |
| Yankees | +700 | +650 ❄️ | +650 ❄️ | +750 🔥 | +700 |
| Dodgers | +800 | +750 ❄️ | +800 | +800 | +750 ❄️ |
| Braves | +950 ❄️ | +1000 | +1000 | +1000 | +1000 |
| Padres | +1100 🔥 | +1000 | +1000 | +1100 🔥 | +1000 |
| Blue Jays | +1300 ❄️ | +1500 | +1600 🔥 | +1500 | +1300 ❄️ |
| Phillies | +1500 🔥 | +1400 | +1400 | +1400 | +1400 |
| Mariners | +1700 🔥 | +1600 | +1600 | +1700 🔥 | +1500 ❄️ |
| Cardinals | +2000 | +2500 🔥 | +2500 🔥 | +2000 | +2200 |
World Series Best Bets
Dodgers (+800 via DraftKings, BetMGM, Caesars) - Jan. 11
Astros (+650 via BetMGM, PointsBet) - Jan. 11
Padres (+1100 via DraftKings, Caesars) - Jan. 11
World Series Odds 2023: Favorites
The defending champions should be loaded once again, sharing at least a tie for the shortest odds to win the 2023 World Series at each of our best sportsbooks. Though Houston lost ace pitcher Justin Verlander to the Mets, the Astros have dynamic arms like Framber Valdez and Cristian Javier to go along with a number of up-and-coming prospects, ensuring the rotation stays in good hands.
Expect another year where Houston rolls to the AL West crown. When it happened in 2022, the Astros' odds to win the World Series opened at +1000 and gradually declined during each month of the season. Though the odds aren't as juicy this time, it's difficult to imagine a scenario where you'll get a more favorable number. BetMGM and PointsBet currently offer the best odds at +650.
Yankees (+750 via Caesars)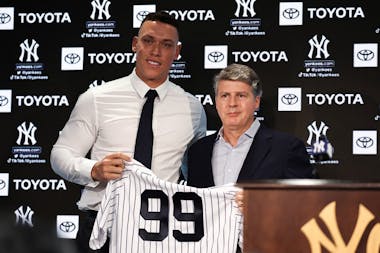 Adding elite strikeout pitcher Carlos Rodon should bolster the Yankees' rotation. They held onto outfielder Aaron Judge in free agency, keeping a dynamic offense intact. New York's World Series odds float between +650 and +750, with Caesars offering the best bang for your buck.
For the ideal time to lay down a futures bet on the Yanks, wait to see how the early part of the season plays out. Though the Yankees are loaded, so is their division. If the Baltimore Orioles, Toronto Blue Jays, or Tampa Bay Rays stake out an early AL East lead, it could add value to the Yankees' odds after a couple of months. Even if New York gets off to a robust start, you'll still be able to jump in with reasonable odds in May or June.
Mets (+800 via Caesars, PointsBet)
After falling short in the National League Division Series last October, Mets owner Steve Cohen went on a spending spree highlighted by a massive deal for a new ace to replace the old one. Verlander is a better bet as a workhorse than the oft-injured Jacob deGrom, so the Mets shouldn't miss a beat following the swap. Veteran pitcher Jose Quintana is a sneaky add to New York's rotation, effectively replacing Chris Bassitt.
The Mets certainly spent the money to field a legitimate roster this upcoming season, but I don't like their current futures odds topping out at +800 via Caesars and PointsBet. Across our five recommended sportsbooks, the Mets have shorter average odds than the Dodgers to win the World Series. Unless those soften a bit, the market has New York inflated into territory that hurts the value of a futures wager.
World Series Odds 2023: Contenders
Dodgers (+800 via DraftKings, BetMGM, Caesars)
The Dodgers have been one of the more quiet MLB teams this offseason as they look to reset the Competitive Balance Tax with a lower payroll in 2023. Still, L.A. has a loaded roster and a savvy front office; shopping in the bargain bin for players like outfielder J.D. Martinez and pitcher Noah Syndergaard could pay off.
Given the choice between the Mets or Dodgers at +800 to emerge from the NL landscape, L.A. is the better value. Even with shortstop Trea Turner's departure and no big shopping spree to replace him, it's hard to see the Dodgers crumbling in the early season to boost their futures odds. While not as gaudy as the opening odds for last year's Astros (+1000), the current +800 offering at DraftKings, BetMGM or Caesars could be as good as it gets for Dodgers backers this summer.
Braves (+1000 via FanDuel, BetMGM, Caesars, PointsBet)
The Braves have either the smartest or the luckiest front office in baseball. After a 101-win season and an NL East title, Atlanta pulled off another heist, upgrading at catcher to Gold Glove winner Sean Murphy. The Braves are loaded and should get boosts from second baseman Ozzie Albies and outfielder Ronald Acuna Jr. This also might be the year Atlanta gets big contributions from pitcher Mike Soroka to add even more talent to a deep rotation.
The Braves have championship DNA on their roster but it could be a challenge extracting it in an NL East that holds three World Series contenders. Wait it out to learn if your preferred team sees its futures odds take a dive after a slow start, but the Braves are one of the steadier bets in 2023. With +1000 odds at every sportsbook besides DraftKings, waiting might make you miss your window on a solid value for the Braves.
Padres (+1100 via DraftKings, Caesars)
The Padres put together a loaded roster, adding outfielder Juan Soto, first baseman Josh Bell, and reliever Josh Hader, and then slayed the Dodgers in the NLDS. Though San Diego couldn't keep the magic going against Philly in the next round, it's since added superstar shortstop Xander Bogaerts to bolster an already-solid lineup.
Infielder Matt Carpenter is a sneaky addition with postseason experience. Shortstop/right fielder Fernando Tatis Jr. is eligible to return in late April after missing all of 2022 due to injury and then suspension.
San Diego may not unseat L.A. in the regular season, but a roster with this type of talent offensively and in the pitching rotation is a threat come October. San Diego is easily the most intriguing team with futures odds longer than +1000. Bet the Padres to win it all at +1100 at DraftKings and Caesars.
World Series Odds 2023: Long Shots
Blue Jays (+1600 via BetMGM)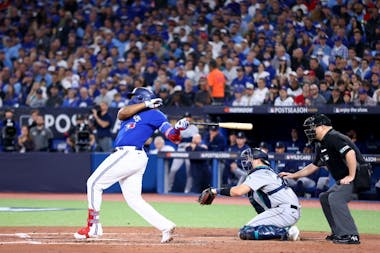 The Blues Jays posted their second-straight 90-win season in 2022 but were quickly ousted in the wild-card round as their bats went silent in Game 1 and their pitching failed to hold down the feisty Seattle Mariners in a wild Game 2. The defeat brought about a winter of retooling around a talented core.
Toronto jettisoned outfielder Teoscar Hernandez and bet big on Daulton Varsho, acquiring the catcher/outfielder from the Arizona Diamondbacks for young catcher Gabriel Moreno and outfielder Lourdes Gurriel Jr. The Jays have one of the AL's deepest lineups and are reasonable candidates to be the next Philadelphia Phillies by slugging their way to October success. Given the potential that any of the top four teams in the division could race out to an early lead, wait to see where Toronto's futures odds are after six weeks or so. As of mid-January, the +1600 offering at BetMGM is the best you'll find.
Phillies (+1500 via DraftKings)
You'll have to scroll a good way down odds boards to find the defending National League champions for your 2023 World Series futures. That's not such a bad thing for those who believe the Phillies are actually a better team today with shortstop Trea Turner in the fold than they were in October.
Right fielder Bryce Harper's status is an issue for the early portion of the year, but if he's back by midseason, that could be an opportunity for the Phillies to once again click at the right time down the stretch. The NL East is loaded, so it might make sense to wait out the schedule's early portion before committing to the Phillies. If you want to take your shot before the season, DraftKings is the best place at +1500.
Mariners (+1700 via DraftKings and Caesars)
The darlings of the 2022 MLB Postseason, the Mariners ended the longest active playoff drought across the four major North American professional sports. Seattle won a playoff series over Toronto before getting unceremoniously bounced by eventual champion Houston.
Despite a crowded AL West that has the league's most likely World Series winner by the odds, Seattle showed enough gumption during last year's run to earn some consideration as a World Series long shot in 2023. Seattle knew what it was doing when adding Hernandez and second baseman Kolten Wong via trades.
A clubhouse that already exuded great chemistry arguably got better. Because Houston likely runs away with this division, there's not any rush to scramble for the futures ticket on Seattle just yet. But if you're ready to commit, get the M's at +1700 via DraftKings and Caesars.
World Series Recent Winners
| | | |
| --- | --- | --- |
| Year | Team | Preseason odds |
| 2022 | Astros | +1000 |
| 2021 | Braves | +1000 |
| 2020 | Dodgers | +385 |
| 2019 | Nationals | +1600 |
| 2018 | Red Sox | +1150 |
World Series FAQs
Who won the World Series last year?
The Houston Astros defeated the Philadelphia Phillies in six games to claim the 2022 World Series.
When will the World Series be decided?
The 2023 World Series will begin in late October and conclude in early November. Last season's Fall Classic ran from October 28 to November 5.
How to watch the World Series
The World Series is broadcasted by FOX. It is streamed on fuboTV, Hulu+, Live TV, and YouTube TV.
World Series 2023 odds from Jan. 11, 2023 at 1:19 p.m. ET
(21+. Gambling Problem? Call 1-800-GAMBLER)
* Bonuses not applicable in Ontario.
Related Pages