Best NFL Betting Sites 2023: Top Football Betting Sportsbooks
The 2023-24 season is underway, and the best NFL betting sites are abuzz with action. With so many options for new bettors, we've parlayed over 20 years of experience to identify the best sportsbooks, including bet365, DraftKings, and FanDuel, and deliver quality NFL betting tips.
NFL betting sites quick facts
| | |
| --- | --- |
| 🏈 NFL season start date | Sept. 7, 2023 |
| 🏆 Super Bowl 58 venue | Allegiant Stadium |
| 🌎 NFL teams | 32 |
| 💰 Best NFL sign-up bonus | bet365 |
| 🏅 Super Bowl favorite | Kansas City Chiefs |
| 🥇 NFL MVP favorite | Patrick Mahomes |
| 📱 Mobile apps | iOS & Android |
| ➡️ Legal NFL betting age | 21; 18 (MT, NH, RI, WY) |
| 🇺🇸 Legal NFL betting states | 33 (+ DC) |
NFL betting sites promo codes
Few NFL betting sites require you to input football betting promo codes to claim their sign-up bonuses. Refer to our up-to-date table below to see which online sportsbooks have codes and what their active welcome offers are:
Gambling Problem? Call 1-800-GAMBLER
Top NFL betting sites bonuses and promos
Editor's Note: Bonuses are for U.S. residents only
bet365 NFL sign-up bonus 🟢
Although it's only available in six states — Colorado, Iowa, New Jersey, Ohio, and Virginia and now Kentucky— we're crowning bet365 the best NFL betting site due to a potent all-around product headlined by a bet $5, get $150 in bonus bets welcome offer for new users. For new users in all states, an alternative offer is also available, giving users an option for the $150 offer or their $1,000 first bet safety net offer.
Here's what you need to know about the bonus:
You must use bet365 bonus code SBRBONUS to claim the sportsbook's welcome offer.
After registration, you must make a minimum deposit of $10 or more. Once done, you'll have 30 days to put down a $5 qualifying wager on any sports market. Whether your wager wins or loses, you'll earn $150 in bonus bets.
You can choose between the $150 bonus or the $1,000 bonus.
The qualifying wager must have at least one selection with odds of -500 or longer.
| bet365 NFL sign-up bonus | |
| --- | --- |
| 🚨 Promo code | SBRBONUS |
| 😊 Bonus | Bet $5, get $150 in bonus bets |
| ➡️ Promo type | Bet & get |
| 💰 Minimum deposit | $10 |
| 💵 Minimum wager | $5 |
| 📱 Mobile app | iOS & Android |
To learn more about the sportsbook, read our complete bet365 review.
DraftKings NFL sign-up bonus 👑
One of the few NFL betting sites to run multiple sign-up bonuses simultaneously, DraftKings' best active offer is a bet $5, get $150 in bonus bets reward. Here are its most vital elements:
No DraftKings promo code is necessary to redeem the bonus.
Following sign-up, you must deposit and wager $5 or more on any sport.
Regardless of your wager's outcome, you'll garner $150 in bonus bets.
The $200 will arrive in your account as six $25 bonus bets, along with any potential winnings from the wager itself.
You cannot withdraw the bonus bets as cash, and they will expire after seven days.
DraftKings currently has an extra promotion for daily bettors. You can opt-in for a No Sweat Same Game Parlay every day (min. three legs). If it loses, you'll get a full refund in the form of a bonus bet.
| DraftKings NFL sign-up bonus | |
| --- | --- |
| 🚨 Promo code | No code |
| 😊 Bonus | Bet $5, get $150 in bonus bets |
| ➡️ Promo type | Bet & get |
| 💰 Minimum deposit | $5 |
| 💵 Minimum wager | $5 |
| 📱 Mobile app | iOS & Android |
If you're curious about what makes DK one of the best football betting sites beyond its new-user offer, check out our DraftKings review.
FanDuel NFL sign-up bonus 🔵
Arguably the most popular football betting site on the planet — although FanDuel vs. DraftKings is a constant debate — FanDuel tenders an offer to newbies that does not disappoint: A bet $5, win $150 in bonus bets reward. Here's what to keep in mind when considering the bonus:
While a FanDuel promo code isn't required to collect the reward, you will need to download the sportsbook's mobile app.
After creating your account, deposit at least $10 and place a $5 qualifying wager on any moneyline market you prefer.
If your wager wins, FanDuel will credit your account with $150 in bonus bets.
The bonus bets and code will arrive within 72 hours of placing your qualifying bet, and you will have seven days to use them.
| FanDuel NFL sign-up bonus | |
| --- | --- |
| 🚨 Promo code | No code |
| 😊 Bonus | Bet $5, win $150 in bonus bets |
| ➡️ Promo type | Bet & win |
| 💰 Minimum deposit | $10 |
| 💵 Minimum wager | $5 |
| 📱 Mobile app | iOS & Android |
For more expert insight, dig into our thorough FanDuel review.
Caesars NFL sign-up bonus 🏛
When it comes to glitz and glamour, other NFL betting sites have a tough time matching Caesars Sportsbook — and the same holds true for sign-up bonuses. New customers with Caesars can obtain one of the most exciting welcome offers in the nation — a $1,000 first bet insurance reward. Keep the following terms and conditions in mind before snagging the offer:
You will need to input the active Caesars Sportsbook promo code — SBRBONUS1000 — to nab the bonus.
A first deposit of at least $10 is needed after registration.
Make your initial wager on any sports market. If it loses, you'll receive a full refund (up to $1,000) in the form of bonus bets.
The bonus bet comes as a single bet credit.
The bonus bet must be used within seven days and cannot be taken out as real cash.
| Caesars NFL sign-up bonus | |
| --- | --- |
| 🚨 Promo code | SBRBONUS1000 |
| 😊 Bonus | $1,000 first bet on Caesars |
| ➡️ Promo type | Bet insurance |
| 💰 Minimum deposit | $10 |
| 💵 Minimum wager | N/A |
| 📱 Mobile app | iOS & Android |
To uncover more about the sportsbook, scan our detailed Caesars review.
BetMGM NFL sign-up bonus 🦁
BetMGM tempts first-time users to do their NFL betting on its platform by tendering an up to $1,500 back in bonus bets offer. Ensure you know these key aspects of the reward before registering:
You must use BetMGM bonus code SBRBONUS here.
Put down your initial deposit of $10 or more and make your qualifying wager on any sports market. If your bet goes south, you'll get your money back, up to $1,500, in bonus bets.
Should you wager at least $50, BetMGM will chop your bonus bets into 20% denominations. For example, if you wager the maximum $1,500 amount and fail, you'll receive five $300 bonus bets. Wagering fewer than $50 means you will acquire one bonus bet.
The bonus bet(s) have a seven-day lifespan and will arrive in your account within 24 hours of your settled losing wager.
| BetMGM NFL sign-up bonus | |
| --- | --- |
| 🚨 Promo code | SBRBONUS |
| 😊 Bonus | $1,500 back in bonus bets |
| ➡️ Promo type | Bet insurance |
| 💰 Minimum deposit | $10 |
| 💵 Minimum wager | N/A |
| 📱 Mobile app | iOS & Android |
To further deepen your understanding of the online sportsbook, take a look at our unbiased BetMGM review.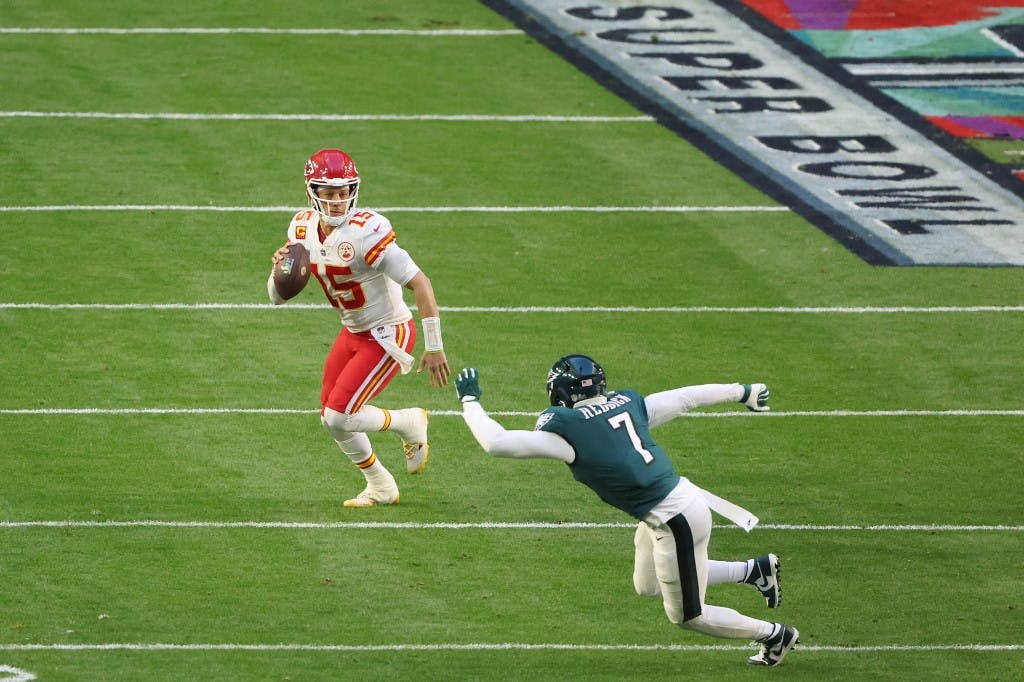 NFL betting odds
The Kansas City Chiefs were the pre-season favorites to win Super Bowl 58, which is hardly a surprise considering they're defending champions and have two-time MVP Patrick Mahomes calling the shots at quarterback. Nipping at their heels on the NFL odds board is the Philadelphia Eagles, who fell to the Chiefs in last season's finale. Check out the table below for the current Super Bowl odds and ensure you keep tabs on our experts' NFL picks throughout the season.
Super Bowl 58 odds 🏈
Each sportsbook sets its own odds, which means you'll come across various lines for the same matchup. Registering for multiple betting sites ensures you can pinpoint the best pricing and extract the most value from your wagers.
Here are our top three sportsbooks offering odds on the 2024 Super Bowl:
DraftKings — Not only does DK provide competitive pricing from the jump, but it also delivers a consistent stream of odds boosts to help enhance your chances of walking away with a big payday. Signing up with DraftKings is a must to have a complete sportsbook rotation.
FanDuel — It's not surprising that the most iconic sportsbook in the industry also offers some of the best odds. Register with FanDuel, and you'll discover it's always on top of the latest happenings.
Caesars — If you opt to join Caesars Sportsbook, you'll find its lines similar to DraftKings and FanDuel's. Additionally, it hands out some stellar odds boosts to give you a leg up on whatever market you're interested in.
| Team | DraftKings | FanDuel | Caesars |
| --- | --- | --- | --- |
| San Francisco 49ers | +310 | +350 | +300 |
| Philadelphia Eagles | +550 | +600 | +600 |
| Miami Dolphins | +700 | +800 | +800 |
| Kansas City Chiefs | +700 | +470 | +550 |
| Dallas Cowboys | +850 | +1000 | +900 |
| Baltimore Ravens | +850 | +600 | +700 |
| Jacksonville Jaguars | +1000 | +1500 | +1300 |
| Detroit Lions | +1400 | +1700 | +1600 |
| Houston Texans | +4000 | +5500 | +6000 |
| Buffalo Bills | +5000 | +4100 | +4000 |
| Pittsburgh Steelers | +7500 | +10000 | +8000 |
| Indianapolis Colts | +7500 | +11000 | +10000 |
| Green Bay Packers | +7500 | +9000 | +8000 |
| Seattle Seahawks | +9000 | +10000 | +10000 |
| LA Rams | +9000 | +10000 | +10000 |
| Cleveland Browns | +9000 | +7000 | +8000 |
| Atlanta Falcons | +9000 | +7500 | +10000 |
| Denver Broncos | +10000 | +13000 | +10000 |
| New Orleans Saints | +12000 | +15000 | +12500 |
| Minnesota Vikings | +12000 | +12000 | +12500 |
| LA Chargers | +12000 | +14000 | +8000 |
| Tampa Bay Buccaneers | +15000 | +17000 | +20000 |
| Cincinnati Bengals | +40000 | +47000 | +20000 |
| Washington Commanders | +50000 | +100000 | +100000 |
| NY Giants | +50000 | +100000 | +100000 |
| Las Vegas Raiders | +50000 | +50000 | +25000 |
| New York Jets | +60000 | +100000 | +50000 |
| Chicago Bears | +60000 | +100000 | +100000 |
| Tennessee Titans | +100000 | +100000 | +75000 |
| Arizona Cardinals | +100000 | +100000 | +500000 |
| Carolina Panthers | Off the board | Off the board | Off the board |
| New England Patriots | Off the board | +100000 | Off the board |
How to get started with NFL betting sites
Even the best sites to bet on football don't always explain the registration process clearly. Below you'll find a detailed breakdown of how to go from picking out your preferred NFL betting site to placing your initial wager.
1. Select a sportsbook and register online
To begin, pinpoint an NFL betting site you prefer — any of the choices this guide offers will do. Once you've made your selection, sign up for a new account and enter the information requested by the sportsbook. You'll be asked for your full name, email and mailing address, date of birth, government-issued identification, and more.
During this part of the registration process is also when you'll need to input a promo code if the sportsbook's new-player offer necessitates one.
2. Deposit and claim a bonus
After creating your NFL sportsbook account, your next task will be to deposit funds. Locate the cashier — generally found at either the top or bottom of a site or app's home page — and sift through its available banking options until you find one you like. All of the best NFL betting sites will provide the most sought-after methods, such as credit and debit cards and PayPal.
3. Select and finalize your bet
Now that your account contains funds, you can finally make your first sports bet. Pace yourself and carefully scour the football betting site's menu until you discover a market(s) that you favor. Plug in the amount you want to wager and confirm the transaction. The wager will then log itself in your bet slip, allowing you to check back on it at any time.
4. Withdraw your payout
When your first big bet hits, you'll likely want to withdraw your winnings immediately. Return to the cashier section and select the "withdrawal" button to get started; then, type in the amount of money you wish to take out and pick your banking method. Keep in mind that even the best online sportsbook for payouts will take up to five days to complete your withdrawal.
Popular bet types at NFL betting sites
When learning how to bet on football, you'll discover a cornucopia of available wagering options. Here are some of the most popular:
Moneyline 💸
When you make a wager on an NFL moneyline, you're choosing which team you believe will win the game outright. There is no tying, just winning or losing. A heavily favored team will carry lower odds, like -200 or -250, meaning you'll need to wager $200 or $250 to win $100. Conversely, an underdog will have higher odds, such as +300, meaning you'll acquire $300 if you wager $100 and win.
Point spread 💯
Betting on an NFL spread means picking a side after the sportsbook has assigned a points handicap to the team expected to win. For example, if the New England Patriots are a big favorite against the Buffalo Bills, a sportsbook might set the spread at New England -7. Though you may think the Patriots will win, if you bet the spread, you'll need them to prevail by more than seven points to cash that bet.
Over/Under (totals) ⬆️
In addition to wagering on moneyline and spread markets, you can also take your shot at projecting how many points will be scored in a game. For every matchup, NFL betting sites will assign combined point totals, known as Over/Unders. To win your bet, you'll need to successfully guess if the total amount of points will wind up over or under the given number.
Teasers 🎲
Sportsbooks love NFL betting action — and teasers are a creative way of allowing players to adjust the betting lines significantly to get to a number they like. With a teaser wager, you can shift the line anywhere from six to 20+ points — but because your chances of winning increase considerably, not only do you get worse odds, you also have to bet on at least two games.
Parlays ➕
Sportsbooks heavily promote parlays, which refer to any betting scenario in which you are wagering on more than one game outcome. Most football betting sites will even let bettors combine several picks from one game, referred to as a same-game parlay. Be sure to check out our guide on the top parlay betting sites to discover the best spots to place NFL SGPs.
Futures 🔮
All of the top NFL betting sites offer a variety of futures, markets which won't see their outcomes decided for some time. The range here is immense — you'll find NFL futures markets that might not be settled for a few weeks and others that won't pay out for a year or more.
Props ⛹️‍♂️
Generally, bet types are attached to the outcome of a game. At prop betting sites, you can place NFL prop wagers on a specific player's production or a particular element of a contest.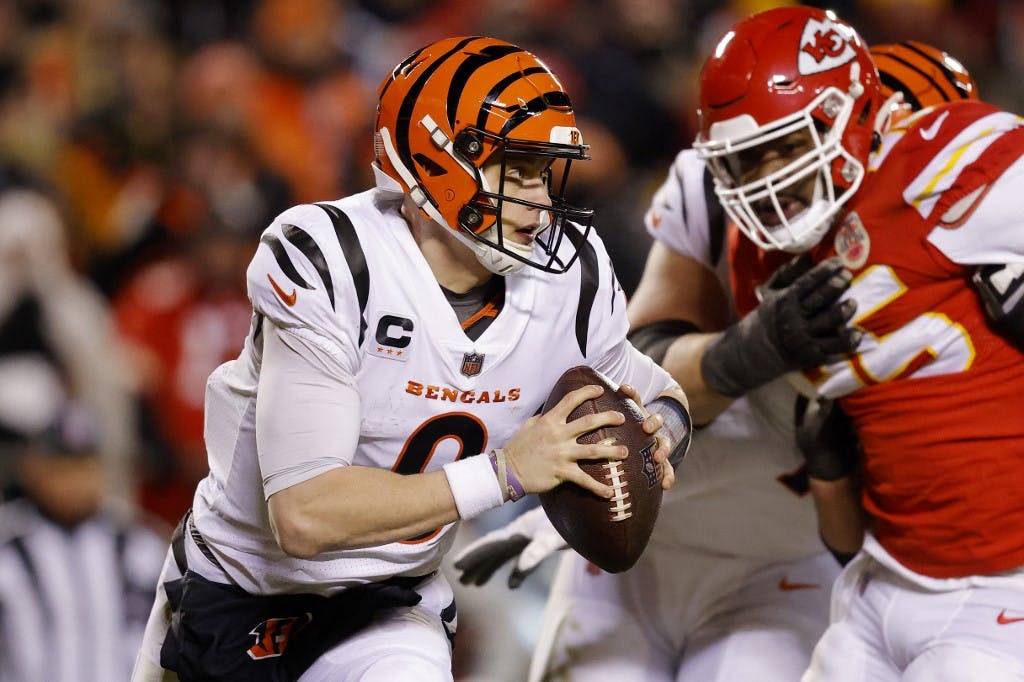 NFL betting apps
The football betting landscape can be tough to navigate due to various states employing different rules. Although the top sports betting apps are permitted in some locations, others will demand you visit a retail venue to place your wagers. Here are a few things to keep in mind when using NFL betting apps:
While you are likely to be able to wager on the NFL in some form or fashion in most states, every region will contain its own restrictions. For example, New York permits betting on NFL games, but the NFL Draft is off-limits as it's not considered a legitimate sporting event.
The best NFL betting apps provide popular features, such as live streaming — which can be useful for those who don't watch sports via TV.
Most sportsbooks will run multiple NFL betting promotions — including Super Bowl betting promos — throughout the season, so taking advantage of more than one is key to maximizing value.
NFL live betting
The best NFL betting sites are often preeminent live betting sites, too. While traditional fixed odds wagering requires placing bets before games start, live betting sees you sweating your picks in real time. When taking part in NFL live betting, ensure you consider the following:
Special events like the Super Bowl will cause sportsbooks to boost their live odds, and capitalizing on them can pay off considerably.
Live betting usually comes in tandem with live streaming, which allows you to easily watch a game via your sportsbook's mobile app or website.
Preparing for live betting can be difficult, so having a firm understanding of NFL betting trends is important.
States with legal NFL betting
Unsurprisingly, the vast majority of states with legal sports wagering markets permit NFL betting, whether online or at a retail venue or both. Scan the table below to discover if you're of age to place wagers at football betting sites or elsewhere. Should sports betting be illegal in your region, it will not be listed.
| State | Legal sports betting age |
| --- | --- |
| Arizona | 21 |
| Arkansas | 21 |
| Colorado | 21 |
| Connecticut | 21 |
| DC | 21 |
| Delaware | 21 |
| Illinois | 21 |
| Indiana | 21 |
| Iowa | 21 |
| Kansas | 21 |
| Kentucky | 18 |
| Louisiana | 21 |
| Maryland | 21 |
| Massachusetts | 21 |
| Michigan | 21 |
| Mississippi | 21 |
| Montana | 18 |
| Nebraska | 21 |
| Nevada | 21 |
| New Hampshire | 18 |
| New Jersey | 21 |
| New Mexico* | 21 |
| New York | 21 |
| North Carolina | 21 |
| Ohio | 21 |
| Oregon | 21 |
| Pennsylvania | 21 |
| Rhode Island | 18 |
| South Dakota | 21 |
| Tennessee | 21 |
| Virginia | 21 |
| Washington | 21 |
| West Virginia | 21 |
| Wisconsin | 21 |
| Wyoming | 18 |
*Under current New Mexico law, sports betting is technically neither legal nor illegal. As such, it is permitted at a few retail locations.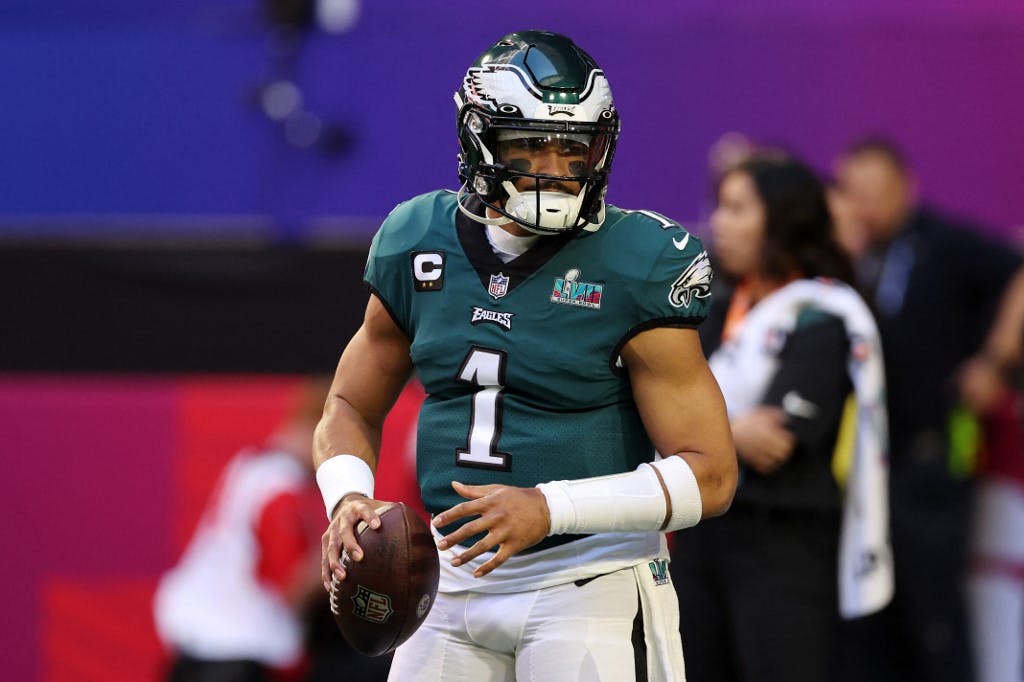 How we rate and review NFL betting sites
Deciding where to bet on the NFL isn't easy — with a surplus of options and plenty of things to consider, the mere idea can quickly feel overwhelming. But never fear — we've built our foundation on puzzling out the best NFL betting sites for you.
While fabricating our evaluation process, we've pinpointed some crucial criteria. The top sports betting sites must meet a particular standard to keep up with the ever-evolving and increasing demand for NFL wagering. A few of the critical performance benchmarks include:
NFL betting odds 🎰
Sifting through the copious odds on a sportsbook's betting menu can be mind-boggling, depending on the layout. Reliable NFL betting sites always clearly display their odds so that you can quickly identify lucrative opportunities and develop a sound wagering strategy.
NFL betting promos and bonuses 💲
NFL betting sites and apps provide sign-up bonuses and sport-specific promos to persuade new bettors to join their platforms and to keep existing players around. These types of offers will run throughout the year, undulating with the season's flow. Always ensure you read the terms and conditions attached to the best sportsbook promos before redeeming them.
Coverage 📺
While the NFL dominates football betting action at the most popular sportsbooks, you'll also want access to related events, other leagues, and coverage of the most prevalent bet types. We recommend checking out the best Super Bowl betting sites, college football betting sites, and platforms that offer CFL odds for the duration of their respective seasons.
Banking 🏦
If there's one piece of salient NFL betting advice you should follow, it's ensuring you pick a football betting site that promotes simple deposit and withdrawal methods to complete transactions. Some of the best banking methods include PayPal, ACH transfers, and credit and debit cards.
Customer service 📞
Just like how a good position coach helps a player further his understanding of the game, a quality customer service team can help you answer any questions about the online sportsbook platform you're using. We suggest NFL betting sites that provide instantaneous support through live chat, social media, email, or phone.
Common bonuses at NFL betting sites
First-timers testing out the waters of sports betting will swiftly come to realize that three types of promotions command the sign-up-offer space at NFL betting sites: Deposit match bonuses, bet and gets, and first bet insurance.
Deposit match bonus
Having long been one of the most simplistic offers a sportsbook can provide, a deposit match bonus is just what it sounds like. Once you've created your account and made a first deposit, your chosen platform will match the amount you put down, up to a specified amount, via bonus funds.
So, if a sportsbook delivers a 100% deposit match with a $250 limit, you could add $250 in real cash to your account and garner another $250 in bonus funds.
Bet and get
The most recent bonus on this list to become highly popular amongst both sportsbooks and new bettors, bet and get offers typically provide low-risk entry points to the sports betting space. As such, industry monoliths, like FanDuel and DraftKings, use them to lure prospective customers during big events, including the Super Bowl.
Bet and gets involve making a first wager with a sportsbook, generally at a low amount, such as $5. After the bet has settled — often, it doesn't need to win — you will acquire bonus funds that far exceed your stake. For example, bet365 is currently tendering new users a bet $1, get $200 sign-up bonus.
First bet insurance
The most popular welcome bonus among popular welcome bonuses, first bet insurance allows you to be riskier with your first bet and aim for a significant payday immediately. Should that wager win, you'll simply receive your earnings, and the bonus will not trigger. But if that wager loses, the bonus will activate, and the sportsbook will refund your stake in bonus bets, up to a certain amount.
For example, if a sportsbook is running a $1,000 first bet insurance welcome offer, you can put down a qualifying bet of $1,000, and if it flops, you'll get that money back. However, it's vital to remember that bonus funds are non-withdrawable and must be used to wager further with a sportsbook.
More NFL betting resources
Now that you've learned all there is to know about the best NFL betting sites, ensuring you have the sports betting basics nailed is a good idea. Whether you're a sports betting newbie or you're looking for intel on specific sportsbook promos, we've got your back:
Sportsbooks by category
Bettors can check out the top sportsbooks for specific sports, leagues, and events here:
Sportsbooks by region
Sports betting in legal U.S. states
Sports betting in potential legal U.S. states
Sports Betting Apps
Stay updated on the latest U.S. sports betting apps news, including best sports betting apps in each state, promotions, and regulatory changes.
Sports betting in international regions
NFL betting sites FAQs
What are the best NFL sportsbooks in the U.S.?
A handful of online sportsbooks have secured a top NFL rating in our industry-leading guide. These sportsbooks include Caesars, BetMGM, FanDuel, PointsBet and DraftKings. These are all safe, secure, trustworthy sportsbooks with great NFL odds, interactive bonuses and promos, and above-average features tailored to the ardent football bettor. They all have unique strengths when it comes to their NFL offerings, so you can read the reviews in more detail to find your perfect match.
Which betting site has the best NFL promos?
Sportsbooks in the U.S. have come correct when it comes to attracting new bettors leading into and during the NFL season. And while there's certainly no shortage of sign-up bonuses and offers available to first-time sportsbook customers, we put those listed in this guide at the front of the pack.
Can you legally bet on the NFL online?
Yes, you can legally bet on the NFL online so long as you're located in a region where sports betting is authorized and regulated. At present, over 30 states have active sports wagering markets, with more on the way.
Which sportsbook has the best app for NFL bettors?
All of the NFL sportsbook apps listed in this guide, from DraftKings to FanDuel to Caesars, provide bettors with a largely stable mobile betting experience, especially when it comes to live betting.
Which is the best sportsbook for live NFL betting?
When it comes to live betting, it's hard to beat industry leaders such as FanDuel, DraftKings, and BetMGM, who all combine superior technical specs with competitive odds and more live markets than even the most die-hard NFL bettor can handle.
Which betting site has the best NFL odds?
Quality of odds is one of the most competitive areas of sportsbook evaluation — and it's especially important during the NFL season, with billions being wagered monthly around the U.S. Bettors would be wise to give the betting sites listed in this guide a close look; these sportsbooks excel at offering the best odds in the industry on lines, spreads, and totals.
How old do you need to be to bet on the NFL online?
In the vast majority of states, you must be at least 21 years old to legally bet on the NFL online. Some locales, such as Montana, New Hampshire, Rhode Island, and Wyoming, only require you to be 18 years old.
What are the easiest NFL football bets to win?
The easiest NFL football bets to win are ones placed on heavy favorites. For example, if the odds on the Kansas City Chiefs to defeat the Tampa Bay Buccaneers are -500 and you back the former, you'll likely win your bet. However, your payout won't be as lucrative as if you'd backed an underdog and won in another scenario instead.