PointsBet Review
US Sports Bettors Accepted
Bonuses
5 Second Chance Bets up to $50 Each
PointsBet Welcome Bonus: 5 Second Chance Bets up to $50 Each
PointsBet offers new customers up to five second chance bets for $50 each. If any of your first five cash bets on a fixed odds market loses, you'll receive a bet credit for the losing wager up to $50.
The promotion starts on the day you place your first cash bet. If you do not place a bet over the first five days, you will lose the second chance bets, and it will not be extended.
Terms and conditions apply.
PointsBet Welcome Bonus: 5 Second Chance Bets up to $50 Each
PointsBet offers new customers up to five second chance bets for $50 each. If any of your first five cash bets on a fixed odds market loses, you'll receive a bet credit for the losing wager up to $50.
The promotion starts on the day you place your first cash bet. If your first bet of the day wins, you are not eligible for the promotion for that day. If you do not place a bet over the first five days, you will lose the second chance bets, and it will not be extended.
What is PointsBetting?
Simply put, PointsBetting increases your risk and reward. How this works is if your bet wins by one point (or unit), you will win 1x your bet amount (stake). If your bet wins by two units, you win 2x stake. If your bet wins by 10 units, you win 10x stake, and so on. This increases your risk as it works the same for the potential amount you can lose, but it provides a more dynamic betting experience that can prove very profitable.
Ongoing Promos and Contests
PointsBet focuses more on its unique bet types than ongoing promos and contests, but it does have a few offerings. For example, make 10 MLB bets, and you'll get a $25 bonus bet as a bonus. You'll also find plenty of local team bonuses and promos based on your location. All bonus money has a 1x rollover.

Here are a few other examples of ongoing PointsBet promos:
Crowd Boosters: A spread will move a point for every 100-200 bets taken by the book.
Name a Bet: If you want to wager on a market that doesn't exist, send them a message, and they'll collaborate on a betting option with you. Tweet your concept @PointsBetUSA with the hashtag #nameabet, and they'll price it.
Sunday Night 7: Free-to-play NFL game on the NBC Sports Predictor app powered by PointsBet. The app allows viewers to participate in a seven-question Sunday Night 7 contest focused on the upcoming game featuring a $100,000 jackpot.
NBA Live Same-Game Parlays: You can place live same-game parlays for select NBA games.
Partial Cash Out: This lets you settle your bet and collect some of your winnings early or save some of your stake from a bet that is losing. You use a slider to select the percentage of the bet you would like to cash out.
Diamond Club VIP Program
PointsBet also features a Diamond Club VIP Program, which offers a personal account manager and bonus bets worth 5% of your weekly handle. This is a more appealing loyalty program than others you'll find in the industry from rivals like Caesars and Barstool Sportsbook, whose programs feature virtually unachievable tiers.
PointsBet Review
Cate Blanchett. Men at Work. The Hemsworth brothers. AC/DC.
Australia has produced countless high-quality exports over the years — and with apologies to both cinephiles and music buffs, PointsBet Sportsbook might be the best of all. While it doesn't carry the same name cachet of a DraftKings, Caesars or FanDuel, PointsBet has leaned on creative promos and bet types to make a major impact in states in which it operates.
Here's a comprehensive look at why PointsBet Sportsbook is one of the best sports betting sites in North America for players who just want to have a little fun (but might not appeal as much to a serious betting crowd).
PointsBet Quick Facts
| | |
| --- | --- |
| 🏅 Rating | B+ |
| 🏢 Founded | 2015 |
| 🇺🇸 # of States | 14 |
| 🎰 Casino | ✅ Yes |
| ₿ Cryptocurrency | ❌ No |
| 📱 Mobile Apps | ✅ Yes (iOS, Android) |
PointsBet Locations
PointsBet Sportsbook is available for online sports betting in the following states:
PointsBet also reached a market access agreement in Texas through Major League Soccer's Austin FC, and was one of the first sportsbooks to launch in the regulated iGaming market in Ontario, Canada in April 2022. As an industry leader, you can expect PointsBet to be among the first betting sites launched as new states welcome legal sports betting.
Sports Leagues to Bet On
U.S. sports bettors are well taken care of here, with PointsBet offering one of the most comprehensive sets of markets across all six major professional North American sports. Here's a breakdown of those big six leagues, and how PointsBet serves them:
NFL Betting
PointsBet is all in on NFL betting as one of the top-rated NFL betting sites and Super Bowl betting sites. In September 2021, the brand announced that it will unveil integrations on the Football Night in America studio show and the new Peacock Sunday Night Football Final postgame show, stating that "Our NBC Sports NFL broadcast odds integrations represent a historic and groundbreaking moment for sports betting and PointsBet."
College Football
In addition to offering a steady diet of NCAA football betting markets all season long, bettors have the opportunity to make Pointsbets, select an alternate spread number across a range of as many as 24 points per team, and even read a pre-written game preview right there on the betting odds page. These are minor enhancements, but they certainly add up.
NBA Betting
PointsBet is the place to be for all of your NBA betting needs. In addition to covering off the basic moneyline, spread and totals options, PointsBet offers hundreds of team and player prop betting opportunities for every regular-season and playoff game. This sportsbook is competitive in this regard with the rest of the industry's heavy hitters.
College Basketball
Get your college hoops wagering fix with PointsBet, which offers a nice selection of standard and props bets across the Division I sports betting landscape from opening tipoff to the NCAA title game. PointsBet does offer a modest selection of pre-game player prop wagers, but only in states which allow those bets to be made.
NHL Betting
The NHL betting community is an ardent one – and it is well served by this sports betting site. PointsBet has all of its users' betting needs covered either before or during the game, with a strong combination of lines, totals, team and player props and futures bets. Users are also presented with some nice boost options built around the NHL team in their region.
MLB Betting
Australia's sports betting gem has America's pastime well-covered with a wide variety of Major League Baseball wagering options. Choose from dozens of player prop options (covering both hitters and pitchers), or stick with team or innings props options. You can also build a Same Game Parlay quite easily on PointsBet, which is a nice feature to have.
Other Sports Leagues
Thanks to PointsBet being an international brand and owning its tech from end-to-end, it has one of the widest ranges of sports offered in the industry.
You'll find any combination of Aussie Rules, basketball (WNBA, Int'l), boxing, cricket, curling, cycling, darts, eSports, football (CFL, XFL), Gaelic football, golf, greyhounds, handball, hockey (international), hurling, MMA (UFC), motorsports (NASCAR, F1), netball, Olympics, Rugby League, Rugby Union, soccer (multiple international leagues, World Cup), table tennis, tennis, track & field, snooker, squash, surfing, winter sports and volleyball.
The available sports markets vary from state to state, so you might not have access to all of the above listed sports based on where you place your bets.
Online Betting Experience
PointsBet Sportsbook has plenty of fans – but even its most ardent supporters would agree that the site could use a little sprucing. The desktop version features plenty of wasted space, while the app has more redeeming aesthetic qualities but also boasts issues that will have some players tearing their hair out.
Put together the best elements of the desktop and mobile experience and you have an app that would compete favorably with the industry leaders in terms of interface quality and ease of use. But that's not the case here – and I have to ding PointsBet for that reason.
Website Experience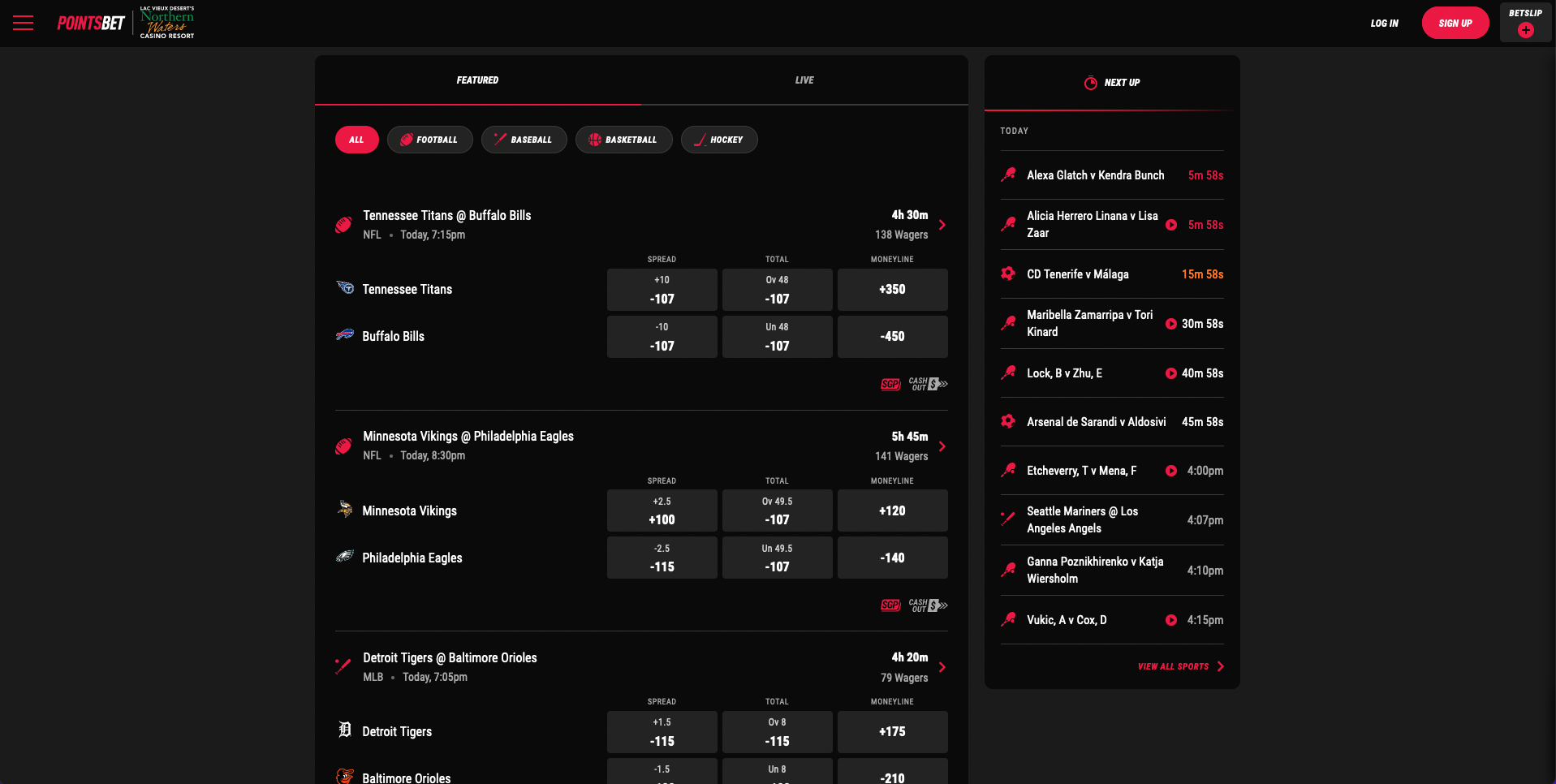 PointsBet provides a decent — but not great — desktop experience for users.
First, what I like: The odds are really easy to read, whether you're perusing the main odds menu in the middle of the screen or pouring over your betting card (which remains hidden until you select an initial game). The font sizes for both are larger than the industry standard, which matters for players who aren't into squint-reading their betting choices.
Unfortunately, this layout also leaves me wanting.
While most desktop sites feature a handy sports menu on the left-hand side, PointsBet has opted to leave this blank; you'll need to click the hamburger menu in the top-left corner to access the list of sports, boosts and promos. Players also need to select their odds and then add that play to their betting card (the initial click opens a prompt at the bottom of the screen). Why not do what others do and allow players to add games to their card with one click?
Give full credit to PointsBet for going with a simple design – but in this case, it might actually be too simple, resulting in a lot of empty space on the screen. Give us a visible sports menu!
Mobile Betting and Betting App
A mobile-first mentality seems to be the theme with the PointsBet design.
The mobile app layout is much smoother than the desktop. However, it doesn't save login info or offer Face ID or a PIN number. Users need to manually log in after 10 minutes of no activity, which is a drawback for those betting in-game specifically that want to jump on a bet quickly while watching a game.
That said, PointsBet has an impressive rating of 4.8 out of 5 based on nearly 24,000 reviews on the App Store. That's among the highest ratings of any U.S.-based sports betting site, and speaks to the sustained popularity of the app among the general sports betting public.
Live Betting
PointsBet does feature live betting and streaming for select sports. This is an area PointsBet excels in as it offers one of the broadest selections of in-game bets and props in the industry. You can bet on super-specific bets like quarterback completion percentages and at exactly what second the first touchdown will be scored in a game.
PointsBet is hoping that its in-play betting product will earn it a 10% market share in every state it operates, according to a 2021 quarterly earnings report. Of course, with many of the industry's big names having improved their in-play experiences, PointsBet faces an uphill battle there.
Casino, Poker, & Other Gaming Options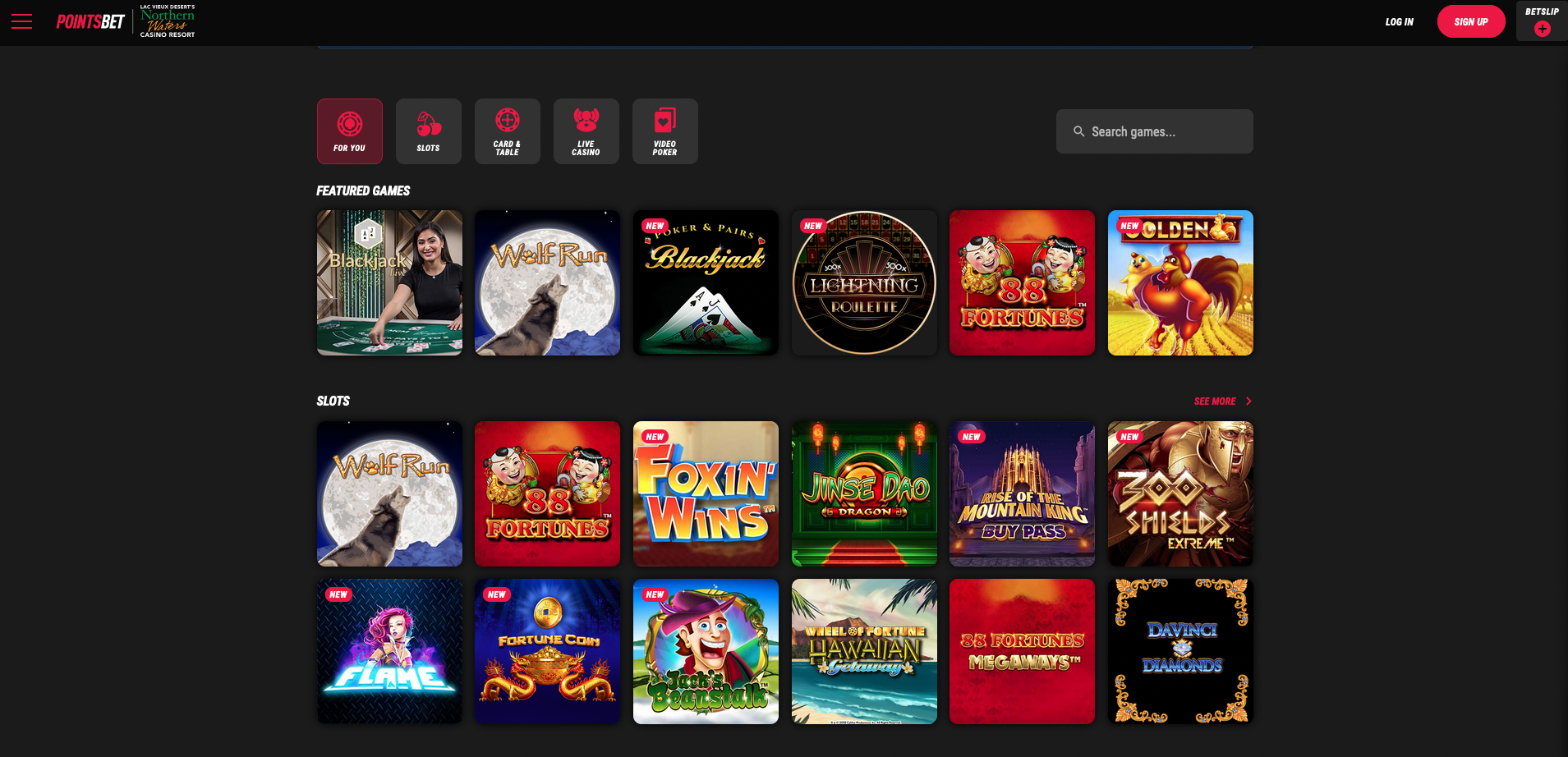 PointsBet offers casino games in three states: Michigan, West Virginia and New Jersey. And while you're likely to see PointsBet continue to innovate on the sports betting side of the ledger, its casino offering feels like a table-stakes proposition that doesn't really separate itself from a wide range of competitors in each of those states.
Slot games can be sorted by All, Featured, New, Exclusive, with standard offerings across all menus. PointsBet offers 83 slot games to Michigan residents, 66 to those who live in New Jersey and just 11 for West Virginians. Blah.
PointsBet also offers a token number of live games like Baccarat, blackjack and roulette, along with a handful of video poker options.
PointsBet History
PointsBet is a corporate bookmaker listed on the Australian Stock Exchange with operations in Australia, the United States, Canada, and Ireland. They joined the U.S. sports betting market shortly after PASPA was repealed, becoming the ninth sportsbook to operate in the state of New Jersey in January 2019.
They offer one of the deepest slates of pre-game and in-play betting options in the world, thanks to owning and controlling its technology end-to-end. Their innovative nature shows that they don't want to just be another book where you place typical bets. Unfortunately, they are quick to limit bettors on a hot streak and limit the number of promos you're able to take advantage of, making it necessary for you to shop at other books regularly.
In August 2020, PointsBet announced a five-year partnership with NBCUniversal to become the official sports betting partner of NBC Sports. PointsBet plans to commit $393 million worth of marketing spend throughout the partnership. NBC will also see a 4.9% stake in the betting company and receive fees in exchange for customer referrals with an exercisable option to increase ownership up to 25%.
In September 2021, PointsBet announced that it had entered into an exclusive agreement with Austin FC (AFC) of Major League Soccer (MLS), appointing PointsBet as AFC's Exclusive Sportsbook Partner. PointsBet has also executed a market access agreement with AFC's home stadium. Under the market access agreement, contingent on enabling legislation, PointsBet is appointed the venue's exclusive partner for sports betting operations in Texas.
On November 8, 2021, the New York State Gaming Commission recommended PointsBet as one of the nine companies to be awarded a Platform Provider license to operate mobile sports wagering in the state along with FanDuel, BallyBet, BetMGM, DraftKings, Rush Street Interactive, Caesars, WynnBet, and Resorts World.
Customer Ratings & Reputation
From its industry-leading innovation to its variety of bonuses and promotions, it's easy to see why PointsBet is one of the most popular sportsbooks in North America. Customers will rave about the sheer volume of available betting markets, along with countless live bet options and cool additions like Pointsbets and Create Your Own Bet.
You'll find standard odds at PointsBet, which doesn't traditionally open the market but will often offer boosted odds for local teams. In addition, it features promos like the "Crowd Booster" that sees the line move based on the amount of action it's getting from the public.
Its biggest flaw is that, if you are an experienced or highly profitable bettor, your limits will drop like the other major sportsbooks. PointsBet will also restrict you from opting into specific events. For this reason, we always suggest that bettors have active accounts set up at most major competitors such as BetMGM, Caesars or FanDuel.
There's also the issue of more experienced bettors no longer having access to promos that are specifically designed for new or less active customers. This might endear PointsBet to first-time bettors but predictably doesn't sit well with loyal PointsBet users who suddenly find themselves on the short end of the site's promo and bonus opportunities.
But these are either minor quibbles or issues that every major sportsbook presents. And if you need further proof that PointsBet is one of the most revered betting sites in the U.S., look no further than its 3.8/5 rating on Trustpilot – an absolutely unheard of score for a sportsbook. It helps greatly that PointsBet has responded to 97% of negative comments on the site.
Customer Service
PointsBet prides itself on providing one of the best customer service experiences in the industry – and it's fair to say it has achieved just that. The 24/7 live chat service quickly connects players to helpful, courteous customer service representatives who provide quick assistance. Even the email response is faster than most major sportsbooks.
In addition to helping players through customer service channels, PointsBet has one of the most detailed Help sections of any U.S. regulated sports betting site. On it, you'll find a whopping 13 tabbed FAQ options, broken down into categories like Sports Betting 101, My Account, Casino and Rules, Terms and Conditions.
Read the notable review sites and you'll find some disgruntled users, but this is par for the course in the sportsbook industry. Where complaints are concerned, PointsBet appears to have the fewest of any of the major sports betting sites.
PointsBet Contact
Phone: 1-833-338-PBET
Email: service@pointsbet.com
PointsBet Legal Betting
Individual state gaming regulators monitor PointsBet in regions where it is legal to operate.
Responsible Gambling
The legal age for sports betting in most states is 21+. This is subject to regional regulation. Please play responsibly. PointsBet complies with the rules laid down by the regulating bodies in the states in which it operates.
Here are a few resources to help ensure you are gambling responsibly.
Why Choose PointsBet Sportsbook?
There's plenty to unpack with PointsBet – and fortunately, most of it is positive. Its innovative Pointsbetting offering is a game-changer for bettors who like to live a little more dangerously, and is the cornerstone feature of a sports betting site that has prioritized finding the most creative ways to attract and retain customers.
This, combined with a selection of betting markets that rivals virtually any sports betting site in the country, gives PointsBet plenty of currency with new and casual bettors. I would happily extend that to include more experienced wagerers were it not for PointsBet's unfortunate tendency to limit successful bettors and reduce bonuses and promos for veterans.
Still, the positives far outweigh the negatives here – and while PointsBet might not get to its target market share in some states, it isn't going away. If you're looking for a first or new sportsbook and PointsBet operates in your area, give it a try. You might just wind up feeling thunderstruck (in a good way).
PointsBet-Related News
PointsBet Lowers Juice on NFL Betting Lines: Will the Competition Follow?
The Best NFL Sportsbooks of the 2022 Season So Far
Best Sportsbooks for NFL Futures Ranked
Bet Now
Banking Options at PointsBet
Accepted Currencies
Deposit

Min:

$5
Max:

$50,000
Fee:

Free

Min:

$5
Max:

$50,000
Fee:

Free

Min:

$5
Max:

$50,000
Fee:

Free

Min:

$5
Max:

$50,000
Fee:

Free

Min:

$5
Max:

$50,000
Fee:

Free

Min:

$5
Max:

N/A
Fee:

Free
Withdrawal




PointsBet offers limited withdrawal options compared to some of its competitors, but all methods easily link to your bank account or an eWallet like PayPal. Note that some states do not allow credit cards as a form of deposit or withdrawal. This is not the sportsbook's fault. Cash at cage is also an option at retail PointsBet Sportsbook locations such as Bally's Atlantic City Hotel & Casino and Meadowlands Racetrack in New Jersey, Catfish Bend Casino in Iowa, and select locations in Illinois. For more info on Illinois cash withdrawal locations, follow the instructions [provided by PointsBet here](https://help.pointsbet.com/hc/en-us/articles/4402417599001-Withdrawing-Cash-in-Illinois).