BetFeed ranks popular incoming bets.
Solid live betting menu.
Many promotional offers.
Your Region united states
Mobile App 📱 Android, iOS
SI Sportsbook Review
The Sports Illustrated Sportsbook is very much in its infancy, which is noticeable upon browsing the betting site or app, as the design is mediocre to go along with below-average betting odds. However, their relationship with 888 Holdings should allow them to evolve as they continue to grow in this hyper-competitive space.
Bonuses
If you are located in Colorado, Michigan, or Virginia, you're eligible to claim the sportsbook's bet $20, win $200 welcome bonus. Following registration, make an initial deposit — you must put down at least $10, but $20 is required to obtain the bonus. Then, place your $20 qualifying wager on any sports market with attached odds of +120 or greater. Should your bet win, you will receive $200 in bonus bets.
The $200 reward will come in eight (8) $25 chunks, and you will have seven days to use them. There are no odds requirements attached to the bonus bets.
Offer expires at 12:00 PM EST on January 1, 2024
SI Sportsbook Review
Sports Illustrated made its bones as the pre-eminent sports magazine of the 20th Century – but that brand recognition has only gone so far in the U.S. sports betting landscape.
SI Sportsbook is one of the newer notable entries in the sportsbook space, and is present in just three states to date. And that's not necessarily a bad thing for this sports betting site, which has some work to do in order to be mentioned among the industry's top-tier operators.
Here's a deeper look at SI Sportsbook, and why I'm hoping that its relationship with 888 Holdings will result in an improved product before long.

SI Sportsbook Quick Facts
| | |
| --- | --- |
| 🏅 Rating | C |
| 🏢 Founded | 2021 |
| 🇺🇸 # of States | Three (CO, MI, VA) |
| 🎰 Casino | ❌ No |
| ₿ Cryptocurrency | ❌ No |
| 📱 Mobile Apps | ✅ Yes (iOS, Android) |
SI Sportsbook Locations
SI Sportsbook is live and regulated in the following states:
SI Sportsbook also has plans to launch in Indiana, New Jersey, Arizona, and Canada soon.
Sports Leagues to Bet On
SI Sportsbook offers wagering on standard North American sports leagues and events. It also provides markets for niche sporting events like snooker, rugby union, darts, and table tennis.
SI Sportsbook's betting menu is satisfactory for casual bettors. Still, limited futures and exotic markets may deter more sophisticated bettors or those looking for more creative ways to bet.
NFL Betting
SI Sportsbook offers a standard range of options for NFL wagers, including conference, divisional, and Super Bowl futures, moneylines, spreads, totals, in-game wagers, and player props during the season. I like that you can occasionally find 18-cent vig on certain lines, but the 40-to-45-cent juice on prop markets is a bit steeper than players would prefer.

NBA Betting
NBA bettors will find a nice selection of moneyline, spread, and total plays for every scheduled game. You can also wager on teasers, quarterly or halftime options, player props, and various alternative spreads and totals. SI has a strong NBA product, combining a bet builder with custom parlay options and a decent selection of player props betting opportunities.

College Football
SI Sportsbook provides moneyline, spread, and total plays for most FBS college football games during the season, along with futures markets for the National Championship, conferences, and divisions, among others. The college lines across the board have higher vig than the pro sports markets, which is a bit disappointing given that this isn't the case at top-rated sportsbooks.

College Basketball
SI is here for all of the NCAA basketball bettors, offering traditional markets throughout the regular season and conference tournaments with more focus once March Madness tips off. The sportsbook approaches college hoops similarly to its NCAA football offering: You'll find a decent number of markets, but you'll pay more in juice across the majority of betting opportunities.

NHL Betting
SI Sportsbook offers a standard NHL betting menu. In addition to moneyline, puckline, and total plays, bettors have access to team and player props, along with period-specific betting markets and futures. As with SI's college sports collections, the vig on standard NHL lines is closer to 30 cents than 20, which leaves this sportsbook below the top tier in terms of odds quality.

MLB Betting
SI provides comprehensive MLB markets. Apart from your standard moneyline, spread, and totals, bettors can wager on team and player props and futures. Players have access to a wealth of betting options here, including a nice bet builder, SI-specific parlay opportunities and plenty of team and player props with odds that are within the reasonable range industry-wide.

Other Sports Leagues
Sports Illustrated also offers betting markets for more eclectic sports like snooker, rugby union, darts, and table tennis. You'll find extensive markets for top international soccer leagues like Premier League and Bundesliga and significant events like the FIFA World Cup. Even secondary leagues like Chile Segunda Division will have nearly 40 markets for in-play betting, including team props like half-time/full-time results, next goal, and Asian Handicaps.
Online Betting Experience
Sports Illustrated offers a mobile betting app for iPhone and Android and a website accessible on laptops and desktop computers.
Website Experience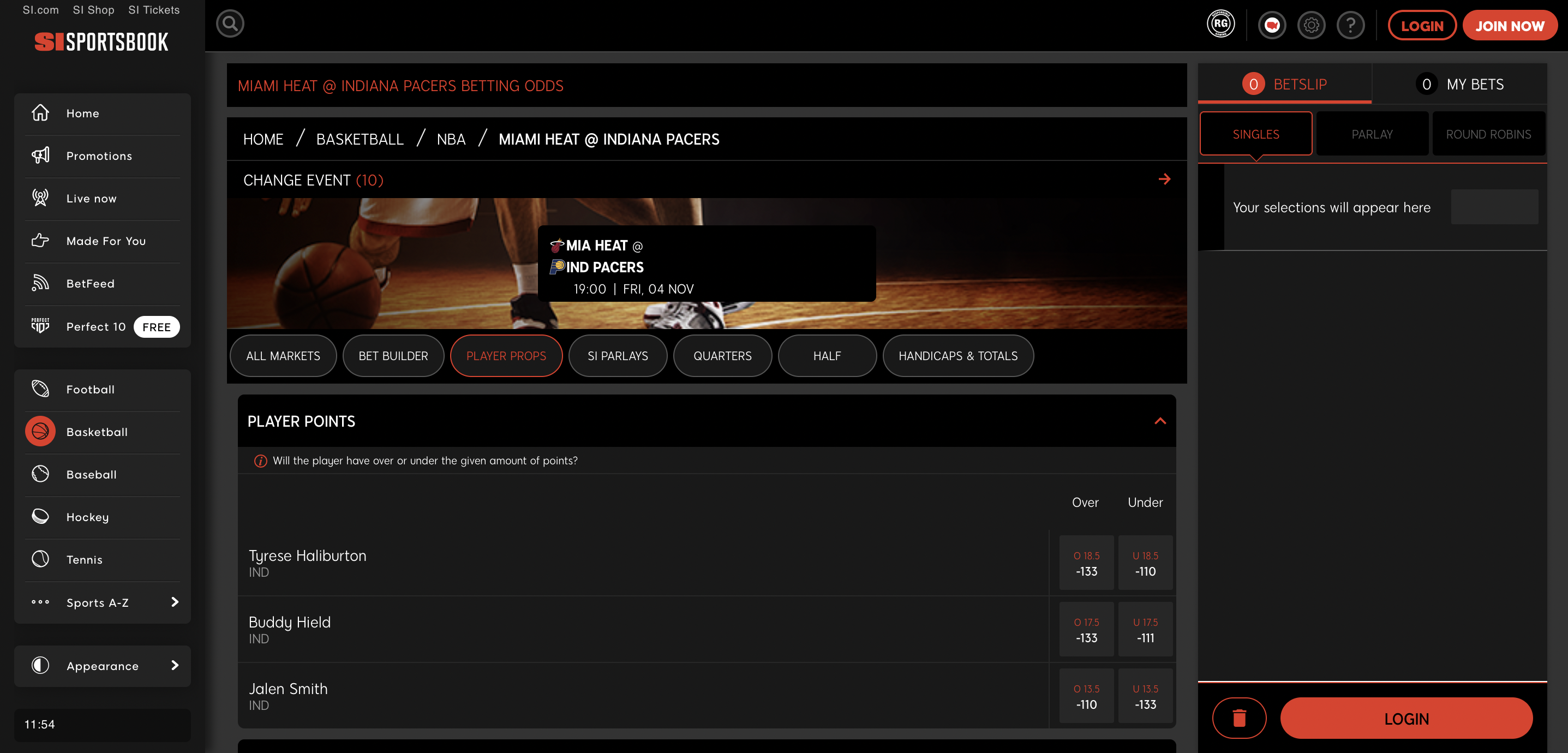 The Sports Illustrated could use a facelift: the design is dated, and the layout could be optimized to be more in line with the industry front-runners.
The top ribbon makes it easier to find some leagues like the MLB and NFL; otherwise, the user will need to look to the drop-down menu on the left to find the games they are looking for. And by lumping in all football and basketball markets into the same menu, users need to scroll below the pro games to find college betting opportunities. Separate NCAA menus would help.

That isn't the only concern. The promotional page isn't accentuated enough for users to find quickly and doesn't allow them to find sign-up bonuses or daily promotions with ease.
On the plus side, the BetFeed is a nice touch that ranks players' most popular bets coming into the betting site. This is a great way to get insight into leagues you may not typically have action on and get into new sports with a little something on the line to keep things interesting.
SI's desktop option has promise, but further optimization would be a big boost to the site.

Mobile Betting and Betting App
The mobile app is available for download on the App Store and Google Play.
Much like the website, the design is subpar, though it is slightly easier to navigate than the website.
The app is less cluttered, and the promotions ribbon is easier to find, along with a clearly marked icon that allows you to explore bonuses and promos further. But the betting slip is cumbersome and forces users to work a little harder to find the information they're looking for.

Like the website, the app is average at best and not overly intuitive compared to the industry standard.
Live Betting
Upon entering the website and app, the live betting markets are the first option on the menu. This is ideal for live betting enthusiasts who need and want instant access to get the best line available.
Unfortunately, as is the case with non-NFL and non-NBA pre-game markets, SI's live lines are often at least a cent or two more than competitors, so they are likely not worth the investment unless you're just looking for action.
That said, the selection of live betting markets at SI Sportsbook is fantastic. The site has a Live Now feed and a Schedule so you can jump right into the action or see what's coming up throughout the day. Major sports leagues like NFL and MLB will feature more than 40 markets available for in-play betting. You can even find plenty of markets for lesser-known leagues, from international soccer to Venezuelan basketball leagues.
Overall, the selection is there for a fantastic live betting platform – but I need to see better odds and live streaming available before I would rank SI Sportsbook's live betting platform among the best betting sites.
Casino, Poker, & Other Gaming Options
Sports Illustrated offers no casino, poker, horse racing, or iGaming options at present – but its alignment with 888 Holdings likely precludes involvement in the online casino space at some point in the near future.
SI Sportsbook History
The Sports Illustrated brand has long been known for its editorial content, but in 2021 it officially launched its first sportsbook endeavor in Colorado.
The launch came in conjunction with the partnership between 888 Holdings and Authentic Brands - the company that owns the intellectual rights to the Sports Illustrated brand.
Very much in its infancy, the sportsbook is only live in Colorado, Michigan and Virginia but has plans to expand into Indiana, New Jersey, Arizona, and Canada soon.
Customer Ratings & Reputation
SI Sportsbook app has an average 3.7-star rating on the App Store and features plenty of lackluster customer reviews (as is the case with most App Store sportsbook reviews).
Most complaints center around the sports betting site's underwhelming user interface and design and slow withdrawal times.
SI rates slightly better on Google Play at 3.9 stars; this is significant because most sportsbooks actually score lower on the Android platform's review section than on the App Store.
Customer Service
SI Sportsbook's customer service offering has improved dramatically in short order, to the point where it measures favorably against sports betting's heavy hitters like Caesars and FanDuel.
Players with immediate concerns can access SI Sportsbook's 24/7 live chat feature, which is only visible and accessible if you're logged in. I didn't have to wait long for an agent, and had my questions answered promptly and satisfactorily.
Those who prefer a phone resolution can call the number listed in the next section; agents are available 14 hours a day, seven days a week. There's also a "Contact Us" option on the Support page for those who prefer an email option; response time varies from 1-2 days there.

SI Sportsbook Contact
24/7 Live Chat (login required)
Phone: 1-833-451-8003 (available daily from 6 am to 8 pm ET)
Email: Via "Contact Us" button on Support page
SI Sportsbook Legal Betting
SI Sportsbook is regulated by the Colorado Department of Revenue: Gaming Division, the Michigan Gaming Control Board and the Virginia Lottery.
Responsible Gambling
The legal age for sports betting in most states is 21+. This is subject to regional regulation. Please play responsibly. SI Sportsbook complies with the rules laid down by the respective gaming regulators in your state.
Here are a few resources to help ensure you are gambling responsibly or if you or someone you know needs help with a gambling problem.
Why Choose SI Sportsbook?
Patience is the key for anyone thinking about giving SI Sportsbook a try.
For one thing, its footprint remains quite small, with only three states on its ledger. So for those of you in states where SI Sportsbook isn't present, you're going to have to wait (though residents of Arizona, Indiana and New Jersey might not be waiting long.)

Those players who can sign up for SI Sportsbook will find themselves patronizing an unfinished product. SI's interface needs some work, and the quality of odds on less-prominent pro markets and NCAA sports is not quite in line with the most highly-regarded sportsbooks in the U.S.
Expect SI Sportsbook to get more things right in the near future – but until then, I have this sports betting site as providing an average experience for both new and veteran wagerers.

Bet Now
Banking
Accepted Currencies
Methods of Deposit

Min:

N/A
Max:

N/A
Fee:

Free

Min:

N/A
Max:

N/A
Fee:

Free

Min:

N/A
Max:

N/A
Fee:

Free

Min:

N/A
Max:

N/A
Fee:

Free

Min:

N/A
Max:

N/A
Fee:

Free

Min:

N/A
Max:

N/A
Fee:

Free

Min:

N/A
Max:

N/A
Fee:

Free
Methods of Withdrawal