Betr Review
Last Updated: January 10, 2023
US Sports Bettors Accepted
Bonuses
$50 Bonus Credit Upon Sign-Up
New customers to Betr in Ohio can claim $50 in bonus credits. Create an account, verify your identify, and then you will receive $50 in bonus credits within 12 hours. The bonus credits will expire 30 days after they are deposited in your account.
21+ and present in OH. Gambling Problem? Call 1-800-GAMBLER
Terms and conditions apply
Betr Ohio Welcome Bonus: $50 Bonus Credit Upon Sign-Up
New customers to Betr in Ohio can claim $50 in bonus credits. Create an account, verify your identify, and then you will receive $50 in bonus credits within 12 hours. The bonus credits will expire 30 days after they are deposited in your account.
Be aware that you will need to deposit and wager at least $10 within seven days before you can withdraw any potential winnings.
21+ and present in OH. Gambling Problem? Call 1-800-GAMBLER.
Betr Review
The brainchild of Jake Paul and Joey Levy, Betr is the first sports betting app focused on "microbetting", which is placing a wager on individual moments of a contest that are not related to the final score (similar to prop bets). The wagers are made in real-time and settle quickly. A social media influencer and ultimate new media hype man, Jake Paul knows how social media platforms like Tiktok have changed the way the world works. "Microbetting is the Tiktok-ification of sports betting and I am excited to bring it to the masses through Betr," said the company co-founder.
Currently in a free-play Beta mode, Betr is set to launch for real money in Ohio on January 1, 2023, with other states to follow in the near future. However, at the time being, the app feels like it's being marketed to young kids. With bright colors, flashy logos, and layman's vernacular, Betr is very clearly targeting the greenest bettors and most casual of sports fans.
Betr Quick Facts
| | |
| --- | --- |
| 🏅 Rating | C *(subject to change) |
| 🏢 Founded | 2022 |
| 🇺🇸 # of States | 1 |
| 🎰 Casino | ❌ No |
| ₿ Cryptocurrency | ❌ No |
| 📱 Mobile Apps | ✅ Yes (iOS, Android) |
Betr Locations
Currently, Betr has no brick-and-mortar locations but the app is operable anywhere in the US. In most states, it will only be available in play-money mode for the near future but users can win real prizes, with the app's tokens translating into real cash. Betr even gave away a brand-new Jeep Wrangler in a contest on its free-play portal — not a bad way to generate excitement for the new app.
Sports Leagues to Bet On
Betr offers markets on all the major domestic professional and college sports and goes deep down to the molecular level of games to allow consumers to wager on the minutia of each game.
NFL Betting
The top dog in the betting market for nearly every sportsbook is front and center on Betr as well. In addition to the commonplace moneyline, spread, and total markets, Betr includes a "RequestABet" section with a combination of exact-score markets, combined player props, and other single-game parlay options for elevated odds. It also displays any "Odds Boost" wagers in the game's main betting navigation, allowing users quick access to boosted plays.
NBA Betting
The NBA moves a little bit faster than the NFL, so the markets are a little different … and users should stay on top of the games they are betting on. NBA wagers are available for users in time increments such as halves or quarters or even on a per-possession basis. These wagers are only offered during stoppages in play and are suspended during live play, but make for fast-paced action for NBA fans.
College Football
Similar to its NFL offerings, Betr provides users with team microbets for each FBS contest, ranging from the power-five conferences to Mountain West, Sun Belt, and AAC games. Currently, there are no player-based microbets available (at least in New York where I've accessed the app), but those may be available in other states where similar wagers on college player props are allowed.
College Basketball
College Basketball moves almost as fast as the NBA, and just like its professional counterpart should be monitored closely while placing microbets. Betr offers markets on nearly every power-five basketball game, including "Next Field Goal," bets giving users the option of a two-point field goal or, for slightly better odds, a three-point field goal.
NHL Betting
Betr offers markets on every NHL contest, but things can be difficult to track with the speed of professional hockey. Bettors are provided "Goal scored at listed time" bets, placing wagers on whether a not a goal is scored in a certain 10-minute increment.
MLB Betting
MLB offers one of the broadest spectrums of microbet markets, giving users the opportunity to bet the result of every half-inning, at-bat, or even every pitch. Betr typically forces users to wait until lineups are officially submitted, three hours before game time, before they open their MLB markets. Betr went so far as to offer pitch velocity Over/Unders for certain contests in September 2022.
Other Sports Leagues
It makes sense that professional soccer is not one of the markets offered by Betr. Soccer's flowing action doesn't exactly lend itself to the microbetting model in the same way that the start-and-stop action of the other professional leagues - particularly football and baseball - do. The most surprising omission from Betr's platform was combat sports, considering the background of its high-profile co-founder. Though that could change quickly as the platform continues to grow after its initial launch.
Online Betting Experience
The Betr website is a portal used to explain the platform and push users to download the app. Capitalizing on the instant-gratification model of social media platforms like Tiktok, co-founder Jake Paul has created content to market the product himself.
Website Experience
Sleek, dark, and modern, the Betr website has a new-age look and feel, clearly targeting a younger generation of sports bettors. With a full-page ad to download the app above the scroll line, the objective of this web portal is clear. Below the scroll, users will find a brief explanation of what microbetting is, a link to each of Betr's social media platforms, and a long list of media mentions and editorials promoting the product.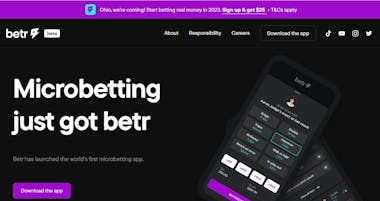 Mobile Betting and Betting App
A clean user interface and easy-to-navigate platform make Betr the ideal application for new and novice users. Veteran sports bettors may be thrown off by the "multiplier" payout formulas instead of the traditional sportsbook odds display, but it's pretty self-explanatory. Just remember that a 1.90x multiplier is a -110 bet, not a +190 bet.
The app interface consists of all the available leagues at the top of the screen with each broken down by game, conference, or league in the sub-navigation. Users have quick and easy one-touch access to view their current bets (which is important considering how quickly the games and wagers move).
In the free-to-play beta version, users are issued coins that can be cashed out for real money increments at higher levels. Of course when the real-money version launches, users will be able to see their account balance instead.
Live Betting
The large majority of microbets are live in-game wagers, with users firing bets on the results of individuals periods, drives, or plays. Most of the wagers offered are independent of the result of the contest itself and solely reliant on what happens immediately.
Casino, Poker, & Other Gaming Options
Betr is just breaking into the industry and has only just launched its app. Though there are no alternative gaming options offered yet, don't be surprised to see Betr continue to penetrate the market with different kinds of gaming options.
Betr History
Betr launched its mobile app on September 1, 2022, originally as a free-play beta. Having already developed SimpleBet in 2018 — a platform specifically designed for microbetting — Levy partnered with Paul to generate the funds to launch the Betr app. They raised $50 million from a group of investment firms and celebrities in its initial fundraising and has rolled out the free-play beta app in all 50 states and plans to move forward with its real-money platform on a state-by-state basis, beginning with Ohio.
Customer Ratings & Reputation
Betr has received mostly positive reviews on both Apple Store and Google Play, with a few users complaining about a login issue in mid-September 2022. But that appears to have been resolved relatively quickly based on review timestamps and administrator responses to the posted reviews. Most of the online reviews rave about Betr's intuitive user interface and simplicity.
Meanwhile, the majority of the negative reviews were complaints about the lack of traditional sportsbook content. Despite the feedback, it doesn't appear that Betr plans to include traditional spread or moneyline markets, instead leaning into the microbetting exclusive platform they currently have.
Customer Service
The Betr help page has a search function that allows users to answer their most basic questions. The email address provided guarantees an answer within 72 hours of submitting a ticket, and you can also reach out to them via Twitter. Their customer support options are limited, but quite possibly could expand once they officially go live.
Betr Contact
email: support@betr.app
Twitter: @betr
Betr Legal Betting
The Ohio Casino Control Commission has the responsibility to ensure the integrity of casino gaming, sports gaming, skill-based amusement machines and fantasy contests by licensing, regulating, investigating and enforcing state laws.
Responsible Gambling
Betr is committed to responsible gambling, providing resources for players who need them. They offer time, bet, and deposit limits for users plus the option to exclude yourself from Betr. Betr also outlines tips for responsible play to ensure you gamble responsibly. You must be 21+ to play.
Here are a few resources to help ensure you are gambling responsibly.
Why Choose Betr?
Betr has turned in-game wagering on its head by dedicating its entire platform to microbetting. By creating a true instant-gratification play style for sports bettors, Betr has tapped into a market that few others have successfully navigated. Though the big players like DraftKings have dabbled in this with things like "Flash Props," the wagers are typically difficult to find and bet in live time. Betr's user interface, dedicated solely to microbetting, makes it easy to lock in bets and see results quickly.
This platform is ideal for the low-limit, novice bettor who is casually looking for an additional level of entertainment from their sporting events. Having to sweat Sean McVay's play-calling or Jacob DeGrom's slider velocity certainly adds to the consumer experience, but isn't something that "sharp" bettors typically endorse.
The promotions and giveaways from Betr have been attention-catching already. Users will have to wait and see if Betr can live up to the hype.
Bet Now
Banking
Accepted Currencies
Methods of Deposit

Min:

N/A
Max:

N/A
Fee:

Free

Min:

N/A
Max:

N/A
Fee:

Free
Methods of Withdrawal