Best Sports Betting Apps in the U.S. for Sept. 2023
With the field of competition ever-increasing, the best sportsbooks know they also need to deliver the best sports betting apps in the U.S. to maintain their dominance. We've thoroughly evaluated all the betting apps on the market to deliver you a list of the top options.
Top sports betting apps reviewed
We have reviewed and evaluated the leading sports betting apps in 2023, ensuring you have access to the most reliable and user-friendly platforms for your sports wagering endeavors.
1. DraftKings sportsbook app
What we like
For our money, DraftKings' mobile platform is the best sports betting app in the industry, offering an array of the best sportsbook promos and odds boosts. With a wide range of markets and bet types available, you'll have plenty of options at your fingertips. The app is accessible on both iOS and Android, ensuring compatibility with your preferred device.
As a legitimate and licensed sportsbook, you can trust the security and fairness of your DraftKings sports betting app experience. Its professional customer support delivers prompt assistance whenever needed, and it prioritizes safe and secure banking transactions, providing peace of mind when managing your funds.
What we don't like
While DraftKings excels in providing promotions for new users — claim the bet $5, get $200 welcome bonus without a DraftKings promo code — existing users may find the offers somewhat restrictive. Additionally, the maximum bet limits for odds boosts can be relatively low compared to other platforms.
Our one-sentence summary
Arguably the best app for sports betting, DraftKings' mobile platform dazzles with consistent promos, a sleek interface, an exhaustive betting menu, and top-tier security.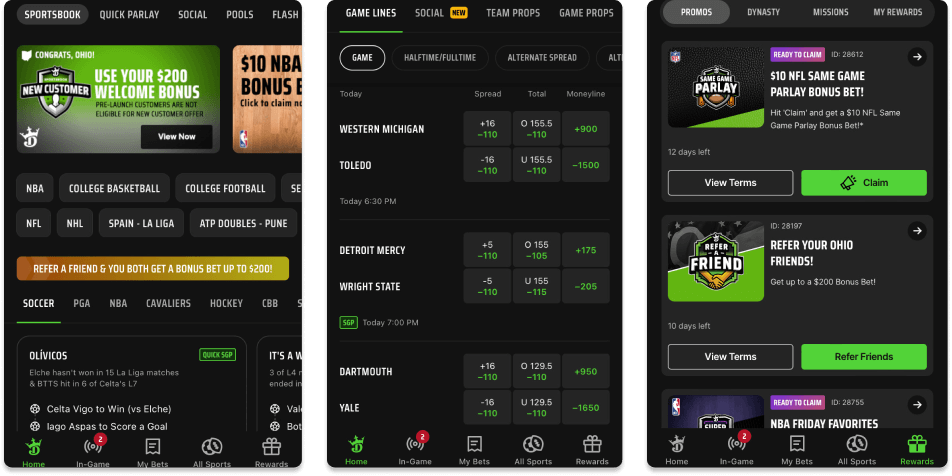 | DraftKings sportsbook app | |
| --- | --- |
| ➡️ Download size | 261.5 MB |
| 📱 iOS rating | 4.8/5 |
| 📱 Android rating | 4.6/5 |
| 💰 Welcome bonus | Bet $5, get $200 |
| 🌎 States active | 21 |
For additional insight on the sportsbook, check out our DraftKings review.
2. FanDuel sportsbook app
What we like
The FanDuel sportsbook app is licensed in multiple states, making it a trusted choice for sports betting enthusiasts. With abundant markets covering popular and niche sports, pinpointing preferred wagering opportunities is simple. The app also features an engaging layout, providing a user-friendly and immersive online sportsbook experience.
Regarding banking, FanDuel ensures fast and secure transactions, making it arguably the best online sportsbook for payouts. You'll find numerous banking methods to select from, including PayPal, debit and credit cards, Play+ cards, and more.
FanDuel generally tailors unique bonuses and promotions to specific states, adding an extra layer of excitement for users in different regions. New users in almost any locale, however, can snag a limited-time bet $5, get $200 in bonus bets offer without a FanDuel promo code.
What we don't like
The FanDuel sports betting app has limited cash-out options, which may be a drawback for some bettors. Additionally, there is no shared wallet for all gaming products, so you'll need separate accounts for other FanDuel offerings.
Our one-sentence summary
The FanDuel sportsbook app offers an intuitive and feature-rich platform with abundant markets, making it a compelling choice.
To discover more about the sports betting platform, read our FanDuel review.
3. BetMGM sportsbook app
What we like
The BetMGM mobile sports betting app offers live streaming — it's one of the top live betting sites — allowing users to watch their favorite sports events on the go. Betting on those events is made easy via a panoply of bet types, including the moneyline, point spread, and props. New bettors can also garner a $1,500 back in bonus bets sign-up offer with BetMGM bonus code SBRBONUS.
One advantage of the BetMGM app is its integration with the operator's casino and poker products, offering an all-encompassing gaming experience in a single platform. BetMGM maintains low margins as a trusted bookmaker, ensuring competitive odds.
What we don't like
Withdrawals at BetMGM may take at least two banking days, which could slightly inconvenience some users. Additionally, the operator offers fewer sports-specific promotions for existing players than it does casino offers.
Our one-sentence summary
The BetMGM sports betting app is a reputable and comprehensive platform with a superb live streaming section.
| BetMGM sportsbook app | |
| --- | --- |
| ➡️ Download size | 80.8 MB |
| 📱 iOS rating | 4.8/5 |
| 📱 Android rating | 3.7/5 |
| 💰 Welcome bonus | $1,500 back in bonus bets |
| 🌎 States active | 20 (+DC & Puerto Rico) |
Dig into our BetMGM review to uncover a more thorough understanding of the sportsbook.
4. Caesars sportsbook app
What we like
Boasting one of the industry's most prolific and historic brands, Caesars has fabricated a sports betting app that lives up to its reputation. Users can look forward to frequent promotions — like a bet $50, get $250 in bonus bets welcome offer for first-timers who use Caesars promo code SBRBONUSGET — odds boosts, and more to enhance their betting experience.
A feature that makes Caesars' platform one of the best sports betting apps is the availability of NFL live streams directly within the app, allowing users to watch football games they can bet on in real time. If you're looking for the top NFL betting sites and apps specifically, Caesars may be the choice for you.
What we don't like
While Caesars' live streaming feature is top-notch, its live betting section falls short, which may be a drawback for some bettors seeking real-time wagering opportunities. And although its overall selection of betting options is solid, it may not always have the same extensive range as other platforms.
Our one-sentence summary
Frequent promotions, exclusive NFL live streaming, and a highly reliable platform make the Caesars Sportsbook app an excellent choice.
For more actionable intel, take a look at our detailed Caesars review.
5. bet365 sportsbook app
What we like
The bet365 sportsbook app is fully licensed and regulated in Malta and Gibraltar, ensuring a safe and secure betting environment. One of the standout features of this app is its massive selection of in-play betting options, allowing users to wager on live events across various sports.
New users can enjoy a generous welcome bonus — a bet $1, get $365 in bonus bets offer via bet365 bonus code SBRBONUS — that is guaranteed to boost their bankroll immediately. Additionally, bet365 offers convenient methods for deposits and withdrawals, making transactions hassle-free.
What we don't like
Although minor, the bet365 betting app has two standout drawbacks: A bland design compared to other platforms and the lack of a loyalty program. The latter is especially noteworthy since some competitors, like Caesars, offer exemplary programs that provide valuable additional perks.
Our one-sentence summary
You won't find a sports betting app offering a more newbie-friendly welcome bonus than bet365, and its many in-play betting options, easy-to-navigate interface, and substantial market coverage make it worth staying around for the long haul.
Rifle through our bet365 review to get a big-picture perspective of the sportsbook.
Best sports betting apps by ratings
Navigating the world of sports betting apps can be challenging, especially considering the complex and varying legislation across different states. Not all online betting apps are licensed in every state, so users often need to find options specifically available in their region.
One valuable resource to help simplify the selection process is the reviews accessible on the App Store and Google Play store. These reviews offer insights from actual users who have experienced the apps firsthand, providing feedback on their availability, functionality, and overall satisfaction level.
Reviews can help users decide which of the top sports betting apps best suit their needs and preferences, ensuring a more enjoyable betting experience.
| Sportsbook | App Store rating | Google Play rating |
| --- | --- | --- |
| 💯 PointsBet | 4.8 | 4.4 |
| 👑 DraftKings | 4.8 | 4.6 |
| 🦁 BetMGM | 4.8 | 3.7 |
| 🍻 Barstool | 4.8 | 3.0 |
| 🤺 FanDuel | 4.8 | 4.7 |
| 🟢 bet365 | 4.7 | 4.5 |
| 🎰 Tipico | 4.6 | 4.6 |
| 🏛️ Caesars | 4.6 | 4.3 |
| 🏨 WynnBET | 4.6 | 4.4 |
| 💰 Betfred | 3.9 | 3.8 |
Gambling Problem? Call 1-800-GAMBLER
Sports betting apps pros and cons
Downloading multiple sports betting apps is considered a best practice for bettors largely due to the concept of line shopping. By accessing different apps, bettors can compare odds and lines to maximize their potential returns. However, there are pros and cons to consider when signing up for more than one sportsbook:
Pros
✅ Line shopping: Multiple apps allow bettors to compare odds and lines from different sportsbooks, increasing the chances of finding the best bet value. Ensure you have a good handle on how to read odds first, though.
✅ Variety of betting options: Different apps may offer unique betting options, such as prop bets or alternative lines, giving bettors a more comprehensive range of choices.
✅ Multiple bonuses and promotions: Each sports betting app typically offers its own set of bonuses and promotions, meaning bettors can take advantage of multiple offers.
Cons
❌ Account management: Managing multiple accounts can be time-consuming and requires keeping track of different login credentials and funds.
❌ Information overload: Too many apps can lead to an overwhelming amount of information, making researching and analyzing betting options challenging.
❌ Small platforms: Although placing wagers on the go is convenient, some users may find their mobile device's screen size restrictive when compared to the experience of using a desktop.
Benefits of sports betting apps vs. online betting sites
The emergence of mobile sportsbook apps has revolutionized how people engage in wagering. While online betting sites have advantages, the best sports betting apps provide unique benefits, such as a convenient, user-friendly, and immersive betting experience tailored specifically for mobile devices.
Below, we break down some of the key boons that come with mobile wagering vs. betting on traditional websites:
Portability 🏃
Online betting apps offer unparalleled portability, allowing bettors to enjoy their favorite pastimes on the go. This portability advantage ensures you can place wagers from anywhere — so long as you're within the borders of a legal betting market — whether at a sports event, watching a game at a friend's house, or simply relaxing at home.
Ease of use 💡
Betting apps generally vaunt user-friendly interfaces, providing a more seamless and intuitive betting experience than is possible via computer. With optimized designs for mobile devices, these apps improve the process of navigation, learning how to bet on sports, and managing your bankroll.
Notifications ❗
One distinct positive of utilizing betting apps is notifications. You can receive real-time alerts directly to your mobile device's lock screen, informing you about upcoming games, changes in odds, and exclusive promotions. This feature ensures you stay up-to-date and ready to capitalize on valuable betting opportunities.
Odds comparisons 🎰
Researching odds and lines becomes much quicker and more efficient when you can simply bounce from one sportsbook app to the next, regardless of location. While you could have multiple tabs open on a computer, you're limited in where you can use the device.
How to start using sports betting apps
Here's a step-by-step guide on how to begin using sportsbook apps and placing your first bet:
Select one of the top sports betting apps from our list. If you're still unsure about the options, our FanDuel vs. DraftKings comparison guide is a good place to start.
Go to the App Store (iOS) or Google Play (Android) and search for your chosen app.
Download and install the app on your mobile device by tapping "GET" (iOS) or "INSTALL" (Android).
Open the app by selecting its icon on your device's home screen.
Register for an account within the app if you're a new bettor by providing your personal information (name, address, phone number, etc.).
Create a unique username and password for your account.
Complete the identity verification process, which may require submitting government-issued identification.
Familiarize yourself with the terms and conditions of the app's sign-up bonus.
Tap on the "Deposit" or "Cashier" section within the app, select your preferred payment method, enter the deposit amount, and follow the prompts to complete the transaction.
Now you can wager. Begin browsing the app's available sports and betting options.
Pick a market, enter your stake amount, confirm your bet, and enjoy the excitement of sports betting.
When you're ready to withdraw your winnings, navigate to the "Withdraw" or "Cashier" section in the app.
Choose your desired withdrawal method, enter the amount you wish to withdraw, and follow the instructions to initiate the withdrawal process.
iOS betting apps
If you're an iOS user, follow these instructions to download and install sports betting apps on your device:
Visit the App Store on your iOS device.
Search for the desired sports betting app using the search bar.
Once you find the app, tap on it to access its page.
Tap the "Get" button to initiate the download and installation process.
If prompted, authenticate the download using your Apple ID password or biometric authentication (Face ID or Touch ID).
If it's your first time using the app, follow the on-screen instructions to create an account and complete the registration process.
After registration, log in to your account and explore the sports betting options on the app.
SBR tip: Ensure your iOS device is updated to the latest software version to ensure compatibility with the sports betting app and access its full functionality.
Android betting apps
If you're an Android user, follow these instructions to download and install sports betting apps on your device:
Open the Google Play store on your Android device.
In the search bar at the top of the screen, type in the name of the desired sports betting app you want to download.
From the search results, select the app you wish to install.
Tap the "Install" button to initiate the download and installation process.
Review the permissions the app requires and tap "Accept" to proceed with the installation.
Once the installation is complete, locate the app's icon on your home screen and tap on it.
If it's your first time using the app, follow the on-screen instructions to create an account and complete the registration process.
After registration, log in to your account using your credentials and explore the sports betting options.
SBR tip: For Android users, it's essential to enable the installation of apps from unknown sources in the device settings if you want to download sports betting apps directly from the operator's website. However, it's generally recommended to download apps from the Google Play store to ensure safety and security.
How we rate and review sports betting apps
At SBR, we will never take shortcuts in our efforts to highlight the best sports betting apps in the business. We create accounts, interact with customer service, deposit money, navigate the app, place bets and make withdrawals. This allows us to gain an understanding of the customer experience offered by each app.
We are then careful to cross-check our findings with trusted colleagues and the community of nearly half a million sports bettors that use our Sportsbook Review Forum.
Only then will we assign a rating to a sportsbook based on the quality of its app. This is an ongoing process — a sportsbook can be downgraded if it starts to fall short of our strict standards. It can also be upgraded, but the sportsbook must demonstrate a significant improvement over a prolonged period of time if it is to do so.
The bottom line is that we stringently test the apps of the sportsbooks we recommend. We have also used the apps we do not recommend, and we can confidently warn you against using them. Those featured on our top sports betting apps list are all safe and reliable, and we vouch for them based on personal experience. We hope our stamp of approval gives you the utmost confidence when signing up with an online sportsbook.
For more on the standards we uphold in our content creation process, see our editorial policy.
Sports betting apps quick facts
| | |
| --- | --- |
| ⚖️ States with legal sports betting | 33 |
| 🚀 First betting app launched | 2018 |
| 📱 Operating systems | iOS & Android |
| ➡️ Legal betting age | 21; 18 (MT, RH, RI, WY) |
| 🏆 Best sports betting app | DraftKings |
| 🏈 Most popular betting sport | NFL |
Sports betting apps resources
American Gaming Association (AGA) — The American Gaming Association is a leading trade association representing the casino gaming industry, which includes sports betting. Its website provides valuable insights into the business, including legislative updates and resources for responsible gambling.
National Council on Problem Gambling (NCPG) — The NCPG is an organization that assists individuals and families affected by problem gambling. Its website offers resources, helplines, and information on responsible gambling practices.
Official state gambling commissions — Each state has its own regulatory body responsible for overseeing gambling activities, including sports betting. Visit your state's official gambling commission website for specific information on sports betting regulations, licensing, and approved operators.
Sports betting across the U.S.
Sports betting in legal U.S. states
Potential legal U.S. sports betting states
Sports betting in international regions
Best sports betting apps FAQs
Why use mobile sports betting apps?
Mobile sports betting apps offer convenience and flexibility, allowing users to place bets anytime and anywhere using their smartphones or tablets. With easy access to a wide range of sports markets and betting options, these apps provide a seamless and user-friendly betting experience. They also offer features like live betting, real-time odds updates, and notifications, ensuring users stay engaged and informed throughout their betting journey.
Are bonuses available for sports betting app users?
Yes. Many sports betting apps offer bonuses and promotions specifically for platform users. These bonuses can come in various forms, such as welcome bonuses, deposit matches, bonus bets, or enhanced odds.
Are there any differences between sportsbook apps and their sites?
While sportsbook apps and their corresponding websites generally offer similar features and betting options, there may be some differences in the user interface and functionality. Mobile apps are specifically designed for smaller screens and touch-based navigation, providing a more streamlined and optimized user experience.
Can I make bets through the app if I'm in another state?
The availability of sports betting apps depends on each state's specific regulations and licensing. Some sports betting apps are geo-restricted and can only be accessed and used within the state where they are licensed. If you are in a different state, you may be unable to place bets through the app.
Should I use multiple sports betting apps?
Using multiple sports betting apps can be advantageous for several reasons. It allows you to compare odds and lines across different sportsbooks and find the best value for your bets through a practice known as "line shopping." Additionally, different apps may offer unique features, promotions, or betting options that cater to your specific preferences. Using multiple apps, you can diversify your betting experience and take advantage of various opportunities in the market.
What are the best sports betting apps in the U.S.?
The best sports betting apps in the U.S. may vary depending on personal preferences and specific state regulations. However, widespread and reputable options include DraftKings Sportsbook, FanDuel Sportsbook, BetMGM Sportsbook, Caesars Sportsbook, and bet365 Sportsbook. It's always a good idea to research and read reviews to find sports betting apps that align with your needs regarding features, user experience, and available markets.
Which sportsbook app is best for live betting?
Several sportsbook apps offer excellent live betting options, allowing bettors to place wagers on sporting events in real-time. Some notable sportsbook apps known for their live betting features include DraftKings Sportsbook, FanDuel Sportsbook, and BetMGM Sportsbook. These apps provide a dynamic and engaging live betting experience with real-time odds updates, various in-play markets, and the ability to place bets throughout a game or match.
Which sports betting apps provide bonus bets?
Several sports betting apps provide bonus bets as part of their promotions. Apps like DraftKings Sportsbook, FanDuel Sportsbook, and BetMGM Sportsbook are known to offer bonus bets to their users. Bonus bets can come in different forms, such as bet & gets or deposit match bets, where the sportsbook matches your initial wager up to a certain amount. We recommend you check the app's promotions section or the operator's website for specific details on available bonus bets.
Are sports betting apps legal?
The legality of sports betting apps depends on each jurisdiction's specific regulations and licensing. In the U.S., sports betting is legal on a state-by-state basis. Some states have fully legalized sports betting, including mobile betting, while others have restrictions or have yet to legalize it. It's crucial to comply with local laws and use licensed and regulated sports betting apps within authorized jurisdictions.
Reputable and licensed sports betting apps employ stringent security measures to protect user information and provide a safe betting environment. They utilize encryption technology to safeguard personal and financial data, ensuring secure transactions. However, it's essential to exercise caution and only download apps from trusted sources, such as official app stores. Additionally, practicing responsible gambling and setting limits for yourself can contribute to a safe and enjoyable betting experience.