High limits.
Can offer more favorable lines than competitors.
Will occasionally open the market on odds.
Your Region united states
Mobile App 📱 Android, iOS
Circa Sports Review: Promo Code & Sportsbook App for Sept. 2023
Circa Sports is a high-roller haven with the most impressive in-person sportsbook experience in the world. It is known for high stakes and not limiting winning players. However, it may not be the best option for casual bettors and lacks some basic features found in all major online sportsbooks.
Bonuses
Circa Sports Summary
Of the dozens of sports betting sites now in operation across the United States, none are as polarizing as Circa Sports.
On one hand, Circa is the perfect fit for experienced bettors and high rollers alike, offering some of the highest bet limits and most competitive odds of any sportsbook in the U.S. Coupled with high-profile handicapping contests that carry staggering prizes for top finishes, and it's easy to see why veteran sports bettors flock to Circa Sports.
But this is not a site for casual players looking to use Circa's sign-up bonus as the springboard to a rewarding wagering experience. There is no new user promo here – and that likely isn't changing anytime soon. Interested in betting on fringe sports? You won't find them here, either.
Let's take a deeper dive into Circa Sports, and why it's either the ideal sports betting site or not worth a second glance depending on what kind of bettor you are.
Circa Sports Quick Facts
| | |
| --- | --- |
| 🏅 Rating | B- |
| 🏢 Founded | 2019 |
| 🇺🇸 # of States | Three |
| 🎰 Casino | ❌ No |
| ₿ Cryptocurrency | ❌ No |
| 📱 Mobile Apps | ✅ Yes (iOS, Android) |
Circa Sports Locations
Circa Sports is live and legal in the following states:
Each state is governed by its respective gaming commission. Circa is sure to be vying for a spot when new states welcome legal sports betting, such as Kentucky sports betting on September 28, 2023. Unfortunately, Circa is unlikely to offer Kentucky sportsbook promo codes.
Sports Leagues to Bet On
You're going to notice a theme throughout this review, and it's this: Circa Sports tends to do things differently than the majority of notable U.S. sports betting sites. It starts with Circa's overall sports coverage, which focuses heavily on the events Americans bet on most:

NFL Betting
NFL betting is predictably front and center at Circa Sports – and if you don't believe me, check out sports betting social media on a Sunday and count how many people are taking selfies from Circa's famous sportsbook pool while watching NFL action. From an odds perspective, Circa has some of the best edges in the game and accepts absurdly high limits on derivative markets.

NBA Betting
Those of you into NBA betting are well covered, with Circa offering plenty of betting markets for every regular season and playoff game. Again, you're getting high betting limits – though it's worth noting that the majority of of Circa's NBA futures offerings actually carry worse odds than competitors like FanDuel or PointsBet. There's better value elsewhere.

College Football
NCAA football is an area where Circa really separates itself from the competition. At the risk of already sounding repetitive, you simply won't find another sportsbook willing to take such high dollar amounts on secondary college football markets (and Circa does a great job here of putting its upper bet limit right on the prop tab, so you're not left wondering.)

College Basketball
Circa is known for having really strong NCAA basketball betting markets all season long, unlike some sportsbooks that don't take college hoops seriously until conference tournament time. And interestingly, Circa's futures odds here aren't quite as stingy as the industry leaders, although you're still better off shopping around for the best number as a general rule.

NHL Betting
Circa Sports has not forsaken the NHL betting crowd. The inclusion of basic moneyline, puckline and totals markets is a must, but Circa also provides prop betting opportunities with their typically high limits (though NHL limits aren't as high as most of the other sports Circa covers.) I would like to see even more markets, but there might not be the same demand at Circa.

MLB Betting
Those Circa swimmers at the Vegas on-site location need something to wager on during those scorching summer afternoons – and MLB betting is the perfect tonic. Circa's MLB markets are plentiful, and its odds are better than the industry standard. It's also worth mentioning that Circa doesn't juice its lines nearly as much as other sportsbooks on more one-sided matchups.

Other Sports Leagues
There isn't much more you can wager on at Circa Sports. In addition to the six sports and leagues listed above, Circa only provides regular odds markets for auto racing, golf, soccer, tennis and UFC. If you're looking for a wider menu, this isn't the sportsbook for you.

Online Betting Experience
In keeping with the theme of function over form, Circa's desktop and mobile app experiences have fewer frills than just about any other marquee sportsbook in the U.S. – which is great for users who are just there to bet, but might turn off those who like better aesthetics.

Website Experience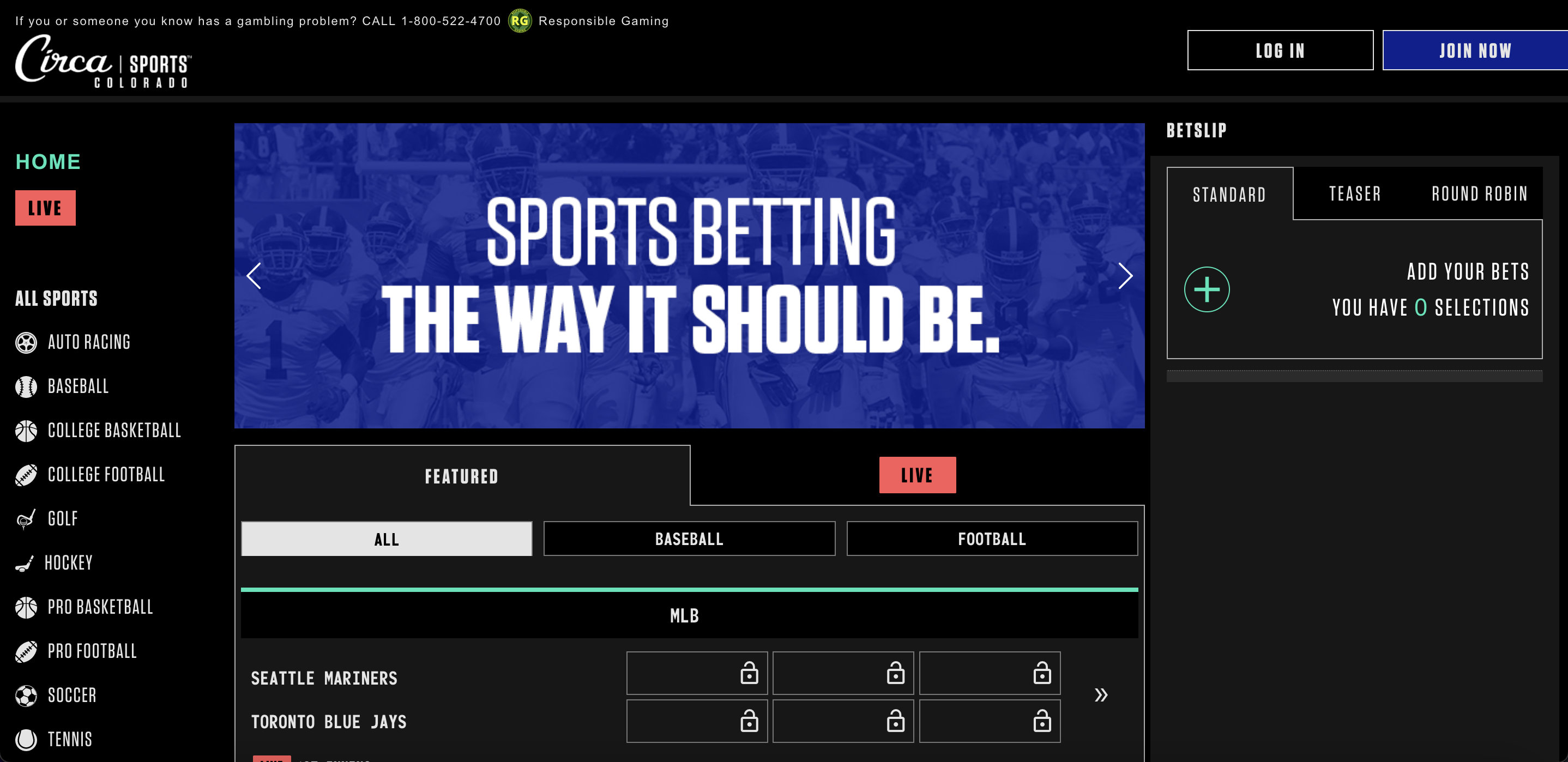 IGT has provided Circa Sports with a basic online wagering platform. It covers all major sports, but it does not feature many leagues or tournaments, so it is quick and easy to find your way around the sports betting site and the app. The lack of promos also assists in a clutter-free browsing experience. There is no search option, but you should be able to navigate to games quickly. It is straightforward to use, with a simple bet slip.
This minimalist approach to its online sports betting product is great for people who just want to get in and make a bet, but there isn't enough here to captivate bettors for whom presentation matters more. And that's fine by the folks at Circa Sports – they're about sports betting "the way it should be." But if you think sports betting could use a little more panache, look elsewhere.

Mobile Betting and Betting App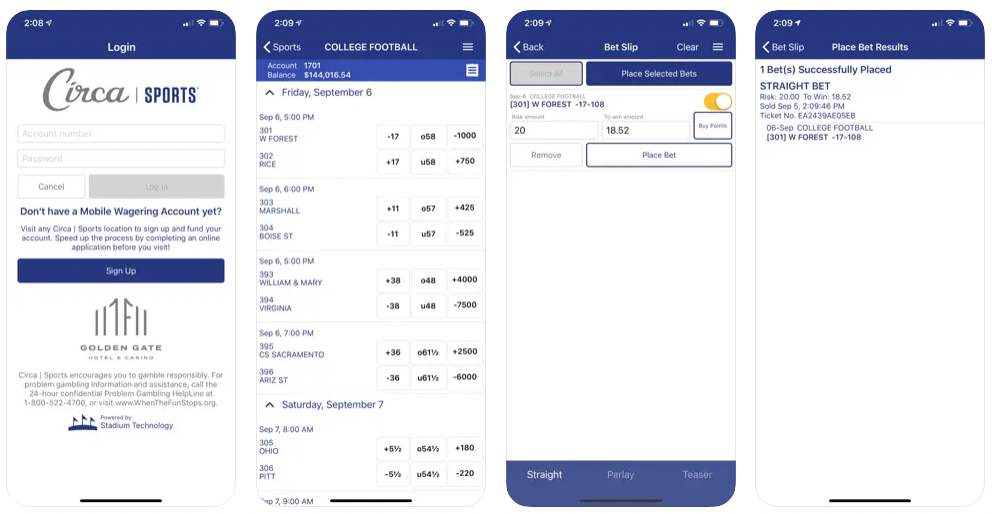 Circa Sports offers an online sports betting app in the three states where it operates (Nevada, Colorado and Iowa.) If you have an iOS device, you can download it from the App Store. It is not available on Google Play, so Android users must visit the Circa website to download it directly.
The Circa Sports iOS app once rated in the low-2s out of 5 on the App Store, but that number has risen to 3.5 on just over 100 user reviews. Common complaints center around general app performance and withdrawal concerns.

The app interface is as simple and uncluttered as the desktop display, and actually looks much cleaner than the website version.
Live Betting
There is a live betting section on the Circa Sports site, but it is often empty given their limited secondary markets. Circa has partnered with DeckPrism Sports to bring its live betting lines to Colorado, and DeckPrism covers NFL, NCAA football, NBA, NCAA basketball, MLB, and NHL. The deal did not include Nevada due to licensing costs.
Overall, Circa Sports' live betting options are below average and they offer no live streaming, which detracts from the overall experience – particularly when so many top-end sports betting competitors like BetMGM, FanDuel and DraftKings all offer some form of live streaming (and many more live markets, to boot.)

Casino, Poker, & Other Gaming Options
Circa has not launched an online casino. The company does have significant experience in running land-based casinos in Las Vegas, and it already has a relationship with iGaming giant IGT, so it could launch a strong online casino in the future. It does not offer DFS or a racebook.
Circa Sports History
A passionate sports bettor named Derek Stevens founded Circa Sports in 2019. Stevens owns three properties on Fremont Street in Downtown Las Vegas. He purchased Golden Gate Hotel and Casino in 2008 and Fitzgeralds – later renamed The D Las Vegas – three years later.
Stevens unveiled his first sportsbook at the Golden Gate in June 2019, operating with no vig on Day 1 of trading. The second retail Circa Sports operation launched at The D later that month.
In 2020, Circa Resort & Casino opened for business. Circa was the area's first resort-casino built from the ground up in four decades. It was also Las Vegas' first adults-only resort.
The self-proclaimed "World's Largest Sportsbook" is powered by The Vegas Stats and Information Network with a 1,000-person viewing capacity and private boxes for groups. It features a six-pool rooftop swimming stadium. The three stories of glory stadium-style sportsbook boast a 78-million-pixel high-definition screen.
Circa extended into online sports wagering in 2020. The Circa Sports mobile app and online sports betting site are powered by London-based company IGT, famous for its vast portfolio of slot machines.
"IGT is the ideal partner for our sports betting expansion," said Stevens. "The IGT PlaySports platform continues to prove its ability to support world-class sports betting operations across the U.S., and I am confident it will enable us to quickly differentiate Circa Sports in Colorado and beyond."
Customer Ratings & Reputation
Circa Sportsbook has an excellent reputation among players looking for an incredible in-person experience while offering a below-average online platform.
It is known for fair odds, generous betting limits, and not limiting winning players. It has created an incredibly loyal following of high rollers and Vegas insiders. Owner Derek Stevens made a concept that beautifully mingles the fashion of modern Vegas with the charm and hospitality of the old days. The in-person experience here is second to none and appeals to all.
However, in a market dominated by having a solid online presence, Circa Sportsbook misses the mark. Part of this can be chalked up to being a small fish in a big pond. Circa has limited exposure, being featured in just three states. It further limits itself by making its only promotional contests available to bettors able to sign up in person at a Las Vegas location.
The unfortunate dilemma here is that Circa is doing what all major sportsbooks should. It welcomes high-stakes players looking for limitless possibilities while major sportsbooks like DraftKings and FanDuel limit you at every turn.
Circa's biggest dilemma, at least in terms of attracting more new customers, is balancing its commitment to being the destination for sharps with providing more incentive for first-time bettors to give it a try. Circa generally offers favorable odds that anyone can take advantage of but lack its rivals' convenience, flair, and accessibility.
Circa also relies heavily on its in-person offerings to bolster its reputation in a rapidly expanding nation-wide sports betting market that skews significantly toward online wagering. Until it does a better job of embracing the mobile betting phenomenon, it could struggle to make headway.

Customer Service
Circa does not offer live chat or a phone line for customer support. Your only option is to email the team and wait for someone to respond. Rival online sportsbooks provide 24/7 customer support over the phone or via live chat, so it still has some work to do in terms of accessibility.
Circa is primarily a land-based sportsbook operator, and you can receive support by visiting the sportsbook counter in Las Vegas where its customer service team offers world-class hospitality.
Circa Sports Contact
Email: support@circasports.com
Circa Sports Legal Betting
Circa Sports locations are regulated by each state's respective gaming commission, making it a safe and secure locally-regulated betting site.
Responsible Gambling
The legal age for sports betting in most states is 21+. This is subject to regional regulation. Please play responsibly. Circa Sports complies with the rules laid down by the respective gaming commissions in the states where it operates.
Here are a few resources to help ensure you are gambling responsibly.
Why Choose Circa Sports?
Customers are getting vastly different experiences from Circa Sports depending on where they fall in the sports betting hierarchy – and that makes rating this sportsbook incredibly difficult.
Circa deserves significant credit for quickly becoming the sports betting destination for more experienced and serious bettors, topped by an in-person Vegas experience that is the envy of sportsbooks across the country. Low vig and high limits are a sure-fire way to keep the sharps coming back – and in this regard, few sportsbooks do it better than this one.

Circa is still a relatively new operator with incredible potential – but the app and website need major upgrades to compete with the prominent online sportsbooks in the business. The business model also should take a look at introducing sign-up bonuses and promotional offers that appeal to more casual bettors.
It has promised more payment options, a more extensive sports betting menu, and more diverse betting limits, which would all be a step in the right direction. But for the moment, Circa is among the best sportsbooks in the country for veteran or high-limits players – and a below-average or average sportsbook option at best for more casual bettors.
Bet Now
Banking
Accepted Currencies
Methods of Deposit

Min:

$10
Max:

N/A
Fee:

Free

Min:

N/A
Max:

N/A
Fee:

Free
The deposit options are very limited at Circa Sports. In Colorado, you have just one option: a Play+ card. In Nevada, you can sign up for a Play+ card, or visit the sportsbook counter in Las Vegas and pay using cash, chips, a cashier's check, or a wire transfer. The minimum deposit for new customers in Nevada is $50, and subsequent deposits can start at $20. In Colorado, the minimum deposit is just $10, which is in line with rival online sports betting sites.
Methods of Withdrawal

Your only withdrawal option in Colorado is Play+. You can then use your Circa Sports Play+ card to withdraw cash at any ATM that accepts Discover cards. You can alternatively use your Play+ card at certain retailers, or transfer funds to your bank account. In Nevada, you can get paid out at the casino cage, via Play+, or request a mailed check.
Sportsbooks by Reviews
Want more betting options? Check out the following reviews of best sportsbooks and betting sites:
Sportsbooks by Promos and Bonuses
Want to get in on the action? Check out our best sportsbook promos: