FanDuel vs. DraftKings: Which Sportsbook is Better in Oct. 2023?
Two of the industry's best sportsbooks, FanDuel vs. DraftKings is a debate often had by new and experienced bettors alike. To help you make an informed decision when choosing to use one or both of these platforms, we've assembled a thorough side-by-side comparison in the guide below.
FanDuel vs. DraftKings introduction
The showdown between DraftKings and FanDuel dates back to the two companies' beginnings as daily fantasy sports sites in the early 2010s. At one point, these two titans even tried to join forces, but those plans didn't pan out, and their rivalry spilled over into the sports betting scene. Today, both sportsbooks are top dogs in every state they step foot in, with FanDuel slightly outpacing DraftKings in national market share.
It's hard to come up with a clear-cut answer to the FanDuel vs. DraftKings debate because there is little to distinguish between the two. Both sportsbooks are high-quality products, and personal preference determines what each bettor values most in their sports betting experience. You can check out our FanDuel review and DraftKings review for an inside look at how each operator sets up its game.
Quick facts: FanDuel vs. DraftKings
| | |
| --- | --- |
| 🏆 FanDuel bonus | Bet $5, get $200 |
| 🏆 DraftKings bonus | Bet $5, get $200 in bonus bets |
| 🌎 States with FanDuel | 20 |
| 🌎 States with DraftKings | 22 |
| 📱 FanDuel app | iOS and Android |
| 📱 DraftKings app | iOS and Android |
| 🏅 Top FanDuel feature | Great mobile app |
| 🏅 Top DraftKings feature | Excellent live betting |
| 🔔 FanDuel odds provider | Flutter |
| 🔔 DraftKings odds provider | SBTech |
FanDuel vs. DraftKings: Comparison overview
Both FanDuel and DraftKings have outstanding sportsbook products, so you can't go wrong with either one. Compared to the rest of the field, these two brands stand out with their exceptional user experiences and are widely praised for having the most accessible betting apps in the industry.
DraftKings and FanDuel have been trailblazers, ceaselessly stepping up their games by introducing features like same-game parlays, flash bets, SGP builders, and betting carousels.
There's no clear winner regarding bonuses and odds in the DraftKings vs. FanDuel contest, either. It's largely situational, hinging on the ever-changing promotional schedules of each sportsbook and game-specific odds. Both platforms consistently deliver excellent value through competitive pricing and enticing promotions.
Below, you'll find a detailed comparison table, pinpointing how these two sportsbooks match up by highlighting their fundamental differences.
| DraftKings' edge 🔥 | FanDuel's edge 🔥 |
| --- | --- |
| Simplebet-powered micro-betting platform | FanDuel TV+ live-streaming platform |
| Bet & get sign-up bonus | Great profit boosts on single bets |
| Sportsbook loyalty program | 'Quick Hit' SGPs |
| Better refer-a-friend bonus | Lots of MLB promos |
| Higher stake limits on odds boost markets | Higher maximum payout cap |
| Intuitive betting carousel | Single-wallet account for all products |
| Massive range of player props | Tons of game props |
| Ultra-responsive desktop interface | Phone customer support |
| More sports to bet on | Quicker withdrawals |
FanDuel Sportsbook
FanDuel hit the ground running in 2009, sprouting from the roots of an Edinburgh-based news prediction site. It quickly ascended to the top ranks of the daily fantasy sports (DFS) domain, matching strides with its longtime competitor, DraftKings. Following the fall of the Professional and Amateur Sports Protection Act (PASPA), FanDuel was acquired by Paddy Power Betfair, which later rebranded as Flutter Entertainment.
While FanDuel is a crucial player across all gambling sectors, its claim to fame is its sportsbook, active in 19 U.S. states. In 2021, FanDuel added a new feather to its cap with the launch of its racebook, becoming the first U.S. operator to allow combined betting on horse races and sports using the same account.
FanDuel's mobile app is considered a forerunner in aesthetics and usability, sporting a 4.8/5 rating on the App Store as a demonstration of its superior quality. FanDuel's also leading the charge in pricing for major sports and offers one of the best sportsbook promos — a bet $5, get $200 in bonus bets offer — for new users.
The operator gets a lot of credit in the betting community for popularizing same-game parlays — an innovation originally devised by bet365 in Europe. FanDuel refined and perfected SGPs, adding a host of upgrades to boot. It also offers complementary features bettors will find handy, including cash-out options and the FanDuel TV+ live streaming platform.
FanDuel's market depth is on another level. It boasts an unmatched selection of prop bets, including unique game props that are hard to find elsewhere. FanDuel has also been applauded for its quick turnaround on payouts, often processing withdrawals within a single day.
DraftKings Sportsbook
DraftKings was established in 2012. It started as a small-scale startup and quickly became a powerhouse in the DFS sector. When PASPA was repealed and opened the floodgates for the legal U.S. sports betting market, DraftKings took advantage. It launched its online sportsbook in New Jersey in 2018 and, since then, has set its platform live in 21 states.
Like FanDuel, DraftKings has spread its wings across all major gaming verticals, including casino and horse racing betting. Through strategic partnerships and acquisitions — such as its recent procurement of Golden Nugget's iGaming operations — it has made substantial strides in the gaming industry. In 2020, DraftKings transitioned from Kambi's platform to SBTech, managing to maintain outstanding functionality across both desktop and mobile.
DraftKings knocks it out of the park with its comprehensive sports coverage, offering odds on a wide range of mainstream and niche sports markets. Its market depth is hard to beat, particularly concerning futures and player prop bets. DK's odds consistently rank among the best, going toe-to-toe with FanDuel's.
By partnering with Simplebet, DraftKings has also made its mark on the micro-betting scene, which, along with its wide range of betting options and flash bets, positions the company as one of the top live betting sites.
Regarding customer promotions and marketing, DraftKings goes all out, offering considerable value through bonuses like its bet $5, get $200 in bonus bets welcome offer. It currently boasts an additional promo, offering daily No Sweat same-game parlay bets. Just use the opt-in token, make an SGP wager with at least three legs, and you'll receive a bonus bet if it loses. Maximum betting limits do apply.
FanDuel vs. DraftKings: Promo codes and sign-up bonuses
DraftKings offers new users a bet $5, get $200 welcome bonus with no odds or market restrictions. Simply place your first bet of $5 or more on any market after signing up — no DraftKings promo code needed — and, win or lose, the sportsbook will issue you $200 in bonus bets, broken down into eight $25 increments. Once the bonus hits your account, you'll have seven days to meet the attached 1x wagering requirement.
DraftKings is also offering daily No Sweat same-game parlay bets. Just opt-in, apply the No Sweat token to an SGP with at least three legs, and DK will refund it via bonus bets if it loses. Betting maximums apply.
FanDuel's offer for new customers is also a bet $5, get $200 in bonus bets reward. After registering without a FanDuel promo code, make your initial wager on any sports market. No matter whether it wins or loses, FanDuel will provide you with $200 in bonus bets. Should you fail to use the bonus within seven days, it will expire.
Both offers are available for a little while yet, ending on Oct. 2, 2023, at 11:59 p.m. ET.
While FanDuel and DraftKings provide nearly identical welcome bonuses, the offers differ slightly. DK is currently offering an extra $150 in No Sweat bets on NFL Game Weeks.
Another key difference between FanDuel and DraftKings' offers is the fine print attached to the bonus bets. FanDuel's reward provides greater flexibility than its peer's since you can use the entire amount all at once or split it into as many smaller chunks as you like. With DraftKings, the bonus bets are delivered in eight $25 installments.
FanDuel vs. DraftKings: Odds boosts
When it comes to regular odds boosts, DraftKings and FanDuel could do better. Each platform dishes out about 10 daily boosts, with the selection dependent on the games scheduled for that day. Boosts usually provide a 15%–40% price hike, with more significant increases linked to longshot bets. Plus, both platforms make the original price clear, so you know the size of the boost you're getting.
However, FanDuel trails slightly behind DraftKings in this department, as it imposes a $50 maximum bet cap on boosted odds markets, something that DraftKings hardly ever does. FanDuel's odds boosts usually center around same-game parlays (SGPs) and major sports, whereas with DraftKings, you might stumble upon odds boosts for standard parlays and some lesser-known sports. DraftKings also offers "odds surge" bets, letting you increase the odds on a single market. For instance, they recently provided a +200 boost to any "first goalscorer" bet connected to a Carolina Hurricanes vs. Florida Panthers NHL game.
Both FanDuel and DraftKings dish out profit boosts, allowing you to amp up the odds of several betting lines of your choosing. These can be general-purpose boosts or specific to a particular game or sport.
Concerning the ease of access to daily odds boosts — of particular importance for newcomers — FanDuel vs. DraftKings isn't close. The former's boosts sit front and center in one of the main vertical tabs. With DraftKings, you might have to do a bit of hunting either through the promotions page or by using sub-menu filters. While some boosts are spotlighted on the rotating banner on the homepage, it only features a select few.
Ensure you take a look at our guide on how to read odds before jumping on any boost opportunities.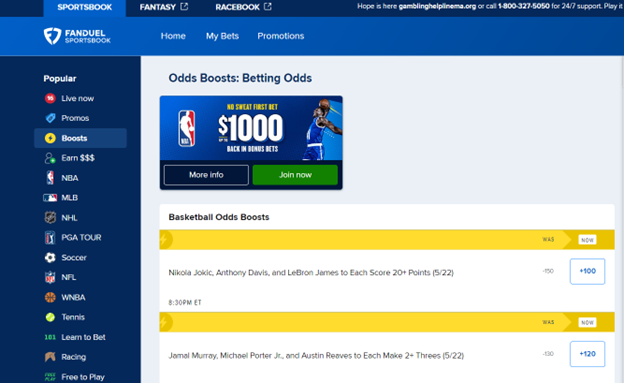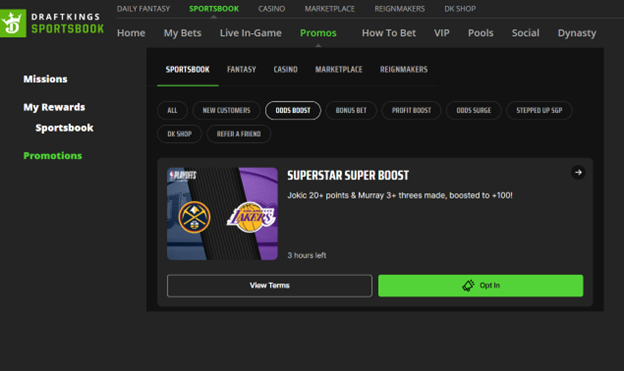 | Online sportsbook | Daily odds boosts | Max stake allowed | Price enhancement |
| --- | --- | --- | --- |
| FanDuel | Around 10 | $50 | 30%-40% |
| DraftKings | 5-10 | No limit | 20%-40% |
FanDuel vs. DraftKings: Deposits and withdrawals
Regarding the financial side of the DraftKings vs. FanDuel stand-off, FanDuel takes a quick lead with faster withdrawal processing speeds. The operator processes PayPal and Play+ withdrawals within 48 hours, making it arguably the best online sportsbook for payouts. Meanwhile, DraftKings can make you sweat it out a bit longer with a 2–5 day waiting period for these same methods. Both sportsbooks typically process online bank withdrawals in about 3–5 days.
Each sportsbook contains a similar roster of payment methods, including PayPal, online banking, Venmo, gift cards, Play+ cards, credit/debit cards, and VIP Preferred. However, DraftKings does not offer PayNearMe, which FanDuel accommodates. With that option, you can generate a code on the FanDuel site and then pay with that code at a participating PayNearMe location like CVS or 7-Eleven, up to a $500 limit.
The minimum deposit at DraftKings is a mere $5, while FanDuel requires a bit more at a $10 minimum deposit. The cap for withdrawals is undisclosed.
Additionally, FanDuel imposes a slightly higher max winning cap on individual wagers for some markets. Notably, it has a $1 million cap on NHL and secondary markets like golf and soccer, whereas DraftKings' limit for those markets is $250,000–$500,000.
| | FanDuel | DraftKings |
| --- | --- | --- |
| Payment methods | 8 | 8 |
| Minimum deposit | $10 | $5 |
| Maximum deposit | $500+ (depends on method) | $2,000+ (depends on method) |
| Minimum withdrawal | N/A | $1+ (depends on method) |
| Maximum withdrawal | N/A | N/A |
| Offers Play+ card | Yes | Yes |
| Fastest cashout option | PayPal, Play+ (48 hours) | Play+ (2-4 days) |
| Withdrawal options | 4 | 4 |
| In-person transactions | Yes | Yes |
FanDuel vs. DraftKings: Mobile app experience
FanDuel and DraftKings' mobile apps are best-in-class, with their 4.8/5 App Store ratings providing evidence. Android users also have high praise for both, awarding DraftKings a 4.6 rating and putting FanDuel a notch higher at 4.7. Each app delivers smooth navigation, crisp visuals, and a satisfying user experience.
Aesthetically, FanDuel sports a lighter palette of blue and white, while DraftKings presents a deeper green and dark motif. Of course, there is no best option here, with a user's preferred style being entirely subjective.
FanDuel pulls ahead slightly regarding on-screen data density, as it fits up to five games on a single screen compared to DraftKings' four. However, DraftKings offers better organization within its betting menu, especially for player props in the NFL, where FanDuel's arrangement can seem haphazard. Unlike FanDuel's seemingly random listing, DraftKings groups player props together by category, making navigation a breeze.
Additionally, both apps support biometric capabilities, namely facial recognition logins.
FanDuel vs. DraftKings: Available sports and markets to bet on
The FanDuel vs. DraftKings sportsbook comparison is a close race in this area. Both offer comprehensive coverage of mainstream sports and secondary markets, but DraftKings slightly outpaces FanDuel in the niche sports sector. Boasting odds on 22 sports to FanDuel's 19, DraftKings could be the go-to for specialized bettors interested in unique sports like badminton and futsal.
In terms of market depth, it's neck-and-neck. Both platforms are leading the industry when it comes to props and futures bets, each offering a wide array of innovative basketball props as two of the premier NBA betting sites. DraftKings excels with options for player turnovers, head-to-head player props, and distinctive early-game bets, while FanDuel counters with props on first free throw attempts and stat leader bets.
The MLB offerings from FanDuel and DraftKings are also level, showcasing plate appearance bets, innings props, and pitcher props. The NHL market is similarly competitive, with FanDuel impressing with unique game props like the first team to reach five shots on goal and DraftKings countering with a broad range of goalie and goalscorer bets. FanDuel offers more alternate lines for totals, with 16 options compared to DraftKings' nine.
As for the football market, both platforms shine with unique NFL futures bets — making them two of the top Super Bowl betting sites. DraftKings features season matchup bets, pitting quarterbacks against each other for regular season passing yards. FanDuel, on the other hand, offers ambitious longshots like predicting a flawless Kansas City Chiefs season.
If all of these options have you unsure about where to begin, read our guides on how to bet on sports and how to manage your bankroll first.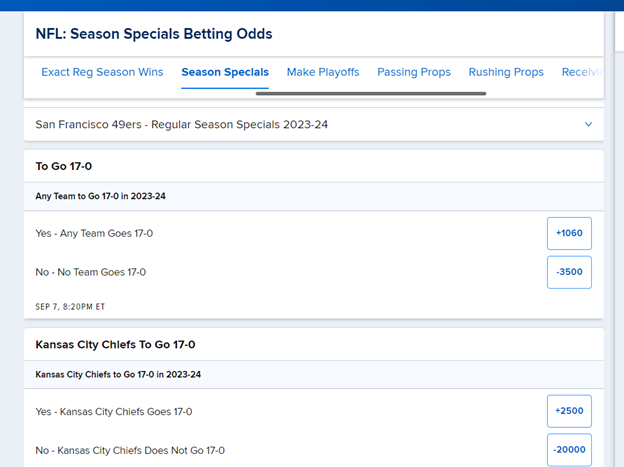 FanDuel vs. DraftKings: Loyalty programs
DraftKings runs a five-tier loyalty program called Dynasty Rewards, which lets returning bettors earn extra perks for their ongoing commitment. As you wager, you'll earn crowns and tier credits. Crowns can be redeemed for bonus bets or real-life prizes in the DK Store, while tier credits determine a bettor's ranking in the loyalty program. The accumulation rate is:
$1 wagered on parlays = 1 crown
$2 wagered on single wagers = 2 crowns
One tier credit is earned per each $5 wagered on straight bets and futures and $10 wagered on parlays.
FanDuel also runs a loyalty program, but it isn't integrated into the sportsbook yet, giving DK a distinct advantage here.
FanDuel vs. DraftKings: State availability
Here's a rundown of the geographical footprint of DraftKings and FanDuel. In this area of the DraftKings vs. FanDuel sportsbook race, DK outperforms FanDuel.
Alternative sportsbooks to FanDuel and DraftKings
DraftKings and FanDuel are no-brainer picks, especially for entry-level bettors. Still, you shouldn't overlook other heavy hitters in the U.S. sports betting sites scene.
Caesars Sportsbook
Caesars Sportsbook merits serious consideration if odds boosts are your primary selection criterion. With 50+ odds boosts daily, it easily crushes all of its rivals. Nab the sportsbook's bet $50, get $250 in bonus bets welcome offer using Caesars promo code SBRBONUSGET and read our full Caesars review to learn more.
BetMGM Sportsbook
BetMGM Sportsbook offers a ton of proprietary features that aren't available elsewhere, like "Edit My Bet.' It also provides one of the better new-player bonuses out there when you use promo code SBRBONUS. Get the big-picture outlook on the sportsbook via our BetMGM review.
BetRivers Sportsbook
BetRivers offers the industry-leading iRush rewards program alongside its solid sign-up bonus — use BetRivers promo code SBRBONUS during registration — making it a worthy addition to your sportsbook rotation. For more information, rifle through our BetRivers review.
FanDuel vs. DraftKings FAQs
Which sportsbook is better, FanDuel or DraftKings?
FanDuel and DraftKings excel in different areas. DraftKings provides a broader sports offering, particularly for niche sports, while FanDuel is known for its superior payout speed and mobile app functionality. Your preference will depend on what aspects of a sportsbook are most important to you.
Who owns the FanDuel and DraftKings sportsbooks?
DraftKings is a publicly traded company on NASDAQ under the ticker symbol DKNG. FanDuel, on the other hand, is owned by Flutter Entertainment, an Irish betting conglomerate that also owns notable brands such as Paddy Power and Betfair.
Can I win more at FanDuel or DraftKings?
FanDuel has a higher max payout cap than DraftKings overall, with a $1 million max payout for most sports. DraftKings' max payout is $250,000 and $500,000 for markets like the NHL, soccer, and golf.
Which sportsbook has better odds, FanDuel or DraftKings?
The FanDuel vs. DraftKings sports betting debate is close because both usually offer similar odds. However, the odds can occasionally differ based on the market or event. It's always a good idea to compare odds for specific events across both platforms to ensure you get the best possible value.
Which sportsbook has a bigger prize pool, FanDuel or DraftKings?
In terms of daily fantasy sports, both FanDuel and DraftKings regularly host large tournaments with substantial prize pools. The size of these pools can fluctuate depending on the event, sport, and time of the year. It's best to check the tournament schedules on each platform for the most accurate information.
Which sportsbook offers better promotions and bonuses, FanDuel or DraftKings?
It depends on the promotional schedule. FanDuel tends to offer more insurance bet deals, while DraftKings focuses more on profit boosts. FanDuel's welcome bonus is often larger but requires a bigger deposit to utilize fully.