Best Sportsbooks for NFL Futures Ranked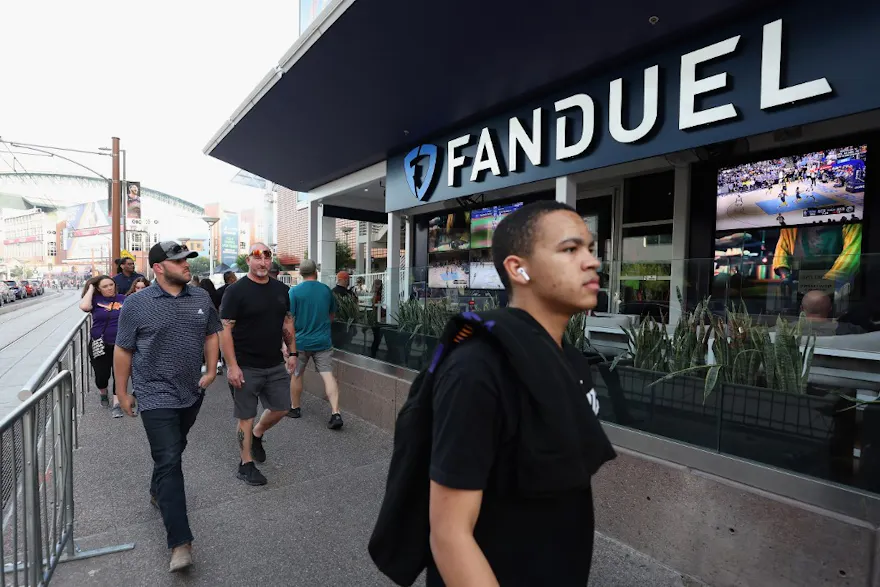 Being an avid futures bettor, I decided to power rank my favorite sportsbooks ahead of Week 1 of the NFL season based on futures value. This article provides a power ranking of seven of the largest sportsbooks in the United States.
In order to rank my favorite sportsbooks for betting on NFL futures, I took into account a number of factors. In the end, the most important factor to me was whether a sportsbook was willing to take a high volume of money. In these season-long bets, much time is devoted to finding edges, and the last thing I want to happen is to open my app and discover I can only wager $50.
Here is my list of the top legal U.S. sportsbooks when it comes to NFL futures value:
1. Caesars Sportsbook
✅ Higher limits on futures markets
❌ No "exotic market" presence

Caesars Sportsbook is my top choice when it comes to betting NFL futures. There are many issues I have with other sportsbooks that are not apparent at Caesars in my history of betting. Among the main reasons is that they will accept wagers of much higher amounts.
Caesars deserves a lot of credit; there have been instances when I have placed a bet, it was sent to the traders, they approved it, and then moved the line after my bet was accepted. This is how sportsbooks should operate, but this is not the case at FanDuel or DraftKings. Caesars takes the bet and moves the line, while FD and DK will not take the wager.
When it comes to the markets that Caesars offers, the sportsbook is very competitive with the other sportsbooks. The amount of player and team futures Caesars offers is very similar to what we see elsewhere. The only thing you won't find at Caesars is an exotic market such as the "Next Team for Odell Beckham Jr."
Read our Caesars Sportsbook review
Check out Caesars Sportsbook bonuses (US players only)
2. PointsBet Sportsbook
✅ Futures odds remain live on NFL Sunday
❌ Lack of creativity in futures

As far as I am concerned, there are two main advantages to betting at PointsBet Sportsbook, one being the ability to cash out and the other being the fact that their markets remain live throughout an NFL Sunday.
On the flip side, one of the problems with PointsBet is that they don't have as many futures markets as some other notable sportsbooks.
There are no player totals available at PointsBet if you are looking to wager on them. There is also nothing creative in the betting menu, unlike what we see with DraftKings and FanDuel.

One of the advantages of having a PointsBet account is that the futures will be adjusted while the games are being played on Sunday. It is common for sportsbooks to pull the odds once the games begin – but not PointsBet. There is a real benefit to having an account because if anything of note happens in a game, you can try and jump the odds and take advantage of that event before the sportsbook the number.
Another advantage of having a PointsBet account is that it offers cash outs on several futures markets. Although the cash out will never provide you with adequate value, it is handy at the very least to have it available in case of a devastating injury.
Read our PointsBet Sportsbook review
Check out Pointsbet Sportsbook bonuses (US players only)
3. Barstool Sportsbook
✅ Better lines due to overreactions
❌ No competitive advantage on trending plays

The most important aspect of futures betting is price shopping in order to obtain the highest possible number. Consistently buying numbers at their peak will give you more flexibility in the future.
As a futures bettor, one thing that has stood out to me is the possibility of catching some rogue numbers at Barstool Sportsbook. In several instances, Barstool's pricing of a futures market differs greatly from Caesars or FanDuel, and you can take advantage of this.
It is common for Barstool's futures pricing to overreact in response to breaking news or dominating performances by a specific player or team. In some situations, you may find much longer prices on other players or teams in that market as a result of the massive adjustment made on someone else. Compared to other sportsbooks, you will find massive differences in their prices, but it will never be a longer price on a trending name or team.
To a futures bettor, any sportsbook that is willing to post different numbers is of great value. It's important to keep in mind that we're combining odds from all available sportsbooks to create our own sportsbook of odds. By doing so, we are able to reduce the hold. As a futures bettor, Barstool's willingness to price things differently than its competitors is of great value to me.
Read our Barstool Sportsbook review
Check out Barstool Sportsbook bonuses (US players only)
4. DraftKings Sportsbook
✅ Plenty of markets
❌ Low bet limits

DraftKings Sportsbook is similar to FanDuel in that they are very creative and post a large number of player futures that cannot be found elsewhere. Both DraftKings and FanDuel are heavily reliant on their respective DFS backgrounds (and reputations) in order to try to bring in some different futures markets to the betting space.
If you are a futures bettor, DraftKings is a good sportsbook to have an account with because it offers a lot of fun markets and you can find edges in these markets. But don't expect to make a lot of money off of these wagers, as the limits are very low.
DraftKings' downside is that many of the markets they offer are very predatory from a betting perspective. For example, they will create one-way markets where they will only offer a "Yes" bet, so the sportsbook will not be affected by a "No" price. There are a number of exotic markets that they offer that also have an extremely high hold percentage.
The best thing about DraftKings is the way they organize their futures markets. When you are shopping for prices, it is very easy to find what you are looking for.
Read our DraftKings Sportsbook review
Check out DraftKings Sportsbook bonuses (US players only)
5. BetMGM Sportsbook
✅ Industry-standard futures lines
❌ Subpar interface/navigation

As far as futures betting is concerned, BetMGM Sportsbook is one of my least favorite operators – and it has nothing to do with the odds or the markets they provide. In my opinion, they have the worst navigation of any sportsbook, and their odds are displayed using a single scroll bar. When time is of the essence upon breaking news, I do not have the time to search their sportsbook for a number as they make it so difficult to find what you are looking for.
As far as what they offer is concerned, they are on par with several of the other sportsbooks. BetMGM does not offer anything particularly noteworthy. Considering my experience as a futures bettor, I believe that there are much better options available than BetMGM.
Read our BetMGM Sportsbook review
Check out BetMGM Sportsbook bonuses (US players only)
6. BetRivers Sportsbook
✅ Strong Super Bowl odds menu
❌ Difficult app to navigate

As with BetMGM, BetRivers Sportsbook makes it difficult to navigate the sportsbook with any speed. Futures betting relies heavily on reacting to breaking news, which is difficult when you are unable to locate the market you are interested in betting.
I have noticed that BetRivers has excelled during the week of the Super Bowl in the past. In terms of betting options, its Super Bowl betting menu was both extensive and creative. There were a number of edges in the bets BetRivers posted for the Super Bowl that were not available at other sportsbooks. Even just for the Super Bowl, it is worthwhile to open an account.
Read our BetRivers Sportsbook review
Check out BetRivers Sportsbook bonuses (US players only)
7. FanDuel Sportsbook
✅ Detailed player futures offerings
❌ Significantly lower bet limits than the industry standard

As a result of their history in daily fantasy sports, FanDuel Sportsbook offers a wide selection of player futures. It provides totals on players in obscure markets such as tackles and sacks. The company also posts a large number of futures markets on who will lead a specific statistical category. There may be a few of these markets offered by other sportsbooks, but FanDuel offers them all.
The player futures offered by FanDuel are also very innovative. The operator offers a wide range of alternative markets for player futures that are not available at other sportsbooks. You can bet on a running back to rush for 1,250+ yards in the rushing props, for example.
As a futures bettor, I have one main complaint with FanDuel, and that is it isn't willing to take a lot of money on your bets. Do not be surprised if you are only permitted to bet $30 on a futures bet. FD's prices are consistently among the longest across all sportsbooks, but you cannot place much money on these long odds.
Read our FanDuel Sportsbook review
Check out FanDuel Sportsbook bonuses (US players only)