Interactive bets with their known personalities.
Very flexible parlay options.
Quality deposit/withdrawal options.
Your Region united states
Barstool Sportsbook Review
With a large variety of ongoing promos and contests featuring Barstool personalities, Barstool Sportsbook is a solid option available for casual bettors.
Bonuses
New players who register with Barstool Sportsbook can claim a 100% deposit match up to $1,000. Only your first deposit will count towards the bonus, and the sportsbook will provide your reward in eligible cashback, which is subject to a cashback rate of 5%. This means that if, for example, you deposited $10 in real cash and received $10 in eligible cashback, you would be required to wager $200 to unlock the $10 cashback. Additionally, cashback converted to real money is restricted to wagers with attached odds of -200 or greater.
You will have 30 days to use the eligible cashback.
Offer expires at 11:59 PM EST on December 31, 2023
Barstool Sportsbook Summary
Editor's note: Following an agreement to a 10-year deal, PENN Entertainment and ESPN will rebrand the current Barstool Sportsbook property as ESPN Bet this fall.
Love it or hate it — and there appears to be no in-between — Barstool Sports has been one of the biggest headline-makers of any player in the U.S. sports scene over the past several years.

The Dave Portnoy-led company is a formidable entrant in the U.S. sports betting landscape based on its heady reputation. But while there's a lot to like about what Barstool Sportsbook brings to the table, it has also done little to endear itself to players who want a little less Big Cat and a little more betting line value.

Here's a comprehensive look at Barstool Sportsbook, and why it might struggle to build a more significant market share among both new players and experienced bettors.
Barstool Quick Facts
| | |
| --- | --- |
| 🏅 Rating | B+ |
| 🏢 Founded | 2003 |
| 🇺🇸 # of States | 14 |
| 🎰 Casino | ✅ Yes |
| ₿ Cryptocurrency | ✅ Yes* |
| 📱 Mobile Apps | ✅ Yes (iOS, Android) |
* Barstool accepts cryptocurrency deposits only (no withdrawals), and only in Virginia and Colorado.

Barstool Locations
Barstool Sportsbook is available for online sports betting in the following states:
In addition, you can access Barstool casino games while inside the states of Pennsylvania, New Jersey, or Michigan. They also have plans to expand to the state of Massachusetts.
Sports Leagues to Bet On
Most Barstool Sports fanatics (affectionately known as "Stoolies") will agree that football is king – but Barstool Sportsbook does well to offer competitive betting market volume across all of the major North American professional and amateur sports.

NFL Betting
Whether you're new to NFL betting or a veteran of gridiron wagering, you'll be pleased with what Barstool has to offer here. In addition to covering off all lines, totals and spreads each week of the NFL season, Barstool also offers a healthy selection of player and team props, along with its "Parlay+" offering which allows bettors to combine multiple eligible plays on one ticket. This makes Barstool one of our top-rated NFL betting sites and Super Bowl betting sites.

College Football
The U.S. college betting appetite continues to grow nationwide, and Barstool is here to feed the beast. I like how Barstool allows bettors to divide the weekly NCAA schedule up by conference, permitting those who prefer to stick to the Big 10 or SEC an opportunity to access those games easily. Matchup pages also feature recent history and pre-game win probability.

NBA Betting
Give Barstool credit for providing bettors with a little extra when it comes to their NBA wagering needs. Not only does the sports betting site greet bettors with a trove of traditional and prop markets, it also features a rather comprehensive "Betting Stats and Trends" section atop the main NBA page with league-wide stats like Top Over Percentage and Team Stat Streaks.

College Basketball
Like the majority of marquee sports betting apps in the U.S., Barstool Sportsbook offers college basketball bettors plenty of options once the season gets rolling. And as you might expect, that offering is super-charged in time for March Madness, when Stoolies from coast to coast rush to their sports betting apps to get in some action on their favorite teams.

NHL Betting
NHL betting continues to grow in popularity, thanks in large part to expanded markets offered by Barstool and others. Get in on the moneyline or puck line, take a shot on hitting the right total bet or take your betting experience to another level by predicting who will score, and when. Barstool also features a decent selection of NHL futures in the offseason.

MLB Betting
It's micro-betting on the Major Leagues! Many baseball bettors are no doubt rejoicing at the growth of quick-resolution live betting, one of Barstool's many MLB market offerings. You can bet on the result of a specific player's at-bat – or, if you want to get even crazier, the result of a specific pitch! With hundreds of markets for each game, Barstool brings the MLB heat.

Other Sports Leagues
Barstool's A-Z list of additional sports leagues includes athletics, Australian Rules football, badminton, baseball (international), basketball (WNBA, international), beach volleyball, boxing, cricket, curling, cycling (track, road), cyclo-cross, golf, handball, hockey (international), motorsports (NASCAR, F1), Olympics, pesapallo, Rugby League, Rugby Union, soccer, speedway, squash, surfing, swimming, table tennis, tennis, volleyball and winter sports.
This list measures up with the industry standards from fellow heavy hitters DraftKings, FanDuel, BetMGM and Caesars. The inclusion of pesapallo (Finnish baseball) is a curious one for U.S. bettors, but hey, perhaps Barstool is merely tapping into an underserved market there.
Online Betting Experience
You won't find the best odds in the industry at Barstool Sportsbook. In fact, this sports betting site carries some of the worst odds of any major sportsbook in the United States.
Barstool's action is driven by its loyal swarm of "Stoolies" that are complacent pumping low-value featured bets backed by heavy marketing tactics. Penn National has often credited a bulk of Barstool's success to the fact that around 50% of the bets placed at Barstool are on their featured promos. Their Parlay+ (same game parlay) and multi-sport parlays can be fun but come packed with high-risk bets and mediocre odds.
Website Experience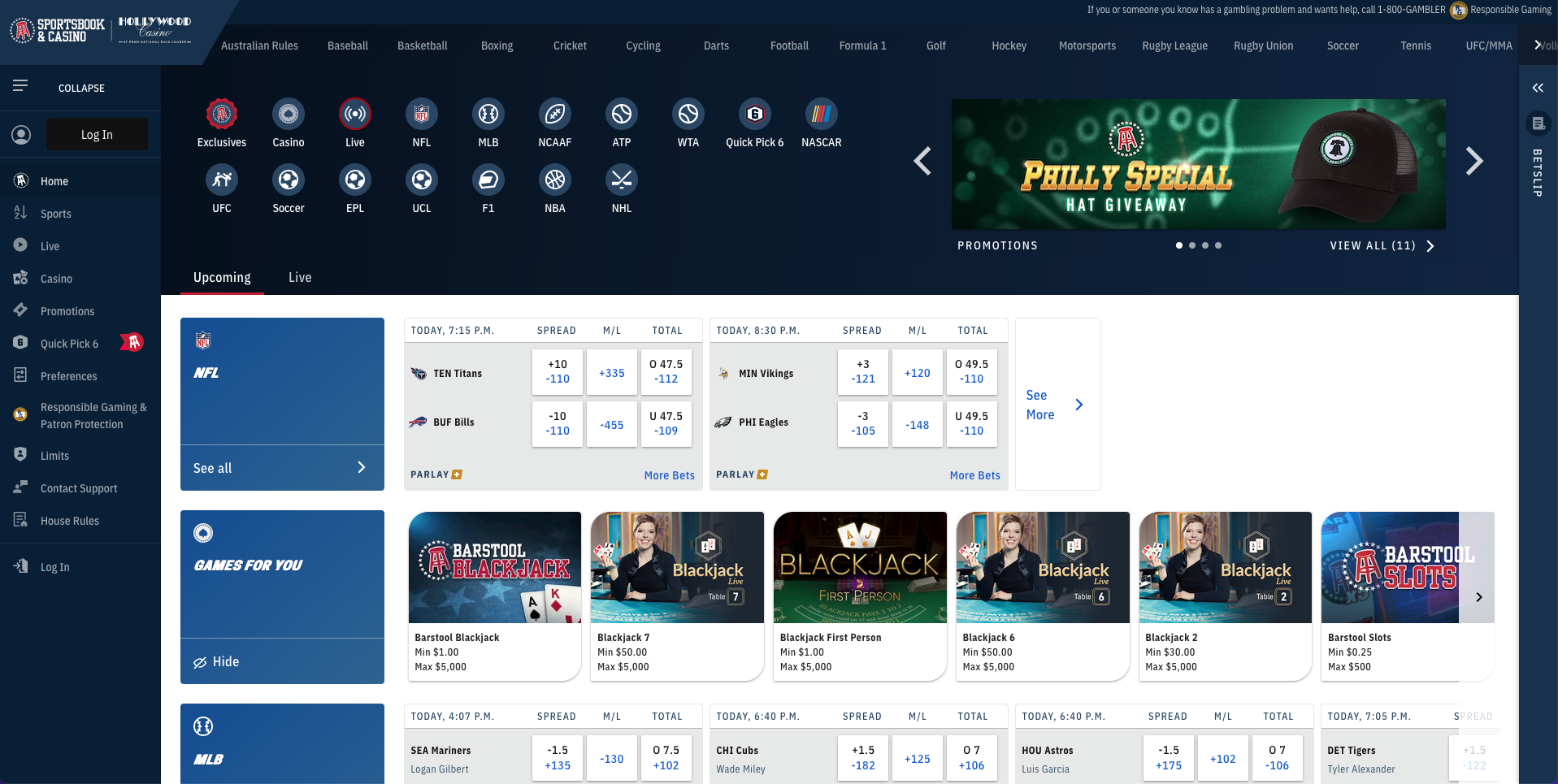 The web browser platform is easy to navigate, much like the mobile app. The betting stats and trends are well organized and valuable. There is heavy use of brand personalities, but it is less annoying and intrusive than some competitors like FOX Bet.
Still, while the layout is user-friendly (and the color scheme is one of the best of any major U.S. sports betting site), there are ways in which Barstool can improve its desktop interface – especially where the home page is concerned.
It's completely unnecessary to have both the list of sports at the top of the screen and the circular icons featuring those same sports just below. I also don't care for the casino offerings located in one of the sportsbook's most significant areas of real estate. I understand wanting to highlight those products, but there are better ways to accomplish this.

Mobile Betting and Betting App
The Barstool Sportsbook app is user-friendly with interactive features such as a "Move the Line" scroller, which lets you buy and sell points using a scrolling option at your fingertips. Their app also features the personalization of favorite teams or leagues, making regular betting convenient without constant navigation.
Some users had previously reported issues with live betting glitches on the mobile format, but these appear to have been largely resolved.
The Barstool sports betting app is among the top performers on the App Store, boasting a 4.8 rating based on more than 23,000 ratings. It's also available on Google Play, where it has a far less impressive score of 3.3 on just under 1,400 ratings.

Live Betting
Barstool Sportsbook offers a wide array of sports to bet on live but does not offer live streaming. You are stuck looking at digital visualizations and play-by-play notes. The live betting feature at Barstool has been known to lag for some users. This can partly be blamed on poor internet from the user on a case-by-case basis.
The odds at Barstool have also been known to change in favor of the sportsbook while your bet is processing. These are relatively common problems users deal with at all major sportsbooks that offer live betting.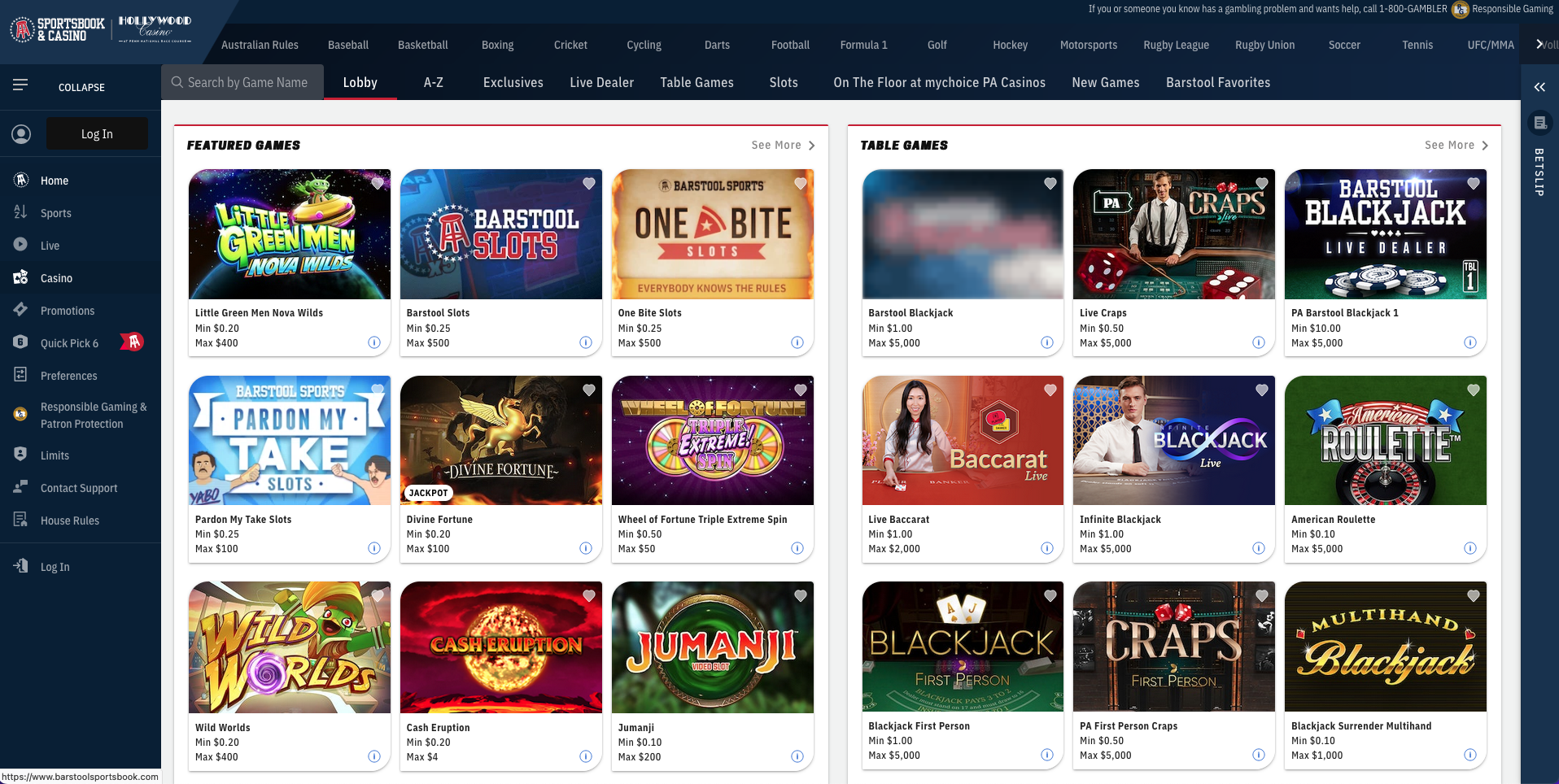 Casino, Poker, & Other Gaming Options
Barstool Sportsbook offers casino games within the states of Pennsylvania, New Jersey, and Michigan. They also launched their first in-house developed, Barstool-branded digital iCasino game in New Jersey, 'Barstool Blackjack,' in late 2021. Penn National has mentioned that the iCasino offerings should see more robust expansion for Barstool soon. With their plans to launch Barstool-branded sports bars, we could see some integration in these locations.
Barstool Sportsbook doesn't currently have a racebook for betting on horse racing like competitors FanDuel and BetMGM, but that could also come down the pipe shortly. Penn National operates the Hollywood Casino at Penn National Race Course, which features Barstool Sportsbook on-site. Penn also operates at a handful of other racetracks and off track wagering at Sanford Orlando in Florida which features racing of both horses and dogs.
Barstool History
Barstool Sports is a digital media company founded by David Portnoy in 2003. The company's two primary investors are Penn National Gaming and The Chernin Group. Barstool Sportsbook is driven by iSport Genius, the same data supplier used by operators such as Bet365, Flutter (FanDuel), DraftKings and 888 Sport.
Barstool Sportsbook launched in Pennsylvania on September 18, 2020. It handled $11 million in wagers during its first week of operation. After about seven months of operation, Penn National reported Barstool Sportsbook had registered more than 400,000 customers and generated over $660 million and $61 million in handle and gaming revenue, respectively, creating a 9.2% hold.
That put them above the average 7.2% hold across all states since PASPA's repeal and well above industry juggernauts DraftKings (6.3%) and FanDuel (7.5%).
In their first 30 days of operating in Illinois, Barstool registered over 54,700 new customers and generated total handle and gaming revenue of $67.7 million and $6.5 million, respectively.
Barstool's sports, entertainment and lifestyle content drives a loyal base of 21 to 40-year old customers to their sportsbook. Their mychoice rewards mobile app has had over 333,000 downloads with approximately 115,000 monthly active users and growing.
Penn National and Barstool have aggressive plans for expansion. Barstool is launching standalone branded sports bars, with the first two coming in Philadelphia and Chicago. Penn also acquired Canadian-based sports media brand theScore in October 2021. They plan to integrate Barstool Sportsbook with theScore's best-in-class sports media app and betting technology, providing them with a highly customizable and fully integrated technology solution.
Customer Ratings & Reputation
The Barstool sportsbook has an average reputation, but the Barstool Sports brand is another story. It packs a lot of attitude and controversy for the average individual not familiar with the brand's styling. This creates an uneasy feeling considering you're trusting your money and personal information with the brand.
Portnoy has described the site's topics as "sports/smut." Its controversial practices have made it one of the most polarizing companies in sports media. This styling has created a cult following of "Stoolies" but has also done plenty to steer away an equal amount of the general public:
In August 2011, the site received criticism over comments of nude photos of Tom Brady's two-year-old son, which a former prosecutor suggested was sexualization of a minor.
It also received plenty of criticism regarding its promotion of blackout parties and comments Portnoy himself have made making light of sexual assault.
It received heat for using a child to advertise a bet on its Instagram feed in 2020.
A "questionable" TikTok video about gambling losses posted in March 2021 cost Penn National a $10,000 settlement in Indiana. The Indiana Gaming Commission said the footage in question breached its marketing regulations for "false and misleading advertising."
In November 2021, Business Insider released an article slamming Portnoy, accusing him of sexual misconduct based on encounters with college-aged women. Portnoy vehemently defended himself against the article, calling it a "hit piece" that had been in the works for eight months.
That all said, Barstool has also done plenty of positive work that warrants mentioning.
The site raised $240,000 for the victims of the Boston Marathon Bombing, and saw podcast listeners raise more than $50,000 for the J.J. Watt Foundation. Barstool also partnered with NFL quarterback Baker Mayfield in 2018 to release a clothing line benefiting Special Olympics Ohio.
They also launched The Barstool Fund, a fundraising non-profit that provides financial support to small business owners across the United States affected by the COVID-19 pandemic. Over 200,000 people have contributed to the fund, and over $41 million has been raised with help from celebrity contributors such as Tom Brady, Aaron Rodgers, Elon Musk, and Guy Fieri.
When Hurricane Ida hit Louisiana in August 2021, the Penn National Gaming Foundation established the 'Hurricane Ida Emergency Relief Fund' for team members to apply for financial assistance for immediate needs. Their sister properties also helped to provide temporary housing and much-needed provisions.
Customer Service
For whatever your opinion might be on Barstool Sports (and its founder), you have to credit the company for clearly putting resources into an effective, responsive customer service team.

Barstool Sportsbook's customer service representatives are available 24/7 via live chat or email, and are quick to respond to a variety of questions and concerns. The response to the on-site contact form is surprisingly fast, and the social media team is also a dedicated help resource through Barstool's official sportsbook help Twitter account.

Barstool Contact
Barstool Legal Betting
Individual state gaming regulators monitor Barstool in regions where it is legal to operate.
Responsible Gambling
The legal age for sports betting in most states is 21+. This is subject to regional regulation. Please play responsibly. Barstool complies with the rules laid down by the regulating bodies in the states in which it operates.
Here are a few resources to help ensure you are gambling responsibly.
Why Choose Barstool Sportsbook?
This comes down to personal taste, in terms of how you feel not only about the sportsbook, but about Barstool Sports in general. To put it mildly, this company not for everyone – but let's focus primarily on the sportsbook, which is a bit of a mixed bag overall.

I really like the overall design, and with a few adjustments this could be the best sportsbook interface in the industry. The Barstool-specific contests, promotions and personalities hold plenty of sway among devoted followers, and the customer service is top-notch.

Barstool Sportsbook is largely form over function – and that's okay for those who prioritize a unique sports betting experience over the nuts and bolts like quality of odds or higher bet limits. For this reason, Barstool doesn't really appeal all that much to more experienced wagerers – though if you love the familial aspect of sports, you might find enough here to make an account activation worth your time.

Bet Now
Banking
Accepted Currencies
Methods of Deposit

Min:

$10
Max:

N/A
Fee:

Free

Min:

$10
Max:

N/A
Fee:

Free

Min:

$10
Max:

N/A
Fee:

Free

Min:

$10
Max:

N/A
Fee:

Free

Min:

$10
Max:

N/A
Fee:

Free

Min:

$10
Max:

N/A
Fee:

Free

Min:

$10
Max:

N/A
Fee:

Free

Min:

N/A
Max:

N/A
Fee:

Free

Min:

N/A
Max:

N/A
Fee:

Free
Methods of Withdrawal




Barstool has various payout options, and the speed of delivery varies depending on which option you choose. They offer cash at cage (instant), PayPal (instant), Venmo (instant), Play+ (instant), ACH/e-Check (3-5 business days), paper check (14 business days), and online banking (3-5 business days). There's a $10 minimum for all methods except paper checks which require a minimum of $250.
Legal Sportsbook Reviews and Promo Codes
Want to get in on the action? Check out our guides covering the best sportsbook promos and welcome bonuses from the best sportsbooks and betting sites in the industry: