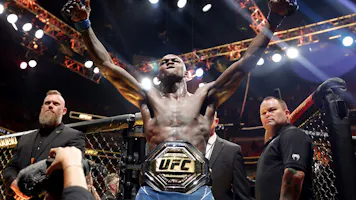 UFC Promos
UFC Fight Picks


Free UFC Picks and Best Bets Today
Mixed Martial Arts (MMA) has grown into one of the most popular and exhilarating spectator sports on the planet. There are several organizations operating MMA fights around the world but none compare to the prestige of the Ultimate Fighting Championship (UFC). It's the pinnacle of the sport, the biggest and grandest stage of them all and one that every single fighter aspires to conquer one day in his/her career.
At SBR, our expert UFC handicappers are across the octagon like nobody else, using their discerning knowledge and insight to serve up UFC and MMA expert picks that are backed up with strategy guides, matchup previews, form analysis and everything and anything that's necessary to crush the betting of any given MMA fighting event.
Most importantly, each and every MMA/UFC pick, no matter the fight in question – a title UFC fight or a lesser event on a fight card – is freely available and easily accessible. In short, you've come to the right place where all you need to know to make savvy bets on UFC and fights from other promotions is right at your fingertips.
Free UFC Expert Picks Live Here!
At SBR our UFC experts are the real deal, true UFC authorities that serve up top-notch commentaries and analysis of UFC fight nights, complete with the best UFC picks that are underpinned by timely statistical research, data and industry insight.
UFC Fights crop up on the sports betting calendar at least once a month with a card that features a robust selection of fights to bet on. Each mixed martial arts fight is an opportunity for SBR's stable of UFC expert cappers to serve up discerning UFC picks, all the while reviewing all the UFC odds from best online sportsbooks and sports betting apps.
Guaranteed UFC picks –otherwise known as guaranteed winners – don't exist. However, at SBR, bettors have all they need to start winning with their UFC picks. Most importantly, bettors can unpack all things UFC, from the latest news, fighter stats, matchup reports, head-to-head data and expert insight for free on our website. Our team of experts makes sense of the jargon, terminology, numbers and all else that may seem confusing or intimidating, particularly for those UFC fans that are looking to start betting mixed martial arts fights for the first time.
Normally, UFC/MMA picks come at a premium, but not at SBR. We pride ourselves on bringing value to our followers by giving them unparalleled access to our expert cappers' picks – across all sports and not just UFC. Furthermore, our team of experts post their UFC picks well ahead of fight time, thereby allowing marital arts fans and UFC bettors to process our expert fight analysis and bank (if they so choose to) on those expert recommendations in a timely manner. Not to be repetitive but we are giving you our best UFC bets for free. Before you bet, be sure to check out our best sportsbook promos resource.
UFC Predictions
Get all the best UFC predictions and picks from SBR's profitable handicappers, experts in the martial arts field with a proven track record of success in handicapping UFC fight cards.
When it comes to betting UFC fights, it can be tough to pick the winning UFC fighter. To be fair, that's the case with picks for any individual sport where the variables are vastly different to team sports. No matter an athlete's talent level in a team sport, the end result of a game or match is the sum total of the team's parts. Winning or losing rests with the collective working together.
Individual competition sits on the other side of the spectrum and requires a different set of dynamics that govern success. In individual sports, athletes are essentially their own competition or as in the case of sports – such as UFC – athletes engage in one-on-one competition. In both cases, however, over and above skill and talent, an athlete needs a high amount of self-discipline and self-reliance, not to mention razor-sharp focus, determination and passion. This is so true of UFC fighters.
UFC fighters can't hide behind teammates. Success and failure are theirs and theirs alone to bear. There's no relying on a teammate to help, rather the burden of winning and losing rests on their shoulders. It's a unique discipline in the betting that requires truly knowledgeable handicappers, who not only understand the key principles of UFC fighting and the qualities worth fostering towards high-quality UFC predictions but who also know how to impart that information in a clear, concise, encouraging manner.
Many casual UFC bettors may be familiar with household names, fighters like Conor McGregor, Jon Jones, Khabib Nurmagomedov, Amanda Nunes and Valentina Shevchenko, to name a few. But to find those profitable hidden gems in the nix, a much broader knowledge of the sport is required. Up-and-coming UFC fighters, lesser known names on a UFC fight card can prove the most profitable picks in UFC fighting. Arguably, that's exactly where our experts' expertise is invaluable. They do the hard graft, pouring over countless hours of film, researching past fights and breaking down the numbers to deliver the best fight picks.
When are UFC Picks Posted?
Unlike other sports that work to a pre-set annual calendar, UFC fights are scheduled at random through the course of the year. Each UFC fight is negotiated and scheduled one at a time, once its locked in by promoters and organizers.
That said, all UFC fights are scheduled well in-advance of the actual fight night to give the fighters in question time to train and prepare, which in turn allows experts to prepare UFC predictions and bettors plenty of time to weigh in on the action.
The lead up to UFC fights allows bookmakers like FanDuel and DraftKings plenty of time to release odds. Similarly, UFC experts and bettors have equally enough time to evaluate those odds against the facts and analyze the matchups in question before settling on picks. At times, UFC odds will be available for fights that are just rumored but not actually confirmed. In such instances, if the fight doesn't happen by a specified time any bets made will be generally returned.
No matter the UFC fight in question, at SBR our experts serve up their sage UFC picks early, well in-advance of any fight. Bookmark our page and you won't miss out on the thrills of the octagon.
Predictions for UFC Fight Night
Top billing fights or main UFC events that involve the best UFC fighters in the world are few and far in-between on the annual calendar, but UFC Fight Night events typically occur several times a month. Our team of experts are across all fight cards every month and bettors are sure to find the UFC prediction they're looking for on any given fight night.
MMA Predictions Tonight and MMA Picks
The UFC has raised the profile of Mixed Martial Arts globally with top-billing fights packing stadiums and drawing captive audiences on pay-per-view in the millions. While the UFC is the ultimate destination of any mixed martial arts athlete, our experts are across all MMA institutions, closely following the budding talent and serving up all you need in their previews and predictions to fill out your MMA picks.
How to Bet on UFC Fights and UFC Picks?
The most prevalent type of bet on UFC fights is the moneyline bet. In other words, picking the winner of a fight. This UFC pick is the most sought-after by fans and gamblers alike, as well the most straightforward.
Another popular bet is the method of victory, which involves betting on how the martial artist wins a fight – such as knockout or technical knockout. If there's a fight involving two of the best pound-for-pound fighters, the method of victory bet allows bettors to reconcile the possibility that a fight will not go the distance and a fighter might lose via knockout or simply by tapping out.
Where to Bet on UFC?
The exponential growth of UFC and MMA fighting events means that most top-rated sportsbooks have already jumped on the bandwagon and offer a full suite of betting odds on combat sports. Unsure where to bet? Check out our top-rated betting sites for the best sportsbook right for you. Top sportsbooks include like FanDuel, DraftKings, and Tipico.
Regional Promotions & Bonuses
Ready to translate your insights into a bet? Find the best sportsbook promos for each corresponding state below:
Promotions & Bonuses in International Regions
Regional Developments & Updates
Online sports betting can differ between regions. SBR offer the latest insights and scoop on developments and updates specific to your region below.
U.S. States News
Keep informed about the state of online sports betting in US states:
Kentucky Online Sports Betting Launch: Kentucky sports betting launch is underway! Get the scoop on the latest Kentucky sportsbook promos and Kentucky sports betting apps.
Be sure to check out what offers these sportsbooks are expected to introduce for the KY launch. We have the details for Caesars Kentucky promo codes, bet365 Kentucky promo codes, FanDuel Kentucky promo codes, BetMGM Kentucky promo codes and DraftKings Kentucky promo codes.
International Region News
Legal Sportsbook Reviews and Promo Codes
Want to get in on the action? Check out our guides covering the best sportsbook promos and welcome bonuses from the best sportsbooks and best sports betting sites in the industry: