NFL Sacks Leader Odds 2023: T.J. Watt Surges to Favorite Status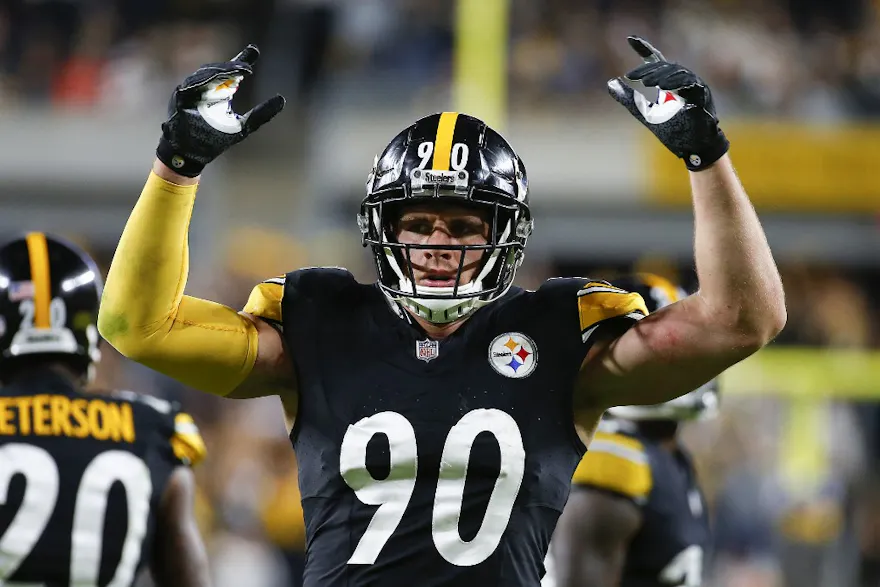 The NFL sacks leader odds from our best NFL betting sites long had San Francisco 49ers pass rusher Nick Bosa as the betting favorite on his quest to repeat his 2022 performance but he has been overtaken atop the oddsboard after Week 2 with T.J. Watt of the Pittsburgh Steelers leading the race.
San Francisco 49ers EDGE Nick Bosa led the NFL with 18.5 sacks in 2022 and became the NFL's highest-paid defender in the days leading up to Week 1. While he remains among the betting favorites by the odds to be the NFL's sack leader this season, T.J. Watt, Micah Parson, Myles Garrett, and others have entered the conversation through the NFL's second week.
We look at how Bosa measures up to the other top contenders and some long shots in the best odds to be the NFL sacks leader in 2023 (odds via our best sports betting apps).
NFL sacks leader odds 2023
(Odds last updated Sept. 19)
Visit our Google News page and click "Follow" (⭐) for the latest odds, picks and news!
NFL sacks leader betting analysis
As you can see from our NFL prop betting sites there are now only three players oddsmakers feel are a cut above the rest with Bosa dropping all the way to fifth without a sack this season. With bet365 being the only one of our best sports betting sites listing this market in the wake of Week 2, bettors are advised to hold off on betting any of these favorites in the hope of other books soon posting odds and creating a price-shopping opportunity.
Through two games, Watt shares the league lead with Minnesota Vikings linebacker Danielle Hunter with 4.0 sacks. This does little more than emphasize how quickly this market can swing based on favorable matchups for the league's top defenders.
NFL sacks leader odds movement
Through two weeks, the odds to lead the NFL in sacks closely mirror the statistical leaderboard but not in the exact order. Preference is, obviously, being given to the household names, and there may be value on the likes of Arizona Cardinals linebacker Dennis Gardeck who has three sacks on the season and is sure to continue seeing plenty of time on the field.
Bettors can gain an edge by taking out tickets on the less popular names in a market like this, as the best sportsbooks are at little risk of liability on these names and will keep their odds elevated until late in the season regardless of the standings on the leaderboard.
Favorite to be the NFL sacks leader in 2023
Watt is at full health and has been leading the Steelers' defensive wrecking crew with four sacks, two forced fumbles, and a fumble returned for a touchdown.
The struggles ineptitudes of the Steelers' offense are sure to keep Watt on the field. If he can stay healthy, we may not see a better price than this on him the rest of the way.
NFL sacks leader odds 2023: Contender
This may sound ridiculous, but is Parsons slightly underrated? In 2021 he put up 13 sacks, then in 2022 he compiled 13.5 sacks, with much more attention given to him. Finally, after two weeks, Parsons is now viewed as a serious threat to lead the league in 2023.
With Dallas Cowboys QB Dak Prescott having a tendency to throw an interception or two a game, the Cowboys' defense will be on the field more often than not, giving Parsons a ton of opportunities to put the opposing team's QB to the ground. His odds in this market dropped from +1100 to +700 with his three sacks through two games.
NFL sacks leader odds 2023: Long shot
Allen is a fifth-year edge rusher who shares the league lead in sacks after just one game but is being priced as a long shot. Unlike with Jackson, we don't need to worry about internal competition as much with Allen as he projects to be his team's leader in this statistic.
Allen had a career-high of 10.5 sacks as a rookie in 2019 but hasn't finished a season with more than 7.5 sacks since. Playing in a division with two rookie quarterbacks in Anthony Richardson and C.J. Stroud will certainly help his case.
Recent NFL sacks leaders
| Season | Player | Sacks |
| --- | --- | --- |
| 2022 | Nick Bosa | 18.5 |
| 2021 | T.J. Watt | 22.5 |
| 2020 | T.J. Watt | 15.0 |
| 2019 | Shaquill Barrett | 19.5 |
| 2018 | Aaron Donald | 20.5 |
| 2017 | Chandler Jones | 17.0 |
| 2016 | Vic Beasley | 15.5 |
| 2015 | J.J. Watt | 17.5 |
| 2014 | Justin Houston | 22.0 |
| 2013 | Robert Mathis | 19.5 |
NFL betting odds pages
Kentucky bettors, ready to let your bets speak for you?
Kentucky bettors can get ready for betting on the best NFL sacks leader! With the upcoming Kentucky sportsbooks launching soon, pre-launch offers are starting to appear. The latest Kentucky sportsbook promos & bonuses will be available on top soon-to-be-legal Kentucky sportsbook apps.
21+ and present in KY. Gambling Problem? Call 1-800-GAMBLER
NFL sacks leader FAQs
Who is the favorite to lead the NFL in sacks?
San Francisco 49ers EDGE Nick Bosa is the betting favorite to lead the NFL in sacks with odds of +550.
Who led the NFL in sacks last season?
Bosa led the NFL with 18.5 sacks last season, 2.5 more than Haason Reddick and Myles Garrett.
(21+. Gambling Problem? Call 1-800-GAMBLER)
* Bonuses not applicable in Ontario.
Related pages