NFL First Coach Fired Picks 2023: Staley Jumps into Favorite Status
There was a significant change in the odds from our best NFL betting sites for the first NFL coach to be fired this season in the wake of Week 1's results.
Without getting too dark or utilitarian, one of my favorite NFL futures markets to bet is for the first coach to be fired in a given season. This is a market that's fairly predictable and a large group of bettors can stand to benefit from correctly selecting the first head coach to be dismissed amid a(nother) poor start.
There were five head coaches fired either during or at the end of the 2022 NFL season. The first was Carolina Panthers head coach Matt Rhule, who was let go after a 1-4 start. After interim head coach Steve Wilks went 6-6 over the course of the rest of the season, Frank Reich will now be charged with getting the career of No. 1 pick Bryce Young started on the right path.
While we're still waiting on odds for this annual market from our best NFL betting sites, we can always start early with our NFL first coach fired picks (picks rated on a 1-to-5-flame scale).
NFL first coach fired odds
Odds updated Sept. 11.
| Coach | Odds to be fired first |
| --- | --- |
| Brandon Staley, Chargers | +500 |
| Ron Rivera, Commanders | +600 |
| Josh McDaniels, Raiders | +700 |
| Mike Vrabel, Titans | +800 |
| Matt Eberflus, Bears | +1200 |
| Todd Bowles, Buccaneers | +1200 |
| Kevin O'Connell, Vikings | +2000 |
| Mike Tomlin, Steelers | +2000 |
| Dennis Allen, Saints | +2000 |
| Robert Saleh, Jets | +2500 |
NFL first coach fired picks
Not intended for use in MA
Affiliate Disclosure: Sportsbook Review may receive advertising commissions for visits to a sportsbook
Brandon Staley, Chargers: +500 🔥🔥
Many consider Staley lucky to have survived the Los Angeles Chargers' 31-30 loss to the Jaguars in the wild-card round, in which they blew a 27-0 lead. You could make an argument that if he survived that, he may be able to survive anything, but I'm expecting the Chargers to have Staley on a very short leash amid another season starting with high expectations in the ultra-competitive AFC West.
Regularly battling numerous injuries throughout the entire roster, Staley has led the Bolts to a 19-15 record over the last two seasons with a playoff berth in 2022. Playing in a division with the reigning Super Bowl champion Kansas City Chiefs draws some relief in the expectations but QB Justin Herbert begins his fourth NFL season without a playoff victory.
The Chiefs aside, Staley will be rated by the Chargers' success next to the Denver Broncos and Las Vegas Raiders. Should they find themselves behind the pack early in the season, Staley makes a lot of sense to be an in-season firing. The low confidence rating here is because our Michael McClymont has high hopes for the Chargers with his highest-scoring NFL team picks.
Staley was our long-shot pick in this market prior to L.A.'s disappointing 36-34 home loss to the Miami Dolphins to start the season.
Ron Rivera, Commanders: +600 🔥🔥🔥🔥🔥
It's a dangerous spot to be an incumbent head coach under new ownership. Not only is Rivera an unimpressive 22-27-1 in three years at the helm of the Washington franchise, but that's now exactly where he finds himself heading into 2023 after a Josh Harris-led ownership group (which includes Magic Johnson) agreed to purchase the Commanders from Dan Snyder in a record deal this spring.
Though Rivera led Washington to the 2020 NFC East title in his first year at the helm, the lackluster 7-9 record at which he did so no longer holds much water. Especially after going 15-18-1 over the last two seasons without a plus-.500 record in either campaign.
Though high expectations for 2023 may be unfair for a team that will be trotting out second-year QB Sam Howell as its starter to begin the season, they inevitably come with new ownership.
The rest of the NFC East has greatly improved since Washington's last (default) division title, and the Commanders are now in danger of being left way behind the Philadelphia Eagles, Dallas Cowboys, and New York Giants.
Rivera's odds to be the first coach fired dropped from +650 to +600 even with his team's Week 1 win over the Arizona Cardinals.
Mike Vrabel, Titans: +800 🔥🔥🔥🔥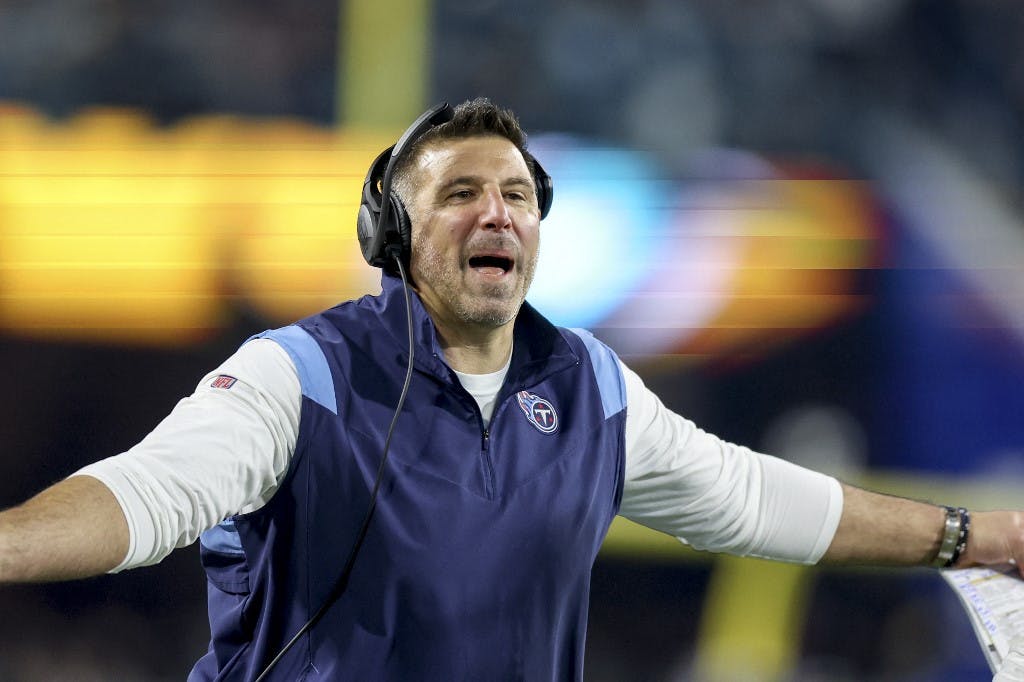 The 2022 NFL season was Vrabel's first in four years as head coach of the Tennessee Titans with a sub-.500 record. At 7-10, the Titans still finished second in one of the NFL's weakest divisions on the heels of back-to-back NFC South titles and three straight trips to the postseason.
However, he now stands to be an early scapegoat of a front office that failed to make a clear decision on the team's intended direction for the next few seasons. Veteran QB Ryan Tannehill will start the season as the QB1 in Nashville, ahead of 2023 second-round picks Will Levis and 2022 third-round pick Malik Willis. Running back Derrick Henry is suddenly 29-years-old and was forced to lead the league in carries in three of the last four seasons while still accruing 219 carries over just eight games in 2021.
With the Titans now firmly behind the Jacksonville Jaguars in the division picture, they'll need to fend off the Indianapolis Colts and Houston Texans for as long as possible as those two rivals each begin a new era with a top rookie QB under center. Whether or not Vrabel pivots from Tannehill to Levis (or Willis) at the right time could decide his fate sooner than later.
Vrable had odds of +1400 to be the first coach fired prior to Tennessee's 16-15 Week 1 loss to the New Orleans Saints.
Honorable mention: Todd Bowles, Buccaneers: +1200 🔥
The Tampa Bay Buccaneers share the second-shortest odds in the "Last Winless Team" futures market, with the Arizona Cardinals as heavy favorites. Four of the other eight teams with odds shorter than +2000 (which include Vrabel's Titans) have a rookie head coach this season. It's safe to say each of them is fairly unlikely to be the first coach fired.
Though the Buccaneers project to be downright awful in their first season in a post-Tom Brady world while leaning on the QB duo of Baker Mayfield and Kyle Trask, those low expectations should mean Bowles is safe for 2023, at least. As such, I expect Bowles to make it through the 2023 season, though he may not be around for a second campaign without Brady.
I'd be more inclined to bet on the Bucs at +1100 to be the last winless team or at +1000 to be the NFL's lowest-scoring team in 2023.
A Week 1 upset of the Minnesota Vikings likely bought Bowles plenty more time with Tampa Bay brass, and his odds to be fired first rose as a result.
NFL betting odds pages
(21+. Gambling Problem? Call 1-800-GAMBLER)
* Bonuses not applicable in Ontario.
Related pages