Los Angeles Dodgers Odds, Predictions 2023: Best World Series, Wins Total, Player & Team Prop Picks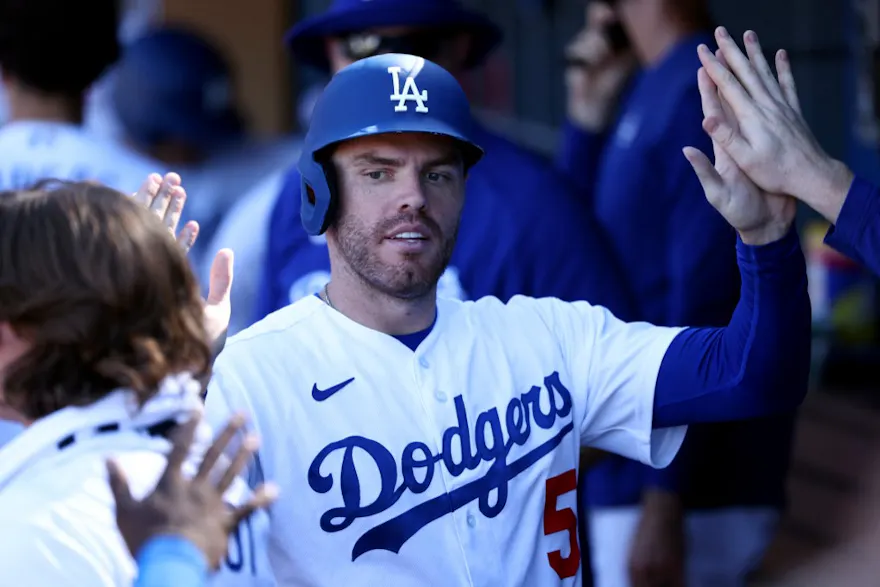 Can the Dodgers maintain their dominance in the NL West and threaten to win 100-plus games again in 2023? Find out as we look at our best team futures picks and Dodgers predictions for the 2023 MLB season based on the top MLB odds.
The Dodgers seem to just slowly awaken from their deep winter slumber in late March, yawn and stretch, then look around and suddenly it's October and they've won the NL West again.
Or maybe it's more of a sleepwalk. Either way, since 2004 they've taken the division 12 times. The Dodgers have made that appear easy recently while recording four 100-plus win seasons since 2017, and steamrolling their way to a 43-17 record during the pandemic-shortened campaign.
But staying on the mountaintop is just as hard as reaching it. Can the Dodgers still plant their flag at the summit? Or will they slide just a tier below?
Here is our look at the best odds and our top 2023 Los Angeles Dodgers predictions.
Check out our 2023 Boston Red Sox odds and picks, 2023 New York Yankees odds and picks, 2023 Toronto Blue Jays odds and picks, 2023 Baltimore Orioles odds and picks, 2023 Tampa Bay Rays odds and picks, and 2023 Houston Astros odds and picks.
Dodgers odds 2023
| | | | | | |
| --- | --- | --- | --- | --- | --- |
| | DraftKings | FanDuel | BetMGM | Caesars | PointsBet |
| World Series champions | +850🔥 | +750❄️ | +800 | +800 | +850 |
| National League champions | +425🔥 | +380❄️ | +400 | +400 | +400 |
| NL West champions | -110🔥 | -130 | -120 | -125 | -140❄️ |
Dodgers wins total odds
| | | | | |
| --- | --- | --- | --- | --- |
| DraftKings | FanDuel | BetMGM | Caesars | PointsBet |
| Over 95.5 (+105) | Over 96.5 (-110) | Over 96.5 (-105) | Over 94.5 (-110) | Over 96.5 (+100) |
| Under 95.5 (-125) | Under 96.5 (-110) | Under 96.5 (-115) | Under 94.5 (-110) | Under 96.5 (-120) |
Dodgers predictions: Wins total Over/Under
Even amid their run of utter destruction over nearly 20 years since 2004, the Dodgers have only exceeded this 96.5 regular-season win total four times. It's as if routinely winning nearly 100 games is so very, very hard.
The Dodgers have established the recent pedigree and track record to hover near this sky-high wins target. And with the likes of Freddie Freeman, Mookie Betts, Will Smith, and Chris Taylor as the core of the offense, the Dodgers will certainly win a whole lot of games and contend for both the NL west crown and World Series again. But too many key cogs have departed for the team to reach the high 90s or above.
Trea Turner's exit leaves the largest dent in the Dodgers' armor. He signed with the Philadelphia Phillies, taking his .298/.343/.466 slash line in 2022 with him, along with 21 homers and 27 stolen bases. Turner is also just a year removed from posting a .950 OPS.
Then there's Justin Turner, who has declined from his peak but was still productive in 2022 with a .788 OPS. He's with the Boston Red Sox now, and Cody Bellinger—who has fallen off similarly, but still hit 19 homers in 2022—is playing for the Chicago Cubs.
Gavin Lux, a highly-touted prospect who was set to take over for Turner at shortstop, is also out for the season with a torn ACL. Toss in losing key bullpen and rotation arms in Craig Kimbrel, Tyler Anderson, David Price, and Andrew Heaney, and there are too many critical pieces missing for the team to maintain its other-worldly winning status.
Check out our 2023 World Series Odds, 2023 MLB steals leader odds, and 2023 MLB RBI leader odds.
Dodgers predictions: Team prop
Two things can be true: The Dodgers will regress a smidge and underperform compared to their win total, and a still deeply talented team will rack up victories early in the season.
A glance at the club's schedule to open the season can lead to plenty of involuntary or instinctive reflexes (eyes widening, mouth watering, jumping into the nearest body of water, etc.). The Dodgers begin their campaign with a four-game set at home against the Arizona Diamondbacks. They then host the Colorado Rockies for two games before heading to Arizona for another four contests.
Add in three games against the San Francisco Giants, seven against the Chicago Cubs, and three with the Pittsburgh Pirates, and the Dodgers play 23 games over the first month against teams that finished at or below .500 in 2022. Pittsburgh was especially dreadful while ending up with the second-worst record in the NL at 62-100. The Rockies, Diamondbacks, and Cubs weren't much better, and all finished below 75 victories.
Baseball can be weird and random. Even the very best teams lose 50-60 games and are far from guaranteed a sweep when facing the laughingstocks. For example, the Pirates went 5-1 against the Dodgers in 2022, including a series sweep. It was a true bit of sorcery from our baseball overlords.
But a schedule front-loaded with potential cakewalk contests clearly lays out an easier path to reaching 30 wins first.
Check out our MLB 2023 home run leader odds and picks, MLB 2023 strikeout leader odds and picks, and MLB 2023 wins leader odds and picks.
Dodgers predictions: Player prop
Freddie Freeman to lead MLB in hits (+1300 via PointsBet)
This pick is equal parts talent and value.
The former is glaringly obvious, as Freeman is fresh off leading the league in hits with 199, and finishing as one of just two players to record 190-plus knocks. He's reached that mark in two of the last four full MLB seasons, and Freeman also notched 180 hits in 2021 to finish fifth.
He makes consistently great contact, and Freeman sat among the top 2% in expected batting average and expected slugging in 2022, according to Baseball Savant. His hard-hit rate, walk rate, and strikeout rate were all also impressively in the 80th percentile or above. He registered a .325 batting average and .407 on-base percentage in 2022 as well, both career highs over a complete season.
The 33-year-old has been remarkably durable too while missing a mere 10 games since 2018. That includes playing the entire pandemic-shortened season in 2020.
He puts an oversized checkmark inside every box to lead in this category, and a high-quality-contact hitter will now have the shift out of his way. And yet PointsBet curiously lists Freeman at +1300, which is significantly better value than our other top-rated sportsbooks offering this market. Caesars Sportsbook sits at +800, while DraftKings Sportsbook features Freeman at +900.
Sprint to get in on that price before it's long gone.
Check out our MLB 2023 Cy Young odds and picks, MLB 2023 MVP odds and picks, and MLB 2023 Rookie of the Year odds and picks.
(21+. Gambling Problem? Call 1-800-GAMBLER)
* Bonuses not applicable in Ontario.
Related pages