Tampa Bay Rays Odds, Predictions 2023: Best World Series, Wins Total, Player & Team Prop Picks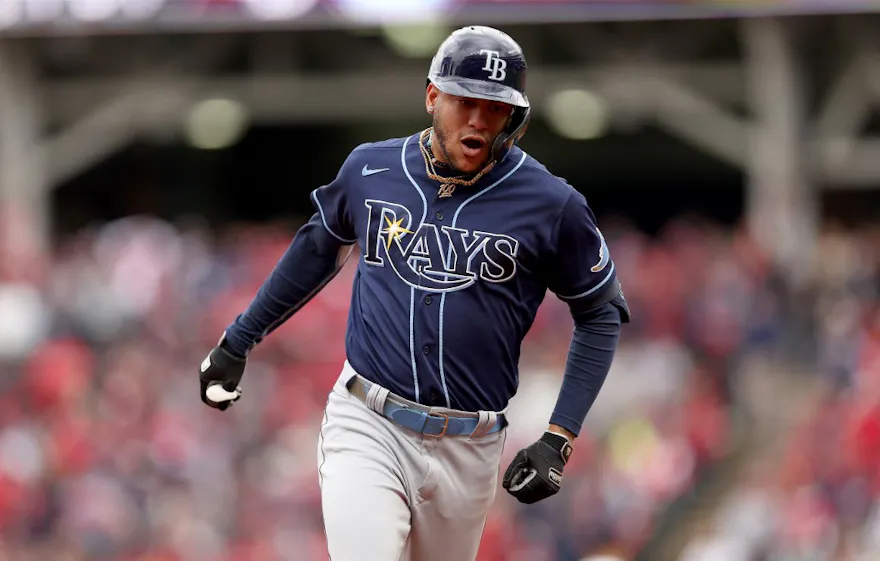 Will those pesky Tampa Bay Rays continue to frustrate the rest of the American League East en route to another postseason appearance? Find out as we look at our best team futures picks and Rays predictions for the 2023 season based on the top MLB odds.
The Rays are essentially what would happen if Baseball Analytics Twitter ran an organization. They don't really do one single thing spectacularly, but the team does almost everything very well.
With rising talent in both the lineup and rotation combined with one of the game's best managers, can the Rays continue to defy the odds and make the playoffs despite operating under the league's fourth-lowest payroll?
Here is our look at the best odds and our top 2023 Tampa Bay Rays predictions.
Check out our 2023 World Series Odds, as well as our Red Sox and Yankees team futures.
Rays odds 2023
| | | | | | |
| --- | --- | --- | --- | --- | --- |
| | DraftKings | FanDuel | BetMGM | Caesars | PointsBet |
| World Series champions | +2000 ❄️ | +2200 | +2500 | +2500 | +2500 |
| American League champions | +1000 | +1000 | +1200 | +1100 | +1200 |
| AL East champions | +380 | +300 ❄️ | +350 | +400 🔥 | +335 |
Rays wins total odds
| | | | | |
| --- | --- | --- | --- | --- |
| DraftKings | FanDuel | BetMGM | Caesars | PointsBet |
| Over 88.5 (-105) | Over 89.5 (-110) | Over 88.5 (-110) | Over 89 (-110) | Over 88.5 (-115) |
| Under 88.5 (-115) | Under 89.5 (-110) | Under 88.5 (-110) | Under 89 (-110) | Under 88.5 (-105) |
Rays predictions: Wins total Over/Under
Under 89.5 (-110 via FanDuel)
Both FanGraphs and PECOTA project the Rays to go Under this number, at 88 and 86.5, respectively. With FanDuel serving as the only one of our top-rated sportsbooks offering an Over/Under of 89.5, we'll go there to place this futures bet.
The Rays won 86 games in 2022, and you could argue they're even better this season. Wander Franco played in 83 contests last year and Brandon Lowe managed to play only 65, and he wasn't fully healthy often. Franco has combined to play 153 games during his first two MLB seasons, accruing 4.7 WAR. There's no doubt he's a star, and a full season with him in the lineup could add a few wins to the Rays' total. As for Lowe, he accrued 4.9 WAR in 2021, and his lefty power out of the cleanup spot will give Tampa Bay a big boost.
However, the Rays' bread and butter remains their pitching, and they got the absolute best-case scenarios out of Shane McClanahan, Drew Rasmussen, and Jeffrey Springs in 2022. Each of them managed a sub-3.00 ERA last season, so regression is coming for the rotation.
Additionally, with Tyler Glasnow set to begin the campaign on the injured list due to an oblique issue, the club will rely on Zac Eflin to hold down a rotation spot for the foreseeable future. Eflin went through somewhat of a renaissance as a reliever for the Philadelphia Phillies in 2022, but he's always been mediocre as a starter.
The bullpen will once again be a big strength for the team, with Pete Fairbanks and Jason Adam headlining the unit. Both pitchers are incredibly talented, but I have a hard time believing they'll replicate their 1.13 and 1.56 ERAs, respectively, from a year ago.
In the end, this team is likely just about as talented as last season's version, if not marginally better. FanGraphs' projection is pretty bang-on at 88 wins, so the Under is the play here.
Rays predictions: Player prop
Jose Siri to lead MLB in stolen bases (+4500 via DraftKings)
Jose Siri is really, really fast. He ranked second in MLB last year in sprint speed and 10th in bolts (any run in which the sprint speed of the runner is at least 30 feet per second) despite playing in just 104 games with the Rays and Houston Astros.
Siri has always been a stolen-base machine. His season-high in the minors was 46 over 126 games, but he consistently racked up double-digit steals in limited action at every level.
Focus on the last part of that sentence for this bet: "limited action." It's possible the best argument for this bet is simply that Siri will actually get regular playing time now. Sure, the Rays like to platoon various positions, but incumbent center-fielder Kevin Kiermaier is gone, leaving Siri as the obvious choice to fill the void.
Siri plays very good defense and also offers some pop on top of his blistering speed. He was a reverse-splits hitter last year, meaning he may sit against the odd lefty if Siri is platooned at all.
Steamer projects Siri to play 118 games and log 453 plate appearances in 2023. The biggest issue we face for this bet is Siri's inability to regularly get on base. He strikes out a lot and posted an abysmal .268 OBP last year. He's projected to finish 34th in stolen bases as a result. However, that's all baked into this price.
Additionally, it's well-known the Rays are analytics darlings. If the organization finds that the newly designed larger bases can be exploited in terms of steals, Kevin Cash will certainly give guys like Siri the green light.
When it comes to betting on stolen bases futures, why not go with the guy who has jet engines for feet?
Rays predictions: Team prop
To make playoffs (-165 via DraftKings)
I don't love the odds for this bet. But I'm not sure there's anything I'd consider more of a lock when it comes to the Rays than for them to make the postseason, especially under the expanded format. Tampa Bay has made the playoffs each of the last four seasons, and it narrowly missed in 2018 despite winning 90 games.
The MLB campaign is treacherous and oh-so-long, and the most valuable attribute a team can have is depth and flexibility. The Rays proved that last year while winning 86 games despite their stars missing the majority of the season.
FanGraphs gives the Rays a 66.7% chance to make the playoffs, the third-best projection in the division and better than that of any other team in the American League not named the Houston Astros. PECOTA is a bit lower at 56.6%, but that's still the sixth-best projection in the American League. A price of -165 comes with a 62.26 implied odds percentage, so there's still some value on this when using FanGraphs' projection despite the relatively short odds. It also lands almost right in the middle of the two numbers, so -165 is a fair price at the very least.
It's possible these odds lengthen if teams like the Los Angeles Angels, Seattle Mariners, Minnesota Twins, and Chicago White Sox look especially good during spring training. On the flip side, I don't see the price shortening much, so there isn't a problem with waiting to make this bet until closer to the start of the regular season.
(21+. Gambling Problem? Call 1-800-GAMBLER)
* Bonuses not applicable in Ontario.
Related pages