MLB Stolen Base Leader Odds 2023: Targeting Outlier Prices on Exciting Rookie, Proven Superstar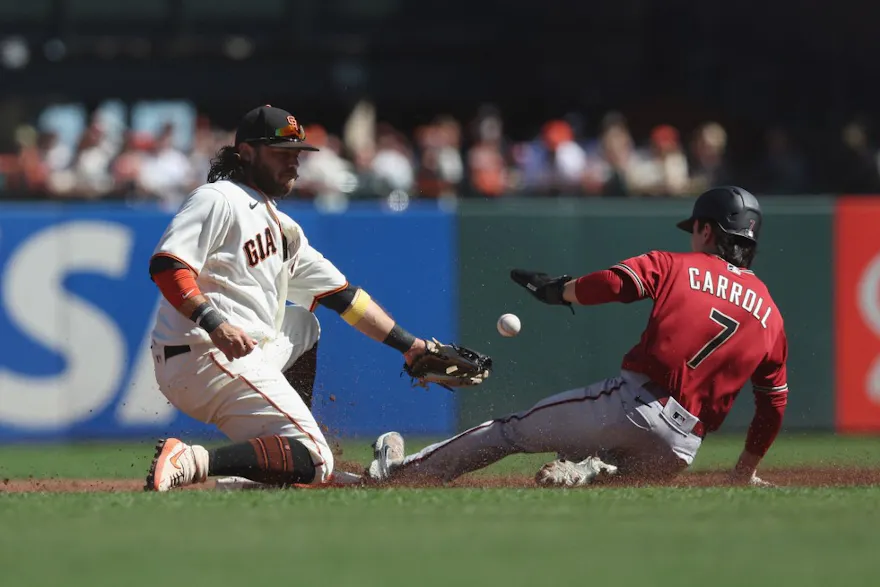 With the newly designed larger bases, we could be in for a historic season when it comes to steals. Read on as we look at some of our favorite MLB stolen base leader bets based on the top baseball odds.
Steals could very well be back on the menu in 2023. Between the new shift restrictions, MLB's renewed crackdown on sticky-substance use by pitchers, and the aforementioned larger bases, hitters will likely be getting on base more than ever and testing the arms of catchers around the league.
We'll try to uncover some value in the stolen base leader oddsboard by examining a combination of speed and projected opportunities.
Here is our look at the best odds for the 2023 MLB stolen base leader, and our top picks (odds via DraftKings Sportsbook, Caesars Sportsbook, and PointsBet).
Check out our 2023 World Series Odds.
MLB 2023 stolen base leader odds
| | | | |
| --- | --- | --- | --- |
| | DraftKings | Caesars | PointsBet |
| Adalberto Mondesi | +600 | +600 | +550 ❄️ |
| Ronald Acuna Jr. | +600 | +400 ❄️ | +600 |
| Esteury Ruiz | +700 ❄️ | +800 🔥 | +750 |
| Cedric Mullins | +850 🔥 | +500 ❄️ | +800 |
| Julio Rodriguez | +1200 | +1800 🔥 | +1100 ❄️ |
| Bobby Witt Jr. | +1300 | +1200 ❄️ | +1400 🔥 |
| Trea Turner | +1400 | +2000 🔥 | +1400 |
| Jon Berti | +1400 | +1400 | +2000 🔥 |
| Tommy Edman | +1500 🔥 | +1400 | +1400 |
| Randy Arozarena | +1700 | +1800 🔥 | +1600 ❄️ |
| Jake McCarthy | +1900 🔥 | +1400 ❄️ | +1800 |
| Jazz Chisholm Jr. | +2000 ❄️ | +2500 🔥 | +2200 |
| Michael Harris | +2500 | +2800 🔥 | +2500 |
| Jorge Mateo | +2500 | +3000 🔥 | +2500 |
| Kyle Tucker | +2800 ❄️ | +7000 🔥 | +3000 |
| Jose Ramirez | +2800 | +4500 🔥 | +2800 |
| Myles Straw | +2800 ❄️ | +4000 🔥 | +3000 |
| Starling Marte | +2800 ❄️ | +3500 🔥 | +3000 |
| Fernando Tatis Jr. | +3000 | +6500 🔥 | +3000 |
| Corbin Carroll | +3000 | +2500 ❄️ | +4500 🔥 |
MLB 2023 stolen base leader best bets
Esteury Ruiz (+800 via Caesars) - March 6, 2023
Trea Turner (+2000 via Caesars) - March 6, 2023
Corbin Carroll (+4500 via PointsBet) - March 6, 2023
MLB 2023 stolen leader odds: Favorites
Adalberto Mondesi (+600 via DraftKings)
Adalberto Mondesi's status as the front-runner in this market is relatively surprising. The infielder can steal bases for fun when he's healthy, but he's rarely healthy.
Mondesi debuted in MLB by playing 102 games in 2019, during which he stole an absurd 43 bases, nearly leading the league with that total. He then played 59 of a possible 60 games during the pandemic-shortened 2020 season and led the majors with 24 steals. Unfortunately, he's managed to play in only 50 games in the two seasons since.
Steamer projects Mondesi to finish 12th in steals, a far cry from the No. 1 spot he holds on the oddsboard. Those projected 28 steals are over only 97 games. That's approximately one steal every 3.5 games, which is well below his MLB average of one per 2.7 games. If he manages to play roughly 120 games and lands somewhere in the middle of that number (one steal every three games), he could finish with around 40 steals.
It's hard to fade potentially the best base-stealer in the league, but at this price and with his injury history and general inability to get on base, that's what I'm doing.
However, keep an eye on Mondesi's price, especially if he begins the season on the injured list. His odds could lengthen significantly despite no real change in his projections. That's when I'd jump in.
Ronald Acuna Jr. (+600 via DraftKings)
I'm interested in Ronald Acuna for a variety of futures bets this season. He's an MVP candidate, can potentially lead the league in home runs (he's due for a ton of positive regression in that department after posting a 12.8% home run per fly ball rate last season), and Steamer projects him to lead baseball in steals.
However, I'm not entirely sold on the latter. Acuna ran a lot last year, with 29 steals in 119 games (one every approximately four games, an improvement from his average before the 2022 campaign of one every five games), but I'd wager that was mostly due to his surprising lack of pop.
Acuna hit only 15 homers in 533 plate appearances after crushing 24 in 360 plate appearances before tearing his ACL in 2021.
Most assumed Acuna's knee injury would lead to a reduction in speed, but it's entirely possible it actually messed with his swing. He had the lowest launch angle of his career and suffered a drop-off in average exit velocity, too.
However, with an entire offseason to continue his recovery from that injury, I think we'll see Acuna return back to the player he was prior to 2022.
The superstar outfielder could still very well go 40-40, but will 40 steals be enough to lead the league? That total would be three less than his projection, which assumes Acuna will steal bases at a more aggressive clip than he ever has (one steal every 3.4 games).
I find myself more in line with the ZiPS projection model, which has Acuna finishing eighth in steals.
Esteury Ruiz (+800 via Caesars)
Esteury Ruiz is the first of my three favorite bets.
First, he plays for a bad Oakland Athletics team. It's not necessarily guaranteed that teams out of playoff contention let their players run more often, but three of the top four clubs in stolen bases last season won fewer than 75 games (Texas Rangers, Miami Marlins, and Chicago Cubs).
The other good thing about playing for a bad team - especially as a younger player - is that it'll be more inclined to see what it has in said player. Ruiz is projected to hit at the bottom of Oakland's lineup, but he could move up to the leadoff spot if he shows good plate discipline and base-running ability during the first couple of weeks of the season.
Ruiz struggled in a very small sample size last season, managing just a .191 OBP in 17 games. However, he posted a .428 OBP in 65 Triple-A games last year and a .447 clip across two minor-league levels.
The other stat to take note of is, of course, his eye-popping stolen-base total from 2022. Ruiz stole 85 bases in just 114 games, good for one steal every 1.3 games.
Stealing bases in bunches isn't new for Ruiz, either. He nabbed 36 in 84 games in 2021, 34 in 98 games in 2019, and 49 in 117 games as a 19-year-old in 2018. As he's gotten older, his on-base skills have improved, which puts him in more opportunities to punish the opposition.
Steamer projects Ruiz to finish 13th in steals, one behind Mondesi in a similarly limited number of games (only 100 to Mondesi's 97). However, Mondesi has nearly no chance of ascending to the top of the Boston Red Sox lineup, while Ruiz could find himself serving as Oakland's leadoff hitter as early as late April if things break right.
The Athletics have a potential log jam in the outfield, which could be the reason for the conservative estimate of 100 games. However, Steamer600 (which projects all players' stats over 142 games/600 plate appearances) projects Ruiz to finish third in steals, behind two players who are unlikely to play nearly enough to compete for the crown.
If Ruiz puts on a strong showing during spring training and earns a spot in the Opening Day lineup, these odds will likely plummet. I'm betting on talent and base-stealing prowess before it's too late.
Cedric Mullins (+850 via DraftKings)
Cedric Mullins finished third in steals last season with 34 (he nabbed 30 the year prior) and is projected to finish in that territory again. He hits atop an improved and exciting Baltimore Orioles lineup, has played at least 155 games each of the last two years, and his expected home run regression potentially helps his stolen-base potential.
So, is there any downside? In my opinion, yes, though it runs contrary to almost all projection models.
An improved Baltimore team may be more hesitant to let Mullins run with quality hitters due up after him. As it was, the Orioles were around the middle of the pack last year in stolen bases, landing 13th with 95.
I have some concerns with Mullins' ability to steal bases, too. He was caught 10 times on 44 attempts last season after being caught eight times on 38 tries in 2021. Comparatively, Mondesi was caught only nine times in his last 53 attempts — spanning three seasons — after going 43-for-50 in 2019. Meanwhile, Acuna was caught 11 times in 40 attempts last season.
The common theme with Mullins and Acuna is that they're not actually that fast - at least when compared to the truly elite speedsters. Mullins finished only 36th last season with 18 bolts (any run in which the sprint speed of the runner is at least 30 feet per second). Acuna was slightly more impressive with 25 bolts in 119 games, but his average sprint speed is similar to Mullins', as both fall around the 80th percentile.
Despite what the projection models say, I'm going to pass on Mullins and his declining speed at the fourth-shortest odds.
Check out our 2023 World Baseball Classic odds.
MLB 2023 stolen base leader odds: Contenders
Bobby Witt Jr. (+1400 via PointsBet)
Calling Bobby Witt a "truly elite speedster" would be selling him short. Witt would be one of my three best bets if not for Trea Turner's price at Caesars. For now, he's an honorary fourth name that I have no problem adding to the portfolio.
Witt finished the 2021 season with the second-fastest sprint speed and second-most bolts. Additionally, the Kansas City Royals have always given their guys the green light. Before Witt, it was Mondesi, and before Mondesi, it was Whit Merrifield, who led the league in steals in 2018. The Royals finished sixth last year in stolen bases.
Steamer projects Witt to finish third with 34 steals, though he can greatly improve on that number if he manages to be more patient at the plate. Witt owned a 9% walk rate in his final season in the minors, but that number plummeted to 4.7% last year, resulting in an abysmal .294 OBP. Add in that 57 of his 150 hits went for extra bases, and you can see why he managed to steal only 30 bags.
If Witt can take even 15 more walks (a 50% increase from last year's total) and have some more BABIP luck - his .295 BABIP was relatively low for a player with his speed - then he could be afforded another 25 to 30 opportunities to steal second base. Between his speed and a logical expectation for positive regression when it comes to getting on base (Steamer projects his OBP to be over 10 points higher than last year), Witt could steal upward of 45 bases.
Jake McCarthy (+1900 via DraftKings)
Jake McCarthy is lightning-fast - he finished top 10 in both sprint speed and bolts last season - and stole 23 bases in 99 games in 2021. However, I don't love that he's projected to hit third in the Arizona Diamondbacks' lineup.
It seems the projection models are factoring that in, as well, as Steamer has McCarthy nabbing 29 bases in 134 games (one every 4.6 games), for an average slightly below both last year's and those he managed in the minors. It's somewhat baked into the price — except at Caesars — but I'm still not biting, especially because I plan to invest elsewhere on the Diamondbacks.
The speed is there, but the opportunity may not be. McCarthy is a good one to watch throughout spring training in case Arizona's projected lineup changes. If that happens, Caesars' +1400 would end up being a more accurate price, and we'd be getting a relative bargain at DraftKings.
Trea Turner (+2000 via Caesars)
I have no idea what Caesars is doing with this price, but I'll take it.
Trea Turner is arguably the fastest player in baseball (he led the league in bolts with 131, 24 more than the second-most). Additionally, he joins a Philadelphia Phillies team that finished fifth in stolen bases last year and is expected to be without Bryce Harper until the All-Star break.
Turner's former team, the Los Angeles Dodgers, stole only seven fewer bases than the Phillies last year but made 17 fewer attempts, and that was with Philadelphia not having a true speedster. J.T. Realmuto, who's fast in his own right but not Trea Turner fast, led the team with 21 steals.
Steamer projects Turner to finish with only 30 steals this year, which might be more ridiculous than Caesars' +2000 number. This is a Phillies team that let Kyle Schwarber run 11 times last year.
We've wondered every year if Turner will finally be let loose and steal 50-plus bags. Well, this is actually the year.
Speed plus opportunity plus the ability to get on base (he's hit exactly 130 singles each of the last two years) equals steals, steals, and more steals. Jump at this price before Caesars adjusts it to match the rest of our top-rated sportsbooks.
Jon Berti (+2000 via PointsBet)
A player hasn't repeated as the stolen-base champion since Dee Strange-Gordon did it with the Los Angeles Dodgers (2014) and Miami Marlins (2015). Well, the reigning king also happens to be a Marlins infielder. Will Jon Berti channel Strange-Gordon and go back-to-back?
I don't think so, and it has very little to do with Berti himself. He's certainly fast enough (97th-percentile sprint speed and top 20 in bolts despite playing only 102 games), and he proved last year that he can lead the league while playing in a limited number of contests. However, I fear it's overly optimistic to expect him to match even that number of 102.
The Marlins are fairly set on the infield after adding Luis Arraez and Jean Segura to play second and third, respectively, the two positions at which Berti spent most of his time last season. Miami already moved star infielder Jazz Chisolm to the outfield to facilitate those moves, so it's unlikely Berti gets any regular playing time unless there's an injury.
Berti will likely be used mostly as a platoon bat against lefties or step in across the infield when the regulars need a breather. Steamer projects him to finish 11th in steals in just 83 games, so he'd be the favorite if he found a route to 120-plus games.
Therefore, keep an eye on Berti to start the campaign. His odds will likely lengthen when the season begins and his playing time is limited, but he can most certainly repeat as champion if the opportunity arises.
MLB 2023 stolen base leader odds: Long shots
Oneil Cruz (+4000 via Caesars)
Despite being one of the fastest players in baseball, Oneil Cruz has never been a prolific base-stealer. He ranked seventh in bolts last season in only 87 games, but he also stole just 10 bases. Cruz topped out at 19 steals in 69 games across two minor-league levels in 2021, but that was with a .375 OBP, which is 80 points higher than what he managed in his rookie MLB season.
Most projection models don't have Cruz serving as one of the upper-echelon base-stealers. Steamer is actually the most bullish on his total, and it projects him to finish 30th with 19.
However, there are a few things I do really like about Cruz's stolen base profile. To go along with his top-10 ranking in bolts, Cruz finished his first campaign with a 98th-percentile sprint speed. His base-running data is quite similar to Julio Rodriguez's, who owns the fifth-shortest odds in this market. Both are expected to hit atop their respective team's lineup, and Steamer projects Rodriguez to have a marginally better .338 OBP to Cruz's .314.
Pittsburgh should give Cruz the green light fairly often, too, especially as it tries to show off its future — and potentially very marketable — star.
But even with the raw talent and team situation working in his favor, Cruz isn't a good bet until he shows either a much-improved ability to get on base or a better ability to take advantage of his limited opportunities.
I think he goes over his projected total and likely steals upward of 20 bases, but this price is simply too short when considering all the data.
Corbin Carroll (+4500 via PointsBet)
Here's the main reason why I'm fading Cruz. Why bet on him at +4000 when I can get Corbin Carroll at +4500? Carroll topped the league in sprint speed last season and ranked in the top 20 in bolts despite playing just 32 games. He also did a relatively good job of getting on base, with a .330 OBP.
We're getting this price on Carroll for two reasons. First, he stole only two bases in those 32 contests. Second, his projected numbers aren't top-tier. Steamer projects Carroll to own a .318 OBP — which is low considering his pedigree and track record — and finish 39th in stolen bases this season.
That OBP would be 12 points lower than his 2022 number (albeit in a very small sample size), and it also doesn't really mesh with his minor-league stats. Carroll logged a .425 OBP across three minor-league levels last year before joining the big-league club. He also stole 31 bases in 36 attempts during that time.
Let's compare Carroll with his teammate, Jake McCarthy, to show just how good this price is:
Carroll: .318 projected OBP, one bolt per game played in 2022, first in sprint speed, 31 stolen bases in 93 minor-league games in 2022.
McCarthy: .319 projected OBP, one bolt per 1.4 games played in 2022, seventh in sprint speed, 29 stolen bases in 85 minor-league games in 2021.
Of course, McCarthy has the major-league numbers. He stole 23 bases in 99 MLB games last year, so he's proven he can perform at the highest level. However, I don't see the fastest player in baseball having much trouble stealing bases.
With the OBP projections and speed data similar, I have to question why McCarthy is projected to finish with ~10 more steals than Carroll, who's also expected to bat leadoff in the Diamondbacks' lineup. I can confidently say there's a path to Carroll stealing 30-plus bases, and as soon as you enter that territory, you have a chance to lead the league in the category.
Take advantage of this generous price from PointsBet, as the Arizona rookie is already down to +2500 at Caesars.
Bubba Thompson (+4500 via Caesars)
Bubba Thompson burst onto the scene in 2022 with 18 steals in 55 games (one every three contests) after nabbing 49 on 52 attempts across 80 games in Triple-A. So, why isn't he priced among the favorites in this market?
Despite the outlandish stolen base total, Thompson really wasn't very good in those 55 games with the Rangers. He managed just a 3.9% walk rate to go along with an abysmal 30.9% strikeout rate and a 77 wRC+. He also wasn't especially good on defense, all leading to 0.4 WAR despite all those steals.
Thompson will likely begin the campaign in the minors, with the newly signed Robbie Grossman set to start alongside Leody Taveras and Adolis Garcia in the outfield. As a result, Steamer projects Thompson to steal 10 bases in just 40 games. However, if the Rangers suffer any major injuries in the outfield or Thompson really impresses during spring training, his stock will shoot to the moon.
Steamer600 projects him to steal 38 bases (tied for eighth with Acuna), and if you consider Thompson's 100th-percentile sprint speed, you can see how he'd eclipse even that number. The Rangers led the league last year with 128 stolen bases, and they also led the league by being caught stealing 41 times. Bettors need not worry about the latter, because it simply means the Rangers are willing to run.
I think Thompson will start the season in the minors or, at the very most, as a bench outfielder. He could get some pinch-running opportunities in the case of the latter, but it's unlikely that'll be enough to keep him competitive in this market.
Jose Siri (+4500 via DraftKings)
I featured Jose Siri to lead the league in steals as my player prop bet in the Tampa Bay Rays 2023 futures picks. Though that serves as one of my favorite Rays player props, it's more so due to Tampa Bay not being an especially star-driven organization.
Siri ranked second in MLB last year in sprint speed and 10th in bolts despite playing in just 104 games with the Rays and Houston Astros. He's always been a threat on the basepaths, as his season-high in the minors was 46 over 126 games, and he consistently racked up double-digit steals in limited action at every level.
The best argument for Siri is that he should get regular playing time. Incumbent center-fielder Kevin Kiermaier is gone, leaving Siri as the obvious choice to fill the void. He plays very good defense and also offers some pop on top of his speed. He may be platooned at times, but he has the base-stealing ability to make up for the relatively fewer number of games played.
However, much like Thompson and others we've noted, Siri struggles to get on base. He strikes out a lot and posted an abysmal .268 OBP last year. Steamer projects him to finish 34th in stolen bases as a result. That's baked into the price, but I have a hard time investing in a player who's projected to manage a sub-.300 OBP this season.
Siri managed only a 75 wRC+ in 2022, so the Rays could limit his playing time if he continues to struggle at the plate. I also don't see a realistic path for Siri to move up Tampa Bay's order, meaning he'll always get fewer plate appearances than the leadoff hitters in this market.
Much like Thompson, Siri could be worth a little sprinkle if you want to bet on the speed and base-stealing ability of Mondesi and Ruiz at much longer odds. However, I'd rather go with the likes of Carroll or even Fernando Tatis Jr. or Kyle Tucker, who are as long as +6500 and +7000, respectively, at Caesars.
Recent stolen base leaders
| | |
| --- | --- |
| Player (Total) | Year |
| Jon Berti (41) | 2022 |
| Starling Marte (47) | 2021 |
| Adalberto Mondesi (24)* | 2020 |
| Mallex Smith (46) | 2019 |
| Whit Merrifield (45) | 2018 |
| Dee Strange-Gordon (60) | 2017 |
| Jonathan Villar (62) | 2016 |
| Dee Strange-Gordon (58) | 2015 |
| Dee Strange-Gordon (64) | 2014 |
| Jacoby Ellsbury (52) | 2013 |
*Pandemic-shortened season
MLB strikeout leader FAQs
When will the stolen base leader be decided?
The baserunner who leads the league in stolen bases upon the conclusion of the regular season is the winner.
Who led the league in stolen bases in 2022?
Miami Marlins infielder Jon Berti led the league with 41 steals despite not actually being a qualified hitter, as he logged only 404 plate appearances in 102 games.
(21+. Gambling Problem? Call 1-800-GAMBLER)
* Bonuses not applicable in Ontario.
Related pages