MLB Strikeout Leader Odds 2023: Looking for Value in Crowded Oddsboard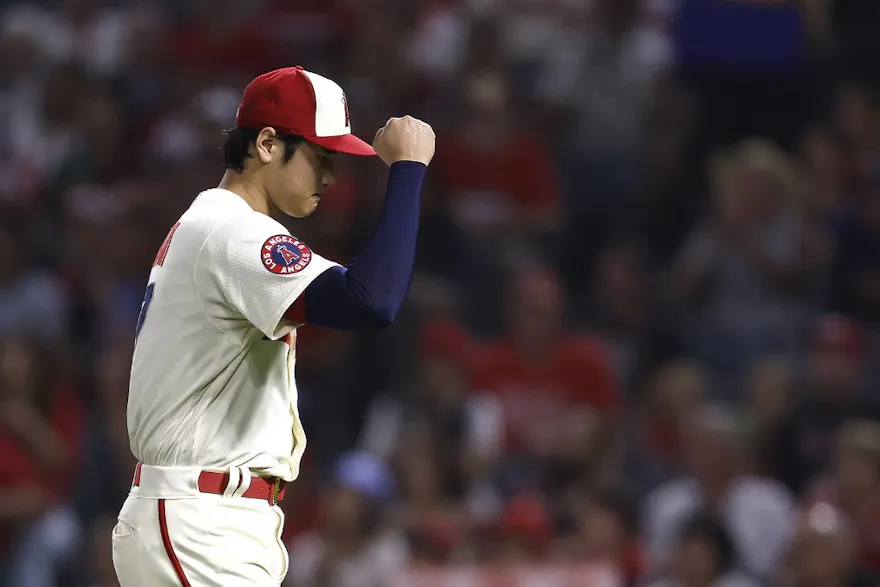 There isn't a greater indicator of an MLB pitcher's dominance than their ability to strike out opposing batters. Read on as we look at a number of our favorite MLB pitcher strikeout leader bets based on the best baseball odds.

It's difficult to find value in a market like the MLB strikeout leaders. Workhorse pitchers who punch out a ton of hitters are priced accordingly. Therefore, we're going to do a bit of a deep dive to hunt for value, and combine those bets with some recognizable favorites.
We'll be looking at some of the starters with the most strikeouts per nine innings and those from whom we expect positive regression in terms of workload this season. Finding overlap between those criteria will uncover the value we seek.
Here is our look at the best odds for the 2023 MLB strikeout leader, and our top picks.
Check out our 2023 World Series Odds.
MLB 2023 strikeout leader odds
| | DraftKings | FanDuel | BetMGM | Caesars | PointsBet |
| --- | --- | --- | --- | --- | --- |
| Gerrit Cole | +550 | +550 | +550 | +550 | +575 🔥 |
| Corbin Burnes | +900 🔥 | +800 | +800 | +800 | +750 ❄️ |
| Dylan Cease | +1000 | +1000 | +1000 | +1200 🔥 | +1000 |
| Spencer Strider | +700 ❄️ | +800 | +900 | +900 | +1000 🔥 |
| Jacob deGrom | +1200 | +1100 | +1200 | +1100 | +1100 |
| Max Scherzer | +1400 | +1000 | +1300 | +1000 | +1400 |
| Aaron Nola | +1400 | +1500 | +1400 | +1500 | +1400 |
| Carlos Rodon | +1300 ❄️ | +3500 🔥 | +1500 | +1500 | +1600 |
| Robbie Ray | +1900 | +2700 🔥 | +1800 | +2000 | +1800 |
| Shane Bieber | +2000 | +2000 | +2000 | +3000 🔥 | +2200 |
| Shohei Ohtani | +2000 | +1700 | +2000 | +1500 ❄️ | +1800 |
| Sandy Alcantara | +2200 | +2000 | +2200 | +2500 🔥 | +2200 |
| Shane McClanahan | +2500 | +3500 🔥 | +2500 | +2500 | +2500 |
| Justin Verlander | +3000 | +3500 🔥 | +3000 | +3000 | +3300 |
| Kevin Gausman | +3500 | +7000 🔥 | +3000 | +2500 ❄️ | +3300 |
| Hunter Greene | +2000 | +3200 🔥 | +3000 | +1800 ❄️ | +2200 |
| Brandon Woodruff | +3000 | +3500 🔥 | +3000 | +3000 | +3300 |
| Nick Lodolo | +3500 | +8000 🔥 | +3500 | +3000 ❄️ | +3500 |
| Cristian Javier | +3500 | +2700 ❄️ | +3500 | +3000 | +3500 |
MLB 2023 strikeout leader odds as of Wednesday, March 29 at 2:00 p.m. ET.
MLB 2023 strikeout leader odds analysis
FanDuel was late to the party, but it opened the market by having the most competitive odds across our top-rated sportsbooks. It also properly adjusted to Carlos Rodon's injury and has some tasty odds for some interesting candidates further down the oddsboard. DraftKings offers a pitiful array of odds for the front-runners, including a +1300 number on Rodon, who will begin the season on the injured list.
MLB 2023 strikeout leader odds movement
The odds haven't shifted too drastically in this market, with Spencer Strider and Shohei Ohtani moving up slightly. Both are interesting cases, as they are two of my biggest fades in this market this season due to their workload concerns.
MLB 2023 strikeout leader best bets
Gerrit Cole (+575 via PointsBet) - Feb. 23, 2023
Brandon Woodruff (+3300 via PointsBet) - Feb. 23, 2023
Blake Snell (+5000 via PointsBet) - Feb. 23, 2023
MLB 2023 strikeout leader odds: Favorites
Gerrit Cole (+575 via PointsBet)
Gerrit Cole is the favorite for a reason. The New York Yankees ace is the reigning MLB strikeout leader, and that was with his fewest strikeouts per nine innings since he made the move to the American League following the 2017 season.
Cole's biggest advantage over his contemporaries is his consistent workload. The big right-hander has logged at least 200 innings in four of the last five full seasons. He's always been effective at limiting walks, which enables him to pitch deeper into games and rack up more strikeouts.
Steamer projects Cole to once again lead the league in strikeouts, with Corbin Burnes and Jacob deGrom projected to finish close behind. It's not fun to bet chalk - especially with futures - but sometimes it's necessary.
Check out our 2023 World Baseball Classic odds.
MLB 2023 strikeout leader odds: Contenders
Max Scherzer (+1400 via DraftKings, PointsBet)
Max Scherzer is a phenomenal talent and will likely go down as one of the greatest pitchers of this generation, if not all time. However, he's getting up there in age, and, more importantly, his strikeout numbers have steadily declined each of the last three seasons.
Steamer projects Scherzer to finish fifth in strikeouts this season, which is generally in line with his placement on the oddsboard. But that's predicated on him actually eclipsing his strikeout rates from last season. I'm not so sure that will come to fruition in 2023.
It wasn't just Scherzer's strikeout rate that declined, as some of his other predictive stats followed that same pattern. His swinging strike rate was the lowest it's been over a full season since 2014, and his contact rates - both outside and inside the zone - increased by 5.7 and 3.1 percentage points, respectively.
Scherzer's called and swinging strike percentage was still among the top 10 among pitchers with at least 120 innings last season, but the declining strikeout numbers and multiple oblique injuries last season make me hesitant to back him at this relatively short price.
Aaron Nola (+1500 via FanDuel, Caesars)
My 2022 National League Cy Young (the fact that he wasn't even a finalist was disgusting) has the two qualities you need to lead the league in strikeouts: he is an absolute horse (at least 180 innings in the last four full seasons, with 200-plus in three of them) and has elite strikeout stuff (he finished second among qualified pitchers in CSW% last year).
Yes, his strikeout numbers declined last season from 2021, but unlike Burnes, there wasn't much of an indication in the second half of that campaign that there would be a drop last year. Therefore, I'd suggest Nola pitched more to contact last season (his walk rate was the second-lowest in baseball) to ensure he could go deeper into games after managing 25 fewer innings in the same number of starts the season before.
The Philadelphia Phillies got even better this offseason, especially on defense, which could lead to Nola continuing that trend. Steamer projects him to finish ninth in strikeouts but with only 9.84 per nine. If he finds a balance between his last two campaigns and limits walks and home runs while also getting closer to 11 K/9, he can most definitely lead the league in punchouts. However, I prefer a bet on him to win the NL Cy Young.
MLB 2023 strikeout leader odds: Long shots
Brandon Woodruff (+3500 via FanDuel)
Here's my favorite bet in terms of talent vs. value. Brandon Woodruff has managed at least 10.5 K/9 in each of the last four seasons, with last year's 11.15 serving as a career high - and eclipsing the mark of teammate Burnes.
Interestingly, Woodruff is projected to throw only 173 innings this season, which is in the territory of a handful of sophomore pitchers and Ohtani. Perhaps there's some worry about his Raynaud's syndrome diagnosis last season, but I'm confident that an entire offseason will have helped him and the team develop an appropriate treatment plan. Therefore, I believe Woodruff will surpass that projected innings total of 173.
The right-hander owned the ninth-best CSW% among starters with at least 120 innings last season, and his 30.6% strikeout rate and 11.15 K/9 were eighth-best under those parameters. Additionally, in this odds range, he's surrounded by either pitchers with real innings concerns or those not necessarily known for strikeouts.
Woodruff has already gone through the phase of the Milwaukee Brewers stretching him out from his younger years. If he remains healthy this season, there's no reason to believe the Brewers will limit his workload below 180 innings, especially since they will likely rely on their powerhouse pitching to once again contend in the NL Central.
The other thing I like about Woodruff - and something that I believed helped him last year - is that he now serves as the Brewers' No. 2 starter. Sure, there's likely no real data to back this claim, but there's something to be said about pitching behind one of the best starters in baseball. Teams will get up and give everything they have to beat Burnes the day before. That could lead to some lackadaisical plate appearances when Woodruff takes the mound, and those couple additional strikeouts per start could pay dividends when the season concludes.
Blake Snell (+5000 via PointsBet)
Baseball fans have been begging Blake Snell to show us something even remotely resembling his brilliant 2018 campaign. Well, he finally did just that in the second half of the 2022 season.
The San Diego Padres southpaw was incredible over 78 second-half innings, recording a 2.19 ERA and finally cutting down on his walk rate. Most importantly, though, he struck out 12.12 batters per nine innings for a 33.8% strikeout rate.
Talent has never been an issue for Snell, as he finished second among starters with at least 120 innings in K/9 and sixth in strikeout rate. The left-hander hunts strikeouts, often to his own detriment, racking up pitches early in contests and limiting his ability to go deep into ballgames.
However, it seemed something clicked during that second half. We're betting on talent here, as he still threw only 128 innings last year after managing a similar 128 2/3 the year prior. But he's thrown as many as 180 2/3 in a single season, and as I previously mentioned, I'm not one to try to predict injuries.
Steamer projects Snell to finish 23rd in strikeouts but with the eighth-best K/9 and ninth-best K% (and both numbers would serve as his lowest since 2017). The Padres are going all-in this season - as evidenced by their offseason moves - and though they're projected to roll with a six-man rotation, two of the pitchers included have served primarily as relievers for the last few years.
Therefore, I expect the Padres to go with a more traditional five-man rotation and mix in an opener during longer stretches of play without a break. That's fine for Snell, as it will keep him fresh while still allowing him to reach ~180 innings, health permitting. If we take his five-year K/9 average and run that over 180 innings, that gives Snell 232 strikeouts. That puts him in line with Rodon's projection, who not so long ago had inning concerns of his own. At +5000, he's worth the flier.
MLB 2023 strikeout leader odds: Fades
Corbin Burnes (+900 via DraftKings)
Corbin Burnes' numbers continued to regress in 2022 after beginning to decline with the implementation of the sticky-substance ban the year prior. He managed 13.14 K/9 in the first half of the 2021 season, but that number dropped to 12.03, and it declined even further to 10.83 last year.
Burnes is still an elite talent, but he's being priced as a pitcher who can log the workload of last season (202 innings) with the K/9 closer to that of 2021 (Steamer projects him to manage 10.95). At this price, I'd rather target pitchers with longer odds and similar skill sets - in particular, his teammate, who we'll discuss later.
Spencer Strider (+1000 via PointsBet)
Spencer Strider is perhaps the best strikeout artist among starting pitchers in the majors (though a certain newly acquired Texas Rangers starter may have an argument). He recorded 13.81 K/9 (13.84 as a starter vs. 13.68 as a reliever) and owned an incredible 38.3% strikeout rate, a number topped by only Edwin Diaz, deGrom, Devin Williams, Ryan Helsley, James Karinchak, and Andre Munoz - five of the six being some of the game's most elite relievers.
However, though Steamer projects Strider to finish second among starters this season in both K/9 and K%, it projects him to finish 13th in total strikeouts. The big reason for that (and why I'm staying away from him in this market) is his workload. Strider threw only 131 2/3 innings in his rookie campaign, and he's projected to reach around 150 this year.
I'm similarly avoiding Strider in the preseason Cy Young market for this same reason. It's nearly impossible to cash in either pitching market with such a limited workload. Even if he manages 13 K/9, that would amount to just 216 strikeouts over 150 innings, which is actually nine more than Steamer projects him to record. Strider shouldn't be trading at the fourth-shortest odds.
Dylan Cease (+1200 via Caesars)
The Chicago White Sox ace is an interesting pitcher in this market, especially when looking at his 2022 splits. Dylan Cease struck out opposing hitters at an incredible rate during the first half of the season (12.90 K/9) but also had an elevated walk rate of 4.13 per nine innings. Both those numbers came down in the second half, but the drop in strikeout rate was alarming.
Cease managed to punch out only 24.8% of hitters in the second half of the season, which would put him in a category with starters not even listed in the top 20 on this year's strikeout leader oddsboard.
Whether it was a concerted effort made by Cease to pitch to contact more or a product of fatigue is unknown, but the fact that there was such a steep decline gives me pause.
Additionally, the White Sox have a new manager this season, leading to some question marks in terms of Cease's workload. For those reasons, and at this price, I'm out.
Jacob deGrom (+1200 via DraftKings, BetMGM)
DeGrom is undoubtedly the best pitcher in baseball, but the fact that he's managed only 156 1/3 innings over the last two seasons and is already dealing with an injury simply can't be ignored.
Steamer projects the superstar right-hander to finish third in strikeouts despite logging 25 fewer innings than both Cole and Burnes (both projected to finish with 197). Therefore, logic dictates that if deGrom manages to stay healthy and reach 180-plus innings - he threw over 200 innings in each season from 2017 to 2019 - then he should lead the league in strikeouts.
Now, my No. 1 rule is to never try to predict injuries (I was all-in on Christian McCaffrey being the first overall pick in fantasy football this past season) and to bet on talent. For that reason, I wouldn't dare to write-off deGrom in either this or the Cy Young market. However, he's not someone I'm targeting with one of my three best bets because, even if he manages to stay healthy, I believe the Rangers will at least somewhat limit his workload as they look to the future - whether that be next year or a potential postseason run in 2023.
I don't blame anyone for making this bet, but it's not one I'm especially interested in right now.
Carlos Rodon (+3500 via FanDuel)
Following years of injuries, Carlos Rodon remained relatively healthy in 2021 - the White Sox managed his workload - and threw a career-high 178 innings in 2022. However, he's already dealing with a left forearm muscle strain, and Steamer now projects him to go just 159 innings this season compared to the 181-inning projection from just a couple of weeks ago.
I was initially cautious about Rodon due to his move to the AL East, which features a combination of the utterly terrifying (Toronto Blue Jays), young and hungry (Baltimore Orioles), and downright annoying (Tampa Bay Rays). The Boston Red Sox enjoy teeing off on Yankees pitchers, too. I felt the move hurt his Cy Young chances more, though.
There was real value with Rodon in this market. However, he remains among the group of contenders in terms of odds but Steamer now projects him to finish 14th in strikeouts (he was projected to finish fourth, just 15 behind teammate Cole), well behind the league's top-tier punchout artists.
I was very interested in Rodon as a fourth best bet in this market prior to the injury. His odds have made the correlated shift at FanDuel necessary to retain the previous value in this pick. I don't hate a bet on him there at +3500.
Shohei Ohtani (+2000 via DraftKings, BetMGM)
I see a lot of people investing in Shohei Ohtani pitching futures, and my proposition for them is simple: Donate that money to a charitable cause instead, rather than to the sportsbooks.
If you're going to bet on Ohtani futures, do so for either AL MVP or any hitting categories (our own Sean Tomlinson included him in his home run leader best bets, which I'm a big fan of). As was the case last year, the Los Angeles Angels are projected to roll with a six-man rotation this season, once again likely limiting Ohtani to one start per week and ~165 innings.
Ohtani may very well be one of the three best starters in baseball, but the Angels are unlikely to really let him loose as a pitcher anytime soon. In fact, I believe this current setup draws the most overall value from Ohtani.
Steamer projects the two-way superstar to finish eighth in strikeouts this season after he finished sixth last year. There are simply far too many pitchers who can eclipse his projected total of 217 by only matching their workload from 2022 and marginally improving on their strikeout percentage. But, by all means, smash those MVP bets.
Justin Verlander (+3500 via FanDuel)
Well, well, well, if it isn't the ageless wonder himself. Justin Verlander proved in 2022 that perhaps you can't beat Father Time, but you can score a knockdown against him. Verlander was incredible for the Houston Astros last season, leading to his third Cy Young Award. However, he did so in a manner similar to that of his Detroit Tigers days.
Verlander recorded his fewest strikeouts per nine since 2015, finishing 17th in the league. Steamer projects him to finish exactly there this season, with 202 punchouts.
Perhaps Verlander challenges hitters more this season as he exits the hitter-friendly Minute Maid Park for the more spacious Citi Field. There are worse bets you could make, but a 26.5 CSW% (the 67th-best mark among starters with at least 120 innings) gives me real pause. Verlander's peripherals in general last season weren't exactly inspiring.
Despite most projection models having Verlander around 10 K/9 this year, I wouldn't be surprised to see his numbers continue to decline, making him a good strikeout pitcher, but not a great one.
Recent strikeout leaders
| | | |
| --- | --- | --- |
| Player (Total) | Year | Closing odds |
| Gerrit Cole (257) | 2022 | +475 |
| Robbie Ray (248) | 2021 | +2500 |
| Shane Bieber (122*) | 2020 | +1500 |
| Gerrit Cole (326) | 2019 | +300 (part of "Field") |
| Max Scherzer (300) | 2018 | +400 |
| Chris Sale (308) | 2017 | +1000 |
| Max Scherzer (284) | 2016 | +550 |
| Clayton Kershaw (301) | 2015 | +500 |
| David Price (271) | 2014 | +450 (part of "Field") |
| Yu Darvish (277) | 2013 | |
*Pandemic-shortened season
MLB strikeout leader FAQs
When will the strikeout leaders be decided?
The pitcher who leads the league in strikeouts upon the conclusion of the regular season is the winner.
Who led the league in strikeouts in 2022?
New York Yankees ace Gerrit Cole led the league with 257 strikeouts, the second-lowest total over a full season in the last decade.
(21+. Gambling Problem? Call 1-800-GAMBLER)
* Bonuses not applicable in Ontario.
Related pages