Baltimore Orioles Odds, Predictions 2023: Best World Series, Wins Total, Player & Team Prop Picks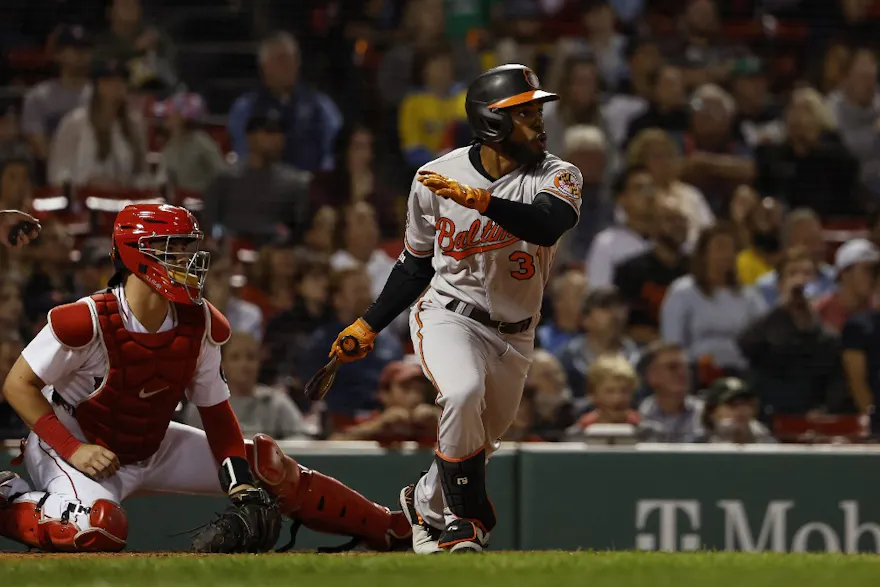 Can the Baltimore Orioles continue their rise in 2023? Find out as we look at our best team futures picks and predictions for the upcoming MLB season based on the top MLB odds.
These are not your oldest brother's Orioles. That team politely mixed in a few playoff appearances between 2012 and 2016. But the club was mostly putrid for 14 years prior without a posteason showing, a basement residency that included nine 90-plus loss campaigns.
They're also not your slightly older brother's Orioles, when the franchise was even more wretched while losing 100-plus games in three of four seasons between 2018 and 2021.
No, these Orioles are different. But exactly how much is where the uncertainty lies.
The team took a massive step in 2022, finishing with a record over .500 for the first time since 2016 (83-79). Ending up 16 games back from the division lead is still very much not what you want, but it's a pogo-stick bounding leap from 48 in 2021.
The next step is harder, though. Is the team's current version equipped for it? All of your siblings in a cursed Orioles fan household have their doubts.
Here are our best odds and top 2023 Baltimore Orioles predictions (odds via our DraftKings Sportsbook).
Check out our 2023 Boston Red Sox odds and picks, 2023 New York Yankees odds and picks, and 2023 Toronto Blue Jays odds and picks.
Orioles odds 2023
| | | | | | |
| --- | --- | --- | --- | --- | --- |
| | DraftKings | FanDuel | BetMGM | Caesars | PointsBet |
| World Series champions | +7000 | +10000🔥 | +6600 | +6600 | +6000❄️ |
| American League champions | +3000 | +4000🔥 | +3000 | +3300 | +2000❄️ |
| AL East champions | +2200 | +2500 | +2000❄️ | +2500 | +2200 |
Orioles wins total odds
| | | | | |
| --- | --- | --- | --- | --- |
| DraftKings | FanDuel | BetMGM | Caesars | PointsBet |
| Over 76.5 (-120) | Over 76.5 (-122) | Over 77.5 (-115) | Over 78 (-115) | Over 77.5 (-121) |
| Under 76.5 (+100) | Under 76.5 (-102) | Under 77.5 (-105) | Under 78 (-115) | Under 77.5 (+100) |
Orioles predictions: wins total Over/Under
Over 76.5 wins (-120 via DraftKings)
Taking the Under is tempting because of the prices involved. The siren song of plus-money odds calls to us all, and that's available at two of our top-rated sportsbooks.
But if you do that, you're claiming Baltimore's ascension in 2022 was flawed, and now the Orioles are destined to win at least five fewer games. Sure, the team has its weak points, especially in the starting rotation. However, any significant decline is tough to believe as a young and promising group keeps growing.
Shortstop Gunnar Henderson's presence alone for a full season should at least keep the Orioles at the plateau they reached last year. The highly-touted infielder received a test run in 2022 while appearing in 34 games. That's all the time he needed to hit four home runs and record a quality .788 OPS.
The sample size was limited for measuring underlying offensive production, but he finished with numbers that hopes can hang on easily. Henderson's hard-hit rate was 53.7%, and his max exit velocity ranked in the 73rd percentile, according to Baseball Savant.
He's the Orioles' rising young star, but catcher Adley Rutschman deserves that label, too. The second-year stud blends power and patience perfectly, as he hit 13 homers with an .806 OPS in 2022, all as a rookie catcher. Just as impressively, he finished in MLB's top 4% with a 13.8% walk rate.
Toss in the muscle of right fielder Anthony Santander and first baseman Ryan Mountcastle, outfielder Cedric Mullins and shortstop Jorge Mateo's speed, and a lethal bullpen that ranked a league 9th with a 3.49 ERA in 2022, and the Orioles boast enough to compensate for their rotation's weakness. That unit's shakiness may also decrease after starting pitcher Kyle Gibson raises the floor.
Check out our 2023 World Series Odds, and 2023 hits leader odds.
Orioles predictions: Player prop
Cedric Mullins to lead MLB in stolen bases (+850 via DraftKings)
Mullins leaves a big ol' checkmark inside many of the boxes you want out of a potential speed king.
Too often the time-honored baseballism about not being able to steal first base is true. Speed and baserunning instincts are clearly critical, but you need to get on base and give yourself a chance. Mullins doesn't do that at a top-tier level, but he's not many rungs below.
He posted an on-base percentage of .318 in 2022 and an OPS of .721. The 28-year-old also produced a 7.6% walk rate. That's doing enough of his own lifting, and more promisingly, the lefty isn't far removed from an offensive eruption when Mullins showed he's capable of greater heights.
Mullens finished 22nd in OPS in 2021 (.878) with a .360 OBP and .291 batting average, all career highs. That translated into 30 stolen bases, and he swiped 34 in 2022, even amid some expected offensive regression.
The outfielder only played 150-plus games twice in a season, so his true offensive form lies somewhere between his 2021 and 2022 versions. He also posted a 28.4 feet per second sprint speed in 2022 (80th percentile). Combine that with his ability to get on base and rule changes to increase base-path chaos, and it's an appealing price for a speedster who finished among the two four in steals during two straight campaigns.
Check out our MLB 2023 home run leader odds and picks, MLB 2023 strikeout leader odds and picks, and MLB 2023 wins leader odds and picks.
Orioles predictions: Team prop
Orioles to finish fourth in the AL East (+225 via DraftKings)
A part of my heart and soul would love the Orioles to finish third in the AL East. If you have that courage, take the plunge at +475 via DraftKings. But with that bet, you're saying the Orioles are better than the Tampa Bay Rays. And although the two should be close, it's difficult to fathom the Orioles' starting staff rising above what the Rays offer.
Instead, take the easier route at odds that are still appealing enough. The Orioles besting the Boston Red Sox is a breezier hill to climb. The Sox should plummet after several critical offseason departures, most notably shortstop Xander Bogaerts.
Meanwhile, Baltimore brings back much of the same offense that launched baseballs in 2022, finishing far ahead of Boston in home runs (171 to 155). Pitching isn't either team's strong suit, but the Orioles finished ahead in ERA (3.97 to 4.53), with Gibson and Grayson Rodriguez set to increase that gap.
Another factor is that between Mullins and Mateo, the Orioles are well-suited to take advantage of MLB's new pickoff-attempt rules designed to boost baserunning. The pair combined for 69 stolen bases in 2022 while finishing second and third in MLB.
Check out our MLB 2023 Cy Young odds and picks, MLB 2023 MVP odds and picks, and MLB 2023 Rookie of the Year odds and picks.
(21+. Gambling Problem? Call 1-800-GAMBLER)
* Bonuses not applicable in Ontario.
Baltimore Orioles 2023 picks made 3/3/2023 at 5:31 p.m. ET
Related pages