Toronto Blue Jays Odds, Predictions 2023: Best World Series, Wins Total, Player & Team Prop Picks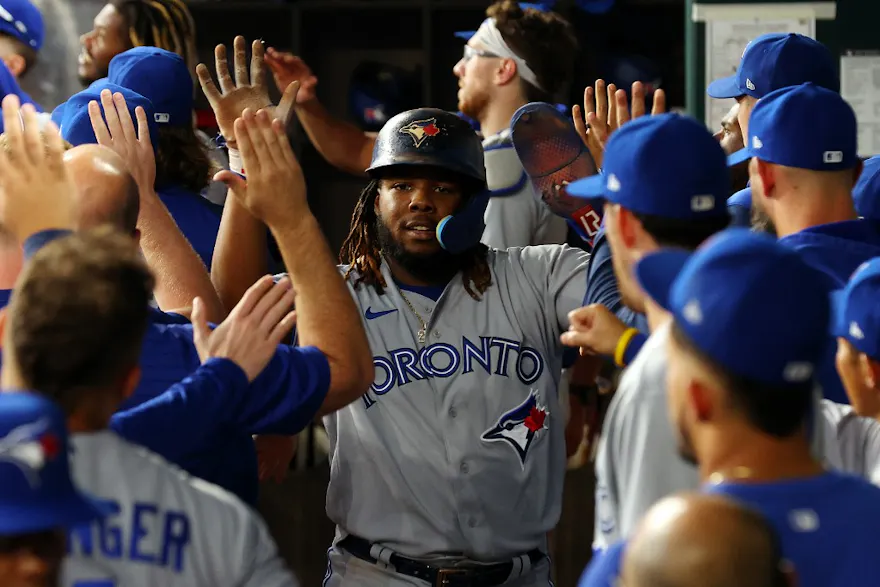 Did the Toronto Blue Jays successfully fix their holes during the offseason and address defensive issues? Find out as we look at our best team futures picks and Blue Jays predictions for the 2023 MLB season based on the top MLB odds.
The Blue Jays are filled with fun, even after the departures of Teoscar Hernandez and Lourdes Gurriel Jr. There will still be Vladimir Guerrero Jr. randomly taking a stroll to the bullpen between hitting balls into the clouds. And Bo Bichette flying to second base on a double when his hair is still at first.
But now a fireworks-filled team has shifted its focus somewhat after defense and run prevention were an offseason priority. The Jays have become a more well-balanced squad, both in their batting order and in the field. But will that be enough to push aside the mighty and flame-throwing New York Yankees from atop the AL East?
Here is our look at the best odds and our top 2023 Toronto Blue Jays predictions.
Check out our 2023 Boston Red Sox odds and picks, and our 2023 New York Yankees odds and picks.
Blue Jays odds 2023
| | | | | | |
| --- | --- | --- | --- | --- | --- |
| | DraftKings | FanDuel | BetMGM | Caesars | PointsBet |
| World Series champions | +1300 ❄️ | +1400 | +1400 | +1400 | +1400 |
| American League champions | +650 | +700 | +800 🔥 | +650 | +700 |
| AL East champions | +215 | +220 | +220 | +190 ❄️ | +200 |
Blue Jays wins total odds
| | | | | |
| --- | --- | --- | --- | --- |
| DraftKings | FanDuel | BetMGM | Caesars | PointsBet |
| Over 91.5 (-115) | Over 91.5 (+100) | Over 92.5 (-110) | Over 92.5 (-110) | Over 91.5 (-110) |
| Under 91.5 (-105) | Under 91.5 (-122) | Under 92.5 (-110) | Under 92.5 (-110) | Under 91.5 (-110) |
Blue Jays predictions: Wins total Over/Under
The totals our top-rated sportsbooks have set for Toronto are essentially asking this question: Was the Blue Jays' offseason approach smart? Or more specifically: Was it enough to at least maintain their success over the past two seasons?
The answer is a resounding yes, as the club's shift toward run prevention should fix critical weaknesses. That's why taking the Over here shouldn't lead to much perspiration.
The Jays won 91 and 92 games in 2021 and 2022, respectively. The result was two soul-shattering outcomes: Missing the playoffs by one game, and blowing an 8-1 lead to bow out in Game 2 against the Seattle Mariners this past October.
So with several core players due to hit free agency at the end of the 2023 season, the Blue Jays decided to strip away a little at their juggernaut offense in favor of sealing some defensive chasms. Gone are Lourdes Gurriel Jr. and Teoscar Hernandez, with Kevin Kiermaier and Daulton Varsho replacing them in the outfield.
Varsho can play center field, right field, and even catcher. He's a top-tier defender who ranked fifth in outs above average in 2022, according to Statcast. Hernandez often made an adventure out of makeable plays and finished 199th in the same category. Varsho also brings some desperately needed left-handed pop to Toronto's righty-dominant lineup (27 homers in 2022).
There are clear injury concerns with Kiermaier after the soon-to-be 33-year-old appeared in only 63 games in 2022. But the three-time Gold Glove winner is a clearly established defensive commodity. His presence helps to forget about Gurriel, who ranked 171st in outs above average last season. It also allows George Springer to move over to right field, where he's a more natural fit and will take less pounding.
Toss in Chris Bassitt and his 3.42 ERA in 2022 joining a rotation that already features Alek Manoah and Kevin Gausman, and a team with plenty of offensive firepower still is now more well-rounded.
Check out our 2023 World Series Odds.
Blue Jays predictions: Player prop
Vladimir Guerrero Jr. to lead MLB in hits (+1600 via PointsBet)
Vladimir Guerrero Jr. regressed statistically in many areas during the 2022 season, though staying on the mountaintop after his meteoric rise in 2021 was always going to be difficult. But although there were some concerning trends (like a spiking ground-ball rate, and consequently a much lower average launch angle), a down season was still a productive one with 32 homers.
And despite those deficiencies in 2022, he still regularly racked up hits. Enough to finish 10th in MLB with 175. It was his second straight top-10 season in that category after ending up third in 2021 with 188, finishing narrowly behind season-leader Trea Turner (195).
A key trait you're seeking when picking a hits leader is the ability to make consistent quality contact. Guerrero's launch angle may have been lacking at times while finishing at 4.3 in 2022, according to Baseball Savant, but he still frequently turned baseballs into laser beams. He ranked among the top 4% of the league in average exit velocity (92.8) and max exit velocity (118.4), and the top 6% in hard-hit rate (50.4).
He's priced cheaper and is a contender in this market as opposed to being among the favorites, surely due to his step back in 2022. So take advantage of that discount and pounce on a hard-swinging high-contact hitter who's listed at +1600 through PointsBet.
Check out our MLB 2023 home run leader odds and picks, MLB 2023 strikeout leader odds and picks, and MLB 2023 wins leader odds and picks.
Blue Jays predictions: Team prop
Blue Jays to finish second in AL East (+215 via DraftKings Sportsbook)
With many of their key holes addressed, the Blue Jays are positioned to sail beyond their win total and into the playoffs for a second straight season. The more balanced schedule will help matters too, as will playing in a home ballpark that's now even more of a launchpad after alterations.
However, the hurdle isn't inward for the Blue Jays. No, it's a foe that's loomed for many years in the AL East.
The Boston Red Sox are nearly certain to tumble after some painful offseason losses. But the New York Yankees added to an already imposing starting rotation with the addition of Carlos Rodon. He led MLB in 2022 with an astronomical 12 K/9. That resulted in finishing third in total strikeouts with 237, just 20 behind the leader and his new teammate, Gerrit Cole. He joins a rotation that ranked third in ERA in 2022 without him (3.30).
Despite brilliance from Manoah and Gausman, the Jays were just slightly above average in that area while posting a 3.87 ERA (3.92 was the bar). Adding Bassitt certainly helps to get the team closer to the Yankees, as will the run-prevention measures. But Toronto will likely still fall just short of a division crown while unable to keep up with the Yankees' pitching, which includes a petrifying bullpen.
Check out our MLB 2023 Cy Young odds and picks, MLB 2023 MVP odds and picks, and MLB 2023 Rookie of the Year odds and picks.
(21+. Gambling Problem? Call 1-800-GAMBLER)
* Bonuses not applicable in Ontario.
Related pages