Best Bets Today: Top Picks from Friday's Sports Slate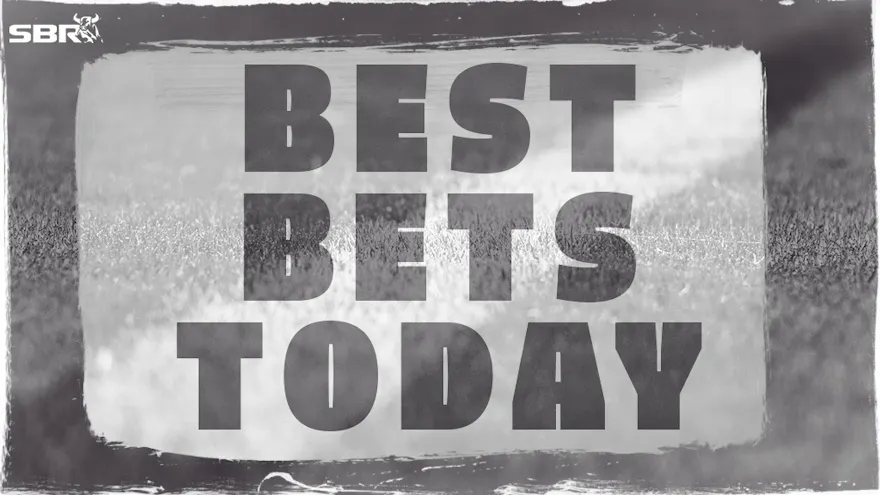 Our sports betting experts give you today's top picks from our top-rated sportsbooks.
It's almost time for another weekend of carving out a nice couch groove while watching a whole lot of football. We have you covered with college football plays for Saturday, and the NFL on Sunday. There's plenty of action still on the diamond too, and another NHL season isn't far off.
Here are today's best sports bets for Friday, Sept. 23 (pick confidence is based on a 1-to-5-star scale).
Today's Best Bets
NFL: Aaron Rodgers Over 0.5 interceptions (+195 via DraftKings Sportsbook) ★★★
MLB: Braves ML (+136 via FanDuel Sportsbook) vs. Phillies ★★
College Football: UTEP 11-20 total points (-107 via PointsBet) vs. Boise State ★★★
NHL: Owen Power to win the Calder Trophy (+450)
Check out the latest comprehensive and most trusted Sportsbook Reviews by SBR.
Friday's NFL Best Bet
Rodgers Over 0.5 interceptions (+195)
The quarterback interception props seem to be gaining popularity on Twitter, so I'm joining in. Several of Aaron Rodgers' weapons have been limited or have not practiced this week, and Rodgers' last visit to Tampa Bay did not go well. The Green Bay Packers lost 38-10 to the Buccaneers in 2020 after Rodgers threw two interceptions.
Taking the ball away isn't new to the Buccaneers' defense, as they intercepted Jameis Winston three times in Week 2. The price point we are receiving on Rodgers to throw an interception is eye-catching at +195.
Best NFL Player Prop Bets for Week 3 made by Jon Metler.
To see our Week 3 NFL picks, click here.
Friday's MLB Best Bet
Braves (+136)
The Braves are 9-7 against the Phillies this year, so we are excited anytime we can get plus-odds with Atlanta in this head-to-head rivalry.
Jake Odorizzi (5-5, 4.04 ERA) has allowed two or fewer earned runs in two of his last three road starts against teams with a winning record. The team won his previous start against Philadelphia, a 4-3 victory in which Odorizzi allowed just two hits and one earned run over 4 2/3 innings.
The Braves are slashing .247/.300/.425 over the last 14 days, and we expect them to beat Aaron Nola (9-12, 3.38 ERA) for the third time in the fifth meeting against them this season.
MLB best bets made by Mike Spector.
To see all of our MLB, click here.
Friday's College Football Best Bet
UTEP 11-20 total points (-107)
The Miners committed seven turnovers in the loss to New Mexico. That was the only game this season that the Miners have not scored between 11 and 20 points, and they missed that mark by one.
Since the Broncos' opening Week loss to Oregon State, they have allowed just 285 yards in two games. The Miners should be able to move the ball better than that. After all, their issue isn't with yardage, it's with taking care of the ball.
If the Broncos were as good as they have been in years past, then UTEP 0-10 may have been the correct play, but there is no reason to think the Miners can't get into double-digits against this team.
Boise State-UTEP picks made by Philip Wood
To see all of our Week 4 college football picks, click here.
Friday's NHL Best Bet
Owen Power to win the Calder Trophy (+450)
The first pick in the 2021 Draft, Power is a smooth-skating 6-foot-6 defenseman who played more than 22 minutes per game in eight games for the Sabres at the end of last season. Buffalo outshot and outscored opponents with Power on the ice. He had 32 points in 33 games for the Michigan Wolverines last season but is not likely to have first-unit power play time in Buffalo. That could suppress his point totals, but if Power has a strong two-way impact for the Sabres, it will be noticed.
Calder Trophy 2023 odds and picks done by Scott Cullen
To see all of our NHL picks, click here.
Where to Bet on Today's Best Picks
Here are our top-rated sportsbooks:
SEE ALSO: All picks, odds, and sports betting news. Be sure to check out SportsbookReview.com's community forums and betting tools.