Vezina Trophy Odds 2024: Ilya Sorokin the Favorite to Win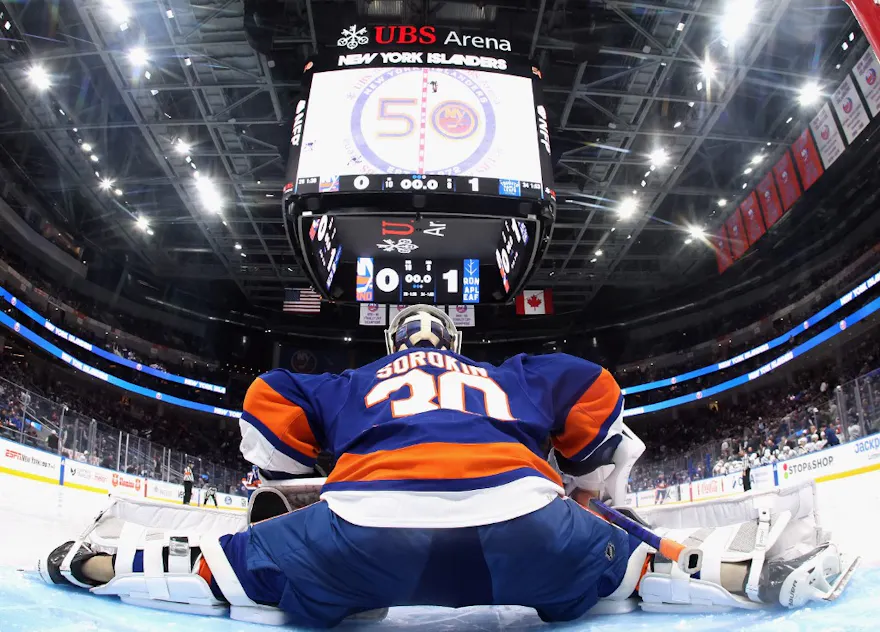 With the beginning of the NHL regular season almost here, New York Islanders goaltender Ilya Sorokin is a consensus favorite in the Vezina Trophy odds across our best sports betting apps. Sportsbook Review betting analyst Neil Parker has evaluated the market and shares his insights based on the latest NHL odds.

The 2024 Vezina Trophy odds are loaded at the top with a clear tier of favorites led by 2022-23 runner up, New York Islanders goalie Ilya Sorokin.
It's been common for the Vezina Trophy winner to rank among the league leaders in both save percentage and GAA. And, Boston Bruins netminder Linus Ullmark also ranked No. 1 in wins, goals saved above average and five-on-five save percentage to hoist the hardware last year.
With training camps underway and preseason games being played, here's our look at the 2024 Vezina Trophy odds across our best NHL betting sites.
Visit our Google News page and click "Follow" (⭐) for the latest odds, picks and news!
Vezina Trophy odds 2024
(Vezina Trophy odds updated Oct. 2)

Vezina Trophy odds analysis
The Vezina Trophy odds are tight across our best live betting sites, and the edges are few and far between. Hat tip to Caesars and bet365 for offering a number of outlier high prices for prospective bettors to target.
Vezina Trophy odds movement
While there isn't likely to be significant Vezina Trophy odds movement until the regular season begins in October, it's noteworthy that Tampa Bay Lightning netminder Andrei Vasilevskiy underwent back surgery on Sept. 28. He's expected to miss at least eight weeks of action.
Vezina Trophy odds 2024: Favorite
Ilya Sorokin, Islanders (+600 bet365)
It's tough to poke holes in Sorokin's game since debuting during the 2020-21 campaign, and it's even tougher to argue with him opening as a favorite to take home the Vezina Trophy this coming season.
He's posted a tidy .924 save percentage and 2.34 GAA through his first three seasons, and the 28-year-old Russian started 60 games in 2022-23 to position him as one of the rare, true No. 1 goalies in the league.
Vezina Trophy odds 2024: Contender
Now a year removed from winning the Vezina and pacing the NHL in save percentage (.935) and GAA (2.07), Shesterkin is primed for a rebound showing following a slow start to the 2022-23 campaign.
After all, he capped off the year with a 12-6-1 record, .940 save percentage and 1.83 GAA over his final 19 starts, including the postseason.
Vezina Trophy odds 2024: Long shot
It's a little surprising Geogiev didn't garner a little more Vezina buzz after winning 40 games with a .918 save percentage and 2.53 GAA in his first season as a No. 1 starter for the Colorado Avalanche.
The 27-year-old Russian is set for full-time work behind one of the best teams in the league, so another strong showing won't surprise.
Vezina Trophy odds 2024: Fade
Vasilevskiy will miss too many games to take a serious run at winning this award.
Additionally, I was already down on the Lightning. Tampa Bay's supporting cast is underwhelming, and Vasilevskiy ranked ninth in the league with 20.53 goals saved above average across 60 starts during 2022. He masked a lot of the Lightning's shortcomings.
Recent Vezina Trophy winners
| Season | Goalie | Team | Preseason odds |
| --- | --- | --- | --- |
| 2022-23 | Linus Ullmark | Boston Bruins | +8000 |
| 2021-22 | Igor Shesterkin | New York Rangers | +2000 |
| 2020-21 | Marc-Andre Fleury | Vegas Golden Knights | +4000 |
| 2019-20 | Connor Hellebuyck | Winnipeg Jets | +2000 |
| 2018-19 | Andrei Vasilevskiy | Tampa Bay Lightning | +550 |
| 2017-18 | Pekka Rinne | Nashville Predators | +1500 |
| 2016-17 | Sergei Bobrovsky | Columbus Blue Jackets | N/A |
| 2015-16 | Braden Holtby | Washington Capitals | +1300 |
| 2014-15 | Carey Price | Montreal Canadiens | +650 |
| 2013-14 | Tuukka Rask | Boston Bruins | +700 |
Kentucky bettors: Sports betting is here!
Kentucky sports betting launched on Sept. 28 - so sign up with the best Kentucky sportsbook promos now! And check out our list of the best Kentucky sports betting apps!
21+ and present in KY. Gambling Problem? Call 1-800-GAMBLER
NHL betting odds pages
Vezina Trophy FAQ
Who won the Vezina Trophy last year?
Boston Bruins goaltender Linus Ullmark won the Vezina Trophy for the 2022-23 season, finishing ahead of Ilya Sorokin of the New York Islanders and Connor Hellebuyck of the Winnipeg Jets.
When will the Vezina Trophy be decided?
Votes from National Hockey League general managers must be filed before the Stanley Cup playoffs begin. The last day of the regular season is Thursday, April 18.
(21+. Gambling Problem? Call 1-800-GAMBLER)
* Bonuses not applicable in Ontario.
Related pages