World Cup Odds 2026: France, Brazil Top Defending Champions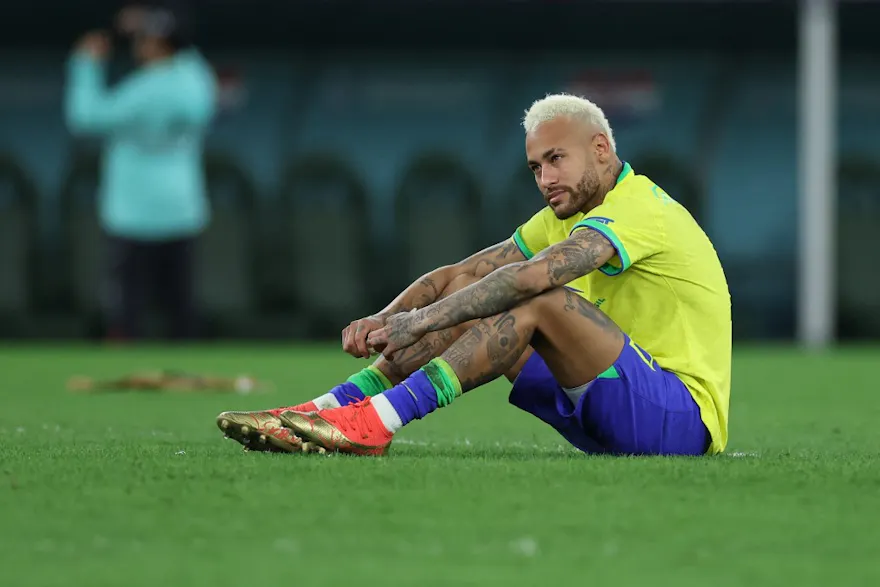 As is the case with the upcoming 2024 Euro, France headline the World Cup odds along with a familiar South American perennial challenger. Read on for our look at the best 2026 World Cup odds from our best World Cup betting sites below.
According to the odds from our best sports betting apps, France are the favorites to win the World Cup in 2026. As we covered in our Euro 2024 odds, they're also the favorites to win that tournament two years prior. I suppose that's what happens when you have perhaps the best player in the world just entering his prime.
Along with France, Brazil and England round out of the consensus top three at our best sports betting sites. The latter is also among the favorites to win the Euro following its near-win in 2020.
Defending World Cup champions Argentina range from fourth to sixth atop the World Cup oddsboard, likely due to the fact that many of their players are entering the later stages of their career.
Canada, Mexico, and the United States will play host to an exhilarating tournament, which will thankfully take place in the summer following 2022's winter World Cup.
Read on as we look at the best World Cup odds for the 2026 tournament.
World Cup odds 2026
(Odds as of Monday, May 15)
| | DraftKings | FanDuel | BetMGM | Caesars |
| --- | --- | --- | --- | --- |
| France | +500 | +500 | +600 | +600 |
| Brazil | +600 | +550 | +600 | +500 ❄️ |
| England | +750 | +750 | +700 ❄️ | +850 🔥 |
| Spain | +900 | +950 | +1000 🔥 | +900 |
| Germany | +1000 🔥 | +950 | +900 | +900 |
| Argentina | +1000 | +950 | +900 ❄️ | +1000 |
| Portugal | +1400 | +1400 | +1400 | +1400 |
| Netherlands | +1600 | +1900 🔥 | +1400 ❄️ | +1600 |
| Italy | +2000 | +2400 🔥 | +1200 ❄️ | +1400 |
| Belgium | +2800 | +3200 🔥 | +2500 | +2000 ❄️ |
World Cup odds analysis
Four of our five best sports betting sites have 2026 World Cup odds, with only PointsBet not yet offering the futures market. This is interesting because only DraftKings is offering Euro 2024 odds despite it being two years earlier.
FanDuel offers some of the best prices for those teams listed outside the top five, while BetMGM is offering some of the worst odds on a number of teams. However, BetMGM's price on Spain stands out as good value.
World Cup odds movement
There's yet to be much movement in the 2026 World Cup odds as the tournament is roughly three years away, but keep an eye on this post and our best sports betting apps as odds will continue to shift as more becomes known about each country's expected roster.
Player retirements, injuries, and performance at the club level will impact the odds.
World Cup odds 2026: Favorite
France (+600 via BetMGM)
Yes, France are our top favorite for both the 2024 Euro and 2026 World Cup, and fifth by the Women's World Cup odds for this summer. The World Cup odds will likely remain similar until the Euro championship is completed, as there's no other country I'd feel confident suggesting is better than this French side.
Led by the best striker in the world (and arguably the best player overall), France are stacked with talent, and most of their top players are still relatively young - the latter is extremely important when looking ahead to a tournament still three years away.
Co-favorites Brazil are a good shout for this pick, too, but I prefer our choice after watching the Brazilians crumble against Croatia in this past World Cup.
World Cup odds 2026: Contender
Spain (+1000 via BetMGM)
Speaking of crumbling at the 2022 World Cup, Spain had maybe the worst penalty shootout performance of all time, being eliminated from the tournament by Morocco in the process. However, the big difference between Spain and the aforementioned Brazilians is the price. With Spain as long as +1000 at BetMGM, I'm more than happy to feature them in this section.
Spain are perennial contenders in these tournaments, most recently winning the World Cup in 2010, which they sandwiched with Euro glory in both 2008 and 2012.
Sure, the days of those truly absurd teams are a thing of the past, but there's still a ton of young talent in the Spanish pipeline, and they'll once again prove a tough challenge for the rest of the field.
World Cup odds 2026: Long shot
USA (+3500 via Caesars)
This tournament will be a monumental moment for USA soccer, and that's being reflected at some of our best sportsbooks. The Americans are as long as +3500 at Caesars and are similarly +3000 at DraftKings. However, they're +1800 at BetMGM and +1900 at FanDuel, which makes this number at Caesars wildly valuable.
Of the three hosts, Team USA are the most enticing from a betting perspective. They emerged from their group at the 2022 World Cup before losing to a strong Netherlands side, but they'll take the lessons learned from that match into the upcoming tournament.
Between these favorable odds at Caesars and the benefit of home-field advantage, the Americans are a solid option for an early long-shot bet.
World Cup odds 2026: Fade
Germany (+1000 via DraftKings)
I'm sure you've noticed a theme if you also read our Euro 2024 odds preview. We're riding with France and fading Germany in both tournaments. The latter could certainly change with a strong performance at the Euros, though.
However, at this moment, I'm not sure how anyone could confidently bet on Germany to win a major tournament following their pitiful performance at the 2022 World Cup.
I'll continue to fade the Germans until they give me a reason not to.
World Cup 2026 FAQs
Who is the 2026 World Cup favorite?
France and Brazil are the consensus favorites to win the 2026 World Cup.
Who won the last World Cup?
Lionel Messi and Argentina won the 2022 World Cup in Qatar.
Where is the 2026 World Cup?
The 2026 World Cup will be hosted by all three of Canada, Mexico, and the United States, with 16 cities holding matches.
When is the 2026 World Cup?
The exact start date of the tournament has yet to be decided, but it's expected to run from the middle of June to the middle of July.
How to bet on the 2026 World Cup
All of our best sportsbooks are expected to feature odds for the tournament. You'll be able to bet on the outright champion, as well as on group winners and specific matches throughout the event.
Check out our best World Cup betting sites.
(21+. Gambling Problem? Call 1-800-GAMBLER)
* Bonuses not applicable in Ontario.
Related pages