NFL Opening Odds & Betting Lines for Every Week 2023-24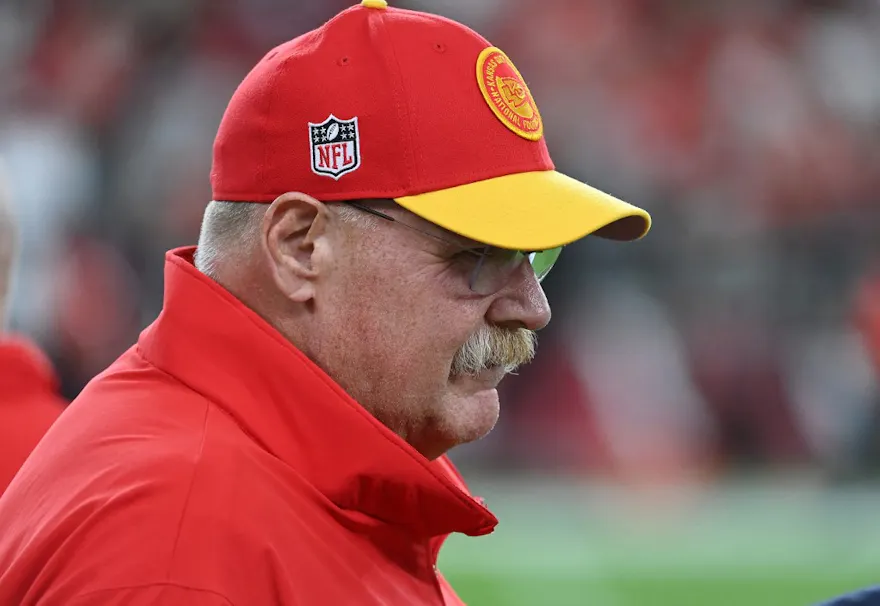 The football season is set to get underway and bettors have access to a wide array of NFL odds from Week 1 through Week 18 via our best NFL betting sites.
Our best sports betting apps were quick to help satiate the appetites of NFL bettors by releasing odds for every game on the 2023 NFL calendar shortly after the schedule was released. An edge can be gained by targeting some of these early lines from DraftKings, but more importantly, looking back at the opening projections of oddsmakers can help remove the threat of recency bias and perception once games start being played.
Use this page to help with your analysis of the weekly NFL odds and lines by referencing the opening numbers from our best sports betting sites.
NFL opening odds & betting lines 2023
Opening lines for Week 3
Week 3 features several lopsided matchups based on these early odds with six games facing a spread of 6 or more points. The Dallas Cowboys and Philadelphia Eagles are the two heavy road favorites against opponents expected to be among the teams with the worst NFL regular-season record in 2023.
Opening lines for Week 4
One of the most surprising opening spreads to this point has the Chiefs as meager 1-point favorites on the road against the Jets on Sunday Night Football. Early struggles by Rodgers with his new team could swing this line drastically by the time Week 4 comes around so the Chiefs are interesting at this low number.
The Jacksonville Jaguars are moderate favorites in a neutral-site game against the Atlanta Falcons in London.
Opening lines for Week 5
The Jaguars will remain in London for consecutive weeks in a de facto home game against the Bills but are 3.5-point underdogs despite not needing to travel. A convincing win over the Falcons could tilt this line in their favor.
Week 5 sees four teams on a bye for the first time in the 2023 season.
Teams on bye: Browns, Chargers, Seahawks, Buccaneers
Opening lines for Week 6
We have more lopsided spreads in Week 6 with three home teams favored by a touchdown and another favored by 6.5 points. Interestingly, two of those games are on primetime, so we'll see if public betting action helps to push the number even higher for the favorites, especially for the Chiefs on Thursday Night Football.
Teams on bye: Packers, Steelers
Opening lines for Week 7
Two of the three primetime games for Week 7 have a spread of just 1 point with the other also within a field goal. The most surprising of those lines has the Eagles as modest 2.5-point home favorites against the Miami Dolphins.
Teams on bye: Bengals, Cowboys, Titans, Jets, Panthers, Texans
Opening lines for Week 8
Thursday of Week 8 may be a good night to find alternative plans with the Bills comfortable 10-point home favorites against the Buccaneers. This is our first double-digit spread of the season and it's difficult to envision Bucs' QB Baker Mayfield doing enough in the first seven weeks of the season to lower this number.
The Los Angeles Chargers and Lions are also favored by more than a field goal on primetime in Week 8.
Opening lines for Week 9
One of the best Sunday Night Football matchups of the season takes place in Week 9 with the Cincinnati Bengals set as 1-point home favorites against the Buffalo Bills. That'll be followed by a Monday night contest between the Chargers and Jets with Gang Green once again an early home favorite with Rodgers at the helm.
Teams on bye: Broncos, Lions, 49ers, Jaguars
Opening lines for Week 10
Week 10 starts with what's expected to be an exciting quarterback battle between No. 1 pick Bryce Young and the Carolina Panthers against NFL MVP hopeful Justin Fields and the Chicago Bears. Fellow top rookie QB C.J. Stroud faces a stiffer test when his Texans visit the Bengals as 9.5-point underdogs on the early line.
Teams on bye: Chiefs, Rams, Dolphins, Eagles
Opening lines for Week 11
Week 11 is bracketed by two stellar matchups for Thursday Night Football and Monday Night Football. Lamar Jackson and the Baltimore Ravens will first host Joe Burrow and the Bengals as 1-point underdogs before a Super Bowl rematch between the Chiefs and Eagles in Kansas City. A 3-point spread favors the home team.
Teams on bye: Falcons, Colts, Patriots, Saints
Opening lines for Week 12
Tables are turned in all-NFC North matchup opening the Thanksgiving Day slate. The Lions are 4-point home favorites over the Jordan Love-led Green Bay Packers. Black Friday features an all-AFC-East battle between the Dolphins and Jets with New York laying 2.5 points at home. Sunday's slate has eight games with a spread within a field goal.
Opening lines for Week 13
The San Francisco 49ers face the Eagles in an NFC Championship Game rematch in Week 13. The Eagles are modest 2.5-point favorites on the early line. Still, it's the Chiefs who'll be featured on Sunday Night Football while laying 5.5 points against the Packers on the opening line.
Teams on bye: Bills, Bears, Raiders, Vikings, Giants, Ravens
Opening lines for Week 14
The Bills and Chiefs play their now-annual pre-playoff contest in mid-December but it's only part of Sunday's late-afternoon slate. The opening spread has the Chiefs laying 3.5 points at home. Sunday Night Football has the Dallas Cowboys as 1-point home favorites against the rival Eagles.
Teams on bye: Cardinals, Commanders
Opening lines for Week 15
As the playoff race heats up, 10 games in Week 15 have an opening spread within a touchdown. The standings for the final quarter of the season and what's at stake for each team could cause big fluctuations in these early lines.
Opening lines for Week 16
Tight spreads remain a theme for Week 16 with another 10 matchups projected to be played within a field goal. Another theme continues with Sunday Night Football featuring one of the most lopsided matchups of the week by the early odds.
Opening lines for Week 17
Our second 10-point spread of the season has the Eagles laying exactly that number at home against the lowly Arizona Cardinals. It's possible neither team will have anything to play for in the penultimate game of the season, but Philly may be just as big of a favorite in a battle of backups. A more exciting matchup has the Chiefs and Bengals likely battling for playoff seeding in the AFC on Sunday evening. K.C. is laying 3.5 points on the early line.
Opening lines for Week 18
Betting on Week 18 before the season even begins is a true test of prognostication. Studying the NFL playoff odds can help you gauge what may be at stake for each team.
Completed weeks
Opening lines for Week 1
The Super Bowl champion Kansas City Chiefs get the ball rolling on the 2023 NFL season with a home matchup against the Detroit Lions, who suddenly find themselves beginning a season with playoff aspirations expectations in a new-look NFC North. To little surprise, the Chiefs are heavy home favorites, but this matchup will serve as an excellent litmus test for the Lions heading into Week 2 and beyond.
The Buffalo Bills will get the first taste of an Aaron Rodgers-led New York Jets squad under the bright lights of Monday Night Football as short road favorites in the rivalry matchup.
Opening lines for Week 2
One of the more interesting matchups of Week 2 pits the AFC South rival Indianapolis Colts and Houston Texans against each other. Be careful of overreacting to Week 1 results for either team, as both sides are expected to roll out their star rookie quarterback in head-to-head competition for the first time. A new era for the Tampa Bay Buccaneers sees them as early-season home underdogs against the playoff-hopeful Chicago Bears.
Kentucky bettors: Sports betting is coming soon!
Kentucky sports betting will launch Sept. 28 so get pre-launch offers before it's too late! Don't miss out on Kentucky sportsbook promos or the best Kentucky sports betting apps!
21+ and present in KY. Gambling Problem? Call 1-800-GAMBLER
NFL betting odds pages
(21+. Gambling Problem? Call 1-800-GAMBLER)
* Bonuses not applicable in Ontario.
Related pages