Super Bowl Prop Bet Odds, Predictions 2024 - Top SB Props, Odds & Picks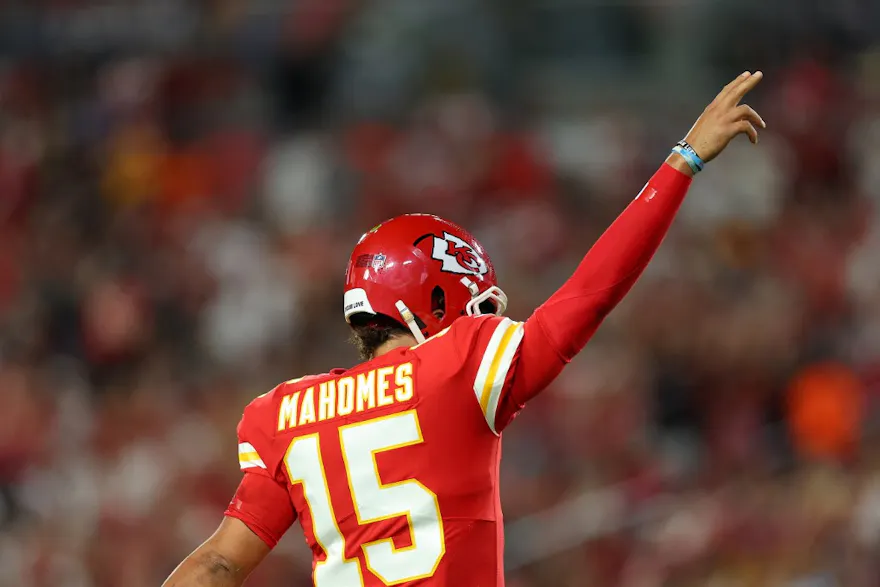 The only Super Bowl experience more invigorating than watching the game is betting on it – and with sports betting popularity at an all-time high in North America, an overwhelming majority of the best sportsbooks are offering more Super Bowl prop bets than ever before. Here's a look at the top Super Bowl prop options.

You've planned out your Super Bowl party. You've studied the Super Bowl odds, poured over the rosters, and read over our Super Bowl picks. What's left to do?
Get ready for a veritable buffet of Super Bowl prop bets, that's what!
North Americans spend hundreds of millions of dollars every year on Super Bowl prop wagers ranging from the length of the national anthem to the color of the Gatorade dumped on the head of the winning head coach. And all of the major sports betting sites will be in on the action, offering a wider array of Super Bowl prop bet markets than ever before.
Here's a breakdown of the Super Bowl prop bets landscape, along with some of the more unique and popular prop bet opportunities you'll have for the 2024 NFL championship.

Visit our Google News page and click "Follow" (⭐) for the latest odds, picks and news!
Super Bowl MVP props
This Super Bowl props market is reserved exclusively for those special few players with the best chance at being named the Most Valuable Player of the game. There are advantages to exploring this market even before the Super Bowl teams are decided: most significantly, you'll get better odds on every player listed than you would if you wait until the matchup is settled.
Patrick Mahomes took home Super Bowl MVP honors following the Kansas City Chiefs' thrilling 38-35 win over the Philadelphia Eagles, his second time winning the award.

Touchdown prop picks
Nothing gets fans going like a Super Bowl TD – and sports betting sites offer a wide variety of Super Bowl touchdown props to give you one more reason to celebrate your favorite team getting into the end zone. Whether it's a bet on the game's first TD or a longshot play on an unheralded backup tight end to reach paydirt, the sportsbooks have you covered.
National anthem props
Oh say, can you see ... a path to profit even before the game starts? Nothing gets the ol' blood pumping like wagering on the Super Bowl national anthem. This has become one of the more popular (and widely scrutinized) Super Bowl prop bets on the ledger – but sadly, not every U.S. state allows betting patrons to wager on it.
Coin toss props
It's one of the most tried and true ways to settle a dispute – and it's also the source of millions of dollars in betting handle every Super Bowl season. The Super Bowl coin toss carries plenty of intrigue among both new and experienced sports bettors – but don't get sucked into the trap of believing that trends will help you. It's a 50-50 shot, folks.
Gatorade color props
Who knew that spending time in the drinks aisle at your local grocery store could be seen as sports betting research? There's really no rhyme or reason to figuring out which flavor of the world's most popular sports drink is in the cooler of the winning team, but that hasn't stopped betting experts from breaking down past Super Bowl Gatorade color results in search of trends.
Halftime show props
The Super Bowl itself might take a break, but you don't have to. Betting on specifics of the Super Bowl halftime show is another activity that has gained momentum in recent years as more states adopt legal sports betting. Bet on how many songs the performer will sing, what color his or her outfit will be, or even whether a mystery guest will appear.
Fun & exotic prop bets
Sports betting sites love to get creative with their Super Bowl prop bets – and these are ideal markets for bettors who want a little variety on their wagering card. Some of the more notable Super Bowl novelty props markets include Over 2.5 players to attempt a pass (meaning a substitute QB or position player is slingin' it), or whether a kicker will hit the upright on a field goal or PAT attempt.
Super Bowl commercial props
There's betting on the game, there's wagering on the halftime show ... and then there's getting action on the commercials. Yep, you can do that, too! Most markets involve choosing which notable brand will air its Super Bowl commercial first, but we've also seen more intriguing options like how many total dogs will make an appearance in ads during the game.

What are Super Bowl prop bets?
A Super Bowl prop bet is a wager you make on an outcome of an event that occurs either before or during the game, but isn't tied to the actual game outcome. For example, you might bet on Patrick Mahomes to throw more than two touchdowns, which has no bearing on whether or not the Kansas City Chiefs win the game.

Player props
Player prop bets involve wagers made on individual player outcomes over the course of the Super Bowl. Quarterback passing touchdowns are one of the more popular examples of this; using the above example, if sports betting sites set the line for Josh Allen passing TDs at 1.5, you can either take the Under (one or fewer) or the Over (two or more).

Game props
The Super Bowl game props section of your sportsbook will often feature some of the more exotic plays for the game. This might include, but is certainly not limited to, how many penalty flags the game will feature, the yardage length of the longest play of the game, whether there will be overtime, or the color of the Gatorade splashed on the winning head coach.
Team props
As the name suggests, Super Bowl team props relate directly to team-specific outcomes over the course of the game. For example, let's say your sportsbook of choice has the San Francisco 49ers' team total at 23.5. You can either take the Over (24 points or more) or the Under (23 or fewer points) for your team prop wager.

Kentucky bettors: Sports betting is here!
Kentucky sports betting launched on Sept. 28 - so sign up with the best Kentucky sportsbook promos now! And check out our list of the best Kentucky sports betting apps!
21+ and present in KY. Gambling Problem? Call 1-800-GAMBLER
Super Bowl prop bet FAQs
Is it legal to bet on Super Bowl props?
It certainly is! Super Bowl prop betting is legal and widely available across all states in which legal sports betting is in place. Unfortunately, some Super Bowl prop markets are not carried (for example, you cannot wager on the halftime show at legal U.S. sportsbooks).

What sportsbooks have Super Bowl props?
Every major sportsbook operating in North America will offer a wide range of Super Bowl prop bet markets, though not every sports betting site will have the exact same markets available. Can't find a prop bet you'd like to make? Shop around!

Check out our list of the best Super Bowl betting sites here!

What's the easiest way to bet on Super Bowl props?
Finding (and betting on) Super Bowl prop markets is easy. Every notable sportsbook has a separate Super Bowl menu on its respective app or website; simply click into that menu, look for the relevant submenu (Team Props, Player Props, Game Props, Exotics, etc.) and select the wager you would like to make.
(21+. Gambling Problem? Call 1-800-GAMBLER)
* Bonuses not applicable in Ontario.
Related pages