Super Bowl 2023 Odds, Picks, Predictions: Dolphins, Eagles Only Undefeated Teams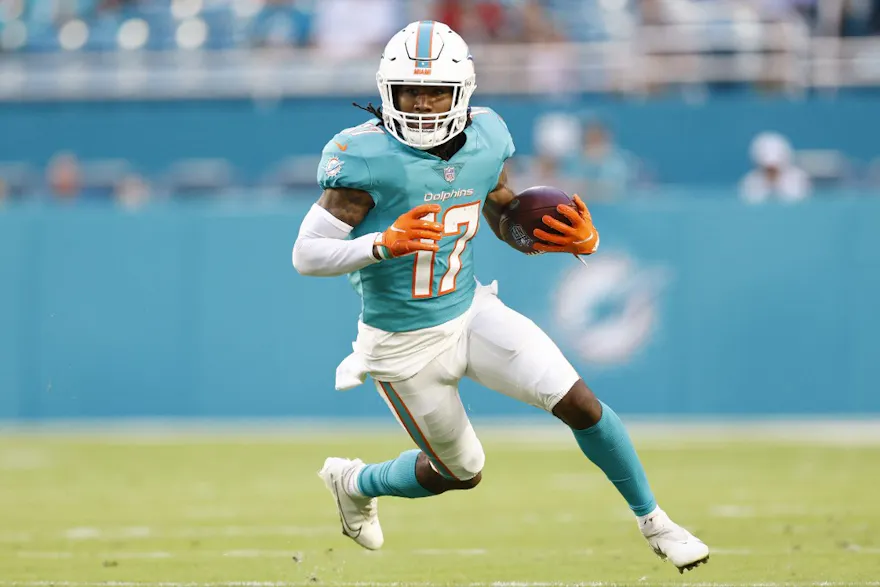 As the Miami Dolphins and Cincinnati Bengals prepare for their showdown on Thursday Night Football, we take a look at the NFL futures odds and provide our top predictions for the 2023 Super Bowl.
There are only two undefeated teams remaining in the NFL through four weeks: the Philadelphia Eagles and Miami Dolphins. The Dolphins and Eagles might be undefeated, but your overall power rating determines your Super Bowl odds, not your record.
In placing futures bets, you must always consider two factors: will this team actually win the market and are the odds only going to become shorter from here on out, relative to the early number? If the answer to both is yes, you should consider investing in that team.
Below we examine the 2023 Super Bowl odds and where the value is located ahead of Week 4 of the NFL season.
2023 Super Bowl Odds
| | | | | | |
| --- | --- | --- | --- | --- | --- |
| Team | PointsBet | Caesars | DraftKings | FanDuel | BetRivers |
| Bills | +500 | +450 | +400 | +500 | +450 |
| Chiefs | +750 | +800 | +750 | +800 | +800 |
| Eagles | +850 | +900 | +800 | +850 | +900 |
| Packers | +900 | +1000 | +900 | +1000 | +900 |
| Buccaneers | +900 | +900 | +1000 | +950 | +800 |
| Rams | +1300 | +1400 | +1500 | +1400 | +1300 |
| Ravens | +1300 | +1400 | +1800 | +1400 | +1400 |
| Dolphins | +1500 | +1600 | +1800 | +1600 | +1400 |
| Chargers | +1800 | +2200 | +2200 | +2100 | +1600 |
| Broncos | +2000 | +2200 | +2500 | +1900 | +2000 |
Check out the latest comprehensive and most trusted Sportsbook Reviews by SBR.
Super Bowl Picks: Favorites
On Sunday, the Buffalo Bills lost a tough game at a sunny Hard Rock Stadium, well at least on their side of the field. Prior to Week 3, the Bills were trading as +450 favorites to win the Super Bowl, but they have now been pushed back to +500 following their loss to the Miami Dolphins.
Even if you believe that the Bills are the best team in the NFL, there is no need to purchase this futures ticket at +500. Despite being the top power-rated team in my rankings, the Bills should be trading north of +700. As the Bills are not going 17-0, a number higher than +500 should eventually emerge.
It appears that the Kansas City Chiefs' Super Bowl odds will move by one dollar depending on whether they win or lose the game. After winning against the Los Angeles Chargers in Week 2, the Chiefs' odds moved from +800 to +700, and after losing to the Indianapolis Colts in Week 3, the Chiefs' odds moved from +700 to +800.
According to Pro Football Focus, the Chiefs have the fifth-most challenging schedule remaining in the NFL, which should provide ample opportunities to acquire the Chiefs at a higher price point than the +800 we are seeing following Week 3.
Eagles (+900 via Caesars)
There is no end in sight for the Eagles' Super Bowl odds, as they are getting shorter and shorter. My expectation was that the Eagles' odds would be shortened from +1300 to +1000 if they defeated the Washington Commanders on the road in Week 3. They did shorten, but I was incorrect about the amount.
The Eagles are now as low as +800 via DraftKings, after trading at +4000 during the offseason. Since the Eagles' schedule is so easy, I do not think it would be unreasonable to expect the Eagles to trade around +500 in the near future.
Super Bowl Picks: Contenders
As a result of several key injuries to their offense, the Tampa Bay Buccaneers are taking on water and their odds have adjusted accordingly. Prior to Week 3, the Buccaneers were trading at +750, and now they're trading at +1000.
When evaluating the Buccaneers, it is important to keep an eye on the big picture, as a healthy Buccaneers team could easily be one of the top teams in the NFC. Before you make a decision regarding the Buccaneers, it would be wise to wait since they are 2.5-point underdogs to the Chiefs in Week 4.
Check out the latest comprehensive and most trusted Sportsbook Reviews by SBR.
Packers (+1000 via Caesars)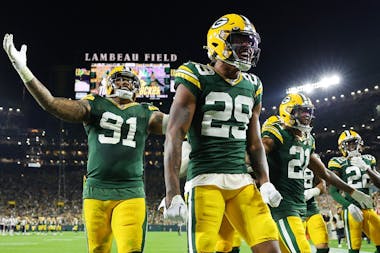 Following back-to-back victories over the Chicago Bears and Buccaneers, the Green Bay Packers' price has been shortened from +1500 to +1000. As long as Aaron Rodgers is at the helm, the Packers are a playoff team, but I do not believe they are as strong of a contender as their +1000 price point would imply. Give me a +2500 on the Packers as a longer shot out of the NFC and I will change my position.
Rams (+1500 via DraftKings)
The Los Angeles Rams are a weird team this season, as they seem to be just there. I feel as though the Rams are good enough to keep their odds in this price range, but at the same time, I don't believe that they will win. In terms of overall team DVOA, Football Outsiders ranks the Rams 24th in the NFL. It is striking to see them ranked so low, yet they are trading at +1500.
Ravens (+1800 via Caesars)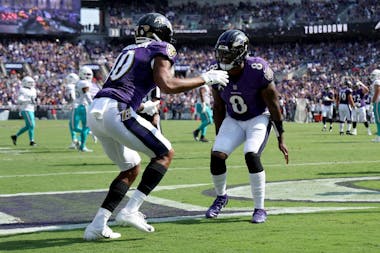 Statistically and from a pricing standpoint, you should be attacking the +1800 that is available on the Baltimore Ravens to win the Super Bowl via DraftKings. The Ravens should be trading at +1050 to win the Super Bowl based on my power rating, not +1800.
Is there a reason why I am not purchasing Ravens' Super Bowl futures at this time? My first concern is that their defense is below average, and I have seen this film many times before. Although I am here for the Lamar Jackson contract tour, I do not envision him defeating Josh Allen and/or Patrick Mahomes in the playoffs.
Dolphins (+1800 via DraftKings)
Before Week 3, I suggested that if you were considering backing the Dolphins for the Super Bowl, you should purchase their odds before their game against the Bills because if they won, we would see a substantial adjustment to their odds. After the Dolphins won, their +2500 price point is now as low as +1400 via BetRivers. Is it still worthwhile to purchase the Dolphins at +1800? I do not believe so, even with a high power rating on the Dolphins, I have their Super Bowl odds priced at +2550.
Chargers (+2200 via Caesars)
These last two weeks have been a disaster for the Los Angeles Chargers, who are every bit a Super Bowl contender if they are healthy. Along with QB Justin Herbert suffering from a ribs injury, stud left tackle Rashawn Slater has been sidelined for the remainder of the season, edge rusher Joey Bosa is suffering from a serious groin injury, and cornerback J.C. Jackson is struggling to recover from his ankle surgery. The Super Bowl odds for the Chargers aren't shortening anytime soon. If the Chargers manage to weather the storm, you might be able to find a really solid price on them later in the season.
Jimmy Garoppolo's revenge tour did not go as planned as he went full Dan Orlovsky and the San Francisco 49ers lost to the Denver Broncos on the road. How quickly the narrative changed from Garoppolo being better than Trey Lance to Garoppolo still being a below-average quarterback. Following the loss, the Niners' Super Bowl odds increased from +2000 to +2500. Left tackle Trent Williams will miss several weeks, which is more concerning than Garoppolo running out of the back of the end zone.
Broncos (+2500 via DraftKings)
There is no way you can watch the Broncos over the first three weeks of the NFL season and be confident that Nathaniel Hackett will lead them to a Super Bowl victory. Although Denver beat the Niners in a Week 3 snooze fest, the Russell Wilson era in Denver has been a disaster. I have less than zero interest in betting on the Broncos to win the Super Bowl at +2500.
Vikings (+2800 via DraftKings)
Kevin O'Connell may be an offensive genius with the play sheet, but that does not change the fact that the Minnesota Vikings' defense is terrible. Based on Football Outsiders' DVOA metric, the Vikings rank 26th in the NFL overall in terms of defense. It speaks volumes about this team when they defeated the Detroit Lions in Week 3 and saw their price increase from +2500 to +2800.
Bengals (+3000 via DraftKings)
The Bengals defeated the New York Jets in Week 3 to earn their first victory of the season and drop their Super Bowl odds from +3500 to +3000. With Joe Burrow, Ja'Marr Chase, and Tee Higgins leading the way, the Bengals are an exciting and fun team to watch, but they still have a long road ahead of them. According to Pro Football Focus, the Bengals have the most difficult remaining schedule in the NFL, and they will host the Dolphins as 3.5-point favorites in Week 4.
Super Bowl Picks: Hopefuls
Colts (+3500 via DraftKings)
It is important not to be fooled by the Indianapolis Colts' victory over the Chiefs in Week 3. The Colts are not a good football team. Following this victory, we are seeing them trade at a price of +3500, which is an absolutely horrific price and one that should be avoided at all costs. Football Outsiders ranks the Colts 30th in terms of overall team DVOA.
Cowboys (+4000 via PointsBet)
Following the Dallas Cowboys' Week 1 loss and QB Dak Prescott's injury, the Cowboys' Super Bowl odds increased from +2200 to +5000. With Cooper Rush at quarterback, the Cowboys have won back-to-back games, and you cannot help but think that if they were 2-1 with Prescott at quarterback, their price would be shorter than +2200. At +4000, it is a very intriguing price point, however, you need to keep in mind that Mike McCarthy remains the head coach of the Cowboys.
Browns (+5000 via PointsBet)
I will not lie to you here, I believe this is a great price on the Cleveland Browns at +5000, but it depends on how you value the Browns with Deshaun Watson at quarterback. Personally, I am not betting on the Browns to win the Super Bowl at +5000, but there is some value in this number. I place 99.99% of my bets with my head and 0.01% with my heart, but fading the Browns here is the 0.01%.
Jaguars (+6000 via DraftKings)
In terms of overall DVOA, Football Outsiders ranks the Jacksonville Jaguars as the second-best team, and they have done nothing to disprove this ranking. Following back-to-back dominating victories against the Colts and Chargers, the Jaguars' price point continues to shorten.
As measured by DVOA, both the offense and defense rank within the top five in the NFL. As a long-shot play at +6000, I would be all over the Jaguars in the NFC, but they are much harder to sell in the AFC. I don't intend to bet on them to win the Super Bowl, but their odds for the AFC South are looking better by the day.
Saints (+7000 via DraftKings)
With head coach Sean Payton retired, I have no interest in betting on the New Orleans Saints at +7000. Even though the Saints have been very popular among sharp bettors, I find it difficult to get involved in their Super Bowl odds, as I value the loss of Payton too highly.
Cardinals (+7000 via DraftKings)
The Arizona Cardinals and Houston Texans have similar odds to win the Super Bowl based on my power ratings. Eventually, Kliff Kingsbury will be fired and we will see the Cardinals for who they really are. It is no secret that the Cardinals have one of the worst defenses in the entire NFL, and their offense isn't much better. We are seeing a price point of +7000 for the Cardinals, but that could lengthen to +25000 in no time.
Raiders (+8000 via PointsBet)
Josh McDaniels appears to be out to ruin two AFC West teams during his coaching career. Only their star power, such as wide receiver Davante Adams, keeps the Las Vegas Raiders' price relatively low as an 0-3 team at +8000. They have a different public perception than other bad teams, and they also carry some liabilities associated with their name from before the season began. In light of their performance this season, the Raiders should be trading at a price of +30000 or higher.
Titans (+8000 via DraftKings)
In my opinion, the Tennessee Titans do not look like Super Bowl contenders and are trending in the wrong direction. Even after the Titans defeated the Raiders in Week 3, I remain confident that they will miss the playoffs. It should be noted that the Titans have won their first game of the season and their Super Bowl odds have increased from +7000 to +8000, which tells you everything you need to know.
Super Bowl Picks: Long Shots
Patriots (+10000 via DraftKings)
As the New England Patriots were not Super Bowl contenders when Mac Jones was the quarterback and Matt Patricia was calling the plays, they certainly will not be once Brian Hoyer replaces Jones. At DraftKings, the Patriots are +10000 to win the Super Bowl and this price could rise to around +50000 within the next few weeks.
Giants (+11000 via FanDuel)
The New York Giants had a fraudulent 2-0 start, and we all knew it. After losing to the Cowboys on Monday Night Football, the Giants' price to win the Super Bowl increased by 40 dollars. Previously, they were trading at +7000, but FanDuel now has a +11000 available.
Lions (+12500 via BetRivers)
The Detroit Lions had a great opportunity to make some noise in the NFC North race, but they blew a lead in Minnesota and this loss will not be the only thing that hurts them moving forward. We learned following the game against the Vikings that D'Andre Swift and Amon-Ra St. Brown may both miss some time due to injuries. Despite the fact that the Lions are a better team than the +12500 price point implies, I would not place a wager on them to win the Super Bowl.
Steelers (+15000 via DraftKings)
The Pittsburgh Steelers will not win a Super Bowl with T.J. Watt on the sidelines and Mitch Trubisky at the helm. After losing to the Browns in Week 3, the Steelers' odds increased by 65 dollars, and I expect that this price will continue to lengthen. It should not take long for the Steelers to trade north of +20000.
Panthers (+15000 via PointsBet)
The Carolina Panthers are a better team than their +15000 price point implies, but they are not Super Bowl contenders by any means. Maybe it is time to take a closer look at Carolina's coaching staff? QB Baker Mayfield is ranked 32nd on Pro Football Focus this year, while Sam Darnold was awful last season.
Bears (+25000 via DraftKings)
If I had to pick the worst 2-1 team in the NFL, I would say it is the Giants, but the Chicago Bears are also 2-1. To win the Super Bowl, you would need to throw for more than 100 yards, so we will have to fade the Bears.
Jets (+39000 via FanDuel)
It was a remarkably successful draft for the New York Jets, and they did an excellent job of surrounding QB Zach Wilson with some new weapons in receiver Garrett Wilson and running back Breece Hall. Despite their significant improvement in 2022, the Jets are not a Super Bowl contender this year. This can be added to your receipts, Robert Saleh.
Recent Super Bowl Winners
| | | |
| --- | --- | --- |
| Team | Year | Opening Odds |
| Rams | 2021 | +1200 |
| Buccaneers | 2020 | +1000 |
| Chiefs | 2019 | +600 |
| Patriots | 2018 | +600 |
| Eagles | 2017 | +4000 |
| Patriots | 2016 | +600 |
| Broncos | 2015 | +900 |
| Patriots | 2014 | +650 |
| Seahawks | 2013 | +800 |
| Ravens | 2012 | +1800 |
Where to Bet on Super Bowl 2023
Here are our top-rated sportsbooks:
SEE ALSO: All picks, odds, and sports betting news. Be sure to check out SportsbookReview.com's community forums and betting tools.