NFL Player Prop Bets: Our Best Futures for the 2023 Season
It's been a busy summer of NFL picks and predictions for the Sportsbook Review team, and with the beginning of the regular season in sight, we're thrilled to share our top player prop bets based on the latest NFL odds from our best sports betting apps.
NFL player prop bets
We're all about ready to say bye bye to the dog days of summer, and hello to the 2023 NFL season. Our NFL betting guide is loaded with team and division previews, futures odds and picks, Super Bowl odds, team and player props bets, and everything in between.
This is a team-by-team breakdown of our best player prop bets for the upcoming year.
Visit our Google News page and click "Follow" (⭐) for the latest odds, picks and news!
Arizona Cardinals best player prop bet
James Conner Over 5.5 rushing touchdowns (-130 via Caesars) ⭐⭐⭐⭐
Conner is far from a straight-line speedster who can create his own space. But the 6-foot-1 and 235-pound running back is rather skilled when it comes to moving bodies backward over a short distance.
He scored seven times in 2022 over only 13 games, and he's one season removed from notching 15 touchdowns to finish tied for second despite a pedestrian rushing season overall (752 yards on an awful 3.7 per carry). Conner received 50.9% of the team's carries inside the 10-yard line in 2021 and 44.1% in 2022.
–– Sean Tomlinson (SBR | Twitter/X)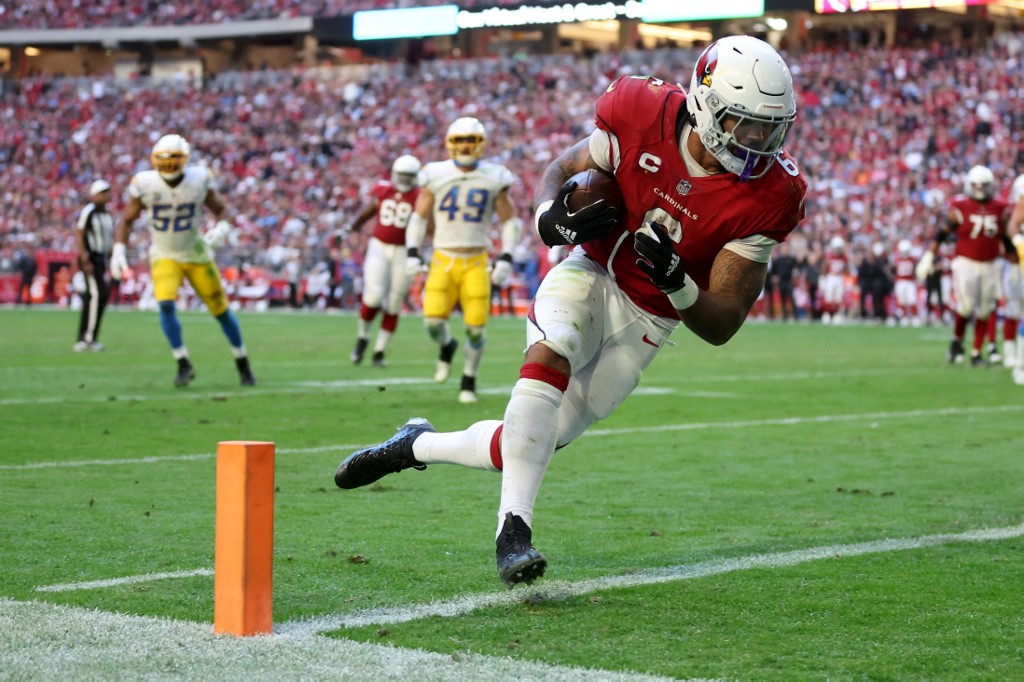 Atlanta Falcons best player prop bet
Desmond Ridder Over 2,500.5 passing touchdowns (-112 via FanDuel) ⭐⭐⭐
Anywhere you look, there's plenty of buzz surrounding the Atlanta Falcons leading into the 2023 NFL season, and I have Ridder conservatively projected for 2,817 passing yards. My price for the Over 2,500.5 yards is -215, which presents a positive expected value of 29% over the FanDuel odds.
–– Neil Parker (SBR | Twitter/X)
Baltimore Ravens best player prop bet
Lamar Jackson Over 725.5 regular-season rushing yards (+100 via DraftKings) ⭐⭐⭐⭐⭐
Since Jackson became Baltimore's full-season starting quarterback in 2019, he has actually cleared this mark in all four campaigns. That includes 2021 (767 rushing yards) and 2022 (764 rushing yards), in which he played just a dozen games in each season.
ESPN's Mike Clay is projecting 933 rushing yards in 15 games for Jackson, which is fair considering he cleared 1,000 rushing yards in both 2019 and 2020.
This total is much higher at some of our other best sports betting sites, including Caesars' line of 785.5. As a result, we will absolutely take this +100 offering on DraftKings' measly 725.5 total while we still can.
–– Shane Jackson (SBR | Twitter/X)
Buffalo Bills best player prop bet
James Cook Over 3.5 rushing touchdowns (+105 via DraftKings) ⭐⭐⭐
Will the Bills unleash Cook in his second season? Buffalo added Damien Harris and Latavius Murray in the offseason to bolster its rushing attack following the departure of Devin Singletary. However, Cook should be the one who gets the majority of the backfield work as the future franchise running back, and the projections suggest that he'll get at least enough to go Over this rushing touchdown total.
NumberFire projects Cook to finish with 4.27 touchdowns while Mike Clay comes in at four, too. Additionally, both projection models have Harris finishing with four-plus rushing TDs, so his involvement is baked into Cook's number. Therefore, we'll be in an even better position if the Bills do opt to lean more on Cook.
–– Andrew Brennan (SBR | Twitter/X)
Carolina Panthers best player prop bet
Miles Sanders Over 5.5 rushing touchdowns (-118 via FanDuel) ⭐⭐⭐⭐
Sanders is coming off the most successful season of his career with a full 17 games played and 11 rushing touchdowns on 1,269 rushing yards from 259 attempts. Now, he's certainly taking a step back from the NFC champion Philadelphia Eagles to the Panthers, but being a reliable veteran behind rookie quarterback Bryce Young should help his numbers, especially early in the season when at his healthiest.
Expect Reich and Young to lean on Sanders near the goal line. Sanders' 44 red-zone rushing attempts last season ranked third among all running backs, and he turned those into 10 touchdowns.
–– Esten McLaren (SBR | Twitter/X)
Chicago Bears best player prop bet
Justin Fields Over 2,775.5 passing yards (-112 via FanDuel) ⭐⭐⭐
I have Fields projected for 2,991 passing yards, and I value the offensive upgrades and another offseason to further acclimatize to offensive coordinator Luke Getsy's system. Additionally, I'm anticipating opposing defenses to make Fields and the Bears beat them through the air more this season. He ran for video-game numbers in 2022, so it'll only take a slight uptick in pass attempts to cash in on this Over.
My price for this Over is -225, so we're landing a positive expected value of 31% on the FanDuel odds.
–– Neil Parker
Cincinnati Bengals best player prop bet
Ja'Marr Chase Over 10.5 receiving touchdowns (+110 via Caesars) ⭐⭐⭐⭐
Chase can score touchdowns in a hurry, and the two-time Pro Bowler has totaled 22 scores across 29 career games. The mark is tied for second since he entered the NFL.
Chase is the preseason favorite to lead the league in receiving touchdowns at +600 through FanDuel. The NFL's receiving touchdown leader has averaged 16 scores per season across the last three years, which helps to make this +110 price extremely enticing, especially when you compare it to FanDuel's -102 on the same Over.
–– Shane Jackson
Cleveland Browns best player prop bet
Nick Chubb Over 8.5 rushing touchdowns (-104 via FanDuel) ⭐⭐⭐⭐⭐
With running back Kareem Hunt no longer in the picture, Chubb is set to have his most productive season to date. That's saying something because he's arguably the best rusher in the NFL after five seasons.
Chubb recorded 12 rushing scores a season ago and has notched at least eight touchdowns in each of his first five campaigns. He's averaged 0.64 rushing touchdowns per game in his career, including a 0.74 mark over the last three seasons. Those averages extrapolate out to 10.88 and 12.58 touchdown dances, respectively, over a 17-game season.
–– Shane Jackson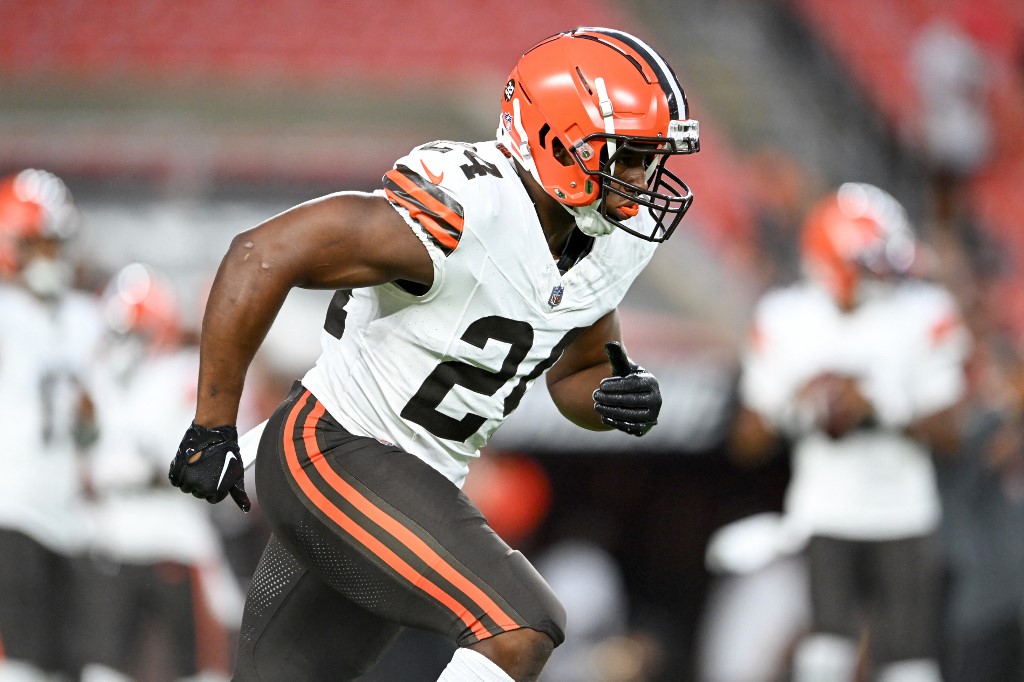 Dallas Cowboys best player prop bet
CeeDee Lamb most regular season receiving yards (+2500 via Caesars) ⭐⭐⭐⭐
Lamb roasted opponents for 1,359 receiving yards last season despite being the focal point of every team's top pass defender – a stretch that included five games of backup QB Cooper Rush. Wide receiver Brandin Cooks' arrival should only make things easier on Lamb, who finished sixth in receiving yards despite being the only player in the top 25 without a single catch of 40-plus yards.
The fourth-year wideout had the fifth-most receiving yards from Week 7 onward, when Prescott returned to action. A full season with his No. 1 QB in the fold and a skilled veteran receiver capable of taking the top off defenses himself should create a path to a career year for Lamb. And as the No. 11 option to lead the NFL in receiving yards at Caesars, he's definitely worth a look.
Caesars has simply made Lamb too good to pass up here.
–– James Bisson (SBR | Twitter/X)
Denver Broncos best player prop bet
Jerry Jeudy Over 875.5 receiving yards (-130 via DraftKings) ⭐⭐⭐
It's hard to imagine the Denver offense failing to improve on the disaster that was 2022, and Jeudy easily cleared this total with 972 receiving yards across 15 games. I have the fourth-year wide receiver conservatively projected for 952 receiving yards this year, and I'd price this Over at -156.
There are multiple projections calling for quadruple-digit yardage from Jeudy out there, so I'm confident in the advantage tied to my numbers. Compared to the -130 price through DraftKings, we're landing a positive expected value of 8%. More optimistic projections would give an even larger edge.
- Neil Parker
Detroit Lions best player prop bet
Offensive Rookie of the Year: Jahmyr Gibbs (+900 via FanDuel) ⭐⭐⭐⭐
The Lions didn't use the 12th overall pick on Gibbs to keep him on the bench. They intend to utilize him early and often in his rookie season. There's a new trend with running backs, with teams reluctant to extend them past their rookie deals while preferring to maximize usage during their rookie contracts. Gibbs is expected to be an immediate weapon for the Lions, and I genuinely believe he poses a serious threat to win this award.
–– Jon Metler (SBR | Twitter/X)
Green Bay Packers best player prop bet
Jordan Love to have 4000+ regular season passing yards (+750 via DraftKings) ⭐⭐⭐⭐
There's a nice edge in the odds for Love's passing props because, generally speaking, expectations are low for him in the market. Additionally, the trading team at DraftKings really doesn't have a positive outlook on Love and the Packers this season.
If the +750 price point isn't enticing enough to hit the button on Love, we are seeing projections in the 3,717 passing yards range for him, which puts Love much closer to the 4,000-plus mark than the +750 price point implies.
–– Jon Metler
Houston Texans best player prop bet
Dameon Pierce Over 850.5 rushing yards (-112 via FanDuel) ⭐⭐⭐
I have Pierce projected for 934 rushing yards, which is actually lower than the 939 he scampered for across 13 games last season. My price for this Over is -163, so we're landing a positive expected value of 17% on the FanDuel odds.
Expect the Texans to roll with one of the more run-heavy offenses in the league, and I also value the addition of running back Devin Singletary. Helping each other shoulder the load out of the backfield will enable both Singletary and Pierce to stay fresh during games and hopefully healthy throughout the season.
–– Neil Parker
Indianapolis Colts best player prop bet
Anthony Richardson Over 2,475.5 passing yards (-112 via FanDuel) ⭐⭐⭐
Sure, Richardson is a raw, 21-year-old prospect with rookie peaks and valleys ahead. But he also brings unrivaled athleticism and has been named the Week 1 starter.
I have Richardson projected for 2,783 passing yards and would price this Over at -234. As a result, we're grabbing a huge positive expected value of 33%.
–– Neil Parker
Jacksonville Jaguars best player prop bet
Calvin Ridley Over 825.5 receiving yards (-112 via FanDuel) ⭐⭐⭐
It's only fitting to bet on Ridley in his return from a year-long gambling ban that cost him the entire 2022 season. Ridley doesn't have a concerning injury history, and he broke out to the tune of 90 receptions for 1,374 yards during his last full season in 2020.
I have the first-year Jag projected for 933 receiving yards, so my price for this is Over is -189, and we're landing a positive expected value of 24% with the FanDuel number.
–– Neil Parker
Kansas City Chiefs best player prop bet
Isiah Pacheco Over 774.5 rushing yards (-110 via BetMGM) ⭐⭐⭐
We're landing a decreased total for Pacheco because he's still recovering from offseason surgeries on his hand and shoulder. After scooting for 830 yards as a rookie in 2022, I have Pacheco projected for 845 rushing yards this year and price this Over at -153.
It adds up to a positive expected value of 15%, and there is room for Pacheco to be eased back into work or even miss a little time and still cash the Over. I like attaching bets to proven and prolific offenses, too.
–– Neil Parker
Las Vegas Raiders best player prop bet
Maxx Crosby 12+ regular-season sacks (+240 via DraftKings) ⭐⭐⭐
Crosby has ascended to be one of the NFL's premier edge-rushers. He's reached the past two Pro Bowls, and the defender secured a career-high 12.5 sacks in 2023.
Not one to rest on his laurels, Crosby has been working on improving his grip strength so he can finish plays and record some of the sacks that quite literally slipped through his grasp in 2023.
"That's a big part of it, like there's a few sacks this year where you just see me getting a piece of the jersey and pulling them in - that's just the little details and training," Crosby told Ted Nguyen of The Athletic.
–– Michael McClymont (SBR | Twitter/X)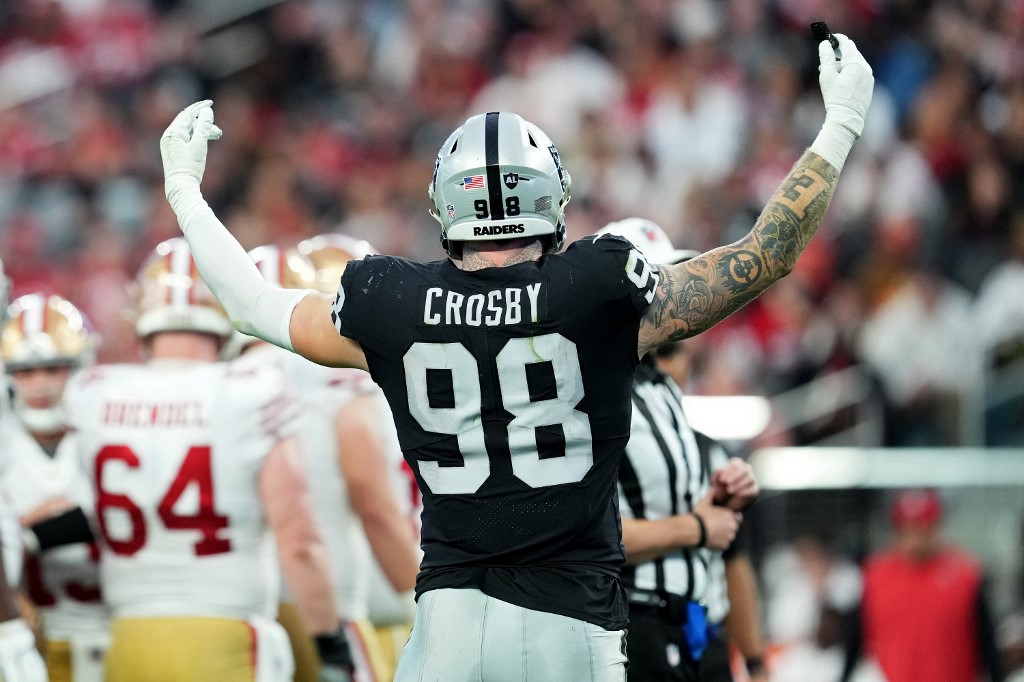 Los Angeles Chargers best player prop bet
Justin Herbert most regular season passing yards (+650 via DraftKings) ⭐⭐⭐
I've laid out the case for Herbert to lead the way in this stat category in our NFL regular-season passing yards leader odds. Herbert has registered the second-most passing yards in the last two seasons, and he threw for 4,739 yards in 2022, finishing second only to the Kansas City Chiefs' Patrick Mahomes.
With offensive coordinator Kellen Moore and rookie wide receiver Quentin Johnston aboard and an added emphasis put on advancing past the wild-card round this season, expect the Chargers to throw the ball all over the field, and for those holding Herbert tickets to reap the benefits.
–– Michael McClymont
Los Angeles Rams best player prop bet
Kupp 100-plus receiving yards in eight-plus regular-season games (+100 via DraftKings) ⭐⭐⭐⭐
Kupp is a target magnet, and he'll remain so whenever quarterback Matthew Stafford is healthy given their chemistry. The receiver garnered 10-plus targets five times in 2022 after easily leading the league with 191 in 2021 (the second-place pass-catcher finished with 169).
Stafford's ability to stay healthy impacts Kupp in every sense. But the step down to his new backup Stetson Bennett likely won't be as steep as the one to last year's trio of John Wolford, Bryce Perkins, and Baker Mayfield. And regardless of who's under center, the game scripts will be heavily in Kupp's favor with the Rams playing from behind often.
–– Sean Tomlinson
Miami Dolphins best player prop bet
Tua Tagovailoa Over 3850.5 passing yards (+100 via DraftKings) ⭐⭐⭐
Tua managed 3,548 passing yards in just 13 games last season, one of which he left in the second quarter with an injury. Tua should cruise Over this number if he's able to avoid taking too much punishment. That's a big "if," but a potential injury appears to be baked into the line.
When comparing two separate projection models, we have one that assumes 17 games of health and the other that factors in a missed contest or two. The former, NumberFire, projects Tua to finish with 4460.31 passing yards, the fifth-highest total among all quarterbacks. Meanwhile, ESPN's Mike Clay accounts for two missed games with his projection, but he still has Tua at 3,886 passing yards, enough to clear this total.
–– Andrew Brennan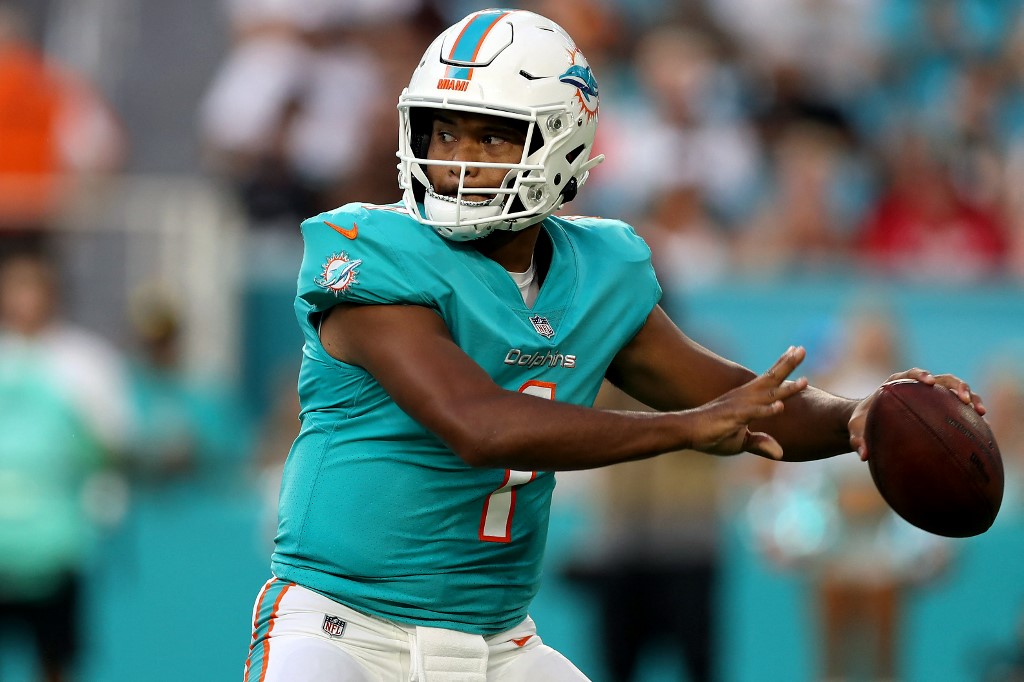 Minnesota Vikings best player prop bet
Justin Jefferson Over 1,350.5 receiving yards (-110 via DraftKings) ⭐⭐⭐
I consider my projection of 1,440 receiving yards for Jefferson in 2023 to be incredibly conservative, and it still equates to a -168 price on this total and a positive expected value of 20% on the DraftKings number.
The Vikings are set for an awkward awakening after going 13-4 in 2022, and their defense might be even worse than the unit that allowed 25.1 points per game, the third-most in the NFL. As a result, I'm expecting quarterback Kirk Cousins to be airing it out as much as ever, and for Jefferson to top 150 targets for a third consecutive year.
–– Neil Parker
New England Patriots best player prop bet
Mac Jones Over 3000.5 passing yards (-115 via Caesars) ⭐⭐⭐
Jones finished just Under this number with 2,997 passing yards in 2022, but that came across just 14 games. In 2021 while playing the full 17-game slate, Jones soared over even DraftKings' listed total with 3,801 yards.
Additionally, Jones' projections also favor the Over. NumberFire projects him to finish with 3,809.32 passing yards, while ESPN's Mike Clay has Jones at 3,353 passing yards. Between the fact that he managed nearly 3,000 yards in only 14 games last season and that the projections support a bounce-back campaign, we're riding with Jones' Over at Caesars.
–– Andrew Brennan
New Orleans Saints best player prop bet
Derek Carr to lead NFL in interceptions (+2000 via DraftKings) ⭐⭐⭐
This is my favorite wager in our Saints betting preview based on the odds from our Louisiana sports betting apps.
Carr tossed 14 interceptions in each of the last two seasons and did it last year in just 15 games. Though he'll benefit from much better weather in road games in the NFC South, he faces new defenses and has a brand new receiving corps. Carr is 10th by the odds to lead the NFL in passing yards this season, and with a lofty yardage total comes the added likelihood of interceptions.
–– Esten McLaren
New York Giants best player prop bet
Darren Waller Under 700.5 receiving yards (-115 via Caesars) ⭐⭐⭐⭐
Waller is now entering Year 8 of his pro career, and clearly staying healthy has been a significant issue. The Giants also boast an incredibly crowded wide receiver room, and given how quarterback Daniel Jones and head coach Brian Daboll spread the receptions around in 2022, it's risky to bank on any one player getting significantly more volume than the field.
If you saw this prop at Caesars at the beginning of August, you would have been able to land an incredible Under 740.5 at -115. Caesars has since dropped the total by 40, but that still tops DraftKings (U700.5 at -120). Meanwhile, bet365 has the total at 685.5, and FanDuel is at a truly fascinating 625.5 (where you might consider taking the Over to create a nice middling opportunity.)
–– James Bisson
New York Jets best player prop bet
Aaron Rodgers Over 3800.5 passing yards (-112 via FanDuel) ⭐⭐⭐
Rodgers failed to hit this number last season, but that was with an extremely compromised Green Bay Packers wide receivers corps. Now in New York, Rodgers is set to throw to reigning Offensive Rookie of the Year Garrett Wilson, as well as speedster Mecole Hardman, solid deep threat Corey Davis, and a pair of trusted Packers teammates in Allen Lazard and Randall Cobb.
Rodgers easily cleared this total in four straight seasons prior to 2022, and he should feel rejuvenated on a team that's clearly invested in winning during 2023. NumberFire projects Rodgers to finish with 4098.44 passing yards this season, and ESPN's Mike Clay projects 4,026 passing yards. This is one of the easiest Overs in the passing yards market.
–– Andrew Brennan
Philadelphia Eagles best player prop bet
DeVonta Smith Over 925.5 receiving yards (-112 via FanDuel) ⭐⭐⭐⭐⭐
It's hard to envision Philly being as dominant in the first half of 2023 as it was in the opening eight games of 2022 — so expect closer games, and more passing, as a result. With A.J. Brown still Philadelphia's premier deep threat, Smith should continue to see plenty of volume.
Given that the majority of notable projection sites have Smith finishing with between 1,050 and 1,100 receiving yards, FanDuel is hanging an incredibly low total. bet365 is sitting at 950.5, DraftKings is at 975.5, and Caesars has Smith's over/under at 1,000.5. Get this number now!
–– James Bisson
Pittsburgh Steelers best player prop bet
Najee Harris Over 900.5 rushing yards (-112 via FanDuel) ⭐⭐⭐
Harris has posted back-to-back 1,000-yard campaigns despite much help from his offensive line. Harris has averaged just 1.12 yards per carry prior to contact, according to Graham Barfield of Fantasy Pts, which ranks last among the 35 running backs with 250 or more carriers over the last two seasons.
The Steelers revamped the left side of their offensive line this offseason, which included selecting left tackle Broderick Jones in the first round. With better blocking up front, Harris should flirt with 1,000 rushing yards once again. In fact, ESPN's Mike Clay is projecting 964 yards in 14 games for Harris this season.
–– Shane Jackson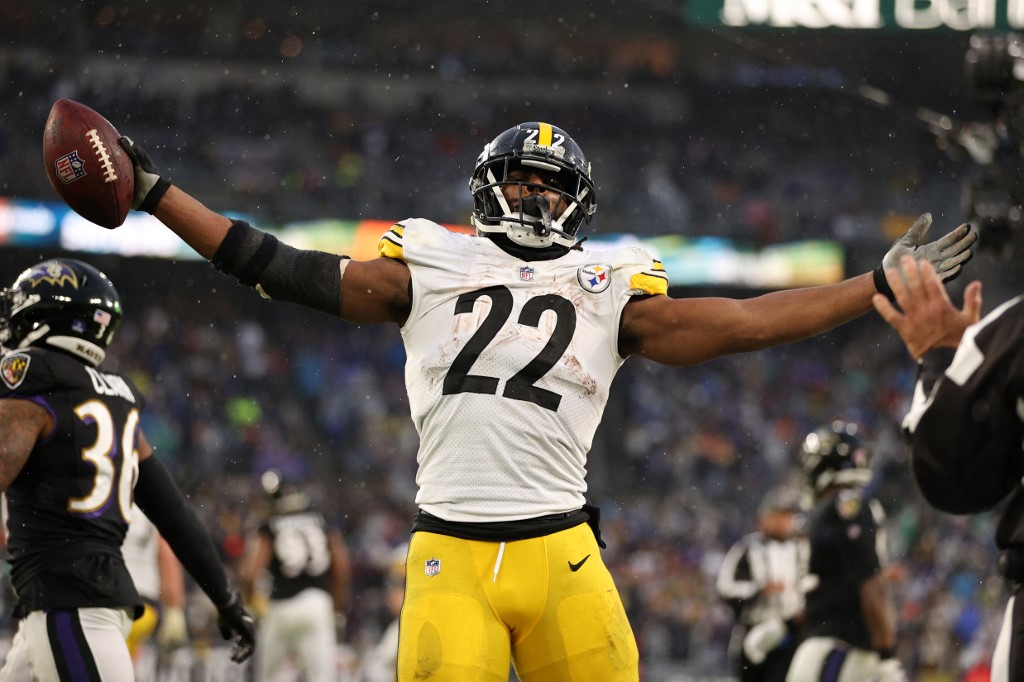 San Francisco 49ers best player prop bet
Brandon Aiyuk Over 800.5 receiving yards (-115 via Caesars) ⭐⭐⭐⭐
There are clear quarterback questions in San Francisco, and that will impact Aiyuk's ability to be a consistent producer. But that's been the case for a while, and the shifty wideout keeps rolling right along while clearing this number in two of his first three seasons.
Jimmy Garoppolo (10 starts), Brock Purdy (five), and Trey Lance (two) all appeared under center for the Niners in 2022. Yet Aiyuk still tallied career highs in receiving yards (1,015), receptions (78), and touchdowns (eight).
–– Sean Tomlinson
Seattle Seahawks best player prop bet
Geno Smith Under 3900.5 passing yards (-115 via DraftKings) ⭐⭐⭐⭐
There's the face plant brand of regression, and there's the more gentle and gradual kind. Smith is likely to take the latter route, which is why it's key to make this play at DraftKings if you're thinking he'll only wobble and not crash.
The forthcoming brilliance of wide receiver Jaxson Smith-Njigba and D.K. Metcalf's brute force ways will keep Smith afloat. But the Seahawks just invested a second-round pick in running back Zach Charbonnet, and they could be set for several blowout games just within their own division.
–– Sean Tomlinson
Tampa Bay Buccaneers best player prop bet
Jamel Dean Over 1.5 interceptions (-155 via DraftKings) ⭐⭐⭐⭐⭐
Not only did Dean share the Bucs' team lead with two picks last season (his third season in four years since being drafted with that number), but he'll also reap the benefits of what's expected to be lousy QB play within his division in 2023.
Bryce Young is a rookie. Desmond Ridder is a sophomore who played four games in 2022. Derek Carr tossed 14 interceptions in 15 games with the Las Vegas Raiders before being shut down early due to poor play.
The Bucs are also likely to play two other rookie QBs when facing the Houston Texans and Indianapolis Colts. Add Kirk Cousins, Justin Fields, Jared Goff, and Josh Allen, and Dean will be able to collect his share of 46 interceptions that were thrown last season by that group. And he'll also face Green Bay Packers QB Jordan Love in what will be his first season of meaningful playing time.
–– Esten McLaren
Tennessee Titans best player prop bet
Treylon Burks Over 685.5 receiving yards (-115 via Caesars) ⭐⭐⭐⭐
Everything went wrong for Burks after being selected 18th overall in the 2022 NFL Draft and being dubbed the A.J. Brown replacement for Tennessee's offense. Still, Burks flashed the athleticism to be a matchup nightmare and problem in space when healthy in 2022.
I'm projecting Burks for 846 receiving yards, so I price the Over on 685.5 at -257 to present a positive expected value of 35% over the -115 odds through Caesars.
–– Neil Parker
Washington Commanders best player prop bet
Brian Robinson Jr. Over 775.5 rushing yards (+125 via DraftKings) ⭐⭐⭐⭐⭐
Robinson racked up the third-most carries of any NFL running back from Week 9 to 17 (he didn't play in the finale). As much as I'd like to see the Commanders lean more on the passing game, head coach Ron Rivera isn't suddenly going to morph into Andy Reid. He's a smashmouth kind of guy, and Robinson is going to be at the core of that offensive approach.
FantasyPros' consensus of six notable projection sites has Robinson finishing with 943.7 rushing yards in 2023, and even that might be conservative given how extensively Robinson was used down the stretch (even in games where the Commanders were down big). He might only get there 3.7 yards at a time, but the Over on 770.5 at +125 is a gift here.
–– James Bisson
NFL betting preview
(21+. Gambling Problem? Call 1-800-GAMBLER)
* Bonuses not applicable in Ontario.
Related pages