NFL Expert ATS Picks Week 3: Beat the Bullseye With Your Best Spread Predictions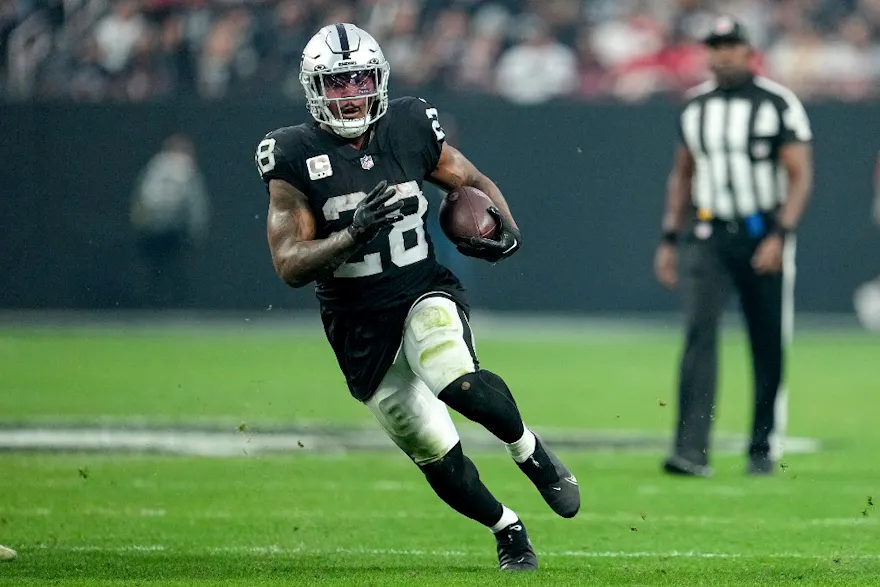 Our NFL expert ATS picks are here for Week 3 as we evaluate the best of our best NFL betting sites! What's in store for the NFL's Sunday and Monday slates?
Looking for help with your NFL best bets for Week 3? Sportsbook Review's NFL experts offer up their expert ATS picks to accompany all of your NFL Week 3 predictions and Week 3 player props.
It's not too late to add some extra action by joining SBR's Beat the Bullseye contest for your shot at a share of $5,000 in prizes!
NFL expert ATS picks: Week 3
Note: Some picks were made at different times based on the odds at the current time.
| Expert | Pick 1 | Pick 2 | Pick 3 | Pick 4 | Pick 5 |
| --- | --- | --- | --- | --- | --- |
| Neil Parker (NeilParkerBets) | Jaguars -8.5 (vs. Texans) | Dolphins -6.5 (vs. Broncos) | Ravens -7.5 (vs. Colts) | Jets +2.5 (vs. Patriots) | Seahawks -5.5 (vs. Panthers) |
| Michael McClymont (MikeMcSBR) | Bills -6.5 (at Commanders) | Ravens -7.5 (vs. Colts) | Steelers +2.5 (at Raiders) | Eagles -4.5 (at Buccaneers) | Rams +2.5 (at Bengals) |
| Jon Metler (Jmets) | Vikings -0.5 (vs. Chargers) | Ravens -7.5 (vs. Colts) | Panthers +6.5 (at Seahawks) | Bears +12.5 (at Chiefs) | Buccaneers +5.5 (vs. Eagles) |
| Andrew Brennan (OfficialAB) | Falcons +3.5 (at Lions) | Titans +3.5 (at Browns) | Jaguars -8.5 (vs. Texans) | Chiefs -12.5 (vs. Bears) | Rams +2.5 (at Bengals) |
| Sean Tomlinson (seantomlinson) | Packers -2.5 (vs. Saints) | Titans +3.5 (at Browns) | Jaguars -8.5 (vs. Texans) | Dolphins -6.5 (vs. Broncos) | Seahawks -5.5 (vs. Panthers) |
In the NFL, the Week 3 outcomes are pivotal, as the results can mark a significant shift. The contrast between starting 3-0 and slipping to 0-3 is substantial, with nine teams now aiming to secure an unblemished 3-0 record, erasing any doubts that may have arisen after an 2-0 start. Conversely, an equal number of teams face the looming possibility of plummeting to an undesirable 0-3 record, making this week a critical juncture in the season for many franchises.
The week kicked off with a one-sided matchup on Thursday Night Football, featuring the San Francisco 49ers hosting the New York Giants. This game marked the beginning of the third week of the NFL season. The week will culminate with a Monday Night Football doubleheader, featuring the Philadelphia Eagles visiting the Tampa Bay Buccaneers and the Los Angeles Rams traveling to face the Cincinnati Bengals. This slate of games represents the second-to-last full set of matchups before teams begin their bye weeks in Week 5.
Heading into Sunday, the San Francisco 49ers remain the consensus betting favorites by the Super Bowl odds after being the first to improve to 3-0 with their TNF win over the Giants.
Beat the Bullseye
Sportsbook Review's Beat the Bullseye contest gives you a shot at $5,000 in total prizes by making your five best against-the-spread (ATS) picks each week of the NFL season.
Simply pick the five teams you're the most confident will cover the listed spread from the weekly Sunday and Monday NFL slate. First place at the end of Week 18 will win $1,500, with prizes for each of the next four top finishers.
There are also quarterly prizes of $250 cash to the top-scoring player.
For more information and details on this game, please view the Full Beat the Bullseye Rules.
21+. Terms and Conditions apply.
Kentucky bettors: Sports betting is coming soon!
Kentucky sports betting will launch Sept. 28 so get pre-launch offers before it's too late! Don't miss out on Kentucky sportsbook promos or the best Kentucky sports betting apps!
21+ and present in KY. Gambling Problem? Call 1-800-GAMBLER
NFL betting odds pages
(21+. Gambling Problem? Call 1-800-GAMBLER)
* Bonuses not applicable in Ontario.
Related pages