Travis Kelce NFL Player Props, Odds for SNF: Ranking the Top Value Bets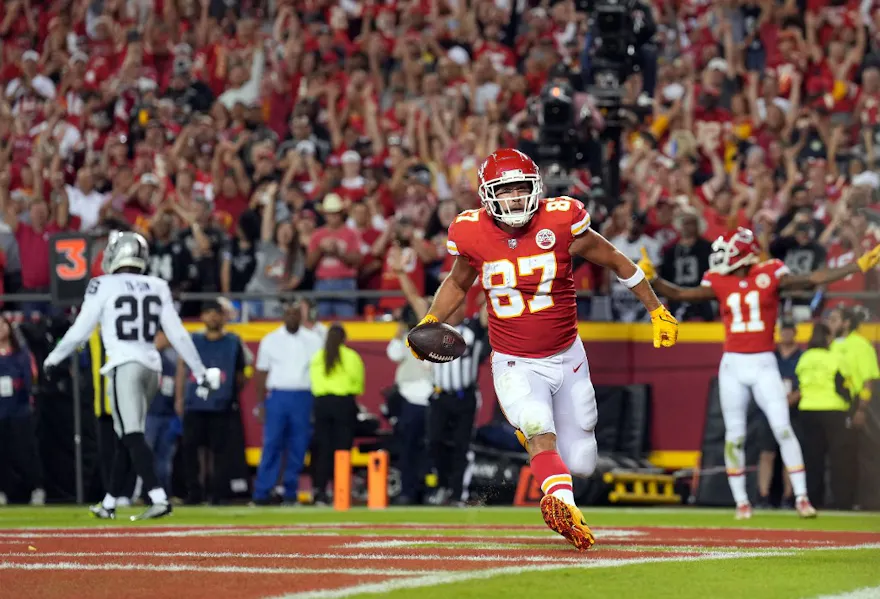 Travis Kelce, in the spotlight due to his new relationship with music icon Taylor Swift, takes center stage in New York, and we're focusing on his player props backed by the best NFL odds from our best NFL betting sites.
Not even in my wildest dreams did I think I would have to be writing about a Sunday Night Football player props piece centered around Taylor Swift and Travis Kelce, but here we are.
While Swifties may be enthralled by the love story, here at Sportsbook Review, we're all about the business of earning green checkmarks and securing wins in the betting markets, so I'm here to provide insights on some popular player props for Kelce.
Kelce and Swift can leave MetLife Stadium in the getaway car after Sunday Night Football, but my focus is on where the edges are on Kelce's player props, and one of our best sports betting apps is at least giving you a chance to bet on what most Swifties want to see happen for Kelce.
With Travis Kelce among the trending player props for SNF, Jon Metler digs up the best NFL player prop value bets and makes his NFL picks.
Travis Kelce NFL player props and odds
Visit our Google News page and click "Follow" (⭐) for the latest odds, picks and news!
Travis Kelce player prop pick for SNF
Travis Kelce anytime touchdown (-120 via bet365) ⭐⭐⭐
With so much attention on Kelce because of Taylor Swift, it's going to be hard to find any value in his most popular props because fans love to bet on what they want to see happen, and the narrative will push everyone to bet on "Yes" for a touchdown and smash Over bets on Kelce.
While I wouldn't rush to bet on "Yes" for a touchdown, this is a perfect opportunity to highlight some key factors in sports betting, and that is PRICE SHOPPING!
Sports betting is a market, and when something is popular and everyone is betting on it, that juice will just continue to climb. That's what we're seeing with Kelce, who has his anytime touchdown prop trading as short as -165 at some of our best NFL prop betting sites.
This isn't normal for Kelce; he usually trades in the +105 to -130 range for an anytime touchdown, but sportsbooks are looking to capitalize on the Swift hype train and catch people betting on bad lines.
The only reason I put this bet in this spot is that bet365 is actually offering a realistic price here on Kelce at -120, and it doesn't have an inflated line at -165 like many other of our best sportsbooks.
If you want to bet on Kelce to score a touchdown, this is where you will want to do your shopping. Is the -120 a steal on Kelce? No, but there are other factors at play here which the data can't always account for.
Patrick Mahomes said in his postgame interview last Week that they knew Swift was in the house, and Kelce ran a route he wasn't supposed to in an attempt to get open because he wanted a touchdown.
I think it would be silly to ignore these comments by Mahomes, who was clearly going out of his way to get Kelce a touchdown, especially when the prop is trading at -120 via bet365. If our only option was -165, I would ignore these comments made by Mahomes because I just can't get there with that price.
If you want to play the role of the fun police on everyone who will be rooting for Kelce and excited for this matchup because Swift will be there, you'll have a bigger edge as a bettor if you shop for the best prices for Kelce's Unders on Sunday Night Football for his receiving props.
Not intended for use in MA
Affiliate Disclosure: Sportsbook Review may receive advertising commissions for visits to a sportsbook
Kentucky bettors: Sports betting is here!
Kentucky sports betting launched on Sept. 28 - so sign up with the best Kentucky sportsbook promos now! And check out our list of the best Kentucky sports betting apps!
21+ and present in KY. Gambling Problem? Call 1-800-GAMBLER
NFL betting odds pages
(21+. Gambling Problem? Call 1-800-GAMBLER)
* Bonuses not applicable in Ontario.
Related pages