Super Bowl 57 Novelty Prop Odds, Predictions: Specials, Position of MVP Winner, Will There be an Octopus?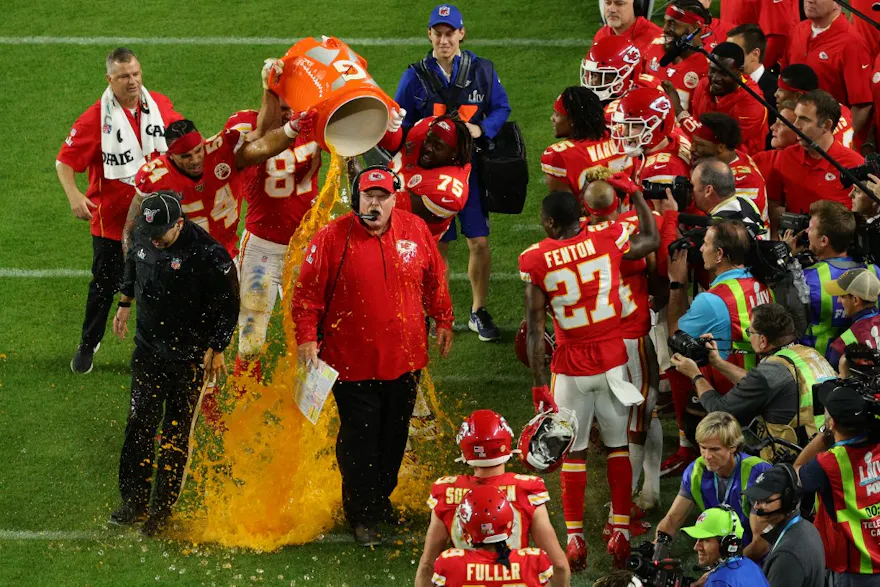 Our best Super Bowl betting sites feature plenty of exciting prop bets, ranging from standard to absurd. Try not to get lost in a sea filled with Gatorade and octopuses, and let us guide you through the top novelty prop bets for your Super Bowl 57 picks.
It's easy to get deep in the weeds while researching Super Bowl 57 bets. One second, you're betting on who will be named Super Bowl MVP. Then, suddenly, you've invested a whole lot of time figuring out which color of Gatorade will be poured on the winning head coach.
That's when the fun - or ridiculousness - begins. It can also include various halftime show props and betting on the appearance of an octopus (not a real one, though I'm sure that prop is out there somewhere, too).
Here are our top Super Bowl 57 novelty props (odds via Bet365, FanDuel Sportsbook, DraftKings Sportsbook, Barstool Sportsbook, and PointsBet).
Check out our Super Bowl 57 predictions, Super Bowl 57 odds analysis, and Super Bowl 57 MVP odds.
Super Bowl 57 color of Gatorade poured on winning head coach
| | | | | | | |
| --- | --- | --- | --- | --- | --- | --- |
| | Orange | Yellow/Green | Blue | Red/Pink | Clear/Water | Purple |
| FanDuel | +230 | +150 | +375 | +400 | +1050 | +1050 |
| DraftKings | +350 | +125 | +350 | +450 | +850 | +850 |
| BetMGM | +350 | +110 | +500 | +600 | +850 | +900 |
| PointsBet | +125 | +150 | +800 | +650 | +1100 | +1200 |
Three of our best sportsbooks offer this prop. It appears FanDuel is weighing the Eagles factor heavily, thinking that Philadelphia's team color will be used, as it was on Pederson the last time the Eagles triumphed in The Big Game.
Andy Reid was bathed in orange after Super Bowl 54. Orange is often the most popular choice and where the mind goes first. But as James Bisson noted in his Super Bowl Gatorade color odds, prop bets, and history - a thorough breakdown of all hydration celebration matters - the winning coach has been doused in blue in two straight Super Bowls, and three of the past four.
Check out our downloadable Super Bowl 57 prop bet sheet and Super Bowl 57 bingo card.
Will there be an octopus at the Super Bowl?
Bet: Yes (+1400); No (-5000) via DraftKings
In football language, an octopus occurs when a player scores a touchdown and then that same player tallies the ensuing 2-point conversion. He's then accounted for eight points on that trip down the field, thus becoming a slithering football octopus.
An octopus has occurred just 175 times since the 2-point conversion attempt was introduced in 1994. However, two of those instances were from Jalen Hurts and Patrick Mahomes this past season.
Check out our Super Bowl 57 SGP.
Will there be a power outage at Super Bowl 57?
Bet: Yes (+750) via FanDuel
It's somehow already been a decade since the lights went out at the Superdome, halting Super Bowl 47 for 37 minutes. The San Francisco 49ers were cruising while up 28-6 over the Baltimore Ravens early in the third quarter. The Ravens came back to win 34-31.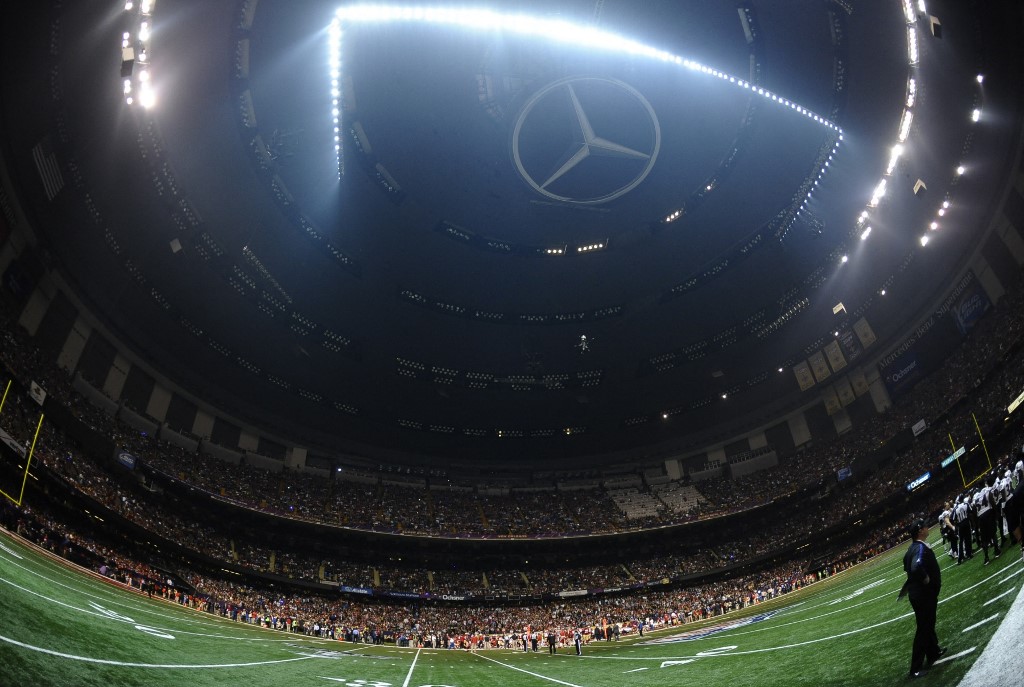 What will be the jersey number of the first or last touchdown scorer?
Bet: First TD Over 11.5 (+105), Under (-135); Last TD Over 11.5 (+105), Under (-135) via DraftKings
Plenty of the top skill-position players wear the number 11 or below on their back, which is why the odds are slanted in that direction here.
That group most notably includes Jalen Hurts, who scored 13 regular-season rushing touchdowns. Then there are wide receivers A.J. Brown (11 touchdowns), Devonta Smith (seven), Juju Smith-Schuster (three), and Marquez Valdes-Scantling (two), along with running backs Isiah Pacheco (five) and Jerick McKinnon (10).
Check out our Super Bowl 57 trends to know and Super Bowl squares strategies.
Will a kick hit the upright or crossbar?
Bet: Yes (+450), No (-650) via DraftKings
Chiefs kicker Harrison Butker endured a frustrating season, mostly due to a Week 1 injury that led to missed time and then lingered. As a result, the Chiefs finished 30th while hitting just 75% of their field-goal attempts in 2022, though Butker has bounced back recently while going perfect over his last three games.
You're mostly leaning on him in your quest for an upright or crossbar hit, though it would be nice if Cody Parkey could parachute into this game somehow. A double-doink deserves double the payout.
Will Super Bowl 57 be decided by exactly three points?
Bet: Yes (+455), No (-600) via Bet365
The Super Bowl 57 odds will surely keep fluctuating slightly right up until kickoff. But given how the movement went over the first five days after the matchup was determined, it seems highly likely the final line is below a field goal. That shows a tight game is probably coming, increasing the chances the final margin is exactly a field goal.
The Chiefs have needed to win two hard-fought games during the playoffs to get this far, defeating the Jacksonville Jaguars 27-20 and the Cincinnati Bengals 23-20. However, when the Eagles win, they're capable of doing it in blowout fashion. They've won 38-7 and 31-7 during the playoffs after notching five two-plus-touchdown victories throughout the regular season.
Check out our Super Bowl betting history.
What will the position be of the MVP winner?
(odds via DraftKings)
| | |
| --- | --- |
| Position | Odds |
| Quarterback | -650 |
| Wide receiver | +650 |
| Tight end | +900 |
| Running back/Full back | +1200 |
| Defensive lineman | +2500 |
| Linebacker | +2800 |
| Cornerback | +5000 |
| Safety | +7500 |
| Offensive lineman | +10000 |
| Kicker/Punter/Long snapper | +15000 |
Quarterbacks dominate this award and have won 31 times. That chalk coming through remains likely with two stud passers leading explosive offenses, and one of them will surely be named the regular-season MVP.
However, this game is brimming with skill-position talent, and a wide receiver has taken the award in two of the last four Super Bowls. That includes just a year ago when Cooper Kupp was given the Super Bowl 56 honors.
Kelce is coming off a career-high 12 touchdown catches, making him a fine candidate to be the first tight end to earn the award. And Miles Sanders could cash even juicier odds while leading a run-oriented offense. He's recorded four multi-touchdown outings in 2022-23, including the NFC Championship Game.
Check out our Super Bowl 57 MVP odds and predictions.
Will there be a scorigami at the end of Super Bowl 57?
Bet: Yes (+1800), No (-8000) via FanDuel
Only the greatest creative minds in history can come close to matching the artistic beauty of the scorigami. A scorigami occurs when the final score of a game is one that's never happened before in NFL history.
There are more opportunities for that football fairy tale with teams attempting two-point conversions more often. There have also been more extra-point attempt misses since the kicking spot was moved back.
When will the first scoring play occur in Super Bowl 57?
Bet: 8:59 or less left in first quarter (-141); 9:00 or more left in first quarter (+112) via Barstool
If the Eagles get the first possession, this turns into a wager on whether they score.
The Eagles are a run-focused team that finished fifth during the regular season in rushing yards (2,509) and third in rushing attempts (544). That offensive lean keeps the clock moving, and it's likely little time is left for the Chiefs to do the lifting here if the Eagles don't score.
Check out our Patrick Mahomes player prop picks and Jalen Hurts player prop picks.
What time will the last scoring play occur?
Bet: 2:15 or less left in the fourth quarter (-121), 2:16 of more left in the fourth quarter (-104) via Barstool
There's major shootout potential in this game, despite Philadelphia's strong defense. Which makes it a good time to remember that Mahomes is about to complete his sixth NFL season at the age of 27, and he's already recorded 14 game-winning drives. That puts him ahead of Kurt Warner, and only narrowly behind Steve Young and Joe Namath.
Will the opening kickoff be returned for a touchdown?
Bet: Yes (+10000) via PointsBet
If you'd like to forgo your morning latte and put that money on a deep long-shot bet, well, look elsewhere.
Eagles kicker Jake Elliott finished second during the regular season with 63 of his kickoffs resulting in a touchback (69.2%). There's a greater chance the kick is returned if the Chiefs' Harrison Butker tees it up first, as only 64.7% of his attempts ended in a touchback.
But there were only six kickoff-return touchdowns all season. Worse, the Eagles ranked 18th in average kick return yards (22.1), while the Chiefs finished a lowly 29th (19.2).
What time will the final play of the game be completed?
Bet: 10:14:59 p.m. ET or earlier (-155); 10:15:00 p.m. ET or later (+124) via Barstool
The Super Bowl is longer because of the halftime show and the lengthier commercial breaks to squeeze in more ads featuring a dancing puppy monkey baby.
The average NFL regular-season game takes three hours and 12 minutes to complete. Factor in a 20-30 minute halftime show and the longer breaks, and the game will likely land right around this Barstool line.
Frantically looking at your watch late in the fourth quarter is, well, one way to take a (potentially profitable!) white-knuckle betting ride.
Check out our Kelce brothers player prop picks.
Will there be a Flea Flicker?
Bet: Yes (+210), No (-280) via DraftKings
The coaching staff and personnel has changed, but the Philly Special is still buried deep in the Eagles' soul. Pulling the trigger on that sort of trickery can be easier too when with an athletically gifted quarterback in Hurts. Mahomes is dynamic on the other side too, even with a tender ankle.
Check out our Travis Kelce player prop picks and Miles Sanders player prop picks.
Who will the MVP winner thank first?
(odds via FanDuel)
| | |
| --- | --- |
| Person/Group | Odds |
| Religious figure | +100 |
| Team/teammates | +150 |
| Family | +500 |
| Fans | +1000 |
| City | +2000 |
| Current coach/coaches | +2500 |
| Owner | +4000 |
| Past coach/coaches | +4000 |
Mahomes yelled "thank you Kansas City we did it baby!" to end his interview after being named the MVP in Super Bowl LIV.
What are Super Bowl Novelty Props?
Super Bowl novelty props differ from the standard weekly player and game props in that the wagers are unique to the title game. The offerings also often aren't tied to game outcomes either, or at least not directly. For example, there are plenty of novelty props connected to the halftime show, national anthem, and coin toss.
Super Bowl prop bets
Prop bet enthusiasts have a lot to choose from for Super Bowl 57; here's a look at some of the more popular Super Bowl prop bets across all of the best sportsbooks:
Need help keeping track of your Super Bowl prop bets? Use our printable Super Bowl prop bet sheet! We also have Super Bowl bingo cards for up to four people to use!
(21+. Gambling Problem? Call 1-800-GAMBLER)
* Bonuses not applicable in Ontario.
Related pages