San Diego Padres Odds, Predictions 2023: Best World Series, Wins Total, Player & Team Prop Picks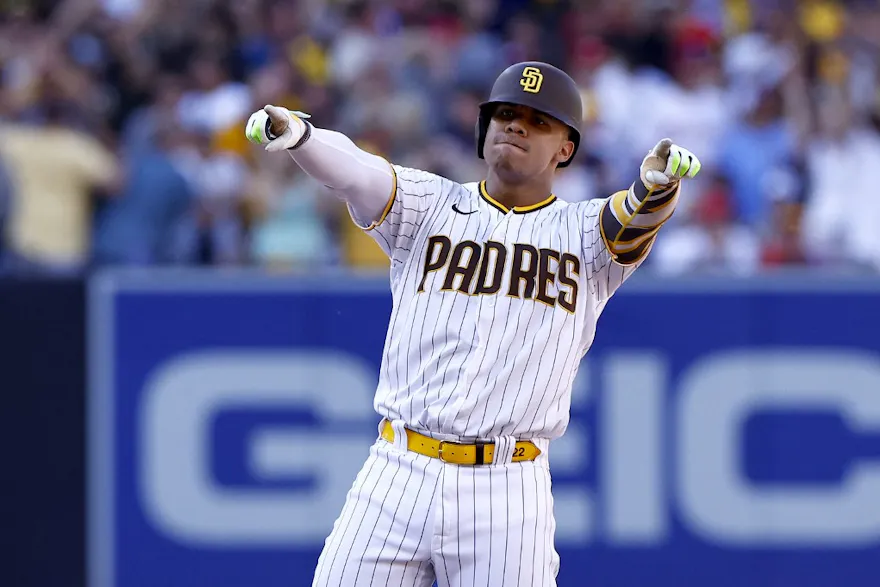 The San Diego Padres appear to be ready to overtake the Los Angeles Dodgers as the juggernauts of the National League West, but will their pitching hold up over 162 games? Find out as we look at our best team futures picks and Padres predictions for the 2023 MLB season based on the top MLB odds.
San Diego hasn't finished atop the NL West since 2006, with the Dodgers wearing the crown in nine of the last 10 years. However, the Padres look to change that trend thanks to some significant offseason acquisitions following the monster trade for Juan Soto ahead of last year's trade deadline.
The Padres' pitching features some question marks, though, as Blake Snell and Michael Wacha - two of the projected starters - combined to throw only 255 1/3 innings last year. Can San Diego get enough innings from its starting pitchers to not overtax its bullpen, or will the lack of depth cost the NL West contender as the season progresses?
Here is our look at the best odds and our top 2023 San Diego Padres predictions.
Check out our 2023 World Series Odds, 2023 MLB steals leader odds, and 2023 MLB RBI leader odds.
Padres odds 2023
| | | | | | |
| --- | --- | --- | --- | --- | --- |
| | DraftKings | FanDuel | BetMGM | Caesars | PointsBet |
| World Series champions | +950 | +1000 | +950 | +1000 | +850 ❄️ |
| National League champions | +475 | +500 🔥 | +450 | +480 | +400 ❄️ |
| NL West champions | +120 | +130 | +115 ❄️ | +130 | +140 🔥 |
Padres wins total odds
| | | | | |
| --- | --- | --- | --- | --- |
| DraftKings | FanDuel | BetMGM | Caesars | PointsBet |
| Over 93.5 (-105) | Over 93.5 (-105) | Over 93.5 (-105) | Over 94 (-110) | Over 93.5 (+100) |
| Under 93.5 (-115) | Under 93.5 (-115) | Under 93.5 (-115) | Under 94 (-110) | Under 93.5 (-120) |
Padres predictions: Wins total Over/Under
Over 93.5 (+100 via PointsBet)
It's not often we can find real value going Over a wins total above 90, but that's exactly what we're getting here with the Padres at PointsBet.
FanGraphs projects San Diego to finish with the third-most wins in baseball at 91 while PECOTA has the Padres' total set right at 93.5. The Padres won 89 games in 2022 but enter this campaign with some massive reinforcements.
First, they'll add Xander Bogaerts to the lineup after signing the four-time All-Star as a free agent. Bogaerts accrued a career-high 6.1 WAR last season, and he's been worth 20.8 wins across the last four full-length campaigns.
San Diego will also have Soto for a full season after featuring the three-time Silver Slugger for the second half of 2022. Soto had a disappointing season by his standards, but he accrued 7.0 WAR and finished second in NL MVP voting in 2021. He's the consensus preseason betting favorite to be crowned the NL MVP this year.
And, perhaps most importantly, superstar shortstop/outfielder Fernando Tatis Jr. will make his long-awaited return. Tatis finished third in NL MVP voting in 2021 thanks to 42 home runs, 25 stolen bases, and a .282/.364/.611 slash line in just 130 games.
Oh, and those three will form the heart of the Padres' lineup alongside third baseman Manny Machado, who finished second in NL MVP voting last year.
The pitching looks slightly questionable ahead of Opening Day, but 2022 All-Star Joe Musgrove is expected to return in early April. FanGraphs projects San Diego to have the seventh-most-valuable starting rotation and second-best bullpen.
With its even-money odds, PointsBet is the book at which to make this bet.
Check out our 2023 Boston Red Sox odds and picks, 2023 New York Yankees odds and picks, 2023 Toronto Blue Jays odds and picks, 2023 Baltimore Orioles odds and picks, 2023 Tampa Bay Rays odds and picks, and 2023 Houston Astros odds and picks.
Padres predictions: Player prop
Blake Snell to lead MLB in strikeouts (+7000 via FanDuel)
I listed Snell as one of my three favorite bets in this market, so this goes beyond just liking him as a Padres player prop.
Baseball fans have been begging Snell to show us something even remotely resembling his brilliant 2018 campaign, and he finally did so in the second half of the 2022 season.
The southpaw was incredible over 78 second-half innings, recording a 2.19 ERA and finally cutting down on his walk rate. Most importantly, though, he struck out 12.12 batters per nine innings for a 33.8% strikeout rate.
Talent has never been an issue for Snell, as he finished second among starters with at least 120 innings in strikeouts per nine innings and sixth in strikeout rate. The left-hander hunts strikeouts, often to his own detriment, racking up pitches early in contests and limiting his ability to go deep into ballgames.
However, it seemed something clicked during last year's second half. He still threw only 128 innings in 2022 after managing a similar 128 2/3 the year prior, but he's thrown as many as 180 2/3 in a single season.
Steamer projects Snell to finish 21st in strikeouts but with the ninth-best K/9 and K% (and both numbers would serve as his lowest since 2017).
Snell will slot in as one of the Padres' four true starters (when Musgrove returns), and the team could feature an opener as a sixth option during long stretches of play without a day off. That would limit Snell's innings somewhat, but it would keep him fresh and still allow him to reach around 180, health permitting.
If we take Snell's five-year K/9 average and run that over 180 innings, that gives us 232 strikeouts. That would put him third in Steamer's projections, ahead of the projected totals of Max Scherzer, Dylan Cease, and Jacob deGrom. At +7000, Snell is worth the flier.
Check out our MLB 2023 Cy Young odds and picks, MLB 2023 MVP odds and picks, and MLB 2023 Rookie of the Year odds and picks.
Padres predictions: Team prop
Padres to win NL West (+140 via PointsBet)
San Diego will finally end the Dodgers' reign of terror over the NL West. Los Angeles lost Trea Turner, Justin Turner, and Cody Bellinger, as well as a number of quality pitchers this offseason. The Dodgers have already suffered a major loss to their infield, as second baseman Gavin Lux is set to miss the entire campaign with a torn ACL. Star pitcher Walker Buehler is also expected to be sidelined for the season after undergoing Tommy John surgery in August.
Meanwhile, as previously mentioned, the Padres look even better than they did last year. San Diego is projected to have the better lineup, rotation, and bullpen, and FanGraphs projects the Padres to win four more games than their division rivals.
Los Angeles is being priced as the favorite to win the division because of its historical dominance over its in-state counterparts, and not because of anything tangible related to this season. Take advantage of that mistake in pricing.
Check out our MLB 2023 home run leader odds and picks, MLB 2023 strikeout leader odds and picks, and MLB 2023 wins leader odds and picks.
(21+. Gambling Problem? Call 1-800-GAMBLER)
* Bonuses not applicable in Ontario.
Related pages