Patrick Mahomes vs. Trevor Lawrence Player Props, Predictions Week 2: AFC Divisional Round Rematch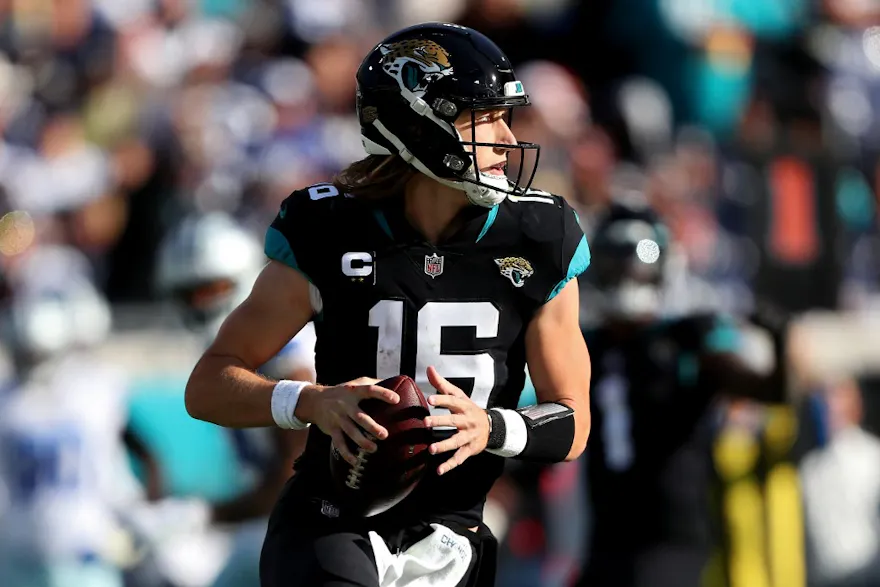 Our top player props for Patrick Mahomes and Trevor Lawrence in the Week 2 Kansas City Chiefs vs. Jacksonville Jaguars matchup are based on the best NFL odds available from our best sports betting apps.
Patrick Mahomes and Trevor Lawrence faced each other twice last season, with Mahomes emerging as the victor in both matchups, despite suffering an ankle injury during the AFC Divisional Round playoff game against the Jaguars.
Lawrence made significant progress from Year 1 to Year 2 under the guidance of head coach Doug Pederson. The question now is whether he can continue to improve in Year 3, defeat Mahomes and the Chiefs, and more importantly, cover the spread in their passing yards matchup.
Here are our best Patrick Mahomes vs. Trevor Lawrence player prop picks. (odds via our best NFL betting sites; pick confidence is based on a 1-to-5-star scale).
Patrick Mahomes vs. Trevor Lawrence NFL player props for Week 2
Patrick Mahomes vs. Trevor Lawrence player props
Trevor Lawrence +43.5 passing yards (-115 via DraftKings) ⭐⭐⭐⭐⭐
When considering a head-to-head passing yards matchup between Lawrence and Mahomes, it's hard to forget the images of Skyy Moore and Kadarius Toney dropping nearly every ball thrown their way in Week 1, especially when you now see Lawrence paired with Calvin Ridley in Jacksonville.
Looking at the projections for this prop, with Mahomes at 288.6 passing yards and Lawrence at 254 passing yards, the gap in projected yards is only 34.6 yards. This leads us to favor Lawrence in this matchup because DraftKings is giving Lawrence 43.5 passing yards against Mahomes, providing us with about a nine-yard cushion based on our projections.
Additionally, the movement of each prop throughout the week also suggests leaning toward Lawrence. Mahomes opened with a total of 293.5 passing yards, and it has only moved up by one yard to 294.5. On the other hand, Lawrence opened at 247.5 and has seen significant steam to 261.5.
What's noteworthy is that the head-to-head spread between Lawrence and Mahomes for passing yards hasn't kept pace with Lawrence's steaming odds. The gap between the opening odds of 293.5 and 247.5 was 46 yards, but with Lawrence now at 261.5 on DraftKings, that gap has narrowed to just 33 yards. Despite this, DraftKings still offers Lawrence at +43.5 in the head-to-head matchup.
Trevor Lawrence Under 17.5 rushing yards (-110 via BetMGM) ⭐⭐⭐⭐
Lawrence's passing props aren't the only ones drawing a lot of attention this week, and it's easy to understand why when you consider that Lawrence rushed for 26 yards in each of his matchups against the Chiefs last season and had seven rushing attempts in Week 1 against the Indianapolis Colts.
While I recognize the importance of the Jaguars' home game against the Chiefs in Week 2, it's a long season, and I doubt the Jaguars' coaching staff wants to see Lawrence take so many hits early in the year.
Initially, Lawrence opened with a total of 15.5 rushing yards, and we saw that number rise to 19.5 rushing yards at our best sports betting sites. However, at 19.5, we observed some market resistance as the number began to drop back down to 17.5 rushing yards.
With a total of 17.5 rushing yards still available at BetMGM and the Under trading at -110, I believe it's wise to consider playing the Under on Lawrence here. The Jaguars' quarterback is projected to rush for 16.9 yards, which allows us to price the Under at -160.
Patrick Mahomes Under 301.5 passing yards (-114 via FanDuel) ⭐⭐⭐
One of my main takeaways from Week 1 of the NFL season was that the Chiefs may have proven us wrong last season by showing that their offense can continue to perform well without Tyreek Hill, but consistently losing offensive weapons might catch up to them this season. Granted, they were also without Travis Kelce in Week 1, but Kelce is about to turn 34 years old in a couple of weeks.
What I'm trying to convey is that I believe there might be an opportunity to fade Mahomes' player props in the first couple of weeks of the season. This doesn't mean we doubt the potential of this offense or that Mahomes isn't one of the best quarterbacks in the NFL, but perhaps Mahomes' passing yards total should be closer to 280.5 than 300.5, considering the weapons around him.
Betting the Under on Mahomes isn't a reflection of us questioning his elite quarterback status; it's a strategy based on the odds that are being given to us.
As I mentioned earlier regarding the Lawrence +43.5 prop, Mahomes is projected to throw for 288.6 passing yards against the Jaguars on Sunday. This projection allows us to price the Under 301.5 yards at FanDuel at -169, yet it's offering it at -114.
Also, did I forget to mention that this is a rogue price? All our other best NFL betting sites have Mahomes' passing yards total trading at 294.5.
Patrick Mahomes vs. Trevor Lawrence player prop picks made 09/16/2023 at 8:15 a.m. ET.
NFL betting odds pages
(21+. Gambling Problem? Call 1-800-GAMBLER)
* Bonuses not applicable in Ontario.
Related pages