Shohei Ohtani Player Props, Picks for Angels vs. Rangers: 2-Way Marvel Faces Imposing Offense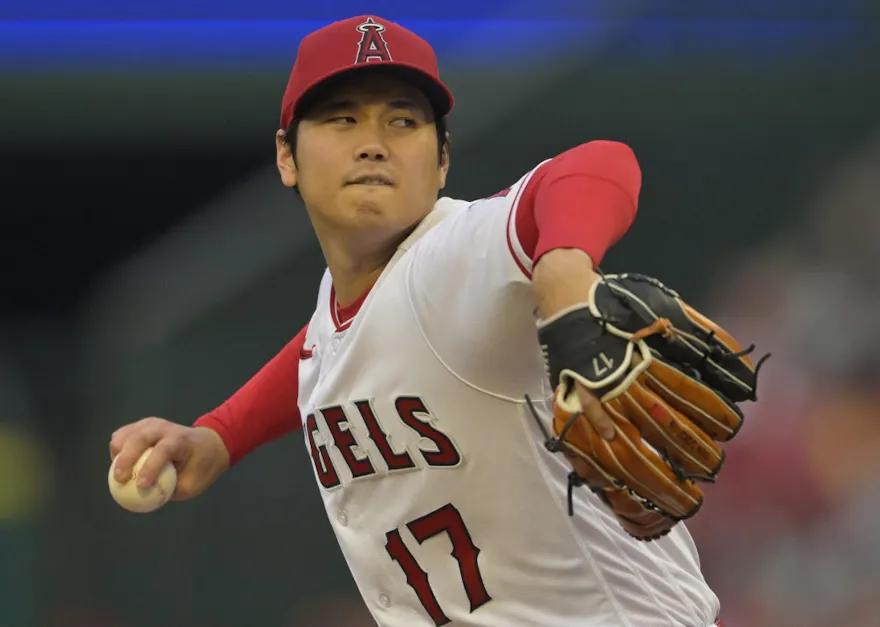 Los Angeles Angels baseball lab creation Shohei Ohtani is on the mound again Thursday, this time against the American League West-leading Texas Rangers and their imposing offense. Check out our Shohei Ohtani player prop picks based on the top MLB odds from our best sports betting apps.
We've been watching Shohei Ohtani throw a ball around 100 mph and often smack one out at a greater speed than that in the same game for a while. And it shouldn't be less astounding now than it was in the beginning.
There's never an issue with Ohtani bringing us great joy while we marvel at his athletic brilliance. However, as fun as it might be to throw some money down on him, there are problems with unearthing betting value whenever he pitches. But we've managed to dig up a few props worth considering on Thursday night.
Here are our best Shohei Ohtani player prop picks for the matchup between the Los Angeles Angels and Texas Rangers (odds via our best MLB betting sites; pick confidence based on a 1-to-5-star scale).
Check out our World Series odds.
Shohei Ohtani player prop picks
Shohei Ohtani Over 2.5 earned runs allowed (+110 via DraftKings) ⭐⭐⭐⭐
Shohei Ohtani Over 1.5 total bases (+110 via FanDuel) ⭐⭐⭐
Not intended for use in MA
Affiliate Disclosure: Sportsbook Review may receive advertising commissions for visits to a sportsbook
Shohei Ohtani player props
Shohei Ohtani Over 2.5 earned runs allowed (+110 via DraftKings) ⭐⭐⭐⭐
Saying that Ohtani has taken a slight step back is like noting that on a stretch of days for some peculiar reason, the Grand Canyon didn't look quite as breathtaking. But that's the state of Ohtani right now on the mound, and facing the buzzsaw that is the Rangers' offense isn't exactly an ideal bounce-back spot.
Ohtani has allowed seven earned runs over his last two starts, including four against the Houston Astros. Those outings against Houston and more recently the Seattle Mariners came against MLB's 17th- and 24th-ranked offenses in OPS. The Rangers sit comfortably in third at .797, and not far behind the first-place Tampa Bay Rays (.808).
The hurler's recent problems have been rooted in uncharacteristically spotty command. A punchout artist who's averaging 12.1 K/9 overall in 2023 notched just six strikeouts apiece against the Astros and Mariners. Worse, after allowing only two home runs over his first six starts in March and April, Ohtani has surrendered nine dingers across his previous seven outings since the beginning of May.
Ohtani is unfairly gifted, and this stretch will be looked back on as merely a bit of rocky terrain in an otherwise smooth ride toward serious Cy Young and MVP consideration. But a road matchup against a club that's been leaning on its offense to bludgeon teams en route to a league-best plus-145 run differential isn't the best time to regain form.
This is an appealing plus-money play that's also in line with the 2.86 earned runs allowed projection from NumberFire and the 3.0 from BallPark Pal. DraftKings is offering the top price among our best sports betting sites, with bet365 not far behind at +105.
Check out our home run leader odds.
Shohei Ohtani Over 1.5 total bases (+110 via FanDuel) ⭐⭐⭐
Nathan Eovaldi has been exactly what the Rangers needed. He's shown upper-echelon ability in the recent past, too, finishing fourth in Cy Young voting in 2021.
However, the regression monster could be looming, and a white-hot Ohtani at the plate might be the one to push Eovaldi in that direction.
Eovaldi's current 2.49 ERA is significantly better than his 3.87 in 2022, and it's miles above the veteran's 4.05 mark for his career. He's also just one season removed from giving up missiles often after allowing a hard-hit percentage of 45.2 in 2022, which ranked in the bottom 6% of the league. He's improved somewhat in that regard now, but still sits at a mediocre 41.8%, all according to Baseball Savant.
Now he'll face a baseball-launcher in Ohtani who's mashing against righties while posting a 1.028 OPS. Even better, 16 of Ohtani's 21 homers (second leaguewide) have come against right-handers.
Ohtani also enters this contest in full inferno mode at the plate, even by his standards. He's on an 11-game hitting streak and that includes notching two-plus hits in his last four straight outings. The 28-year-old has also tallied 12 extra-base hits in June while recording an otherworldly 1.404 OPS, and six of those knocks have gone over the fence.
Check out our MLB rookie of the year odds.
Angels vs. Rangers odds
Shohei Ohtani prop picks pick made 6/15/2023 at 9:38 a.m. ET.
(21+. Gambling Problem? Call 1-800-GAMBLER)
* Bonuses not applicable in Ontario.
Related pages