NFL MVP Odds, Picks, Predictions 2022: Pounce on Burrow While He's Down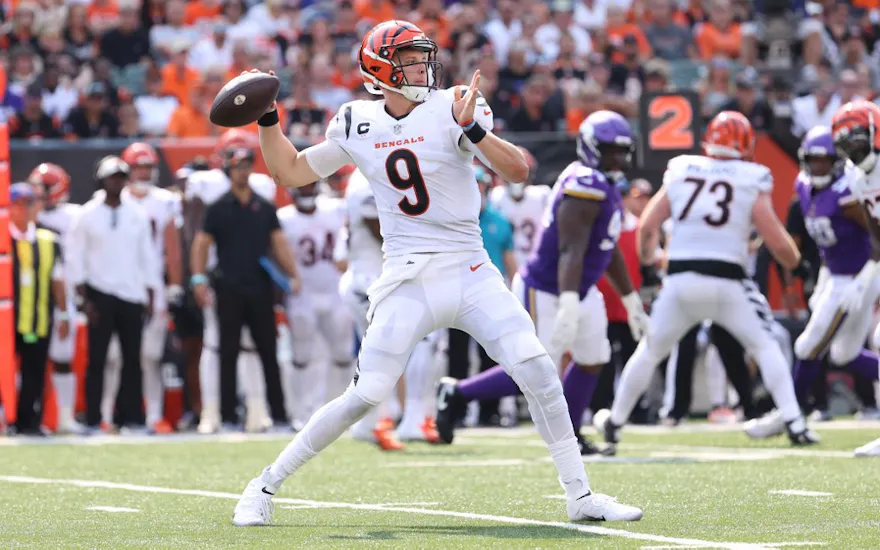 As we approach Week 2 of the NFL season, Josh Allen has established himself as the frontrunner for the NFL MVP award. In order to determine which players represent value at their early-season odds, we examine the NFL MVP futures market and assess the top picks.
Los Angeles Rams wide receiver Cooper Kupp had an exceptional season in 2021, and he was still available at around +15000 to win the NFL MVP late in the campaign. Does it really make sense to invest in anyone in the NFL MVP market who is not a quarterback? I would argue no, and voters have basically drawn a line in the sand that this is a quarterback award.
It is also important to note how the voting process works for this award. There are 50 voters, and each one casts one vote for the winner. It is not possible for you to win this award because you received more second- and third-place votes than anyone else. This is important because it emphasizes the need of distinguishing yourself as the best player in the NFL.
In placing futures bets, you must always consider two factors: will this player actually win the market, and are their odds only going to become shorter from here on out, relative to the early number? If the answer is yes to both of these questions, then you should consider purchasing that specific player.
In this article we analyze the NFL MVP futures market in search of value picks in the early odds.
NFL MVP Odds
| | | | | | |
| --- | --- | --- | --- | --- | --- |
| Player | FanDuel | DraftKings | Caesars | PointsBet | BetMGM |
| Josh Allen | +400 | +425 | +550 | +400 | +400 |
| Patrick Mahomes | +600 | +500 | +450 | +450 | +500 |
| Justin Herbert | +750 | +700 | +700 | +700 | +700 |
| Tom Brady | +850 | +1200 | +1200 | +1200 | +900 |
| Aaron Rodgers | +1500 | +1600 | +1600 | +1500 | +1600 |
| Joe Burrow | +1500 | +2000 | +1600 | +2200 | +1600 |
| Jalen Hurts | +1800 | +1800 | +1400 | +1600 | +1600 |
| Lamar Jackson | +1800 | +1200 | +1500 | +1300 | +1600 |
| Matthew Stafford | +2000 | +3000 | +3000 | +3000 | +3000 |
| Russell Wilson | +2000 | +2000 | +3000 | +1800 | +2000 |
NFL MVP Best Bets
Burrow, QB, Bengals (+2200 via PointsBet, September 15, 2022)
NFL MVP Picks: Favorites
The NFL MVP Award appears to be a matter of when rather than if Allen will win. Allen has impressive passing and rushing statistics, and he plays for a Buffalo Bills team that should finish near the top of the standings. You will undoubtedly want Allen to be part of your portfolio; however, the most difficult part will be deciding when to buy him for the best possible price.
I would recommend that you wait until Allen has a clunker of a performance before buying him to win the MVP award. After an impressive performance against the Los Angeles Rams on national television, Allen's price dropped as low as +400 at some shops.
Initially, I was team fade Patrick Mahomes for the NFL MVP Award, but I am rapidly changing my opinion on this front. As long as Mahomes maintains the statistics we have come to expect from him, he will receive a lot more credit for doing so with this group of wide receivers than he did with Tyreek Hill. In my opinion, Mahomes is equipped with sufficient weapons to remain impactful, as well as the potential for a more compelling storyline.
Based on how Mahomes performs against the Los Angeles Chargers in Week 2, his odds will be adjusted, either longer or shorter, depending on whether he outperforms Justin Herbert.
Herbert, QB, Chargers (+750 via FanDuel)
Similarly to Allen and Mahomes, Herbert saw his odds shorten from Week 1 to Week 2. Prior to Week 1, Herbert was trading at +1000 to win the NFL MVP, but now he is trading at +700 at some shops. A huge MVP opportunity awaits Herbert in Week 2 against the Kansas City Chiefs. In the event that Herbert is able to outduel Mahomes on the road, he would leap Mahomes and be right behind Allen on the odds board.
NFL MVP Picks: Contenders
The Tampa Bay Buccaneers finished the 2021 season 13-4, Tom Brady threw for a career-high 5,316 yards, and he had his highest touchdown total in 14 years with a league-high 43. This translated to only 10 votes for Brady for MVP, compared to the 39 for Rodgers. Brady's voter fatigue is real and with a price of +1200, I will look elsewhere in this market. Brady's price was already increased from +900 to +1200 after Week 1, and with a matchup against New Orleans on the horizon, it appears unlikely that his price will be shortened following Week 2.
Rodgers, QB, Packers (+1600 via Caesars)
I have no interest in betting on Aaron Rodgers to win the NFL MVP in 2022. There are too many other strong candidates to even consider Rodgers as an option for a three-peat. A price increase from +1100 to +1600 for Rodgers would be very appealing if he were not coming off of back-to-back MVP awards. As with Brady last season, Rodgers will face voter fatigue.
Jackson, QB, Ravens (+1800 via FanDuel)
Lamar Jackson was trading at +2000 to win the NFL MVP prior to the start of the season, but the narrative surrounding Jackson has changed and the pricing has changed as well. As a result of not receiving the fully guaranteed contract he sought from the Baltimore Ravens, Jackson is now playing with an added sense of motivation.
At DraftKings, Jackson's odds have tightened to +1200. There is no doubt that Jackson has the ability to produce MVP-type numbers, but I believe that other quarterbacks who have never won before would receive more votes than Jackson, including Joe Burrow, Allen, and Herbert.
Hurts, QB, Eagles (+1800 via FanDuel)
The odds for Jalen Hurts to win the NFL MVP opened at +4000, but are now as short as +1400 at Caesars. As a dual threat quarterback, Hurts is an appealing candidate for the MVP award, but not at +1800. When Burrow is trading four dollars higher, how can you get to the window with someone like Hurts at +1800? It is not the player that I dislike, it is the price.
Burrow, QB, Bengals (+2200 via PointsBet)
The Cincinnati Bengals lost to the Pittsburgh Steelers in Week 1, and Burrow threw four interceptions. Burrow's price increased by nine dollars at some sportsbooks as a result of the loss combined with the four interceptions. We are seeing a wide range of pricing on Burrow following this game with FanDuel moving him from +1300 to +1500. I will see your price increase to +2200 PointsBet and I will raise you a bet on Burrow to win NFL MVP.
After a dreadful start to the season last year, Aaron Rodgers went from +1100 to +1800. How did that turn out?
Wilson, QB, Broncos (+3000 via Caesars)
As soon as Russell Wilson's trade to the Denver Broncos was announced, bettors jumped on his MVP odds; however, Wilson has never generated a meaningful campaign for the award despite impressive stats. During his entire career, Wilson has never received one MVP vote. Despite Wilson's price increasing to +3000, I have no interest in placing an MVP bet. Wilson doesn't have the popularity or narrative to accomplish this, especially after losing to the Seattle Seahawks in Week 1.
Stafford, QB, Rams (+3000 via Caesars)
Matthew Stafford's odds were adjusted similarly to Burrow's, due to three interceptions and a poor performance against the Bills on national television. Stafford's price has increased from +1600 to +3000, which is an overreaction, but unlike Burrow I am not looking to bet on Stafford for NFL MVP. Stafford isn't seen as a candidate for MVP, in my opinion. Stafford has never received an MVP vote and he didn't win the Super Bowl MVP award, which is incredibly difficult for a quarterback to accomplish.
Murray, QB, Cardinals (+3000 via DraftKings)
Kyler Murray will be without star wide receiver DeAndre Hopkins for the first six games of the season due to a performance-enhancing drug suspension. I believe the Arizona Cardinals as a team are heading in the wrong direction, and Murray is someone you will want to avoid betting on. There are much better choices available in this price range.
Cousins, QB, Vikings (+3000 via DraftKings)
There was no one who saw a greater change in their odds following the Week 1 games than Kirk Cousins. Before Week 1, Cousins was available at +6000, but that price has since been halved. Caesars is already down to +2200 for Cousins to win MVP, the same price PointsBet has on Burrow. Think about saying that one week ago when Cousins was at +6000 and Burrow was at +1300. When Cousins was +6000, I thought he was a solid dark horse candidate, but now that he is +3000, I think you need to let this one breathe.
Carr, QB, Raiders (+3500 via Caesars)
In Week 1, Derek Carr threw multiple interceptions, so why am I not receiving the same price adjustment as we did with Burrow or Stafford? After reaching this point on the odds board, it seems as if the sportsbooks just stopped making adjustments. Carr throws three interceptions, and the best I can do is the same price as before Week 1? For NFL MVP, Carr is a hard pass at +3500.
NFL MVP Picks: Long Shot
Winston, QB, Saints (+6000 via FanDuel)
It is difficult to envision Winston as the NFL MVP after watching him throw 30 interceptions in 2019 with the Tampa Bay Buccaneers, though this is the exact narrative that is keeping his price fairly long. Having studied under Drew Brees and Sean Payton, Winston now has the weapons with the New Orleans Saints to put up impressive numbers.
While I am not looking to invest in Winston at +6000, if the sportsbooks begin to ignore him and his price lengthens, I may be forced to do so as a long shot.
NFL MVP Former Winners
| | | | | |
| --- | --- | --- | --- | --- |
| Year | Player | Team | Votes | Opening Odds |
| 2021 | Aaron Rodgers | Packers | 39 of 50 | +1100 |
| 2020 | Aaron Rodgers | Packers | 44 of 50 | +3000 |
| 2019 | Lamar Jackson | Ravens | 50 of 50 | +4000 |
| 2018 | Patrick Mahomes | Chiefs | 41 of 50 | +3525 |
| 2017 | Tom Brady | Patriots | 40 of 50 | +385 |
| 2016 | Matt Ryan | Falcons | 25 of 50 | +7500 |
| 2015 | Cam Newton | Panthers | 48 of 50 | +5200 |
| 2014 | Aaron Rodgers | Packers | 31 of 50 | +600 |
| 2013 | Peyton Manning | Broncos | 49 of 50 | +600 |
| 2012 | Adrian Peterson | Vikings | 30.5 of 50 | +4000 |
| 2011 | Aaron Rodgers | Packers | 48 of 50 | +400 |
| 2010 | Tom Brady | Patriots | 50 of 50 | +800 |
Where to Bet on NFL MVP Odds
Here are our top-rated sportsbooks:
SEE ALSO: All picks, odds, and sports betting news. Be sure to check out SportsbookReview.com's community forums and betting tools.