Super Bowl 57 Player Props to Target Early: 3 Picks for Eagles vs. Chiefs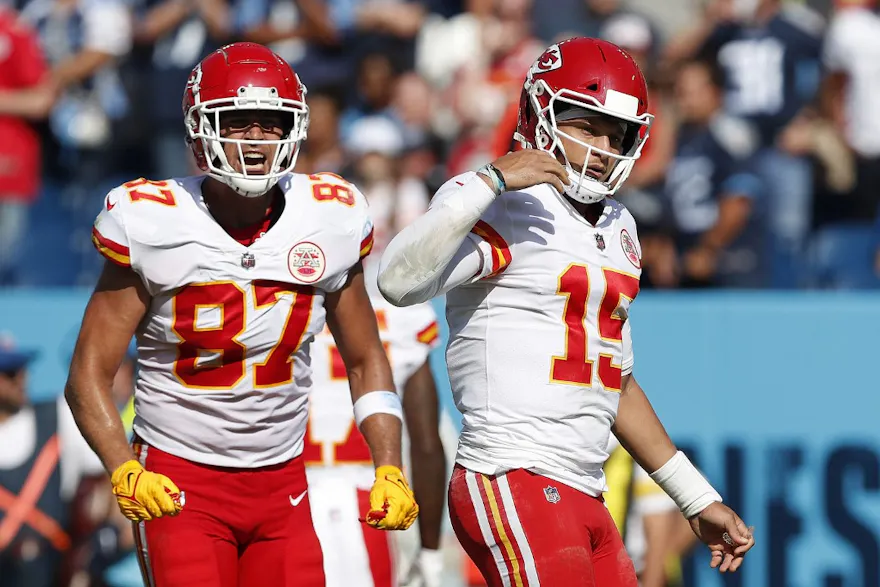 The Kansas City Chiefs and Philadelphia Eagles are set to meet in Super Bowl 57 on Feb. 12. With so much time between now and then, here are the best NFL props to target early based on the best NFL odds.
Outside of Cincinnati and San Francisco, there is a lot of excitement surrounding the matchup for Super Bowl 57. Patrick Mahomes will have two weeks to rest his ankle and get closer to 100% healthy, which will set up a very exciting quarterback matchup against Jalen Hurts.
But the Super Bowl isn't all about the QBs. There are also plenty of other player props and some of the most ridiculous novelty props you can imagine (I'm looking at you "will there be an octopus on the field?").
There will be a lot of line movement for just about everything with so many people betting on this game, so getting in early can be key to winning.
Here are our best prop picks to target early for Super Bowl 57 (odds via DraftKings; pick confidence based on a 1-to-5-star scale).
Check out our best Super Bowl betting sites.
NFL player props for Super Bowl 57 to target early
Each team to score 1+ touchdown and 1+ field goal in each half (+1100) ⭐⭐
Travis Kelce first touchdown scorer (+700) ⭐⭐⭐
Jalen Hurts 50+ rushing yards and A.J. Brown 75+ receiving yards (+310) ⭐⭐⭐
Check out our Super Bowl odds and Super Bowl MVP odds.
Player props to target early
Each team to score 1+ touchdown and 1+ field goal in each half (+1100) ⭐⭐
This is a long shot, but it is one that will almost certainly see the odds go down as the week progresses. Everyone is always looking for a +1000 bet or higher for the Super Bowl. This is the one to take.
These offenses are both very good. They are ranked No. 1 and No. 2 in the NFL because they have been consistent all season long. Their production will put them in the red zone throughout the game, which means they are going to be scoring points. Yet, we saw the Chiefs struggle against the solid defensive front of Cincinnati in the red zone in the conference championship, and the same could happen against the Eagles in the Super Bowl.
We also saw the Chiefs hold up really well in the red zone against the Bengals and hold them to two field goals. It's hard to know what to expect from the Eagles because of who they have played to get to the Super Bowl, but they will score. The touchdowns in this bet look really good. The field goals are the hard part.
Travis Kelce first touchdown scorer (+700) ⭐⭐⭐
This number is just going to keep dropping as we get closer to kickoff. It's already down as low as +600 depending on what sportsbooks you look at. But at DraftKings, we're getting a bit of a gift.
Originally, Jalen Hurts was showing the best odds at +650, but he has since dropped down to +700 as Miles Sanders jumped to +650. This signals that the Eagles are favored to score the first touchdown of the game, but if Mahomes gets the ball first, are you really willing to not have Kelce as the first touchdown scorer of the game?
The Chiefs' receiving corps is beat up, with JuJu Smith-Schuster, Mecole Hardman, and Kadarius Toney all suffering injuries this past Sunday. Therefore, the only real option at this moment for the Chiefs is Kelce. This number may go as low as +600, so get in early.
Jalen Hurts 50+ rushing yards and A.J. Brown 75+ receiving yards (+310) ⭐⭐⭐
Oftentimes, these prepackaged parlays aren't worth much of a look. However, this one is intriguing because of what both of these players have done in the postseason. Neither of these players has put up very good numbers this postseason, but they also haven't been in a competitive game yet. That will change on Super Bowl Sunday.
In two games, A.J. Brown has just 50 yards receiving. Two of his three lowest-producing games of the season have come in the playoffs. In his final four games of the regular season, he had at least 95 yards in each, including 181 against the Chicago Bears.
Then there is Hurts, who has not cracked 40 yards rushing in the postseason yet. He topped 50 yards rushing seven times this season, and with this expected to be a very close game, look for him to try to make big plays with his legs throughout the contest.
Super Bowl 57 player prop picks made 01/30/2023 at 11:42 a.m. ET.
Super Bowl prop bets
Prop bet enthusiasts have much to choose from in The Big Game; here's a look at some of the more popular Super Bowl prop bets across all of the best sportsbooks:
Need help keeping track of your Super Bowl prop bets? Use our printable Super Bowl prop bet sheet (available once the Super Bowl matchup is set)!
(21+. Gambling Problem? Call 1-800-GAMBLER)
* Bonuses not applicable in Ontario.
Related pages