NBA Most Improved Player Odds 2023: Should we be Fading Lauri Markkanen?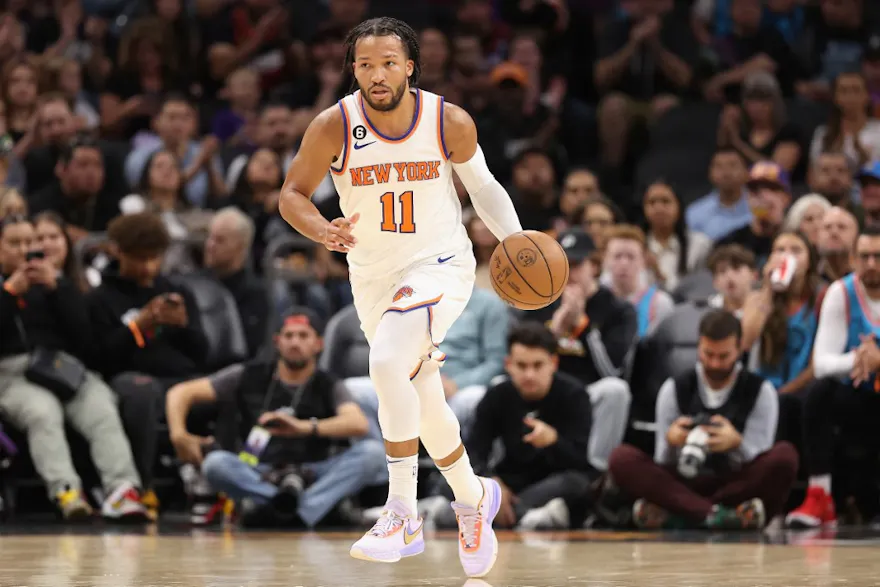 Lauri Markkanen should win the Most Improved Player of the Year Award, right? Check out below as we explore some potential value picks for the 2022-23 Most Improved Player Award based on the top NBA odds.
The end of the NBA's regular season is just around the corner, meaning most award races have started to take shape. In some cases, the home stretch could decide the race, while other award markets might already be over.
That's not the situation with the Most Improved Player of the Year Award, which is still wide open.
Let's examine the odds in the NBA Most Improved Player futures market and why I'm fading Lauri Markkanen.
Check out our top NBA picks.
NBA Most Improved Player odds 2023
| Name | DraftKings | FanDuel | Caesars | PointsBet |
| --- | --- | --- | --- | --- |
| Lauri Markkanen | -450 | -350 🔥 | -500 ❄️ | -450 |
| Shai Gilgeous-Alexander | +330 🔥 | +280 | +250 ❄️ | +325 |
| Jalen Brunson | +3000 | +4000 🔥 | +2500 | +2000 ❄️ |
| Mikal Bridges | +7000 🔥 | +6500 | +6000 | +5000 ❄️ |
NBA Most Improved Player odds analysis
A recent injury is impacting Brunson's odds dramatically, and he's also getting a wide range of prices associated with his name at multiple sportsbooks. Seeing Brunson trade for +2000 at PointsBet and +4000 at FanDuel serves as a good reminder of why you should always shop around and use a variety of sportsbooks.
NBA Most Improved Player odds movement
While the market may not appear to be moving much, there have been some changes in recent weeks. Among the major movers is Brunson, whose odds have lengthened from +1400 on March 22 to +4000 in just over a week.
NBA Most Improved Player odds 2023: Favorite
Shai Gilgeous-Alexander (+330 via DraftKings)
Despite Markkanen's popularity in the market, I believe Gilgeous-Alexander is the true favorite, especially with the Oklahoma City Thunder making a run for a playoff spot.
Increasing your scoring from 24.5 points per game to 31.3 points is far more impressive to me than what Markkanen is achieving. Markkanen is producing a solid season, but he also joined a team with a lot of shots available to him, and the forward just made the most of his opportunity.
The best place to bet on Gilgeous-Alexander to win the Most Improved Player of the Year Award is at DraftKings, where he's trading at +330. Gilgeous-Alexander trades at a much shorter price of +250 through Caesars.
NBA Most Improved Player odds 2023: Contender
Jalen Brunson (+4000 via FanDuel)
Brunson was trading at +350 to win the Most Improved Player of the Year Award during the NBA All-Star break, and now he's priced at +4000 through FanDuel. Despite Brunson's strong narrative for this award, injuries have derailed his campaign.
But he's being paid a contract that several people didn't think Brunson was worth, and the 25-year-old is still elevating his game and the New York Knicks to new heights under the bright lights of Madison Square Garden. That surely qualifies him for the Most Improved Player of the Year Award.
I've already made a bet on Brunson. But if this price gets any longer, I might need to place another one.
NBA Most Improved Player odds 2023: Long shot
Mikal Bridges (+7000 via DraftKings)
Since joining the Brooklyn Nets through a trade that sent Kevin Durant to the Phoenix Suns, Bridges has been increasing his season scoring average from 17.2 points per game with the Suns to 26.8 points per game.
There's a chance Brooklyn Bridges could be worth a flier here, so I'm betting on it. As with all voting awards, anything is possible, and if the voters choose to judge Bridges on what he's been accomplishing since moving from the Suns to the Nets, there's a path for him to win.
Additionally, Bridges' high level of play is keeping the Nets in the playoff race despite Durant and Irving being traded.
There's a narrative behind Bridges, and now it just depends on how voters judge him. He's worth a bet at +7000.
NBA Most Improved Player odds 2023: Fade
Lauri Markkanen (-350 via FanDuel)
The Utah Jazz never really intended to be good in 2022-23, and Markkanen has been playing a significant role for them. The Jazz can now justify tanking, so it wouldn't be surprising to see Markkanen sit out several games down the stretch.
Markkanen shouldn't be a -350 favorite in this market, and I anticipate the odds will begin to move against him as the season concludes. How a player finishes a season heavily influences voting awards. So Markkanen can't be on the sidelines for a non-playoff team and still be trading at -350.
He's averaging over 25 points per game to go along with 8.5 rebounds per contest. But I don't believe the stats will carry as much weight with the voters given the team's struggles.
To compare, Markkanen averaged 14.8 points and 5.7 rebounds per game for the Cleveland Cavaliers during the 2021-22 season.
Recent Most Improved Player winners
| | | |
| --- | --- | --- |
| Year | Player | Team |
| 2022 | Ja Morant | Memphis Grizzlies |
| 2021 | Julius Randle | New York Knicks |
| 2020 | Brandon Ingram | New Orleans Pelicans |
| 2019 | Pascal Siakam | Toronto Raptors |
| 2018 | Victor Oladipo | Indiana Pacers |
Most Improved Player FAQs
Who won Most Improved Player last year?
Ja Morant of the Memphis Grizzlies won the Most Improved Player award following the 2021-22 NBA season.
When will Most Improved Player be decided?
Like all the award races, the Most Improved Player award will be decided after the conclusion of the 2022-23 NBA regular season.
(21+. Gambling Problem? Call 1-800-GAMBLER)
* Bonuses not applicable in Ontario.
Related Pages