NBA Play-In Tournament Odds & Schedule: Who Will Grab Final Spots in 2023 Postseason?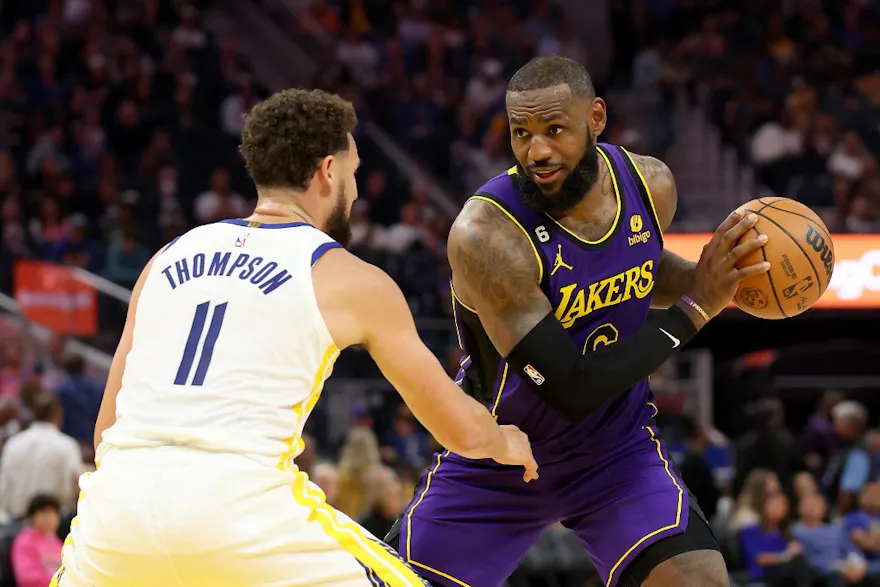 The 2023 NBA Playoffs are nearly set, with just the play-in tournament remaining to determine the final two spots for each conference. Read on as we track the betting odds for this year's play-in tournament using the latest NBA odds.
The opening round of the 2023 NBA Postseason is slated to begin Saturday, as 12 teams are officially in the dance. The final four spots (two in each conference) will be decided by this year's eight-team play-in tournament.
A version of the play-in tourney has been in place since 2020 and serves as a nice appetizer for the upcoming postseason. This year's event features some marquee teams, including the Miami Heat and Los Angeles Lakers, both of whom will be in action on Tuesday to kick this thing off.
2023 NBA play-in tournament schedule
Tuesday, April 11
Game 1: Atlanta Hawks at Miami Heat | 7:30 p.m. ET (TNT)
Game 2: Minnesota Timberwolves at Los Angeles Lakers | 10 p.m. ET (TNT)
Wednesday, April 12
Game 3: Chicago Bulls at Toronto Raptors | 7 p.m. ET (ESPN)
Game 4: Oklahoma City Thunder at New Orleans Pelicans | 9:30 p.m. ET (ESPN)
Friday, April 14
Game 5: Winner of Game 3 at Loser of Game 1 (TNT)
Game 6: Winner of Game 4 at Loser of Game 2 (ESPN)
Check out our complete list of NBA odds here!
2023 NBA play-in tournament odds
Atlanta Hawks vs. Miami Heat
Minnesota Timberwolves vs. Los Angeles Lakers
Chicago Bulls vs. Toronto Raptors
Oklahoma City Thunder vs. New Orleans Pelicans
Kentucky bettors: Sports betting is here!
Kentucky sports betting launched on Sept. 28 - so sign up with the best Kentucky sportsbook promos now! And check out our list of the best Kentucky sports betting apps!
21+ and present in KY. Gambling Problem? Call 1-800-GAMBLER
NBA betting odds pages
NBA play-in tournament FAQ
What is the NBA play-in tournament?
The NBA play-in tournament determines the final two seeds from each conference in the NBA playoffs, as only the top six seeds are guaranteed a spot. In the past, the top eight seeds were guaranteed a spot, but now the team that ranks ninth or 10th in the standings can play their way into the playoffs.
NBA play-in tournament format
The ninth and 10th seeds will face off, with the winner of that game having the opportunity to steal the eighth seed from the loser of the game featuring the seventh and eighth seed.
You need to win only one game to make the playoffs if you finish the regular season as the seventh or eighth seed. For a team to qualify for the playoffs if it finishes ninth or 10th in its respective conference, two games must be won.
NBA play-in tournament schedule
| Date | Matchup |
| --- | --- |
| April 11 | East 7 vs. East 8 |
| April 11 | West 7 vs. West 8 |
| April 12 | East 9 vs. East 10 |
| April 12 | West 9 vs. West 10 |
| April 14 | East 7/8 loser vs. East 9/10 winner |
| April 14 | West 7/8 loser vs. West 9/10 winner |
(21+. Gambling Problem? Call 1-800-GAMBLER)
* Bonuses not applicable in Ontario.
Related pages