Free Kentucky Derby Picks & Predictions 2023: Should Bettors Fade the Favorite as Triple Crown Race Opens?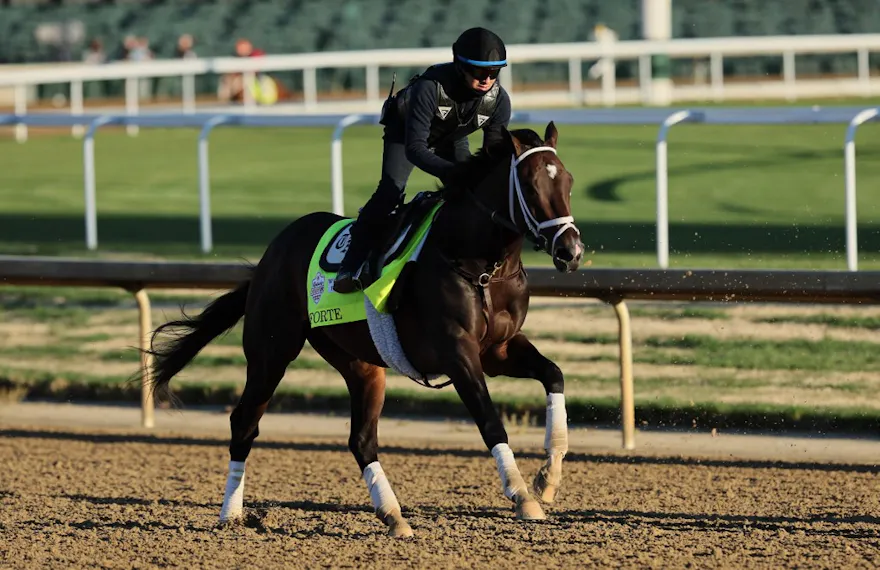 You're staring at an 18-horse Kentucky Derby field, trying to make sense out of what promises to be an equine free-for-all, and paralysis sets in. Read on for our free Kentucky Derby picks and predictions based on the best odds from our best horse racing betting sites.
Names, numbers, odds, speed figures—all cascading down on you like Derby traffic will crash the rail the moment the Churchill Downs gate opens for the 149th Kentucky Derby around 6:57 p.m. ET on Saturday.
Nobody has an infallible crystal ball to decipher who has the best chance to win North America's longest-running major sporting event; if they did, anyone who went all-in on Rich Strike winning last year's Derby at 80-1—the second-biggest upset in Derby history—would be living on an island in the South of France. But there are keys to breaking down a modern Derby to give yourself the best chances for cashing tickets.
Here are three horses to keep an eye on for reasons good and bad for our top free Kentucky Derby picks and predictions for 2023 at Churchill Downs (odds via our best Kentucky Derby betting sites).
Kentucky Derby odds
Here's a look at the updated post position list and odds for the 2023 Kentucky Derby:
| Horse | Trainer | Post Position | Current Odds |
| --- | --- | --- | --- |
| Tapit Trice | Todd Pletcher | 5 | 9-2 |
| Angel of Empire | Brad Cox | 14 | 9-2 |
| Derma Sotogake | Hidetaka Otonashi | 17 | 7-1 |
| Two Phil's | Lary Rivelli | 3 | 7-1 |
| Kingsbarns | Todd Pletcher | 6 | 10-1 |
| Reincarnate | Tim Yakteen | 7 | 12-1 |
| Confidence Game | Keith Desormeaux | 4 | 16-1 |
| Verifying | Brad Cox | 2 | 17-1 |
| Mage | Gustavo Delgado | 8 | 17-1 |
| Mandarin Hero | Terunobu Fujita | 22 | 22-1 |
| Disarm | Steven Asmussen | 11 | 23-1 |
| Rocket Can | William Mott | 18 | 27-1 |
| Hit Show | Brad Cox | 1 | 27-1 |
| Sun Thunder | Kenneth McPeek | 13 | 29-1 |
| Raise Cain | Ben Colebrook | 16 | 30-1 |
| Jace's Road | Brad Cox | 12 | 32-1 |
| King Russell | Ron Moquett | 23 | 32-1 |
| Cyclone Mischief | Dale L. Romans | 10 | 34-1 |
| Forte | Todd Pletcher | -- | SCRATCHED |
| Skinner* | John A. Shirreffs | -- | SCRATCHED |
| Practical Move* | Tim Yakteen | -- | SCRATCHED |
| Lord Miles* | Saffie A. Joseph, Jr. | -- | SCRATCHED |
| Continuar* | Yoshito Yahagi | -- | SCRATCHED |
(Odds updated Saturday, May 6 at 9:25 a.m. ET.)

Check out our Kentucky Derby odds and betting lines, and the Kentucky Derby post positions
Kentucky Derby picks and predictions
Not intended for use in MA
Affiliate Disclosure: Sportsbook Review may receive advertising commissions for visits to a sportsbook
Enter SBR's $10K Derby Jackpot Challenge and make your picks for a shot at $10,000!
Key this Kentucky Derby long shot: Verifying (Post 2/17-1)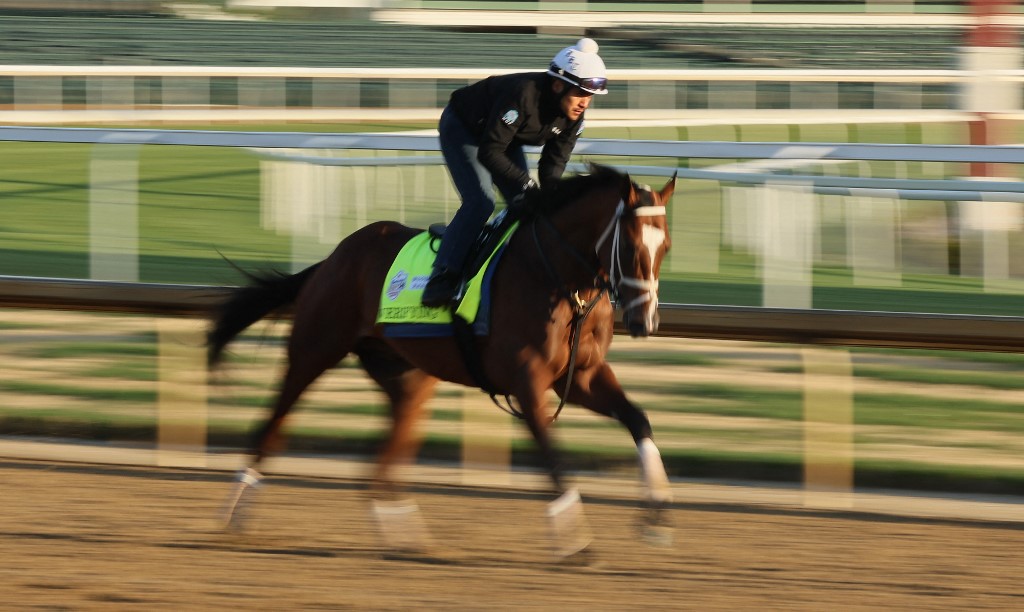 Yes, he squandered a lead in deep stretch to Tapit Trice in the Grade 1 Blue Grass at Keeneland. Yes, his unconvincing fourth as the 3-2 favorite in March's Grade 2 Rebel Stakes at Oaklawn is a head-scratcher.
Or is it? That Rebel came on a sloppy track, while the Blue Grass near-miss came on a dry one. We'll draw a line through that because, yes, Verifying offers some of the best value in the field. While naysayers are pointing to that blown lead and neck loss to Tapit Trice as Verifying's inability to seal the deal, we're pointing to getting one horse at 15-1 and one at 5-1—who are virtually identical speed-wise. Both earned 99 Beyers for their efforts and Verifying's 12.5-second final furlong puts him squarely in the mix here for tactical speed.
But what makes Verifying a great option on your exotic tickets is his pace-pressing style. He is comfortable being up front in a race with not a lot of front-end speed and underrated jockey Tyler Gaffalione—fresh off winning the Keeneland spring meet riding title—will have him there. Pressers do very well in recent Derbies. Just ask Verifying's sire—2018 Triple Crown winner Justify.
Check out our top sites for Kentucky sports betting.
Our Favorite: Angel of Empire (Post 14/9-2)
We'll pick the nits of this Classic Empire colt first. His post 14 hasn't produced a Derby winner since Carry Back—back in 1961. And his career-best 94 Beyer is a tick lower than we'd like to see from a front-row Derby contender.
That sums up the cons from one of the most consistent colts in the field. Let's move on to the pros, which begin by screaming value anywhere near his 8-1 morning-line. That 94 Beyer, coming courtesy of his easy 4 ¼-length dismissal of an Arkansas Derby field containing Derby rivals King Russell, favorite Reincarnate and Rocket Can (who finished 2-3-4), continued an upward trend that signals there's more to come.
Speaking of more to come, Angel of Empire's 12.1-second final furlong in that Arkansas Derby victory was the fastest final furlong from a Derby contender in a 1 1/8-mile prep. His 36.8-second final three furlongs were the fastest over the same nine-furlong distance. That tactical speed indicates that Angel of Empire can get to the front in the stretch—and stay there.
But wait … there's more. With his pick of several Derby runners, Flavien Prat—one of the top jockeys in North America—opted for this Brad Cox-trained colt, who is 4-for-6 in his career and 5-for-6 finishing in the money.
Put it all together, add victories in two good Derby preps: the Grade 2 Risen Star at Fair Grounds (at 13-1) and the Grade 1 Arkansas Derby and it's a tad surprising Angel of Empire has flown somewhat under the radar. Here's where he takes flight for keeps.
Kentucky Derby info
Date: Saturday, May 6, post time is 6:57 p.m. ET
Location: Churchill Downs, Louisville, KY
How to watch: NBC Sports
Kentucky Derby betting strategies
What to know for betting the Kentucky Derby
The first thing to know for your Kentucky Derby picks is: speed kills. You want a horse who has good speed figures.
There are several types, but the signature and most respected is the Beyer Speed Figure, created by longtime turf writer Andrew Beyer for the Daily Racing Form. The general cutoff for a true Derby contender coming into the gate is a 95. When Rich Strike won last year's Derby, he was one of only four winning horses in the last 31 years lacking at least a 95 Beyer score on his resume.
This year, five horses check that box: Two Phil's (a field-best 101), Tapit Trice and Verifying (99), and Kingsbarns and Reincarnate (95). Horses who come into the Derby with top Beyers in the 80s or low 90s can usually be eliminated.
The second: front-end speed kills. Modern Derbies are won from on or near the front, where horses can escape the pinball-machine traffic endemic to a 20-horse race. Again, Rich Strike's incredible trip from 17th with a half-mile to go to stealing the Derby in the last 50 yards was an outlier. Since the qualifying points system was established in 2013, only three closers: Rich Strike, Country House in 2019, and Orb in 2013 found the winner's circle. And Country House found it only through disqualification.
Otherwise, Derby winners are your pace-setters, pressers and stalkers: horses who lead the way, stay near the lead or stalk the pace until the last three-eighths or quarter-mile.
The third: tactical speed kills. That means a horse who can sustain the 1 1/4 miles none of them have run to this point. You want a horse who can stay near the front, but who has enough in the tank to sustain that gear in the final eighth of a mile.
Kentucky Derby trends and stats
Jon White, who sets the morning line for Santa Anita Park and Del Mar and writes a column for Xpressbet, created the Derby Strikes System. He set up eight categories for Derby contenders to meet, giving a strike for each criterion a horse fails to meet. Like golf, only with strikes, the fewer the better.
Probably the best category to measure tactical speed in White's system is the Eighth Pole Category. That measures whether a horse was first or second at the eighth pole in either of his last two Derby prep races. If a horse is running 1-2 in a 1 1/8-mile or 1 1/16-mile race, that indicates they are likely strong enough to finish what they start. White said that 56 of the last 60 Derby winners met that standard.
Among this year's horses failing that test are Disarm and Sun Thunder.
Kentucky Derby betting strategies
So now that you're armed with the basics, how do you construct your tickets? If you're playing one of the exotic bets: exacta (picking the top two horses), trifecta (top three finishers) or superfecta (top four), you do need one of the closers somewhere on your ticket. That's because 10 horses carrying odds of at least 26-1 have finished in the top four since 2012. Those are the kinds of horses who bring home jaw-dropping payouts.
For example, in 2018, the $1 trifecta, with winner Justify (5-2), runner-up Good Magic (9-1) and third-place Audible (7-1) paid $141.40. But the $1 superfecta paid $19,618.20—courtesy of Instilled Regard sneaking into fourth at 85-1.
In what is a wide-open Derby field, where you can make a solid case for at least five horses wearing roses come Saturday night, there is value to be had. Only three horses: Forte, Tapit Trice (5-1), and Angel of Empire (8-1) carry single-digit morning-line odds.
Kentucky Derby picks made 5/5/2023 at 4:30 p.m. ET
(21+. Gambling Problem? Call 1-800-GAMBLER)
* Bonuses not applicable in Ontario.
Related pages
Best Sportsbooks | Best Sports Betting Sites | Best Sportsbook Promos (U.S. only) | Kentucky Sports Betting | Kentucky Sportsbook Promos | Kentucky Sports Betting Apps