TCU vs. Georgia Best Odds: Price Shopping for the Best Lines in the National Championship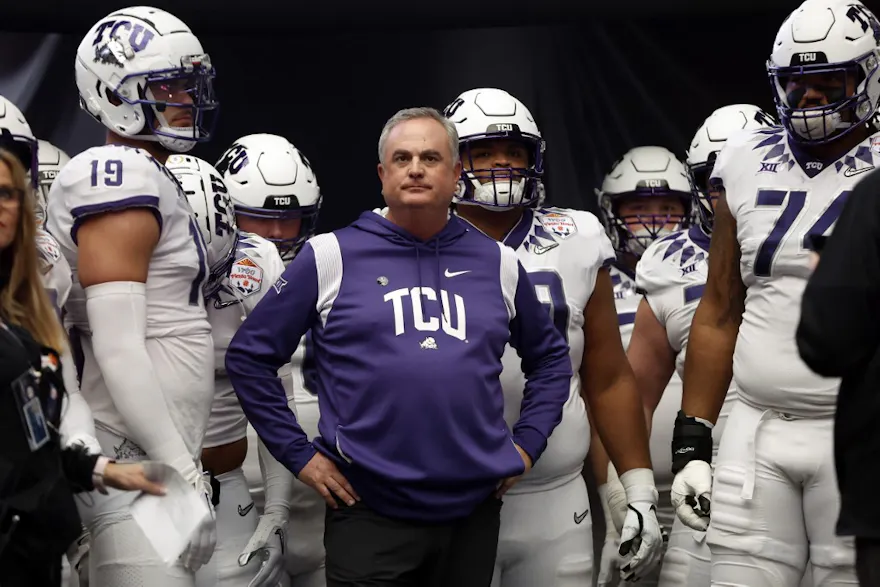 The TCU Horned Frogs are significant underdogs in their quest to prevent the Georgia Bulldogs from winning a second straight national title. Here are the best college football odds that helped inform our TCU-Georgia prediction.
The national semifinals were electric. The Horned Frogs led from start to finish against the Michigan Wolverines, but they watched their once-19-point lead drop all the way to six with just 3:18 remaining. They managed to hold on and escape with the 51-45 victory.
In the other contest, the Bulldogs erased a 14-point fourth-quarter deficit to defeat the Ohio State Buckeyes, 42-41.
Despite both teams being involved in tight semifinal games, the Bulldogs were listed as 13.5-point favorites over TCU when opening lines were released.
Here are the best odds for the 2023 CFP National Championship between TCU and Georgia.
Check out our college football best bets.
Make sure to also check out our TCU-Georgia pick and prediction, and CFP National Championship betting trends, as well as why one of our experts believes TCU will win the national title while another is backing Georgia to win the national title.
TCU vs. Georgia Best Odds
TCU vs. Georgia Odds Analysis
The opening spread for this game was shocking. TCU looked legitimate against Michigan, while Georgia had to stage a comeback and pray for a missed field goal from Ohio State in the waning seconds. Yet, the Bulldogs opened as 13.5-point favorites.
The spread quickly moved to 12.5 at all five of our top-rated sportsbooks, with 93% of the cash and 73% of the tickets backing TCU.
The total has also experienced quite a bit of movement after opening at 64. With the final scores of the semifinals reaching 83 and 96 points, one might think the total would rise. However, it has instead dropped to 63 or 62.5 across the major sportsbooks. More than 50% of bettors are backing the Over.
Editor's note: Hey Ohio! Welcome to legal sports betting. Check out the best sites for Ohio sports betting and the best Ohio sportsbook promos!
TCU vs. Georgia Moneyline Analysis
In the Fiesta Bowl, the Horned Frogs became the first team in College Football Playoff history to win a game when underdogs of greater than a touchdown. Now, they will be tasked with pulling off an even bigger upset as 12.5-point underdogs.
The five major sportsbooks have TCU's odds to win listed from +330 to +370. PointsBet is offering the best bang for your buck.
As for Georgia, there isn't much value in betting on the Bulldogs outright unless you plan to parlay them with something else. The best you can do is wager $430 to win $100 at FanDuel.
This number should drop for Georgia, but you're still going to have to bet nearly four times what you'd win even if it lengthens significantly.
TCU vs. Georgia Spread Analysis
Can the Bulldogs beat the Horned Frogs by two touchdowns? Absolutely. But that does not change how shocking it was to see Georgia favored by 13.5 immediately following the conclusion of both semifinal games.
Bettors have shown their support for the Horned Frogs, which has dropped this number to 12.5 at every sportsbook.
After how the two semifinal games played out, oddsmakers had to know that creating a spread so large would garner a lot of support for TCU. Yet, they went ahead and did it anyway.
Are oddsmakers trying to bait bettors to back TCU? If they are, it's working, as the Horned Frogs are seeing overwhelming support from bettors.
Look for this number to end around 11.5 or 12. However, only three College Football Playoff games were decided by less than one score prior to the New Year's Eve thrillers.
TCU vs. Georgia Over/Under Analysis
There isn't much of a discrepancy at the major sportsbooks about what this number should be. Some are offering the total at 63 while others are offering 62.5.
The Bulldogs' defense has been incredible this season, but it's allowed 30 or more points in its last two games. Will Georgia be able to correct that and play like the team that allowed 12.8 points per game throughout the year?
It's unlikely the Bulldogs will be able to bounce back defensively against an offense scoring 41.1 points per game. The Horned Frogs have scored less than 30 points just three times this season, and they just put up 51 against a Michigan defense that hadn't allowed more than 23 points in a game all year.
This number initially dropped, but it should start to go back up as kickoff approaches. TCU wants to be involved in a shootout, and the Bulldogs' defense has been susceptible to allowing points, even if they get out to huge leads as they did in the SEC Championship Game against the LSU Tigers.
* Bonuses not applicable in Ontario.
Related Pages