Why TCU Will Win the CFP National Championship: Can Duggan Do it on the Biggest Stage?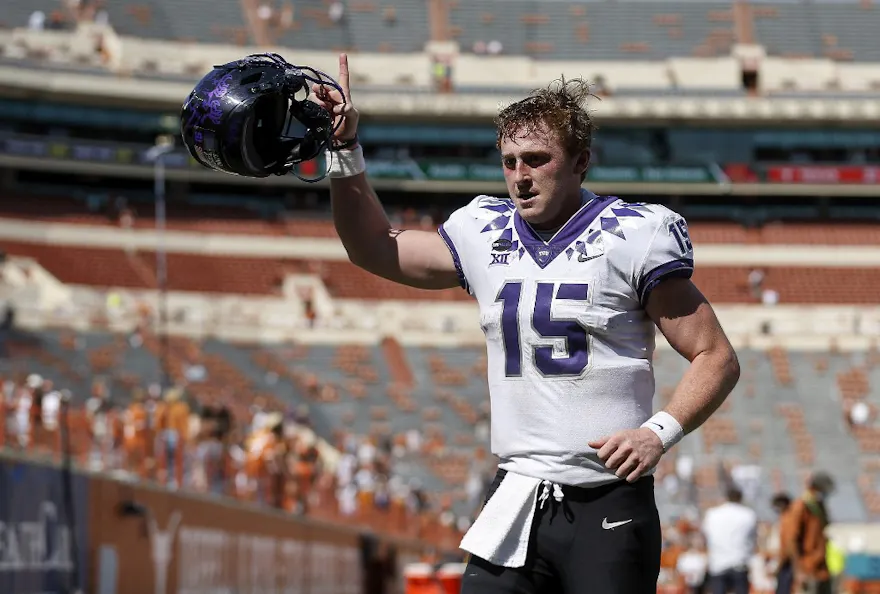 After being discounted by the public every step of the way, can the Horned Frogs disprove the doubters one more time to forever etch their names into the annals of college football history? Read on as we make our case for why TCU will win the 2023 CFP National Championship.
It's been a whirlwind year in Fort Worth as Sonny Dykes took over a 5-7 program and immediately led it to the national championship stage. The Horned Frogs enter Monday's game at SoFi Stadium as massive underdogs to Georgia, but hey, that's nothing new to TCU.
Here is our look at TCU and why it'll win the 2023 CFP National Championship (odds via PointsBet; pick confidence based on a 1-to-5-star scale).
Check out our TCU-Georgia expert picks, best bet, prop picks, best odds, and trends to know.
TCU Year in Review
TCU has overachieved expectations at every turn throughout its miraculous run to the title game. A team that missed out on bowl season entirely last year rebounded in Sonny Dykes' first season to notch 13 wins while posting a 10-3-1 ATS record.
QB Max Duggan opened the year as a backup before taking the reins from an injured Chandler Morris. He ended the campaign in Manhattan, finishing behind only USC's Caleb Williams in the Heisman Trophy voting.
RB Kendre Miller paced an explosive rushing attack with 6.2 yards per carry and NFL Draft prospect WR Quentin Johnston erupted for a 1,000-yard season as the Horned Frogs averaged 39.7 points per game.
TCU Betting Result
Against the spread: 10-3-1
Over/Under: 8-6
Opening National Championship odds: +384 (Pregame.com)
Odds to win the 2023 National Championship: +370 (PointsBet)
TCU Top Performers
Leading passer: Max Duggan, 3,546 yards, 32 touchdowns, 6 interceptions
Leading rusher: Kendre Miller, 1,399 yards, 17 touchdowns
Leading receiver: Quentin Johnston, 59 receptions, 1,066 yards, 6 touchdowns
Top defenders: Johnny Hodges, 81 tackles; Dee Winters, 7.5 sacks; Bud Clark, 5 INTs
Best Bet for TCU in the 2023 National Championship
TCU (+370)
While TCU and the points is the most attainable bet on the Horned Frogs for the CFP National Championship, my favorite bet is the one that puts your dollars on the shocking upset that would turn the college football world upside down. It's less likely to happen than merely seeing TCU keep it respectable and cashing your ticket on a 10-point loss, but the reward that ranges between +350 and +370 across our affiliated sportsbooks makes it worth the gambit for an event that shouldn't be as impossible as the moneyline odds suggest.
Georgia is as talented and experienced as any team in college football, but the Bulldogs have been a middling performer against the spread (7-7). The Bulldogs rank No. 2 in the country in defensive efficiency, but heading into semifinal weekend, Michigan had a better scoring defense. The Wolverines famously held Ohio State's No. 1 offensive efficiency to 23 points in their November meeting.
TCU treated the vaunted Wolverine defense like a turnstile, hanging 51 points on the same night that Georgia allowed Ohio State to clear 40. To beat Georgia, Duggan can't afford the turnovers he coughed up against Michigan, but this balanced offense showed it can move the ball on anyone.
It will have to be a shootout, but if a team that embodies the toughness of its quarterback can win the turnover battle and execute its offense the way it did against Michigan, there's no reason an occasionally shaky Georgia team should be treated as infallible.
When did TCU Last Win the National Championship?
The turnaround by TCU over the past year has been nothing short of remarkable. The Horned Frogs finished the 2021 season with a 5-7 record, falling short of bowl eligibility during a season in which longtime head coach Gary Patterson resigned mid-year.
TCU won the 1938 AP National Championship as 55 of 77 voters named the Horned Frogs No. 1 at the end of that season. It has won 17 conference championships in its history, last doing so when the Horned Frogs shared the Big 12 title with Baylor in 2014.
* Bonuses not applicable in Ontario.
Related Pages