Wagr Review
US Sports Bettors Accepted
Wagr Review
Traditionally, sportsbooks operate on the premise that they offer you odds on events and you wager to try to beat them against those odds. If you win, you take their money. If you lose, they take yours. Wagr is turning that tradition on its heels by offering the first-ever social-wagering platform.
With Wagr, you are not taking on the house because there isn't one. Instead, you challenge your friends on head-to-head bets. Winners take home the pot and get to keep their friend's money and serve as a mediator between the two betting parties. In return for the assurance that you will be paid out, they keep a small percentage of the pot.
The introduction of this style of sports betting gives friends a true chance to put their money where their mouths are. Now they can challenge friends to head-to-head bets at the very moment they are proposed.
Wagr Quick Facts
| | |
| --- | --- |
| 🏅 Rating | C |
| 🏢 Founded | 2022 |
| 🇺🇸 # of States | 1 |
| 🎰 Casino | ❌ No |
| ₿ Cryptocurrency | ❌ No |
| 📱 Mobile Apps | ✅ Yes (iOS, Android) |
Wagr Locations
The only place you can place bets on Wagr is in Tennessee. There are certainly aspirations on taking this style of sportsbook to more markets, but it will have to show its sustainability in the Volunteer State before it goes nationwide.
Sports Leagues to Bet On
NFL Betting
When it was launched, the app featured the ability to bet against friends on only NFL spreads. As of now, they have expanded to also offer moneyline and Over/Under bets but these are currently the only options available. However, Wagr is extremely open to suggestions and given a push could begin to offer up prop betting in the near future.
NBA Betting
Placing NBA bets with your friends is always more fun but don't expect to get too exotic with them. Basketball lines are still just reduced to spread, ML, and totals.
College Football
Tennessee is a Mecca of college football and fans of Rocky Top can bet against each other on all of the action from the gridiron across the entire NCAAF slate.
College Basketball
Much like its football program, the University of Tennessee is a traditional powerhouse in college basketball. Betting with your friends on the outcome of Volunteer hoops outcomes makes game days more exciting.
NHL Betting
With the Nashville Predators in their backyard, being able to bet on the NHL for Tennessee bettors is a must. Users can make wagers on all the standard NHL betting angles.
MLB Betting
Baseball fans will find all of the day's games available to challenge their friends. Run lines, spreads, and totals are offered to place your bets.
Other Sports Leagues
Along with their partnership with Nashville SC come MLS betting lines. Wagr has also started offering WNBA odds as well as NWSL (National Women's Soccer League) lines.
Online Betting Experience
Website Experience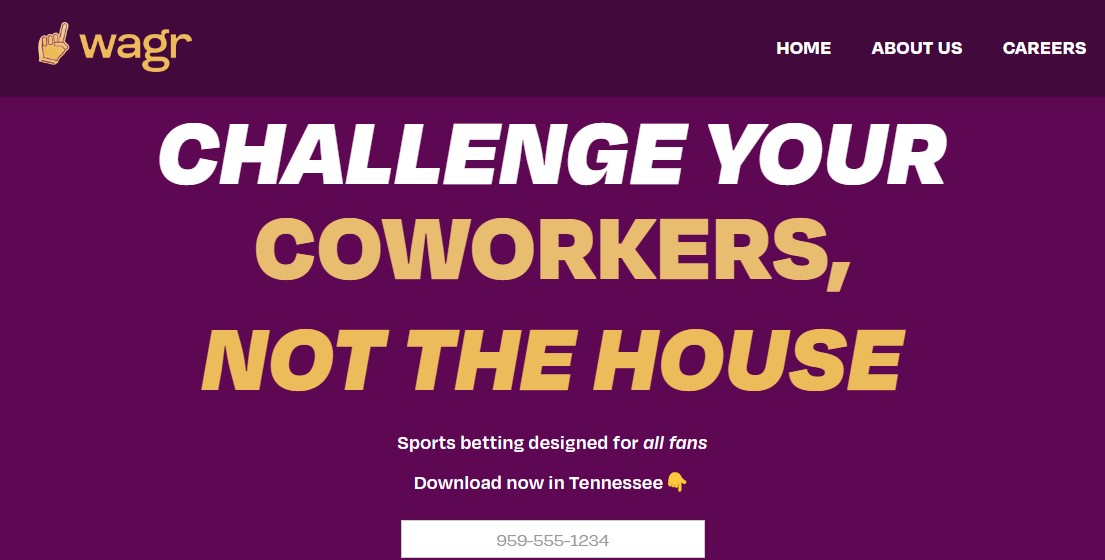 If you want to use Wagr, you must download the app which is done via a link Wagr texts to your phone. The desktop website also gives you the company history and a seven-point summary of what you can expect when using their product.
Mobile Betting and Betting App
Wagr made every attempt to make its app as simple to use as possible. They made a point to stay away from the more common sportsbook view with odds displayed as a "wall of numbers." Instead, they offer a clean, visually appealing screen with bets displayed with icons and sliders rather than by clicking individual odds. The app is easy to use and not at all intimidating and offers explanations for all of the most offered types of bets for those who may be new to sports betting. An inbox helps you keep track of your active challenges.
Because Wagr is shifting focus to the social side of sports betting, each bet is accompanied by the avatar of the person you are challenging. This makes it a fun way for those who want to bet on sports, but not actually get into traditional sports betting by making less about the books and more about the entertainment.
Live Betting
It is clear that the company wants to embrace the more novice sports bettors which puts live betting on the back burner for now. Not to mention, their platform is not built to keep up with up to the second stats and odds calculations. Given their position in the market, the ability to live bet is a distant goal, if a goal at all.
Casino, Poker, & Other Gaming Options
Due to the nature of Wagr as a company and their goal of establishing themselves as the premier social sports betting product, there is no casino aspect attached to the app. The same can be said for poker or any other gaming options.
Wagr History
Wagr began with the philosophy that sports betting should be a more social endeavor. In the pursuit of that goal, co-founders Eliana Eskinazi and Mario Malave began work on their new app in 2021. They secured a first round of funding that included The Kraft Group which is controlled by New England Patriots owner Robert Kraft, and are backed by venture capital firms such as Seven Seven Six, Greycroft, and Pear VC.
In January of 2022, they officially launched their app to the Tennessee betting public. Since their launch, they have made several revisions to their app attempting to make the end user experience as enjoyable as possible.
Over the course of the year they have partnered to become the official sports betting partner of the Nashville SC club. They made the decision to put women's sports on par with men's sports by displaying the WNBA and NWSL more prominently on their app.
One of the more ambitious updates the company undertook was the move to streamline the onboarding process. Wagr has reduced the time between signup to placing your first bet to around 15 seconds. If you are interested in learning more about the company, you can find a link to the Wagr blog on Medium that contains several posts along the startup process.
Customer Ratings & Reputation
Reception has been mixed almost a year post-launch. This can be expected not only due to the limited existence of the company as a whole but even more so considering the departure from the norm that separates the app from their competitors.
Customer Service
The customer service at Wagr is limited to a FAQ section on their desktop website, and an email address. This will have to improve if Wagr intends to compete in more states against national players such as DraftKings and FanDuel.
Wagr Contact
Wagr Legal Betting
Wagr is licensed and regulated by the Tennessee Sports Wagering Advisory Council.
Responsible Gambling
The legal age for sports betting in Tennessee is 21+. Please play responsibly. Wagr complies with the rules laid down by the regulating bodies and features a responsible gaming section that includes instructions on how to take a break, setting betting limits, and signs that you are developing a gambling problem.
Here are a few other resources to help ensure you are gambling responsibly.
Why Choose Wagr?
They say variety is the spice of life, and Wagr offers a unique approach to online sports betting by making the friendly bet between friends accessible online and from anywhere in the state. And while it's fun to take the house's money, it's more fun to take your friend's money along with the bragging rights that come with it.
By offering a safe and easy-to-use platform for friends to show each other who is the better bettor, Wagr has upped the game on bragging rights. Social betting will likely gain a foothold in the market quickly and Tennessee sports betting enthusiasts can say they were there first.
Bet Now
Banking
Accepted Currencies
Methods of Deposit
Min:

N/A
Max:

N/A
Fee:

FREE
The only way to deposit and withdraw on Wagr is through online banking.