UFC 279 Judges' Cards: Expert Picks, Predictions for Diaz vs. Ferguson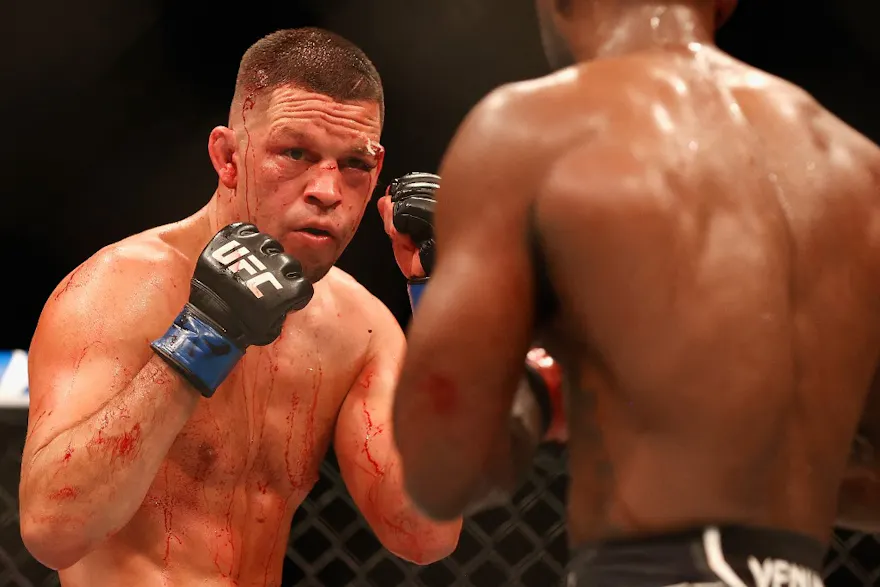 The card for UFC 279 underwent a complete overhaul Friday afternoon. Our betting experts were on top of it all and offer up their best bets for the new-look Diaz-Ferguson card below.
The UFC 279 main card underwent a complete overhaul after Khamzat Chimaev missed weight for his scheduled main event welterweight bout with Nate Diaz by an astonishing 7.5 pounds. Now, Diaz will face Tony Ferguson at welterweight in the main event. Chimaev will fight Kevin Holland at catch weight in the penultimate fight of the night.
Here are our UFC 29: Diaz vs. Ferguson expert picks and predictions (odds via DraftKings Sportsbook unless otherwise noted).
UFC 279 Judges' Cards: Diaz vs. Ferguson Expert Picks
| | | | |
| --- | --- | --- | --- |
| Fight | Kyle Smith | Themistoklis Alexis | Daniel Coyle |
| Ferguson (-130) vs. Diaz (+105) | Diaz (+105) | Diaz (+105) | Diaz (+105) |
| Chimaev (-560) vs. Holland (+430) | Chimaev (-560) | Chimaev (-560) | Chimaev (-560) |
| Jingliang (+125) vs. Rodriguez (-145) | Jingliang (+130) | Rodriguez (-145) | Rodriguez (-145) |
| Aldana (-180) vs. Chiasson (+155) | Aldana (-180) | Chiasson (+155) | Aldana (-180) |
| Walker (+175) vs. Cutelaba (-205) | Cutelaba (-205) | Cutelaba (-205) | Cutelaba (-205) |
Check out the latest comprehensive and most trusted Sportsbook Reviews by SBR.
UFC 279 Top Knockout Picks
Chimaev (+190 via FanDuel Sportsbook)
Sure, Holland is likely a more dangerous opponent than Diaz, I just don't think he can last 25 minutes with Chimaev. Despite the massive weight miss, I expect the modus operandi to be the same for "Borz." He'll eventually drag Holland (who stuffs only 50% of takedowns) to the mat where he'll punish him with suffocating top control and heavy ground-and-pound.
Of course, there's always a chance "Trailblazer" sparks Chimaev with something nasty, as he does possess explosive, fight-ending power, but he probably won't get the chance to showcase it on Saturday night. Instead, he'll spend large stretches of the fight beneath a terrifying Swedish buzzsaw, eventually succumbing to a steady stream of strikes. - Smith
Cutelaba (+100 via FanDuel)
Despite his formidable measurables, Johnny Walker leaves much to be desired as a point fighter and distance striker. His grappling also remains a liability, all of which doesn't bode well for his chances against Ion Cutelaba.
He isn't the most polished talent himself, but Cutelaba knows how to put a man on the back foot. Based on his foe's fight tape, he shouldn't have much trouble getting Walker to the mat. Cutelaba is a terror when he secures top control, and he won't waste much time bringing his granite mitts to Walker's dome with reckless abandon en route to a 13th KO/TKO in 17 career wins. - Alexis
Chimaev (+190 via FanDuel)
Chimaev has quickly established himself as an opportunistic knockout specialist. Among his 11 career wins are seven first-round finishes, five by KO or TKO, including his KO win over Gerard Meerschaert just 17 seconds into their clash at UFC Vegas 11. "Borz" is averaging a very impressive 7.89 significant strikes landed per minute through his first five UFC contests. Chimaev must contend with a six-inch reach disadvantage. However, he is likely to make up for that with the sheer volume of punches early on, taking the fight inside, before making a level change.
Chimaev has the ability to wear down opponents as necessary, compiling over two minutes of control time in four of his past five fights. That proved to be the key to success in his unanimous decision win over Gilbert Burns in his last outing at UFC 273, which also represents the only time in his career he has seen a fight decided by the judges. - Coyle
UFC 279 Top Upset Picks
Diaz (+105)
Suddenly, Diaz is plunged into a much more winnable fight. Originally destined to be mauled by Chimaev, Diaz now squares off with a shopworn Ferguson. Staring down the barrel of a four-fight losing skid, Ferguson might not face the same knockout risks that he did against Li Jingliang, yet I just can't see him emerging victorious.
In a battle between a pair of veterans with good striking and slick submission games, I'll back the one with less mileage on the odometer. Diaz closes out his UFC contract with a win, while Ferguson will be forced to contemplate retirement. - Smith
Chiasson (+155)
In a clash with a boxer who boasts a nasty left hook, Macy Chiasson will have to lean on her edge in physicality and make it ugly to score the upset. Most of Irene Aldana's UFC conquests have come against middling competition who've either dared to trade zingers or failed to impose their will, and I see Chiasson doing the latter come Saturday night.
Look for Chiasson to get Aldana to the fence early, and if she doesn't grind her out from the clinch, she can do it from top control on the mat in a tough showing that'll up her UFC record to 7-2. - Alexis
Diaz (+105)
Diaz was given little hope of victory in his originally scheduled UFC 279 main event matchup with Chimaev. The 37-year-old made it plain it was not the fight he wanted but would take it anyway.
Indeed, that has been a huge source of Diaz' popularity – the willingness to take on all comers. While Diaz has posted just one win in four fights since 2016, each of his recent defeats has come against fighters that went on to win a title, capped by a five-round unanimous decision loss to recently crowned UFC welterweight champion Leon Edwards.
Make no mistake, Diaz was a great bet to produce a Luke Rockhold-esque performance had he fought Chimaev, who was clearly fatigued by the end of his three-round date with Edwards. Indeed, Ferguson provides an ideal matchup for the popular Stockton native. Not only has the sting come out of his strikes during his current four-fight slide, but Ferguson has also struggled to defend against takedowns.
Complicating matters had been preparing for a three-round bout but is now scheduled to go five against Diaz. Don't expect this contest to last that long, as Ferguson's long and steady decline continues. - Coyle
UFC 279 Top Prop Picks
Cutelaba-Walker to finish in the first round (-115 via FanDuel)
Both Cutelaba and Walker hit like a freight train carrying dynamite. Fourteen of Cutelaba's 16 victories have come via stoppage, with all of those finishes coming in the first frame. Not to be outdone, 17 of Walker's 18 career triumphs were of the stoppage variety, with 14 of those happening in the opening stanza.
Either way you slice it, these men do their most violent work early in the fight, and I expect more of the same Saturday night. - Smith
Chimaev-Holland: Under 1.5 rounds (+140)
In case you haven't followed all the fuss and confrontations that have transpired over the last couple of days, these two aren't fond of each other, and I'm thinking the acrimony between them will prompt at least one, if not both these fighters to fight with their ego.
Assuming the oft-braggadocious Chimaev will do just that, I expect him to get off to yet another swift start while a game Holland looks for a jaw to tap or a neck to snatch. In short, between their honest grudge and combined 29 stoppages, ultraviolence is all but guaranteed to erupt, with one man venturing off to the shadow realm before long. - Alexis
Walker-Cutelaba fight to end in first 60 seconds of Round 1 (+700)
UFC betting fans are likely in for a slugfest when the UFC 279 main card opens with a matchup between struggling light heavyweights Walker and Cutelaba. Both these big boys have the ability to throw big bombs, and have racked up a combined 23 KO/TKO wins inside five minutes over the course of their respective pro careers.
However, both these fighters have also come out on the wrong end of early finishes in recent outings. Indeed, it took only one punch to end Walker's night just 2:55 into his UFC Vegas 48 date with Jamahal Hill. Cutelaba has also been put to sleep quickly of late. He has lost three of his past five fights, with each of those defeats coming in the first round.
It's Tough to say which one of those fighters will land the killer blow. But at these odds, it is certainly worth a value bet on it happening inside 60 seconds. - Coyle
Where to Bet on UFC Picks
Here are our top-rated sportsbooks:
SEE ALSO: All picks, odds, and sports betting news. Be sure to check out SportsbookReview.com's community forums and betting tools.