World Cup Betting Guide: Odds, Picks, Predictions, Plus All You Need to Know for Qatar 2022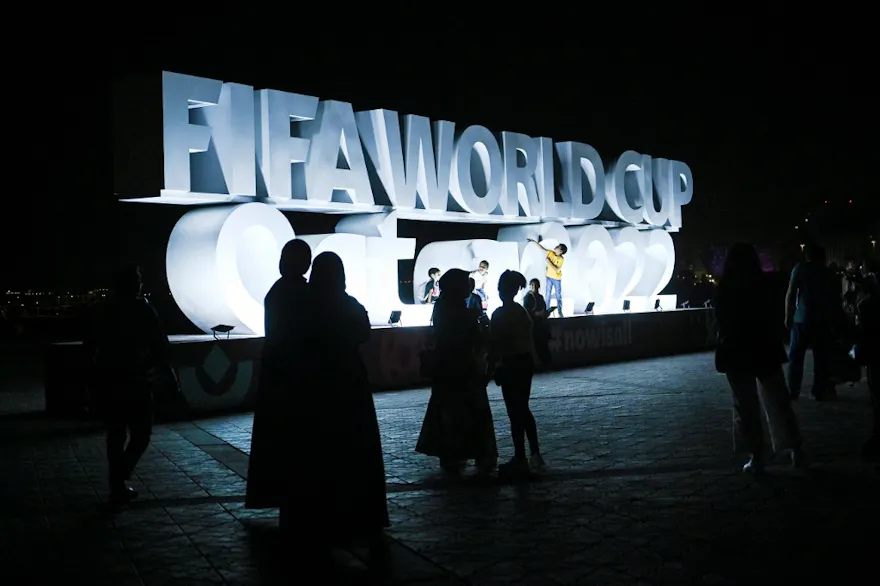 Qatar hosts to the 2022 FIFA World Cup. Featuring 32 countries, the world's biggest sporting event of the year gets underway Sunday, Nov. 20, with the hosts taking on Ecuador. Read on for our World Cup betting guide for all of our odds, picks, and predictions.
The 2022 FIFA World Cup has arrived with the top 32 nations in the world set to play for the FIFA World Cup Trophy in Qatar. The tournament will run from Sunday, Nov. 20 through the championship match on Sunday, Dec. 18.
This will be the first World Cup played in the Arab world and the first played outside of the months of May, June, or July. It will also be the final World Cup played under the current 32-team format as the tournament will expand to 48 teams starting in 2026.
Below, we track everything you need to know about the 2022 FIFA World Cup with our betting guide, including odds, picks, and predictions.
2022 FIFA World Cup Odds
| | | | |
| --- | --- | --- | --- |
| Country | DraftKings | FanDuel | Caesars |
| Brazil | +350 | +320 | +375 |
| Argentina | +500 | +550 | +500 |
| France | +700 | +700 | +650 |
| Spain | +850 | +750 | +850 |
| England | +900 | +800 | +950 |
| Germany | +1000 | +1200 | +1000 |
| Netherlands | +1100 | +1500 | +1400 |
| Portugal | +1600 | +1300 | +1400 |
| Belgium | +1800 | +1700 | +1600 |
| Denmark | +2200 | +2400 | +2800 |
| Uruguay | +4000 | +3800 | +4000 |
| Croatia | +5000 | +3800 | +5000 |
| Serbia | +8000 | +9000 | +7000 |
| Switzerland | +8000 | +9000 | +10000 |
| Senegal | +10000 | +12000 | +10000 |
| Mexico | +13000 | +9000 | +10000 |
| USA | +13000 | +15000 | +10000 |
| Ecuador | +15000 | +21000 | +15000 |
| Poland | +15000 | +15000 | +10000 |
| South Korea | +20000 | +13000 | +25000 |
| Ghana | +20000 | +21000 | +15000 |
| Canada | +20000 | +18000 | +15000 |
| Cameroon | +20000 | +21000 | +25000 |
| South Korea | +25000 | +25000 | +25000 |
| Wales | +20000 | +12000 | +12500 |
| Ghana | +25000 | +25000 | +15000 |
| Japan | +25000 | +25000 | +25000 |
| Morocco | +25000 | +25000 | +20000 |
| Canada | +25000 | +25000 | +15000 |
| Cameroon | +25000 | +25000 | +25000 |
| Qatar | +30000 | +37000 | +30000 |
| Australia | +40000 | +55000 | +40000 |
| Iran | +50000 | +55000 | +50000 |
| Tunisia | +50000 | +55000 | +30000 |
| Costa Rica | +80000 | +55000 | +60000 |
| Saudi Arabia | +80000 | +55000 | +75000 |
World Cup Info
Where is the World Cup?
The tournament will be played in Qatar across eight different stadiums. Half of these stadiums are located in Doha, the capital city of Qatar.
When is the World Cup?
The World Cup will start on Nov. 20 when Qatar takes on Ecuador in Group A play. The final will be played on Sunday, Dec. 18 at the Lusail Iconic Stadium.
When will World Cup games be played?
Each day of the group stage will have four games played, with games scheduled at 5 a.m. ET, 8 a.m. ET, 11 a.m. ET, and 2 p.m. ET. Knockout stage games will be scheduled at either 10 a.m. ET or 2 p.m. ET and the final will be played at 10 a.m. ET.
The time difference between Qatar and the Eastern time zone is eight hours.
What's the format for the 2022 World Cup?
Thirty-two teams are drawn into eight groups of four, with each team playing the others in their group once. The top two teams in each advance to the knockout round. The tournament is then single elimination from then on, with the games going to a penalty shootout if teams are tied after full time and extra time.
How can you watch the World Cup?
The 2022 FIFA World Cup will be broadcasted on FOX and FS1 in the United States. Twenty-nine matches will be on FS1 and 35 will be on FOX, including the final on Dec. 18.
Can you drink alcohol at or around any World Cup venue?
No.
World Cup Groups
Group A
Netherlands
Senegal
Ecuador
Qatar
Group B
Group C
Argentina
Mexico
Poland
Saudi Arabia
Group D
France
Denamrk
Tunisia
Australia
Group E
Spain
Germany
Japan
Costa Rica
Group F
Belgium
Croatia
Morocco
Canada
Group G
Brazil
Switzerland
Serbia
Cameroon
Group H
Portugal
Uruguay
South Korea
Ghana
World Cup Game Picks
2022 World Cup Picks
Other Long Shot World Cup Picks
Alvaro Morata to Win the Golden Boot (+4000 via Caesars)
Alvaro Morata may not be the world-class striker he was projected to be earlier in his career, but +4000 for a striker in a good situation like Spain is just plain disrespectful.
After reaching the semi-final in UEFA EURO 2020, Spain have the fourth-lowest odds to win the World Cup and will surely be a trendy pick by many to win it for the first time since 2010. Morata started up top in five of Spain's past six games and is their penalty taker, scoring from the spot back on March 29 in a 5-0 thrashing of Iceland. If they can finish top of Group E ahead of Germany, that sets up a match against the runner-up in Group H before a tough quarterfinal likely against favorites Brazil. It's a daunting path to the semi-final, but it does exist.
Jump on this price at Caesars before it gets corrected.
Robert Lewandowski to Win the Golden Boot (+5000 via Caesars)
Robert Lewandowski is one of the best strikers in world football. He's scored over 40 goals in all competitions in each of the past seven seasons and is everything you look for in this type of market. He'll get fed the ball plenty from his teammates and will take the penalties for Poland.
So why are his odds so long? Quite simply it's far from a guarantee Poland advances out of Group C. They're -110 to qualify at both DraftKings and Caesars, and their hopes of playing knockout football will be determined by games against Mexico and Saudi Arabia.
They would be tough facing the winner of Group D, likely the defending champions France. A bet on Lewandowski is a bet on Poland making a decent run and Lewa racking up goals in the group stage.
Sadio Mane to Win the Golden Boot (+6600 via PointsBet)
Senegal is one of the most underrated teams heading into the World Cup, and their leading forward is no doubt Sadio Mane. He's scored 12 goals in 20 international appearances over 2021 and 2022, and while it doesn't officially count in those stats he scored the winning penalty to give Senegal the African Cup of Nations. He's also gotten off to a great start for his new club Bayern Munich, averaging a goal a game across all competitions.
The path for a decent run is also there. If they can finish top of Group A over the Netherlands, they'd face one of the USA/Wales/Iran, which would then set up a quarterfinal likely against Argentina. It's a difficult matchup, but one that Senegal will be a live dog.
If Senegal is to be the first African team to make the World Cup semi-final, Mane will no doubt be leading the way.
Kevin De Bruyne to Win the Golden Boot (+10000 via FanDuel)
If there was a market for the most assists in the World Cup, Kevin De Bruyne would be near the top of the list. However, he still provides good value for the Golden Boot as well.
Considered one of, if not, the best midfielders in world football, De Bruyne is coming off a sensational campaign for Manchester City in 2021-22 where he scored 19 goals in all competitions — only forward Riyad Mahrez scored more for City. And while he and teammate Romelu Lukaku will battle to take penalties, there's still room for him in Belgium to assume more of an offensive role.
Winning Group F would likely set up a Round of 16 matchup with either Spain or Germany. But Belgium are one of the favorites for a reason, as they're a complete team who have likely one last chance to win a trophy with this golden generation.
Senegal to Reach the Semi-Final (+1200 via PointsBet)
History is baked into the price here. No African team has ever made a World Cup semi-final, but as outlined above there's plenty of reasons to like Senegal at the prices currently listed. They have a talented squad full of players playing at the top clubs in Europe, and the draw is very favorable to them. It's baffling that they have the same odds in this market as fellow Group A members Ecuador and Poland.
Senegal to make the quarterfinals is only providing 25-50 cents more value than Senegal winning Group A. With an extra game to win for it to cash, it's not really worth it at that price. We'll take the +1200 offered at PointsBet and hope that Argentina crashes out before this match or Senegal can pull off the upset.
What Happened in the 2018 FIFA World Cup?
France won the 2018 World Cup in Russia, defeating Croatia 4-2 in the final to claim the country's second World Cup victory. Antoine Griezmann was named Man of the Match, and the six goals scored combined were the most in a final since 1966. Midfielder Luka Modric of Croatia won the Golden Ball as the tournament's top player.
The tournament featured a number of shocking results. Defending champions Germany failed to make it out of Group F, favorites Brazil lost in the quarterfinal, and Spain lost to host Russia in the Round of 16. Argentina barely made it out of Group D and was promptly bounced in the Round of 16 by eventual champions France.
France were +650 to win the tournament prior to the start, the fourth shortest odds to win the tournament behind Brazil, Germany, and Spain. Runners-up Croatia were priced at +3300 pre-tournament.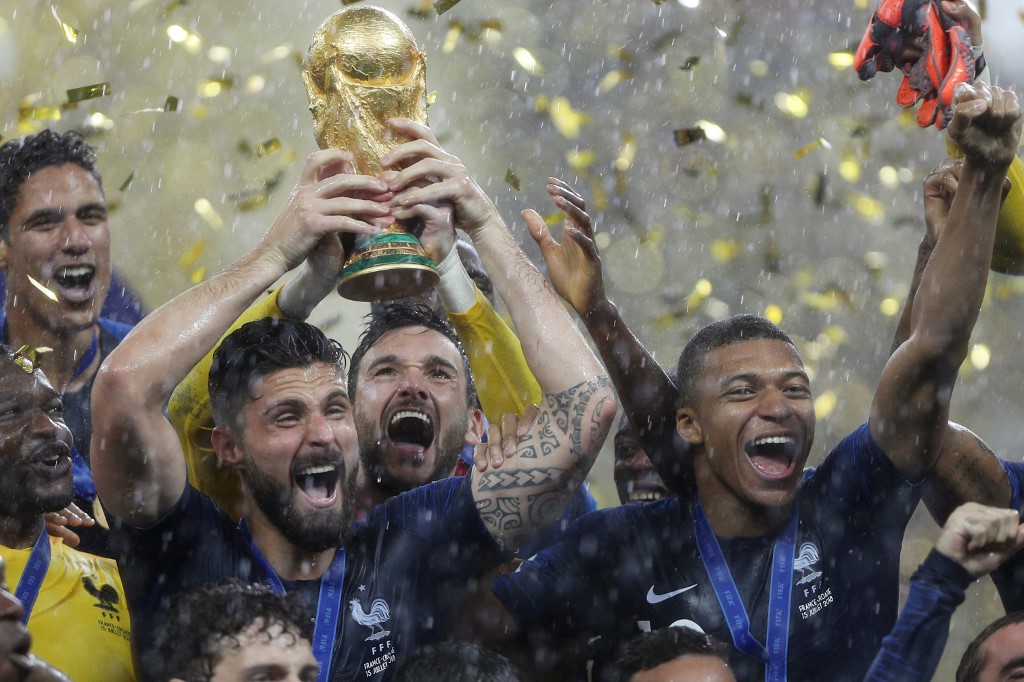 World Cup Trends
Five of the last six World Cup winners have been from Europe.
Defending champions have failed to advance from the group stage in four of the past five tournaments.
The host country has advanced out of the group stage in four of the past five tournaments.
How to bet on the World Cup
In addition to the traditional Moneyline, Over/Under, spread, and player prop bets for individual games, there are unique future markets for the FIFA World Cup.
Group winner
To bet on the group winner is to bet on who will finish first in group play. The most points a team can finish with is nine points.
The current teams with the shortest odds to win their group at DraftKings Sportsbook are England and Argentina, priced at -300 to win Group B and C, respectively.
To qualify from group
There is a market for simply qualifying from the group stage, although at reduced odds than winning the group. For example, Portugal is -150 to win Group H but -600 to qualify from the group at Caesars Sportsbook.
To reach the final
Similar to betting on a team to win a conference in the NFL, NHL, or NBA, you can bet on teams to reach the final of the World Cup.
This market closely follows the outright winner market. The current favorite is Brazil at +200 at DraftKings.
To reach the quarter/semifinal
If betting on a team to reach the final isn't your thing, you can instead bet on a team qualifying for either the quarterfinal or the semi-final. Your bet will cash as soon as they qualify, regardless of if they win that game or not. Currently, only Caesars is offering these markets.
Stage of elimination
You can also bet on which specific stage of the tournament a team will be knocked out of at the World Cup, whether that is the group stage, Round of 16, quarterfinals, semi-finals, or the final itself.
PointsBet currently has the most complete market at the time of writing, featuring nine of the possible 32 teams. More sportsbooks including PointsBet will have more markets available as we get closer to the start of the tournament.
Golden Boot
The Golden Boot award is given to the top goalscorer of the FIFA World Cup. You can usually find it as top goalscorer on most sportsbooks.
While the outright and group stage markets get plenty of attention at the World Cup, there's plenty of value to be had in this market. With the favorite being no lower than +600, a win on any one of these players can mean a significant payday.
Unfortunately, it's not as simple as picking a player who will be on the winning team or even making a run to the final. Officially called the Golden Boot, in the history of the 32-team World Cup only Brazil's Ronaldo in 2002 has won the award while making it to the final. Colombia's James Rodriguez won the award in 2014 scoring six goals despite his country only advancing to the quarterfinals.
Penalty taking is also an important aspect while handicapping the Golden Boot winner. While not always an automatic goal, it's close enough to one that a player who takes them for his team can pad his stats fairly quickly.
Last tournament's winner (and the current favorite at DraftKings) Harry Kane scored three of his six goals from the spot for England in 2018. Penalties scored in a penalty shootout do not count for this award.
Where to Bet on the 2022 FIFA World Cup
Here are our top World Cup betting sites: