Vezina Trophy Odds, Picks, Predictions 2023: Can Shesterkin Match Outstanding 2021-2022 Season?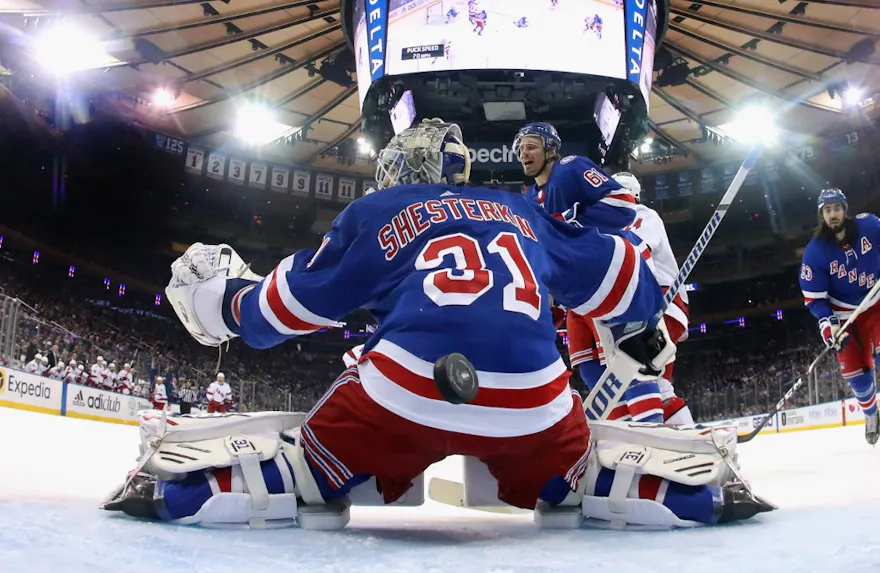 As hard as it can be to become the best goaltender in the NHL, it is exceptionally difficult to remain at the top of that mountain. Here is a look at the odds for the favorites, contenders, and long shots for the 2022-23 Vezina Trophy.
Goaltending is an extraordinarily important position in the National Hockey League and yet is the position that tends to confound coaches, scouts, managers, and analysts more than any other.
As a result, a goaltender that establishes his place as the best in the game one season might not be there the next. Even the best goaltenders can run through rough patches, but there also appears to be a growing gap between the teams that have strong goaltending and those that are getting left behind.
Here is a look at Vezina Trophy odds and some picks to consider entering the 2022-23 season.
Vezina Trophy Odds 2022-23
| | | | | |
| --- | --- | --- | --- | --- |
| Player | DraftKings | FanDuel | Caesars | BetMGM |
| Igor Shesterkin | +250 | +340 | +300 | +250 |
| Andrei Vasilevskiy | +500 | +500 | +400 | +550 |
| Ilya Sorokin | +800 | +750 | +1500 | +800 |
| Juuse Saros | +1000 | +1000 | +1200 | +900 |
| Thatcher Demko | +1800 | +1500 | +3000 | +2000 |
| Jake Oettinger | +1800 | +2000 | +1800 | +1800 |
| Frederik Andersen | +2000 | +1800 | +1200 | +2000 |
| Jacob Markstrom | +2000 | +2000 | +1200 | +2000 |
| Connor Hellebuyck | +2000 | +2000 | +2200 | +2000 |
| Darcy Kuemper | +2500 | +3000 | +2500 | +2500 |
Vezina Trophy Picks: Favorites
The 26-year-old New York Rangers netminder was far and away the best goaltender in the league last season, recording a league-leading .935 save percentage and 44.83 Goals Saved Above Average, which was 15 goals better than the second-place finisher in that category. While there is no denying that Igor Shesterkin was the best last season, this is a position that does not easily sustain performance from one year to the next.
The last time that a goaltender won back-to-back Vezina Trophies was Martin Brodeur in 2006-2007 and 2007-2008, a time when goaltender wins was still a prime method of evaluating candidates. So, while Shesterkin is a deserving favorite, the early prices are too short to provide significant value.
Vasilevskiy (+550 via BetMGM)
For five consecutive seasons, the Andrei Vasilevskiy has finished among the top five in Vezina voting, winning the award in 2018-2019. He is durable, plays behind a great Tampa Bay Lightning team, and has a strong reputation due to Tampa Bay's postseason success. However, he also finished eighth in Goals Saved Above Average last season, so he would likely need to be better to win the award. Vasilevskiy is a very worthy contender, but current prices do not offer an opportunity to find excess value.
The goalie who finished second to Shesterkin in Goals Saved Above Average last season was Ilya Sorokin of the New York Islanders, who was in his first season as the starter. The 27-year-old finished sixth in Vezina voting but is a much closer contender to Shesterkin than prices suggest. Sorokin's most appealing price comes via Caesars given his expected performance.
Vezina Trophy Picks: Contenders
The runner-up for the Vezina Trophy last season, when he led the league with nine shutouts, Jacob Markstrom finished fourth in the voting for the 2019-2020 season. The 32-year-old has had some ups and downs throughout his career, but that is common for a lot of goaltenders and, right now, he is going to play a lot for a Calgary Flames team that is not only a contender, but one that plays a disciplined style under head coach Darryl Sutter. He is not priced like the favorites, even considering his performance last season, so he offers some potential value.
Hellebuyck (+2500 via PointsBet)
There are relatively low expectations for the Winnipeg Jets coming into this season and 29-year-old Connor Hellebuyck had a .910 save percentage last season, his lowest since 2016-2017, but has routinely posted outstanding numbers, especially when factoring in the quality of shots that he faces. Shesterkin is the only goaltender with more than Hellebuyck's 34.64 Goals Saved Above Expected over the past three seasons, so if he returns to top form to get the Jets back to the postseason, Hellebuyck will deserve a lot of the credit. That would make his preseason Vezina price a reasonable play.
Vezina Trophy Picks: Long Shot
Boston's 23-year-old goaltender is still very early in his career, with just 51 NHL games, but he has a .920 save percentage to date. While Swayman's advanced stats have merely been above average, because he has played for a relatively strong Bruins team, that could change this season. Boston has some major injuries to open the season, with Brad Marchand, Charlie McAvoy, and Matt Grzlcyk expected to miss extended periods, so if Swayman can steer Boston through those rough waters, it's possible that he finds his way into the Vezina conversation and, at these prices, he is a much better option than many of the goaltenders with shorter odds.
Recent Vezina Trophy Winners
| | | |
| --- | --- | --- |
| Season | Goalie | Team |
| 2021-2022 | Igor Shesterkin | New York Rangers |
| 2020-2021 | Marc-Andre Fleury | Vegas Golden Knights |
| 2019-2020 | Connor Hellebuyck | Winnipeg Jets |
| 2018-2019 | Andrei Vasilevskiy | Tampa Bay Lightning |
| 2017-2018 | Pekka Rinne | Nashville Predators |
| 2016-2017 | Sergei Bobrovsky | Columbus Blue Jackets |
| 2015-2016 | Braden Holtby | Washington Capitals |
| 2014-2015 | Carey Price | Montreal Canadiens |
| 2013-2014 | Tuukka Rask | Boston Bruins |
| 2012-2013 | Sergei Bobrovsky | Columbus Blue Jackets |
Where to bet on Vezina Trophy Picks
Here are our top-rated sportsbooks:
SEE ALSO: All picks, odds, and sports betting news. Be sure to check out SportsbookReview.com's community forums and betting tools.