NFL Offensive Player of the Year Futures Odds, Picks: Justin Jefferson Emerges as New Favorite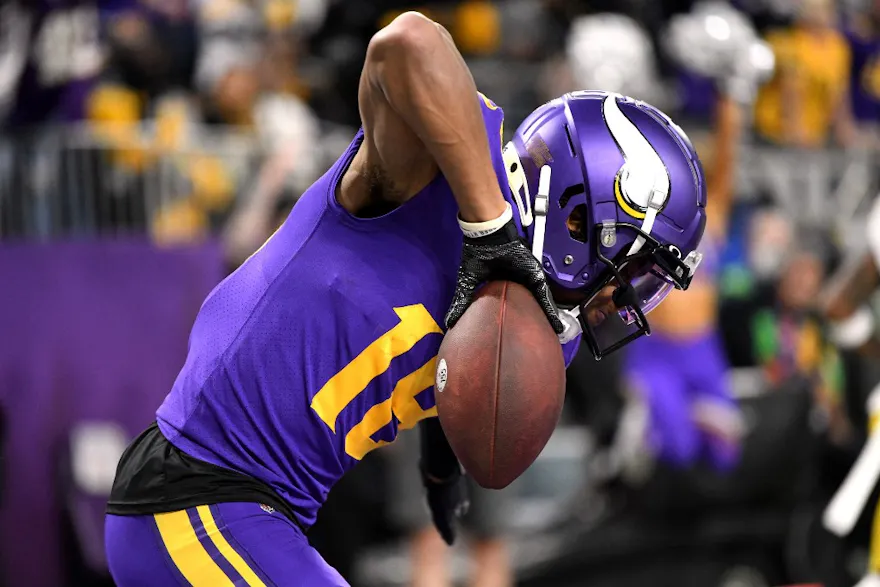 Justin Jefferson has emerged as the new favorite to win Offensive Player of the Year award. In order to determine which players represent value value picks, we examine the NFL Offensive Player of the Year futures odds.
Considering that the NFL MVP continues to be dominated by quarterbacks, I believe we are moving toward an era when the Offensive Player of the Year will be awarded to the best non-quarterback. Three consecutive seasons have passed without a quarterback winning the award, and the voting from last season indicates that this trend may continue.
In placing futures bets, you must always consider two factors: will this player actually win the market, and are their odds only going to become shorter from here on out, relative to the early number? If the answer is yes to both of these questions, then you should consider investing in that specific player.
In this article, we analyze the NFL OPOY futures markets in search of value in the early season odds.
NFL Offensive Player of the Year Odds
| | | | | |
| --- | --- | --- | --- | --- |
| Player | PointsBet | DraftKings | FanDuel | BetRivers |
| Justin Jefferson | +600 | +550 | +600 | +600 |
| Jonathan Taylor | +850 | +750 | +800 | +700 |
| Cooper Kupp | +1100 | +1300 | +1400 | +1000 |
| Ja'Marr Chase | +1200 | +1100 | +1000 | +1500 |
| Lamar Jackson | +1600 | +2200 | +2000 | +3000 |
| Saquon Barkley | +1700 | +1400 | +1400 | +2000 |
| Davante Adams | +1800 | +1200 | +1000 | +1500 |
| Nick Chubb | +2000 | +3000 | +3000 | +2500 |
| Josh Allen | +2200 | +2000 | +2500 | +2000 |
| Patrick Mahomes | +2200 | +2200 | +2500 | +1800 |
NFL Offensive Player of the Year: Best Bet
NFL Offensive Player of the Year Favorites
Jefferson, WR, Vikings (+600 via PointsBet)
Jefferson's odds of being the Offensive Player of the Year have continued to tighten up quickly. During the offseason, Jefferson's odds for winning the award opened at +2200 but adjusted to +1500 before the season began. Following Jefferson's brilliant performance against the Green Bay Packers in Week 1, we saw another significant adjustment to his odds. Now that Jefferson is trading at +600, he has put all of his early backers in a strong position.
Taylor, RB, Colts (+850 via PointsBet)
After missing out on the Offensive Player of the Year award to Kupp last season, Taylor is an obvious choice as one of the favorites in 2022. Although Taylor was jumped by Jefferson at the top of the odds board following Week 1, he still rushed for 161 yards and saw his odds shorten from +1000 to +850. It would be a good idea to keep Taylor on your watchlist throughout the season, however, I believe it is too early in the season to consider buying Taylor at a short price of +850.
NFL Offensive Player of the Year Contenders
Kupp, WR, Rams (+1400 via FanDuel)
Putting up historic numbers in consecutive seasons in the NFL is extremely difficult. It is my recommendation to fade Kupp throughout the season since I do not expect him to replicate his performance from last year, especially when his price point suggests that he will do so. Kupp will have to overcome voter fatigue in a market where they can justify giving this award to several different players. Even though Matthew Stafford forces the ball into Kupp's hands, I'm fading Kupp at +1400.
Chase, WR, Bengals (+1500 via BetRivers)
As a rookie, Ja'Marr Chase had 1,455 receiving yards and 13 receiving touchdowns, so there is no reason to believe he will not make a run for this award at some point in his career. The only issue I have with Chase is that he has competition for targets on his own team in the form of Tee Higgins and Tyler Boyd. The fact that Chase had 129 receiving yards and a touchdown in Week 1 has caused his price to shorten from +3000 to +1500. Let's not forget Higgins left early with a concussion, so I wouldn't be looking to buy Chase after such a dramatic drop in price.
Check out the latest comprehensive and most trusted Sportsbook Reviews by SBR.
Adams, WR, Raiders (+1800 via PointsBet)
It was my belief that Davante Adams would not be able to top some of the seasons he had with Aaron Rodgers as his quarterback, but after seeing how often Derek Carr looked for him in Week 1, my opinion has changed. While PointsBet kept Adams at +1800, FanDuel dropped him all the way to +1000. The +1800 for Adams is quite enticing, but there is still a lot of football to play and this is a very fluid market.
Barkley, RB, Giants (+2000 via BetRivers)
In Week 1, Saquon Barkley made me look good when he came out and looked extremely explosive and carried the New York Giants' offense on his back. In August, we pre-flopped Barkley at +8000, and there were several reasons for this. In a contract year, Barkley is now under the guidance of a coach who is offensively minded in Brian Daboll. With Andrew Thomas and Evan Neal at the bookends, the Giants have a much improved offensive line as well. By Week 3, Barkley could be +1000 or shorter if he is able to duplicate his Week 1 performance.
Henry, RB, Titans (+3000 via FanDuel)
As there are so many players competing for this award, your odds can change dramatically and quickly. This is what we are seeing with Derrick Henry, who opened at +1600 and has quickly been bumped up to +3000. At +3000, I am fading the 2020 winner of the OPOY award. In my opinion, Henry's best years are behind him, and a number of his metrics support this view.
This award seems to be designed specifically to recognize someone with the skillset of Deebo Samuel. Despite Samuel's ability to make plays as both a wide receiver and running back, there are concerns about him, and it is affecting his price. Due to Trey Lance's quarterback play, Samuel's price has increased from +2000 to +3000. For the right price I could be persuaded to bet on Samuel, but +3000 is not the number that will convince me to do so.
Chubb, RB, Browns (+3000 via FanDuel)
With quarterback Deshaun Watson suspended for the first 11 games and the Cleveland Browns desperate to remain in the playoff hunt, I am all in on running back Nick Chubb this season. Chubb has been a very productive player in the past, but does not have a great deal of volume to his name. This could be the season in which the Browns really force the issue with Chubb and give him a career-high in carries. Despite my love for Chubb to lead the NFL in rushing yards at +1000, I am not as interested in backing him for OPOY at +3000.
As a running back, Chubb does not catch the ball out of the backfield, and with Jacoby Brissett at quarterback, I do not expect him to score many rushing touchdowns either. When compared to the statistics of other players at the end of the season, this could seriously hamper Chubb's chances of winning the OPOY award. For me to get involved in Chubb to win OPOY, a price point higher than +3000 would be required.
McCaffery, RB, Panthers (+3000 via PointsBet)
It is a lazy narrative to suggest that Christian McCaffrey cannot stay healthy. If anything, this narrative has provided an opportunity to obtain a very favorable price on McCaffrey, who is undoubtedly a contender for this award. McCaffery missed winning the OPOY by seven votes in 2019, despite topping 1,000 yards as both a rusher and receiver. McCaffrey is one of only a few NFL players capable of putting together a season of this magnitude, and with his price at +3000, I believe that if you wait a little longer, you will be offered a price that you simply cannot pass up.
Brown, WR, Eagles (+7500 via FanDuel)
The Philadelphia Eagles traded for A.J. Brown to be their No. 1 receiver, and he has already proven to be an effective playmaker. Jalen Hurts appears to have a connection with Brown that we were not expecting, as he targeted him 13 times in Week 1. Seeing a price of +7500 for Brown puts into perspective why it is difficult to jump at a +1800 for Adams this early in the season.
Swift, RB, Lions (+7500 via FanDuel)
Considering D'Andre Swift is trading at +3000 via PointsBet, the +7500 available via FanDuel is very appealing, but I do not believe Swift has the brand recognition such as Barkley to cash this ticket. In the past, a number of players have had impactful seasons without receiving a vote in this market. My impression of Swift is that he may be able to put up the numbers, but is unlikely to receive the media attention necessary to cash this ticket while playing for the Detroit Lions.
NFL Offensive Player of the Year Long Shots
Williams, RB, Broncos (+10000 via PointsBet)
This would be a very simple decision if the only prices available on Javonte Williams were the +5000 available at FanDuel and DraftKings, but the +10000 odds available via PointsBet has complicated things. Despite Williams' excellent metrics, I would like to see a much heavier workload before I make an investment.
Lamb, WR, Cowboys (+15000 via FanDuel)
In my opinion, FanDuel made a mistake by changing the price of CeeDee Lamb following the injury to Dak Prescott, and there is an opportunity to potentially profit from it. Lamb moved from +7500 to +15000 on FanDuel, and they were the only sportsbook that made such a large adjustment to Lamb's odds. For example, BetRivers has Lamb trading at +5000.
Lamb had 112 receiving yards in the one game Cooper Rush started at quarterback last year. Backup quarterbacks tend to target their best receivers more than starters who spread the ball around confidently. I am already in on Lamb at +7500, and if I did not have that in my pocket, I would bet Lamb at +15000 on FanDuel.
NFL Offensive Player of the Year Past Winners
| | | |
| --- | --- | --- |
| Season | Player | Team |
| 2021 | Cooper Kupp | Rams |
| 2020 | Derrick Henry | Titans |
| 2019 | Michael Thomas | Saints |
| 2018 | Patrick Mahomes | Chiefs |
| 2017 | Todd Gurley | Rams |
| 2016 | Matt Ryan | Falcons |
| 2015 | Cam Newton | Panthers |
| 2014 | DeMarco Murray | Cowboys |
| 2013 | Peyton Manning | Broncos |
| 2012 | Adrian Peterson | Vikings |
| 2011 | Drew Brees | Saints |
| 2010 | Tom Brady | Patriots |
Where to Bet on Offensive Player of the Year
Here are our top-rated sportsbooks:
SEE ALSO: All picks, odds, and sports betting news. Be sure to check out SportsbookReview.com's community forums and betting tools.