Hart Trophy 2023 Odds, Picks, Predictions: Favorites McDavid, Matthews to Battle for MVP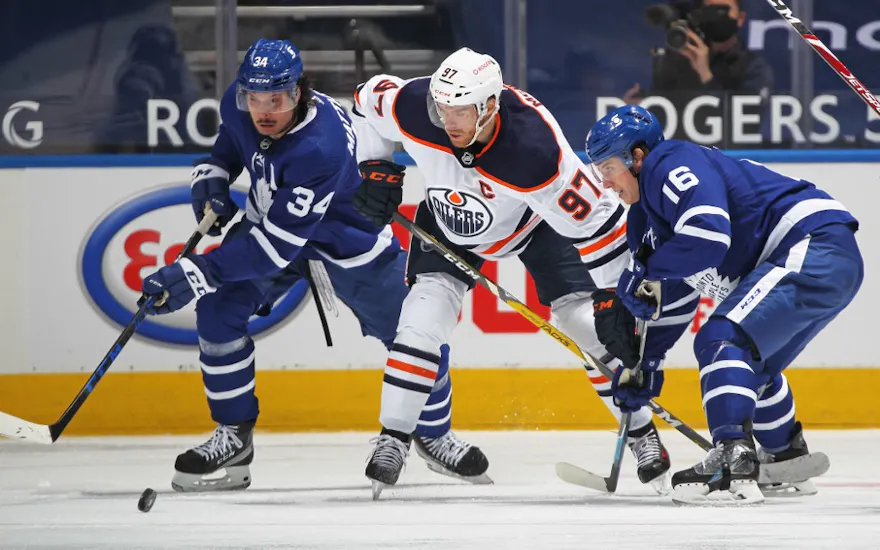 With increasing offensive production, the National Hockey League is allowing its star players to shine and, as a result, there are many talented players that are viable contenders to win the Hart Trophy as the Most Valuable Player. Here are our Hart Trophy odds, picks, and predictions for the 2022-23 NHL season.
Auston Matthews of the Toronto Maple Leafs won last year's award after scoring 60 goals in 73 games. Though he is among the favorites again this year, Matthews is not the consensus favorite. That's Connor McDavid, a two-time Hart Trophy winner who won the award in 2020-2021 and has finished in the top five in Hart Trophy voting in each of the past six seasons.
While Matthews and McDavid are deserving favorites, there are plenty of other candidates who could challenge for the award.
Below is a look at Hart Trophy odds before NHL training camps get started.
2023 Hart Trophy Odds
| | | | | | |
| --- | --- | --- | --- | --- | --- |
| Player | DraftKings | FanDuel | Caesars | BetMGM | PointsBet |
| Connor McDavid | +250 | +260 | +300 | +300 | +225 |
| Auston Matthews | +400 | +420 | +400 | +450 | +390 |
| Leon Draisaitl | +800 | +600 | +800 | +650 | +900 |
| Nathan MacKinnon | +1000 | +1000 | +1500 | +1000 | +1200 |
| Kirill Kaprizov | +1200 | +1200 | +1500 | +1400 | +1400 |
| Cale Makar | +1500 | +1500 | +1500 | +1500 | +1400 |
| Nikita Kucherov | +2000 | +1500 | +2500 | +1400 | +2000 |
| Igor Shesterkin | +2000 | +2000 | +2500 | +1800 | +2000 |
| Aleksander Barkov | +3000 | +1600 | +1800 | +1600 | +3000 |
| Andrei Vasilevskiy | +3000 | +3000 | +3000 | +3500 | +3500 |
| Sidney Crosby | +3000 | +3500 | +5000 | +3000 | +3500 |
| Johnny Gaudreau | +3000 | +4000 | +3000 | +4000 | +4000 |
Hart Trophy Picks: Favorites
Widely regarded as the best player in the world, McDavid has won the scoring title four times in seven NHL seasons but has managed just two Hart Trophy victories. The 25-year-old Oilers center plays the game with unprecedented speed and is a deserving favorite, but the prices (as short as +225 at PointsBet) are practically begging bettors to take anyone else.
Auston Matthews (+450 via BetMGM)
By winning back-to-back Rocket Richard Trophies as the league's leading goal scorer, Matthews has established his place as the premier finisher in the game.
The best case for Matthews is that the 25-year-old has a skilled supporting cast, and his shot rates continue to climb, making his outrageous goal-scoring exploits more sustainable.
Current prices on Matthews do not offer great value but might be as good as they will get all year. The Maple Leafs have a relatively soft schedule to start the season, and if Matthews starts scoring right away, the spotlight will be on him immediately.
Leon Draisaitl (+900 via PointsBet)
Maybe the biggest challenge facing Draisaitl is that his top competition for the award, Connor McDavid, is on the same team. Draisaitl won the Hart Trophy in 2019-2020, and if he were to win the scoring title ahead of McDavid, he would have a chance to be crowned again.
The prices on Draisaitl are fair enough, respecting that he has been durable and productive, scoring 409 points in 289 games over the past four seasons. However, the presence of McDavid makes Draisaitl a tough pick at this price.
Check out the latest comprehensive and most trusted Sportsbook Reviews by SBR.
Hart Trophy Picks: Contenders
Nathan MacKinnon (+1500 via Caesars)
Now that he has a Stanley Cup championship to his credit, MacKinnon should be a contender for the Hart if he can remain healthy. He has three top-three finishes in the past five seasons, and the Avalanche look like they will be a powerhouse team again this season.
Like Draisaitl, the biggest challenge facing MacKinnon may be from another elite teammate, but after missing time with an injury last season, MacKinnon's price is more favorable going into 2022-2023.
Kirill Kaprizov (+1500 via Caesars)
Few players get credit for transforming a franchise in the way that Kaprizov has with the Minnesota Wild. A team known for abandoning any form of exciting hockey now has one of the most dynamic skilled wingers in the game, and Kaprizov just scored 108 points in his second NHL season.
If he continues to score at a high level and the Wild have success, Kaprizov does not have the same kind of supporting cast to steal votes from him. He is well worth a look at these prices now because he is likely to remain a contender throughout the season.
Winning the Conn Smythe Trophy as the MVP of the Stanley Cup Playoffs and the Norris Trophy as the league's best defenseman last season prompted the question: can Makar become the first defenseman since Chris Pronger in 1999-2000 to win the Hart Trophy? That the suggestion is not dismissed out of hand speaks to Makar's extremely high level of play.
Naturally, he has teammates who are contenders for the Hart Trophy, but if Makar stays healthy and pushes for 100 points, he is the rare defenseman who could win.
Nikita Kucherov (+2500 via Caesars)
When the Lightning winger won the 2018-2019 Hart Trophy, he led the league with 128 points. If he could do that again, he would be right in the mix, but injuries have been a problem for the 29-year-old in recent seasons.
He infamously missed the entire 2020-2021 regular season before leading the playoff scoring race on the way to Tampa Bay's second straight Stanley Cup. He played only 47 games last season but still put up 69 points, so a healthy Kucherov has a chance to compete for the scoring title.
Current prices reflect Kucherov's injury risk, but there is upside to be found at +2500.
Igor Shesterkin (+2500 via Caesars)
The best goaltender on the planet last season, Shesterkin had some Hart Trophy buzz going before a little late-season slump stalled his push to win more than just the Vezina Trophy.
While it is not as rare as a defenseman winning the award, goaltenders are rarely voted to win the Hart. Since 2000, just Carey Price (2014-2015) and Jose Theodore (2001-2002) have managed to do it. Even if Shesterkin duplicated his great 2021-2022 season, he still might not grab the Hart. But if he put up those numbers and none of the top forwards pull away from the field, that might open the door a crack.
You should be able to wait a bit to see how the rest of the top contenders perform before getting in on Shesterkin.
Aleksander Barkov (+3000 via DraftKings Sportsbook)
Even though it seems like has been around forever, the Panthers center is still just 27 years old and just led the Panthers to the best record in the league with the best production of his career – 88 points in 67 games. Barkov has a reputation as a top two-way player and won the Selke Award as the top defensive forward in 2020-2021. If he connects well with Matthew Tkachuk, Florida's big offseason acquisition, there is certainly a path to Barkov contending.
It is probably a wait-and-see situation because the price should not shift too dramatically early in the season.
Andrei Vasilevskiy (+3500 via BetMGM)
Though he has one Vezina Trophy and one Conn Smythe Trophy to his credit, Tampa Bay's 28-year-old netminder is not a great Hart Trophy pick, even at these prices. He plays a lot for a very good team, so he tends to put up good numbers, but goaltenders with good numbers don't win MVP. Sometimes, goaltenders with even great numbers can't get there, so Vasilevskiy makes much more sense as a Vezina selection than for the Hart Trophy.
Sidney Crosby (+5000 via Caesars)
Now 35, Crosby last won a Hart Trophy in 2013-2014 but was runner-up in 2018-2019 and finished fourth in voting in 2020-2021. He would have to turn back the clock in a big way to contend for the award again, but if Crosby is having a great season, there is no chance that it will be overlooked by the media who vote on the award.
The lofty preseason prices might be worth a sprinkle in case Crosby has one more great season left in the tank.
Coming out of the 2020-2021 season, Gaudreau had scored 49 points in 56 games, and there were prominent sportsbooks that did not even include him in the Hart Trophy odds. He put up 115 points on what was probably the best line in hockey for the Calgary Flames, finished fourth in Hart Trophy voting, and then signed with the Columbus Blue Jackets as a free agent.
If Gaudreau could lift the Blue Jackets into the playoffs and produce like he did last season, he would be in the MVP conversation. It might be worth waiting to see if there is some early traction with Gaudreau in his new home before investing.
Hart Trophy Picks: Long shots
Jack Hughes (+7000 via PointsBet)
The first overall pick in the 2019 draft has not yet produced a full breakout season in the NHL, but he did score 56 points over 49 games for the New Jersey Devils in 2021-22. If Hughes busts through for 100-plus points while leading the Devils into the playoffs, that would capture the imagination of voters. He's worth monitoring early in the season.
J.T. Miller (+15000 via BetMGM)
Miller was a standout during the Canucks' playoff push that fell short, scoring 53 points over 34 games down the stretch. That might not be sustainable over an entire season, but the 29-year-old has notched 217 points over 202 games since joining the Canucks while taking his game to a new level. Miller would earn himself a shot at the Hart Trophy if he registers 100-plus points and gets Vancouver into the postseason, making the long prices right now worth considering.
Steven Stamkos (+8000 via PointsBet)
Stamkos was the runner-up for the Hart Trophy in 2011-2012, the season when he scored a league-leading 60 goals. He netted a career-high 106 points in 2021-22. His team is loaded with award contenders (including Nikita Kucherov, Victor Hedman, and Andrei Vasilevskiy). But anyone scoring more than 100 points could earn a path to the Hart Trophy.
Roman Josi (+15000 via DraftKings Sportsbook)
This could be my favorite Hart Trophy long shot. Josi finished sixth in the voting in 2021-22 after scoring a career-high 96 points. Defensemen hardly ever win the award, so it would take a lot of production. But if Josi topped 100 points and was clearly the best player on a successful Predators team, he could get the nod. With such long odds for a player who has finished in the top seven of Hart Trophy voting in each of the past three seasons, Josi is worth an early investment.
Jack Eichel (+7500 via Caesars)
While he hasn't showcased a consistent MVP-type performance during his career, a healthy Eichel starting fresh with Vegas in 2022-23 might finally be in a position to take advantage of his considerable skills. The 25-year-old finished eighth in Hart Trophy voting in 2019-20, the only time he received votes. But he was playing for a bottom-feeding Buffalo Sabres team. If Eichel busts out offensively and takes the Golden Knights back to the playoffs, he could get into the MVP mix.
Recent Hart Trophy Winners
| | | | |
| --- | --- | --- | --- |
| Year | Player | Position | Team |
| 2021-2022 | Auston Matthews | C | Toronto Maple Leafs |
| 2020-2021 | Connor McDavid | C | Edmonton Oilers |
| 2019-2020 | Leon Draisaitl | C | Edmonton Oilers |
| 2018-2019 | Nikita Kucherov | RW | Tampa Bay Lightning |
| 2017-2018 | Taylor Hall | LW | New Jersey Devils |
| 2016-2017 | Connor McDavid | C | Edmonton Oilers |
| 2015-2016 | Patrick Kane | RW | Chicago Blackhawks |
| 2014-2015 | Carey Price | G | Montreal Canadiens |
| 2013-2014 | Sidney Crosby | C | Pittsburgh Penguins |
| 2012-2013 | Alex Ovechkin | LW | Washington Capitals |
Where to Bet on Stanley Cup 2023
Here are our top-rated Sportsbooks:
SEE ALSO: All picks, odds, and sports betting news. Be sure to check out SportsbookReview.com's community forums and betting tools.