Calder Trophy 2023 Odds, Picks, Predictions: Power, Beniers Move from Michigan to NHL Rookie of the Year Race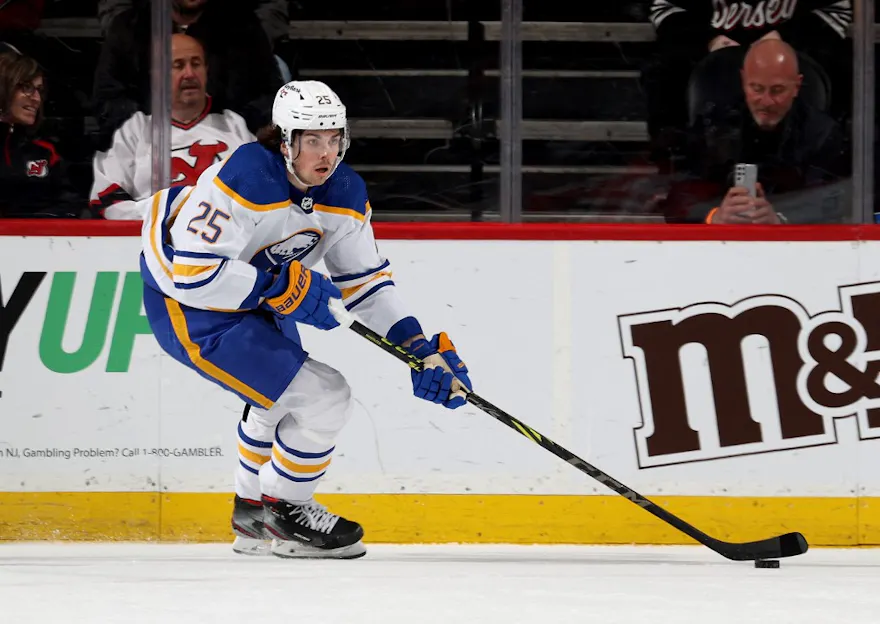 Youth is taking on a bigger role in the National Hockey League and every year there are first-year players ready to make an impact. Here are the 2023 Calder Trophy Odds, as well as our picks and predictions for the award.
Defenseman Owen Power and center Matty Beniers are the top candidates to win the Calder Trophy this season, with a slight edge over Mason McTavish among the favorites.
In the past 20 seasons, there have been 13 forwards, five defensemen, and two goaltenders to win Rookie of the Year, so the voters tilt towards forwards, but two of the past three winners have been defensemen, so it is hardly a closed process.
Here is a look at the Calder Trophy odds early in NHL training camp.
2023 Calder Trophy Odds
| | | | | |
| --- | --- | --- | --- | --- |
| Player | DraftKings | FanDuel | Caesars | BetRivers |
| Mason McTavish | +400 | +600 | +500 | +650 |
| Owen Power | +450 | +450 | +400 | +450 |
| Matty Beniers | +500 | +500 | +450 | +250 |
| Cole Perfetti | +1200 | +1000 | +2000 | +1000 |
| Kent Johnson | +1200 | +1200 | +1500 | +1300 |
| Marco Rossi | +1600 | +1500 | +4000 | +1700 |
| William Eklund | +1600 | +1600 | +2500 | +1400 |
| Jack Quinn | +1600 | +2500 | +1000 | +1700 |
| Jake Sanderson | +1600 | +2500 | +5000 | +3000 |
| Shane Wright | +1800 | +1500 | +800 | +2000 |
Check out the latest comprehensive and most trusted Sportsbook Reviews by SBR.
Calder Trophy Picks: Favorites
The first pick in the 2021 Draft, Power is a smooth-skating 6-foot-6 defenseman who played more than 22 minutes per game in eight games for the Sabres at the end of last season. Buffalo outshot and outscored opponents with Power on the ice. He had 32 points in 33 games for the Michigan Wolverines last season but is not likely to have first-unit power play time in Buffalo. That could suppress his point totals, but if Power has a strong two-way impact for the Sabres, it will be noticed.
Taken with the second pick in the 2021 Draft, Beniers had 43 points in 37 games as a sophomore at the University of Michigan then joined the Seattle Kraken at the end of last season, contributing nine points in 10 games. That included four points on the power play, which may not be a sustainable pace over a full season, but Beniers is looking at a quality opportunity in Seattle, both in terms of playing time and having quality wingers that should help him drive 5v5 results.
Drafted third overall by the Ducks in 2021, McTavish started last season in Anaheim, played for Canada at the Olympics, and finished the season by reaching the Memorial Cup final with the Hamilton Bulldogs of the Ontario Hockey League. He then led Canada to a World Junior Championship in the summer, scoring 17 points in seven games and making a miraculous goal-line save in the gold-medal game. McTavish did not look out of place in his stint with the Ducks last season, but he will be counted on to play a significant role this year.
Calder Trophy Picks: Contenders
A shoulder injury sidelined Perfetti for a good portion of last season. He still managed to produce seven points in 18 games for the Winnipeg Jets and 15 points in 17 AHL games for the Manitoba Moose. The 10th pick in the 2020 Draft, Perfetti is a heady playmaker who should have a good shot to play with elite talent among Winnipeg's top six forwards. He does not have quite the same pedigree as the favorites, but with the right opportunity, Perfetti could be the top rookie scorer.
Logan Thompson (+2000 via DraftKings Sportsbook)
Rookie goaltenders do not typically play enough to have the kind of impact needed to be Rookie of the Year. There have been only two goaltenders to win in the past 20 years (Andrew Raycroft in 2003-2004 and Steve Mason in 2008-2009), so that will be a challenge for Thompson, but the 25-year-old was thrust into action for the Vegas Golden Knights late last season and had a .914 save percentage in 19 games. With starting goaltender Robin Lehner out for the season, Thompson has the inside track on the starting job for a team that should make the playoffs. If Thompson handles 50 starts for a playoff team, that could be enough to buck the Calder trend that has been going against goaltenders.
Juraj Slafkovsky (+2500 via FanDuel Sportsbook)
Making the jump to the NHL as an 18-year-old is extraordinarily difficult and Aaron Ekblad, in 2014-2015, was the last 18-year-old to win the Calder Trophy. Slafkovsky had a modest 10 points in 31 games for TPS in Finland last season but scored seven goals in seven games at the Olympics and added nine points in eight games at the World Championships. The Montreal Canadiens might bring him along slowly, but Slafkovsky goes 6-foot-3, 238 pounds, so he may have the strength to handle the NHL grind right from the start. And if he can perform like he did in international play last season, he has Calder Trophy potential.
Calder Trophy Picks: Longshots
Alexander Holtz (+35000 via FanDuel Sportsbook)
A sharpshooter who was picked seventh overall in the 2020 Draft by the New Jersey Devils, Holtz managed just two assists in nine games for New Jersey last season but went to the AHL and scored 26 goals and 51 points in 52 games. He might have some difficulty earning a spot in a scoring role with the Devils right away, but if Holtz gets the opportunity, he has the offensive game to contend for the rookie scoring lead. Track Holtz's progress in training camp to see if he will break camp with the Devils.
Jake Sanderson (+5000 via Caesars Sportsbook)
After a summer in which the Ottawa Senators made major splashes with their offseason moves, expectations are going to be higher and there could be an opportunity for Sanderson, the fifth pick in the 2020 Draft, to play a big role as a rookie. Sanderson put up 26 points in 23 games for the University of North Dakota last season and while he does not figure to have a power play impact in Ottawa, if he can handle a top-four role for the Sens, Sanderson could draw Calder votes. It at least makes him worth consideration at current prices.
Recent Calder Trophy Winners
| | | | |
| --- | --- | --- | --- |
| Year | Player | Position | Team |
| 2021-2022 | Moritz Seider | D | Detroit Red Wings |
| 2020-2021 | Kirill Kaprizov | LW | Minnesota Wild |
| 2019-2020 | Cale Makar | D | Colorado Avalanche |
| 2018-2019 | Elias Pettersson | C | Vancouver Canucks |
| 2017-2018 | Mathew Barzal | C | New York Islanders |
| 2016-2017 | Auston Matthews | C | Toronto Maple Leafs |
| 2015-2016 | Artemi Panarin | LW | Chicago Blackhawks |
| 2014-2015 | Aaron Ekblad | D | Florida Panthers |
| 2013-2014 | Nathan MacKinnon | C | Colorado Avalanche |
| 2012-2013 | Jonathan Huberdeau | LW | Florida Panthers |
Where to Bet on Calder Trophy Picks
Here are our top-rated Sportsbooks:
FanDuel Sportsbook
Caesars Sportsbook
DraftKings Sportsbook
PointsBet
BetMGM
SEE ALSO: All picks, odds, and sports betting news. Be sure to check out SportsbookReview.com's community forums and betting tools.