NFL Odds, Lines Week 12: Quarterback Changes Moving Bears-Jets Spread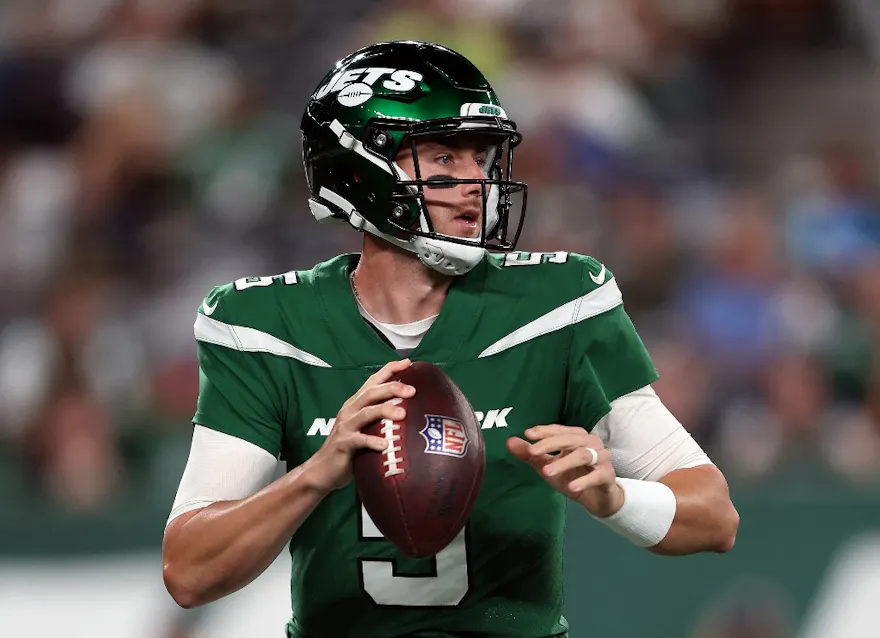 The spread for the game between the Chicago Bears and New York Jets has moved multiple times this week with changes coming at quarterback for both teams. Let's analyze all the NFL odds and lines for Week 12.

Bears quarterback Justin Fields played through a left shoulder dislocation in Week 11, and Chicago head coach Matt Eberflus deemed Fields day-to-day with the injury and questionable for Sunday's game against the Jets.
New York will officially be making a quarterback change with Mike White replacing incumbent starter Zach Wilson under center in Week 12.
The Bears-Jets spread has been on a roller coaster early this week following the news from both head coaches. New York has returned to a -6 favorite after dipping to -4.5 chalk Tuesday morning.
Here are the NFL spread and Over/Under lines for Week 12, and how we think the lines will move throughout the week (odds via FanDuel Sportsbook, BetMGM, DraftKings Sportsbook, PointsBet, and Caesars Sportsbook).
NFL Week 12 Odds and Lines: Thursday
Spread: Bills -9.5
This line moved a half point in the Buffalo Bills' favor early this week. Oddsmakers haven't tested a Bills -10 spread yet, so I don't expect there to be movement leading into Thursday's kickoff. It's also worth noting 63% of the betting handle via BetMGM has been on the Detroit Lions.
Total: 54.5
The Bills and Lions have both been showing off offensively in 2022, so it isn't surprising to see the total climb into the 54-55 key range after opening at 52.5. Detroit has posted a 7-3 Over/Under record for the campaign, and Buffalo is dealing with multiple injuries to key defensive starters.
Check out our Bills vs. Lions picks and same-game parlay.
Spread: Cowboys -10
I anticipated the betting community to back the New York Giants if this spread became large enough. It took the Dallas Cowboys climbing to consensus -10 favorites for there to be balanced action. The look-ahead spread was Dallas -6.5.
Total: 45.5
This total has climbed all week. I suspect a lot of the movement is because of recreational bets. With the number now well above the key range of 43-44, and the Giants and Cowboys combining for a 6-13-2 Over/Under record this season, I'm interested to see if Under money comes on Thursday.
Check out our Giants vs. Cowboys picks.
Spread: Vikings -2.5
As expected, there wasn't significant movement to this spread. Multiple sportsbooks dropped the Minnesota Vikings to -2.5 favorites Monday, and the number has held true all week.
Total: 42.5
While early money came in on the Under, and a 41.5 total was available through some shops Monday, it's now a consensus line of 42.5 across our top-rated sportsbooks.
Check out our Patriots vs. Vikings picks and same-game parlay.
NFL Week 12 Odds and Lines: Sunday
Ravens at Jaguars
Spread: Ravens -4
This spread opened at Baltimore Ravens -3.5, and it quickly moved to a consensus -4. It's proven to be an accurate number and has held aside from DraftKings returning to Baltimore -3.5 on Thursday.
Total: 45.5
The Under is receiving the majority of the early betting action, and this total is considerably shorter than the 47 that was available in look-ahead markets. I don't expect it to fall below the key range of 43-44, though.
Check out our top sites for Maryland sports betting.
Broncos at Panthers
Spread: Broncos -2
The Carolina Panthers announced Sam Darnold would start at quarterback against the Denver Broncos on Sunday, and this spread has moved in Carolina's direction since opening Broncos -2.5. Considering Denver has lost six of its past seven games, oddsmakers are likely going to have a tough time taking action on the road team, regardless of who is starting at quarterback for the Panthers. Carolina has also won its past two home games.
Total: 36
Over money has come in on this total, and it's trading at either 36 or 36.5 across our top-rated sportsbooks. It's still the lowest total of the week, and it's also in the key range of 36-37. I wouldn't expect it to move out of this key range, either.
Falcons at Commanders
Spread: Commanders -4.5
It shouldn't be a surprise to see the betting community back the Washington Commanders. This spread has climbed an entire point since Monday. Now that it's past the key number of 4, oddsmakers probably won't shy from increasing it until there is buyback on the Atlanta Falcons.
Total: 41
There isn't a consensus total for this game. It's trading as high as 41.5 via FanDuel and as low as 40.5 via DraftKings and PointsBet. I anticipate this total landing in the key range of 40-41 and remaining there leading into kickoff.
Buccaneers at Browns
Spread: Buccaneers -3.5
As expected, the Cleveland Browns are now receiving the hook with the Tampa Bay Buccaneers as -3.5 road favorites. The next key number to cross is 4, and with Cleveland on a 1-6 run, oddsmakers might opt to test a Bucs -4 spread - especially if the Tampa side continues to receive the majority of bets.
Total: 42.5
The look-ahead total was 45.5 for this game, so it being bet all the way down through the key range of 43-44 is notable. I'd be surprised if this total dropped into the 40-41 key range because of the risk for early bettors to have a sizable middle opportunity.
Bengals at Titans
Spread: Bengals -2.5
This spread appears to be headed to Cincinnati Bengals -3. Caesars and PointsBet have already made the Bengals field-goal favorites, and the remaining -2.5 spreads have an increased vig. I'd be shocked if the Tennessee Titans ever got the hook as +3.5 home underdogs, though. They're 8-2 against the spread this season.
Total: 42.5
Cincinnati has put up 79 points over the past two weeks, and the Over cleared by at least 20 points in both games. The total went Over the number in a Titans game this past Thursday for the first time since Week 3, too. Tennessee has produced a 3-7 Over/Under record, and there hasn't been enough money on either side to move this total from the opening number.
Texans at Dolphins
Spread: Dolphins -13.5
The Miami Dolphins continue to be bet up from the opening spread of -11.5 and look-ahead number of -9.5. Oddsmakers might have to test the key number of 14. Miami is coming off a bye, and the Houston Texans are considerably weaker on both sides of the football.
Total: 47
While the total is still well below the key number of 51, it's moved a long way from the look-ahead number of 45. Even with Miami having played to the Over in three consecutive games, oddsmakers have to be wary of Under money with Houston ranking 30th in points per game.
Bears at Jets
Spread: Jets -6
As discussed, this spread has been one of the biggest movers this week. I'd suspect the Jets to continue taking the majority of bets with Bears quarterback Justin Fields (shoulder) trending toward missing Sunday's game. The Bears have also lost four straight games and sport a 1-4 road record for the season.
Total: 38.5
The look-ahead total for the Bears-Jets game was 48, so there's been considerable movement here because of the quarterback developments for both teams. It opened this week at 43, and BetMGM is the lone book with a 39 available.
Raiders at Seahawks
Spread: Seahawks -3.5
This spread continues to prove accurate. Oddsmakers tested the Seattle Seahawks as -4 favorites, and there was buy-back on the Las Vegas Raiders. The opening spread was also bet up from Seattle -3 to -3.5. As a result, I don't anticipate significant line movement leading into Sunday.
Total: 47.5
There hasn't been significant enough money on either side to move this total off the opening number at most sportsbooks. The look-ahead total was 47, so I consider 47.5 an appropriate number. With wiggle room below the key number of 51, I expect this total to climb. DraftKings and PointsBet are trading at 48 as of Thursday.
Chargers at Cardinals
Spread: Chargers -3
Where this spread goes from here is entirely dependent on the status of Arizona Cardinals quarterback Kyler Murray (hamstring). He's missed the past two games, and the Cards have a bye in Week 13, so they could be cautious with their franchise QB. I'm surprised this spread has returned to the opening number, too. The Los Angeles Chargers were -3.5 favorites Monday.
Total: 48
This total has moved a half-point up from the opening number. Similar to the spread, Murray's health will have an impact. I suspect there will continue to be Over money coming in, and this total will be higher leading into Sunday's kickoff – especially if Murray is suiting up.
Rams at Chiefs
Spread: Chiefs -15.5
Los Angeles Rams quarterback Matthew Stafford (neck) has been ruled out for Week 12, and oddsmakers have made the Kansas City Chiefs consensus -15.5 favorites. There's been betting support for the Rams this week, but I don't envision this spread moving back below the key number of 14.
Total: 42.5
Similar to the spread, Stafford's injury has made a major impact on the total. It dropped from the look-ahead number of 45.5 to 44 at opening. I expect it to close below the key range of 43-44 across the board.
Saints at 49ers
Spread: 49ers -9.5
Aside from FanDuel hanging an outlier San Francisco 49ers -8.5, this spread has climbed to -9.5 across the board. The 49ers have impressed during their three-game winning streak, and the New Orleans Saints haven't won on the road since Week 1. I consider this an accurate spread and don't expect significant movement leading into kickoff.
Total: 43
Though there's disparity in this total across our top-ranked sportsbooks, it's definitely trending toward landing in the key range of 43-44. Again, FanDuel is on an island with its total at 42.5.
Packers at Eagles
Spread: Eagles -6.5
Despite the Green Bay Packers losing six of their past seven games, this spread has moved to a consensus Philadelphia Eagles -6.5. I'm now less confident that enough support for the Eagles will come in for the closing line to hit – or be above – the key number of 7.
Total: 46.5
There has been consistent support for the Over this week, and the total is up from the look-ahead 45 number and opening 45.5. With the total still well below the key number of 51, and this being a standalone game, I expect the number to climb again before Sunday night.
NFL Week 12 Odds and Lines: Monday
Steelers at Colts
Spread: Colts -2.5
This spread has flip-flopped between Indianapolis Colts -2.5 and -3 all week. It doesn't appear there will be enough support for Indy to provide the Pittsburgh Steelers with the hook as +3.5 underdogs. As a result, I don't expect significant movement leading into the Monday Night Football matchup.
Total: 39
This total has dipped only a half-point off the opening and look-ahead number of 39.5. It's also in between two key ranges – 36-37 and 40-41 – so I expect it to close near 39.
Where to Bet on the NFL