Russell Westbrook Next Team Predictions, Picks & Odds 2023: Staying in Los Angeles?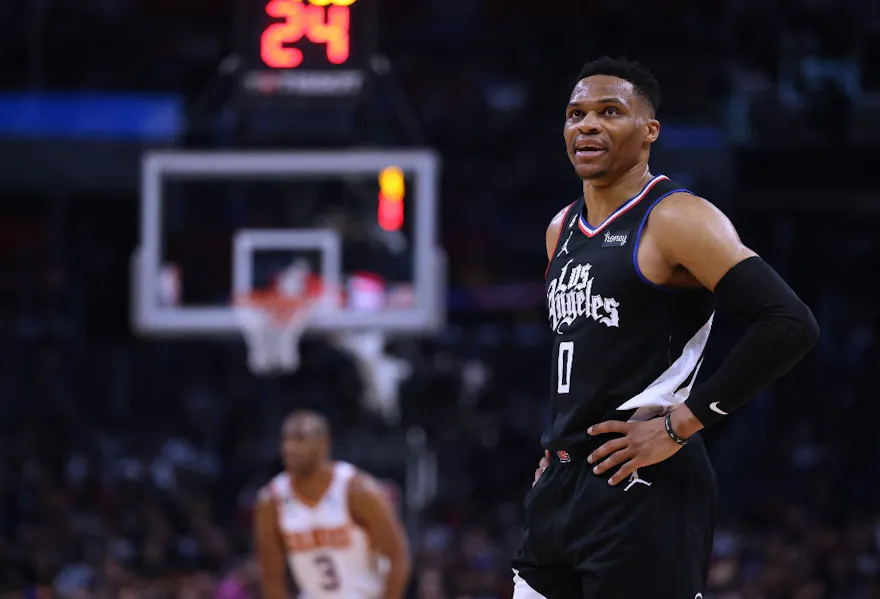 Russell Westbrook has played for four different teams in the last four seasons but seemed to find a home with the Los Angeles Clippers toward the end of 2022-23. Will Westbrook stay in Los Angeles, or is he headed elsewhere this offseason? Let's take a look at the best NBA odds for Westbrook's next team to find out.
Russell Westbrook needed to just travel across the hallway to save the latter years of his NBA career. After 1.5 seasons with the Los Angeles Lakers that didn't go according to plan for either side, Westbrook was dumped at the NBA trade deadline. He ended up signing with the Clippers, where he played 21 regular-season games and came alive during an opening-round series loss to the Phoenix Suns.
That end-of-the-year stretch proved that a 34-year-old Westbrook still has something left in the tank. He might not be the MVP candidate he once was, but he is still a lead guard capable of facilitating and crashing the glass. Both qualities could prove important for a playoff team.
Westbrook could run it back with the Clippers, who desperately need a playmaker to count on behind their two unreliable stars in Kawhi Leonard and Paul George. DraftKings has odds for Westbrook's next team, and the Clippers are clear -220 favorites in an offseason special market.
In a funny twist, only 10 teams have better odds at the best sports betting apps than the Lakers' 40/1 value of employing Westbrook next season. While that marriage seems unlikely, it proves that Westbrook could be on the move again this summer.
Let's take a look at this market via our best NBA betting sites and try to figure out what the best play might be for our Russell Westbrook next team predictions.
Russell Westbrook's next team odds
Market states: Next regular-season minute played to be for which NBA team?
| Team | Odds |
| --- | --- |
| Los Angeles Clippers | -220 |
| Dallas Mavericks | +800 |
| Miami Heat | +1500 |
| Chicago Bulls | +1500 |
| Phoenix Suns | +2000 |
| Washington Wizards | +2200 |
| Brooklyn Nets | +2200 |
| Oklahoma City Thunder | +3000 |
| Memphis Grizzlies | +3500 |
| New Orleans Pelicans | +3500 |
| Los Angeles Lakers | +4000 |
| Philadelphia 76ers | +4000 |
Russell Westbrook's next team predictions
Brooklyn Nets (+2200)
Not intended for use in MA
Affiliate Disclosure: Sportsbook Review may receive advertising commissions for visits to a sportsbook
The Clippers being such huge favorites to bring back Westbrook feels like a mistake. At -220, they have an implied probability of 68.75% of having him return to the roster ahead of the 2023-24 season.
But according to this story from Eric Pincus of Bleacher Report, a reunion doesn't seem as likely as the betting odds might indicate. Per BR's reporting, the Clippers don't have Westbrook's rights and are only capable of paying him just 120% above the minimum.
Westbrook could be looking for more of a mid-level exception, which equates to about seven million more for a starting salary. Perhaps that isn't as important to Westbrook, but Pincus suggested that teams like the Chicago Bulls, Charlotte Hornets, Minnesota Timberwolves, New York Knicks, Portland Trail Blazers, Toronto Raptors, Washington Wizards, and Brooklyn Nets could all have that kind of cap space this summer.
We decided to zero in on the Nets among those teams, but keep an eye on any further reporting. These markets tend to move fast, and it is worth monitoring to get a juicy number.
Don't forget that the Lakers reportedly offered Westbrook to the Nets back in February. Los Angeles ultimately backed out after Brooklyn requested both Austin Reaves and Max Christie in the trade.
The Nets have 30-year-old point guard Spencer Dinwiddie on the roster for one more year, but the addition of Westbrook could provide another playmaker. Westbrook already showcased his willingness to come off the bench for the Lakers last season.
Perhaps Westbrook takes a discount with the Clippers to compete for a championship. He averaged 23.6 points, 7.6 rebounds, and 7.4 assists per game during a five-game series loss to the Suns in the postseason. If he doesn't, however, the Nets make a lot of sense as a team that also lost in the first round of the playoffs.
Check out our next team predictions for LeBron James, Damian Lillard, and Dillon Brooks.
(21+. Gambling Problem? Call 1-800-GAMBLER)
* Bonuses not applicable in Ontario.
Related pages